By Gini Rainey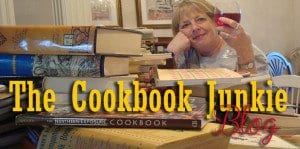 One of the things I like to do a couple times a year is spend time with my sister Cathy and assorted relatives at the log cabin that our grandfather and uncles built back in the 1930s. Located on a small lake in northern Minnesota, this cabin has undergone a few changes over the years that includes running water, indoor plumbing (yea – no more outhouse!) and has nearly tripled in size from its original footprint. It's quiet and peaceful and very rejuvenating for me.
My sister is one fantastic cook, and as much as she loves to cook and we all love to eat her cooking, it didn't hurt our feelings to hear her announce she wasn't going to be knocking herself out in the kitchen during my trip to the lake this past May. She needs to take it easy, too!
As remote as our cabin is, you might find it interesting to learn that there are a lot of great restaurants neatly tucked in around this pastoral countryside that is known as lake country. Well, Sara Watson, one of the owners of Blackboard, the restaurant where we chose to go during my last trip, just happened to have recently published a cookbook Cathy had picked up for my niece and me during a recent trip into a nearby town. Watson's book, Cabin Chef, is a 199-page romp through four seasons of great recipes and was published in 2021 by Matz & Grieff.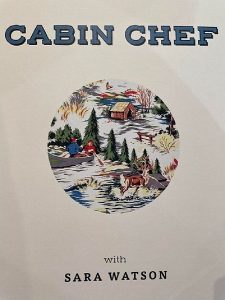 Blackboard, a charming restaurant tucked away in a corner of Otter Tail County, is about 15 miles away from everything! Not only were we primed by the yummy-sounding recipes and gorgeous photographs in her cookbook, but it's no secret that days filled with clean, sweet-smelling lake air can really whet a person's appetite!
I must say, we weren't disappointed! We started off by ordering a round of their handcrafted cocktails and then jumped right over into the main course. Two of us had the glazed pork chops, one of us had the crab stuffed walleye, and I had the peppercorn crusted filet mignon. The portions were huge and delicious. After getting home and reading through the cookbook, I wish I had also ordered the Grilled Corn Salad. Talk about a perfect companion for a steak!
So, just when the folks in the northern states are winding up grilling outdoors around Labor Day, we folks in the South are pretty much in the middle of it, so you will have plenty of time left to make this yummy dish!  Starting with 3 husked ears of corn, brush with butter, seasoned with salt and pepper, grill until the kernels are very tender and charred in spots. Let them slightly cool, then cut the kernels from the cobs.
Meanwhile, in a large bowl, whisk together 3 tablespoons of fresh lime juice, 2 tablespoons of honey, 1 teaspoon of granulated garlic, 1 ½ teaspoons of salt, and 1 ½ teaspoons of Sriracha sauce. Add the corn, 1½ diced avocados, 24 sugar snap peas sliced lengthwise, 1 thinly sliced jalapeño or serrano pepper (depending on how much heat you like), a quarter cup of sweety drop peppers, and salt, pepper and chopped cilantro to taste.  Chill for at least two hours and then enjoy! I know we will! Comments, questions, snide remarks? Would love to hear from you! thecookbookjunkie@aol.com