By Gini Rainey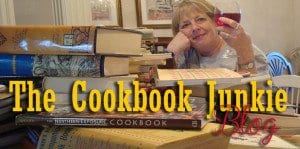 Have you ever gotten an idea into your head and you just can't shake it?  That's how I am with dishes that I've read about, eaten or seen cooked.  That's how I've been with gnocchi (pronounced NYOH key).  You know, those cute little soft doughy dumplings made with potatoes, flour, and eggs and can be served with all sorts of yummy sauces.  I was pretty sure that gnocchi was an Italian dish, and in searching through my cookbooks for a wonderful, definitive recipe, I was amazed that my collection was fairly anemic when it
came to cookbooks featuring Italian cuisine.  Good grief!  How could that be!  I love Italian food, so wouldn't you think that I would be covered up with cookbooks of that genre?  Turns out I'm not, and the ones that I do have, do not have a recipe for gnocchi.  I am stunned!
Well, as luck would have it, I finally found one way up on the top shelf.  It's a very thin, 95 page Italian cookbook that was part of series put out by Better Homes and Gardens and published by Meredith Press in 1979.  I tried to research this series of cookbooks to see if I could find out a little about the history of them, but unfortunately I was unable to find out much of anything. However, I do own 13 of them, and they cover all sorts of foods and ethnicities.  Although this book isn't very big, it packs more than 230 recipes between its covers along with some lovely, full-color photos of great looking, mouth-watering Italian dishes.
From the antipasto all the way through to the spumoni, this cookbook has recipes for some of the best Italian cooking you could ever hope for.  There's one thing that the western Europeans know how to do, and that's put on a good spread at meal time.  What more could you ask for at the end of a long, hard day than sitting down with good friends and family to a hearty and filling meal served up with a glass of red wine.  It sounds like a great plan to me, and with this little cookbook up your sleeve, you'll be able to transport your dinner guests, if not to a trattoria in Rome, at least to one of the small cafés in Little Italy, NYC.
So, believe it or not, I'm about to head into my kitchen to whip up some gnocchi!  After all, I didn't spend an hour in my "library" trying to find the definitive recipe for it for nothing!  The ingredients are simple – let's hope I don't fail!  First, peel 2 medium potatoes (starchy – like Russets) and boil in water until fork tender.  Drain, let cool, and break up with a fork.  Measure out 1 cup of potatoes, packed, and reserve the rest for another dish.  Now, in a large bowl, combine the mashed potatoes with 1 tablespoon butter, ½ teaspoon salt, 1 egg and 2 cups of flour.  Mix together – you will probably need to use your hands. On a floured surface, knead into a smooth ball and wrap in plastic wrap.  Let rest for 20 minutes.  Now, unwrap and divide the dough into four pieces and roll each piece into a ½ inch rope.  Cut the rope of dough into 1/2 inch pieces, roll each piece in flour.  If you'd like, you can roll the gnocchi down the tines of a fork to create ridges that will your sauce cling to the gnocchi.  Drop the gnocchi into salted, boiling water and cook until they begin to come to the surface – about 3 to 5 minutes.  Dip them out of the water with a slotted spoon and shake off the excess water.  Serve with your favorite sauce.  I just made a batch and poured garlic butter with parsley flakes over them.  Oh my!  Very good.
But, I must say (and my husband pointed it out before I said it out loud) these taste a whole lot like one my favorite foods – Norwegian Clöb – which are, interestingly enough potato dumplings!  Hmmmmm