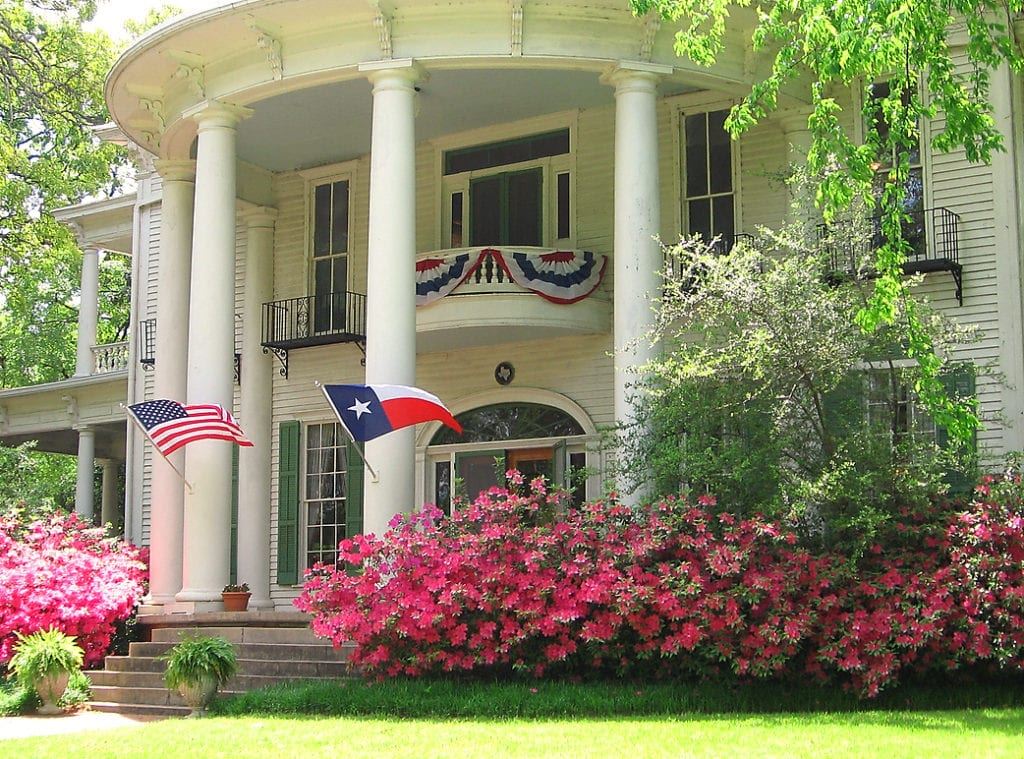 When Was The Last Time You Came In?
By Bobby Simmons
When I go to Tyler, I like to take my time getting around. It really is a beautiful city for those who take the time to look. One of my favorite routes takes me down Broadway from North Loop 323 all the way to the hustle and bustle of South Broadway's retail mecca. Along the way, one of the most noteworthy sites is the Goodman LeGrand House located at 624 N. Broadway, just south of Gentry Parkway, before you enter downtown. Remodeled in 1926 in the Classic Revival-style architecture, the projecting circular porticoes and massive 2-story columns make it an outstanding visual feast for passersby. While it's certainly an appealing view from the street, like all fine things in life, a closer look is required for a deeper enrichment, experience, and appreciation.
When I asked the museum's curator, Patricia Heaton, what she would like to let people know about the Goodman, she said "you know, I run into new people all the time and when I tell them where I work, they all tell me they've seen it. So I ask them, 'when was the last time you came in?' because this place has changed so much over the years with new artifacts, discoveries, and restoration projects most people don't really know what they're missing."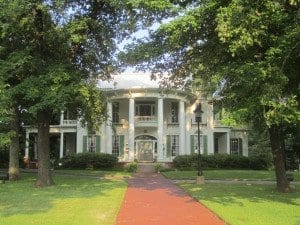 The word artifact caught my attention immediately. As it turns out, this old house is still revealing pieces that add detail to the story and allow visitors to experience the history of the place for themselves. The most recent find was an oscillating fan made in 1912 and though it's not a crystal skull, it's still pretty cool. This item, along with countless others, are now on display in the sprawling 5,000 foot home for your viewing pleasure. What's especially unique about the collection here at Bonnie Castle (a title bestowed on it by it's original owner) is that every single item is directly connected to the people that have lived here since it was built in 1859. There's a lot to be seen from the Civil War era, because the second owner, Tyler teacher F.N. Gary, allowed the house to be used by civilians and soldiers fleeing union advances after New Orleans was sacked in 1862.
Of course, it was after this in 1866, that Dr. Samuel Adams Goodman, a physician, moved from South Carolina to purchase the home from Mr. Gary. The following year in 1867, Goodman's son, Dr. William Jeffries Goodman, a local doctor and Civil War Major and Chief Surgeon, bought the house from his father and moved in with his new bride, Mary Priscilla Gaston. Their oldest child, Sallie Gertrude Goodman, married James H. LeGrand in October 1893. She and her husband lived there throughout their lives. When Sallie Goodman passed away in 1939, she bequeathed the entire Goodman-LeGrand estate to the City of Tyler. Her instructions were that the home was to be maintained as an historic site and kept open to the public as a museum. Much of what we currently know about the home and its past residents comes from journals kept by Sallie that were also included in the estate. Her diaries recount tales about guests who stayed in the house to escape the dangers of the Civil War, stories of the numerous family trips, and where a lot of the furnishings and artifacts originally came from. The journals also describe several elegant social galas that took place in the home, supper parties and receptions held for Texas state politicians. If you're looking for good stories, the history of the Goodman offers an ample supply.
As it turns out, Sallie Goodman's uncle was William Henry Gaston, a founder of the city of Dallas and one of Dallas' first millionaires. Gaston served as a Captain in the Confederate Army, leading a regiment on battles in Virginia. He was later moved back to Texas to recruit for the regiment and following that was made a purchasing agent until 1865, at which time he was discharged. Gaston is known as one of the most influential people in the development of Dallas, having founded the first permanent bank and donating 80 acres for the Texas State Fair Grounds. Apparently he came to Dallas with 20,000 worth of gold in hand, the origins of which is somewhat of a mystery. This new discovery just goes to show how individual histories can converge in a single place and weave a tapestry of intrigue to be unraveled by posterity and thankfully, the Goodman is not finished with that tapestry just yet and looks to add a new thread to the story in 2014.
The gorgeous Goodman is available for private use such as weddings and private parties.
Additionally, it provides the space for the flower market that's held on the lush nine acre estate every year in the spring. The flower market has come to be one of Tyler's favorite annual events, and this year it's going to be even better. The 2014 event has been officially renamed and revamped. Now named "Rose City Artisan's and Flower Market," it will expand on the existing tradition. Heaton was really excited about the possibilities of this event moving forward.
The Flower Market concept has been expanded to an open-air market where various artisans and vendors can sell everything from garden decor, hand-made items like jewelry, home-baked and specialty food items, to bedding plants, herbs, bulbs, produce, wine, and more.
There will also be plenty of live entertainment and concessions.
The two day event will be held Friday and Saturday March 21st and 22nd from 10am to 4pm and is open and free to the public. This event kicks off the first weekend of the Azalea & Spring Flower Trails. This is bound to be only the first of many memorable years.
If you're an artisan or vendor and would like to showcase your trade, you can get more information at www.goodmanmuseum.com or contact (903) 531-1286.
While this event is sure to be great fun, the Goodman also hosts a "Fine Art" event later in the spring. This event will have a more narrow focus, oriented toward arts such as oil on canvas and sculpture, rather than than assorted crafts.
If you're looking for a unique piece of American history or if you're interested in becoming part of the unfolding story of Tyler, the Goodman LeGrand house has much to offer. If you've never visited, then don't pass up the chance to see what you've been missing. And to those of you who haven't visited in a long time, don't neglect the opportunity to revisit an old story, because sometimes, most of the time, there's more to the story than you see on the first read.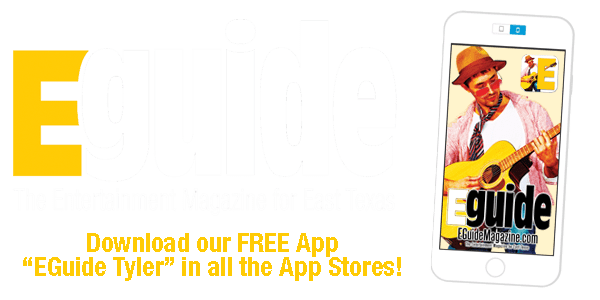 Amy Holden Concert Benefiting Children's Miracle Network, Aug. 24th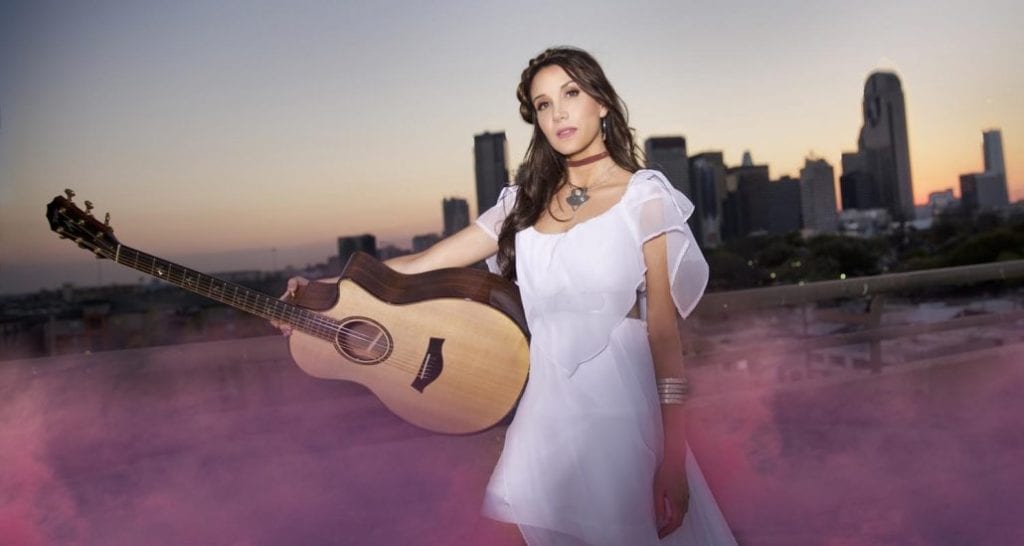 For one night only, east Texas singer-songwriter Amy Holden is set to perform live in concert at Liberty Hall on Friday, August 24th at 8pm.
Amy's friends, Cole Risner, Meredith Crawford, and Milo Deering are also set to perform.
Fresh off her single release, "Best Time" on Texas Red Dirt Radio, Amy brings a new soulful twang with her style and flavor of upbeat country music to Tyler. Amy, a Nashville and Texas recording artist, has performed from New Zealand to the House of Blues. Bring the whole family to this family-friendly event and be prepared to be thoroughly entertained.
100% of proceeds from ticket sales will benefit the Children's Miracle Network. This fundraising event is sponsored by Texas Strong Promotions, Fire Dog Records, and Amy Holden Music Group.
Liberty Hall is located at 103 E. Erwin, Downtown Tyler. Tickets are available at libertytyler.com.
"Yesterday, The Las Vegas Beatles Tribute" Brings Tour To Tyler Sept. 14th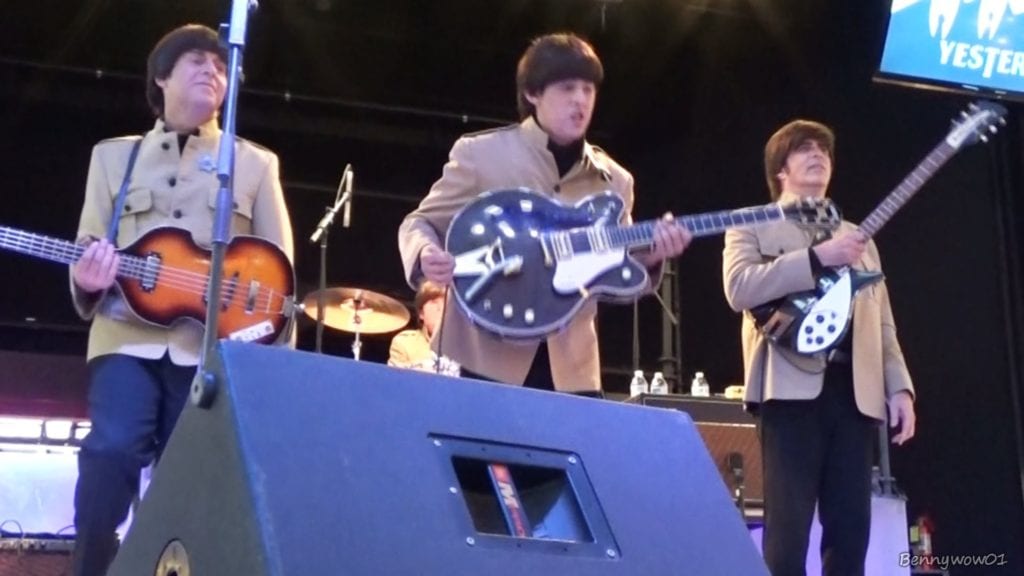 Capture the raw energy and sheer excitement of the most historical music group of all time, when  "Yesterday, the Las Vegas Beatles Tribute" hits the stage for one night only at Wise Auditorium at Tyler Jr. College on Friday, September 14th at 7:30pm.
"Yesterday" is a full two-hour show rich in memories portraying musical icons "The Beatles."
"Yesterday" transports its audience to a bygone era of magical innocence. Featuring some of the most finely written songs ever performed, this production is a spellbinding enactment of the best-loved pop group in the history of modern music.
"Yesterday," encompasses all eras of the Beatles music from the Hamburg days through Shea Stadium and into pop history's magical Sgt. Pepper's and beyond, with superior showmanship, flawless voices, and exceptional musical abilities, this is one not to be missed.
Complete with Beatles boots, drainpipe trousers, authentic costumes, musical instruments, and singing songs in their original key, "Yesterday," performance is spot on in every way.
"Yesterday" is featured with other Las Vegas celebrities on giant LED video walls at McCarran International Airport, welcoming all to the "Entertainment Capital of the World" …Las Vegas! Of all the Beatles Tributes, "Yesterday" is Sir Paul McCartney's favorite as he asked to come backstage for a photo with the band.
"Yesterday" has toured Japan seven times and performed worldwide on five continents. With superior showmanship, flawless voices, and exceptional musical abilities, this band is finally coming to East Texas and is not to be missed.
Here's what the press has said about "Yesterday's" performances:
"Don Bellezzo portraying John, bobbing with Lennon's cheeky mannerisms, had a voice that was so accurate, it sent chills down my spine." – Union News, MA.
"Outstanding vocals during Nowhere man. Everybody clapped and swayed with Lennon during 'Revolution.' McCartney sang 'Hey Jude' as the audience joined in the chorus and began waving lights in the air." – Rockford Register, IL.
"'Yesterday,' which just opened at the Tropicana, is an explosion, a wonderful blast from the past. A thrilling and reverential tribute to the Fab Four, 'Yesterday' gets it right!" – New York Daily News.
"The audience jumped to their feet giving these four lads a standing ovation even at intermission." – The Independence, IL.
"'Yesterday' was spot on in every way. By the time they reached the encores, the packed house was on their feet dancing and singing!" – Atlantic City Press.
"Yesterday, The Las Vegas Beatles Tribute" will be performing one show only at Wise Auditorium at Tyler Junior College on Friday, September 14th. Doors open at 6:30pm and show time is at 7:30pm.
Reserved seat tickets are $25, $30, and $35, inclusive of all credit card and ticketing fees.
Tickets are available online at markbellpresents.com or by calling the "Yesterday" tickets hotline at (817)896-3652.
For more information visit markbellpresents.com or facebook.com/yesterdaylasvegasbeatlestribute.
Summer Wraps Up at Tyler Public Library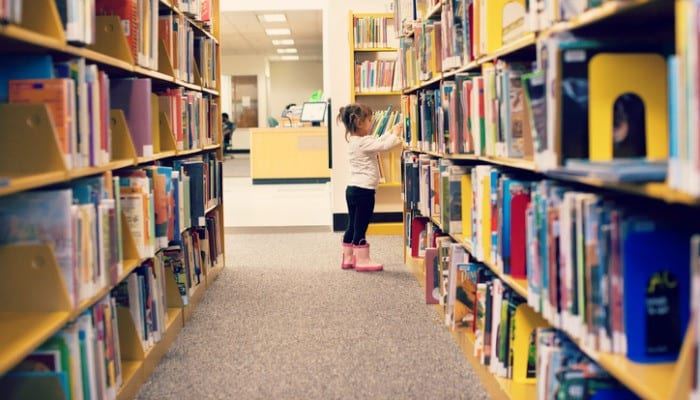 Any year-round weekly programs, like story times, will be temporarily suspended during movies week, but will return on Monday Aug. 6. These programs include:
Mondays at 

10:30 a.m.

 Léeme Un Cuento, Spanish preschool story time
Tuesdays at 

10:30 a.m.

 Panera story time, only 

Aug. 7 and 14

 at Panera Bread on S. Broadway
Wednesdays at 

9:30 a.m.

 Lap and Play time for Babies
Wednesdays at 

10:30 a.m.

 Toddler Time
Thursdays at 

10:30 a.m.

 Read Aloud Crowd for Preschoolers
Maker Space events will continue throughout the coming months on the second and fourth Saturdays of every month.  Upcoming events can be found on the Library's website under Maker Space.
Saturday Aug. 21 2 p.m.

 Hydraulics 101
For more information on any of these programs, please contact the Library at (903) 593-7323, or find us on the web at TylerLibrary.com. The Library is located at 201 S. College Ave. in Downtown Tyler.