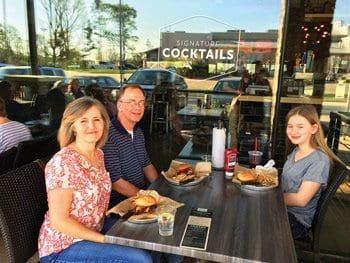 Written and Photographed by Barbara King
Looking for good people, real food, a unique vibe, and big flavors? Head on over to the newly opened Grub Burger Bar on S. Broadway in Tyler, and be prepared to be impressed.
First off, the atmosphere is large…a big open bar with high seating in front, spacious tables, and music. The inside design is polished but casual with lots of natural wood, steel, and glass. If you feel like fresh air, place your order, and move outside to the spacious patio that has lots of room to spread out and do some people watching.
Manager Jordan Delk says, "After five weeks open, we are extremely busy with regular customers that are enjoying the variety, intriguing flavor combinations, and the great atmosphere." The original Grub chain started in 2012 in College Station and now has locations all over Texas, Atlanta, Louisiana, Pennsylvania, and Delaware.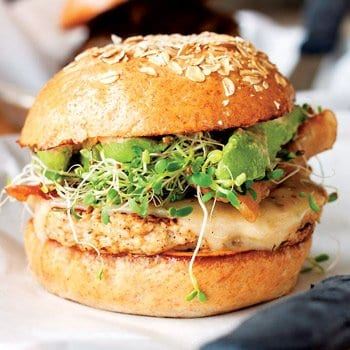 Judging by the crowds at 5pm on a weekday, word of mouth has spread the message that the Grub is the new place to check out. Delk says, "One of the things that makes us different is that we bake our buns from scratch throughout the day, and grind our signature brisket and chuck blend meat every morning. Our guacamole is made by hand every day, all of our sauces are homemade, and we serve local products whenever possible."
The menu is full of surprises and mixes of flavors that you probably haven't come across before. Their signature burgers include favorites like the Lockhart Legend (Applewood smoked bacon, cheddar cheese, housemade Dr. Pepper BBQ sauce, topped with onion rings and pickles), the Texas Luau (topped with braised pulled pork, a grilled pineapple slice, grilled jalapeños, teriyaki, and bbq sauce), and the OMG (Texas chili made from scratch, fries, cheddar cheese, chopped onions, and mustard). They proudly offer gluten free buns, and you can also top your burger with a fried egg for a buck.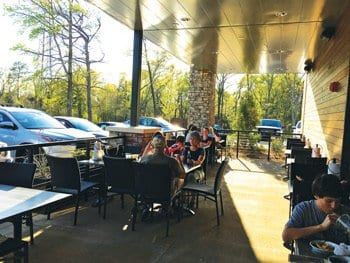 For those needing a healthier alternative, look at the menu section featuring "Burgers That Don't Moo" including a Jive Turkey (100% turkey breast, with bacon, swiss, sprouts, avocado, and chipotle), and Hippie Chickpea (a meatless burger made with a neat mix of roasted red pepper, arugula, red onions, goat cheese, chopped cucumbers, and pickles)
Salads are extensive, including Napa (mixed greens with arugula, goat cheese, fresh strawberries, black mission figs, toasted almonds, and hazelnut vinaigrette), Pesto Turkey Cobb, Greek, and Ahi Tuna, (spiced, rubbed, seared ahi tuna steak on mixed greens with rice sticks, arugula, carrots, avocado, cilantro, sprouts, pickled ginger, and wasabi-teriyaki vinaigrette. All salads are served with a side of fresh-baked bread, and dressings are made from scratch.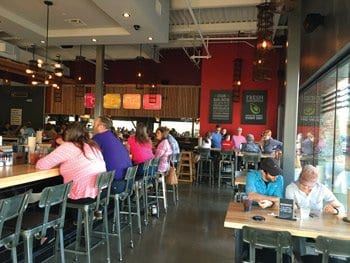 It's all about the savory sides at Grub, including waffle cut sweet potatoes sprinkled with Grub's own magic dust, skinny fries, or the incredible onion rings – Shiner Bock-hand battered and deep fried, served with chipotle ketchup. Or start off with a black bean and charred corn medley or a Texas Chili Bowl.
The handspun shakes are definitely worth talking about, including the Kitchen Sink (pretzels, peanut butter, salt, butterscotch sauce, caramel sauce, chocolate chips, coffee grounds, and potato chips), Worms & Dirt (crushed Oreos topped with gummy worms), ET Shake (Reeses pieces, peanut butter, and chocolate garnished with a peanut butter cookie) or the Market Shake, a chef-inspired creations. Of course, the traditional shakes are available too; strawberry, mint chocolate chip, vanilla bean, chocolate, Nutella, salted caramel, and root beer floats.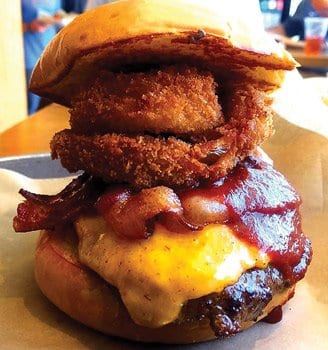 The Grub is family-friendly and encourages you to bring the entire crew. The "Munchkins" portion of the menu for children 12 and under features a kid burger, grilled cheese or chicken tenders, served with a choice of Grub skinny fries or fresh apple slices, and a drink.
Sue and Al Olsson from Tyler were relaxing and enjoying "You're my Boy Bleu" cheeseburgers. Mrs. Olsson raved about "the flavor and the huge portions." Mr. Olsson added, "The patty is very large, the service was great; we were greeted at the door and everything was explained about ordering and what specials were available."
The fully-stocked bar is front and center with inviting high top chairs that will put your workday worries on the backburner for a bit. Grub 'Ritas are made with Sauza Silver Tequila, Patron Citronge Orange and fresh lime juice. Signature cocktails include the Bacon Infused Bloody Mary, Stubborn Mule, Grand Old Fashioned, and Sangria. White wine selections include La Marca, Villa Pozzi, Cupcake, and Josh Cellars, with Reds including Lyric by Etude, Sini Zin, and Educated Guess. Craft beers are abundant, with local True Vine Brewery seasonal offerings, Shiner Seasonals, and Deep Ellum Dallas Blonde, to name but a few.
T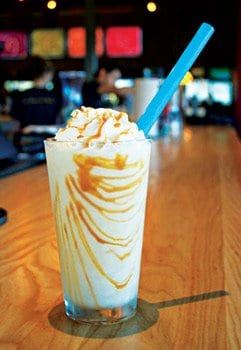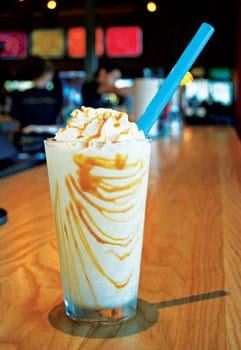 here are even "spiked" shakes, bourbon and caramel, Birthday Cakefetti (cake vodka), Dirty Kitchen Sink (with chocolate vodka) and ET Drunk Dial (chocolate vodka again). "Happier Hours" are everyday from 3-6pm, with $3 domestic pints, $4 for all craft pints, and $5 for all spikes shakes (among other selections).
The Williams family (John, Deadria and Grace) visited for the first time and decided to take advantage of the warm weather and join the patio crowd. "We live close by and have driven by and noticed the new sign," explained John. Deadria said, "We love the interesting combinations of flavors and the homemade sauces on the burgers."
You can place your order online for pickup at tyler@grubburgerbar.com or call (903)508-4714. Grub Burger Bar is located at 6421 S. Broadway in Tyler. Grub Burgers hours are Sunday-Thursday 11am-10pm, and Friday-Saturday 11am-11pm. You can find them online at grubburgerbar.com.
"Drop in, get saucy, and eat the Grub way!"
[wdi_feed id="1″]