Holiday Traditions Often Feature Locally Produced Goodies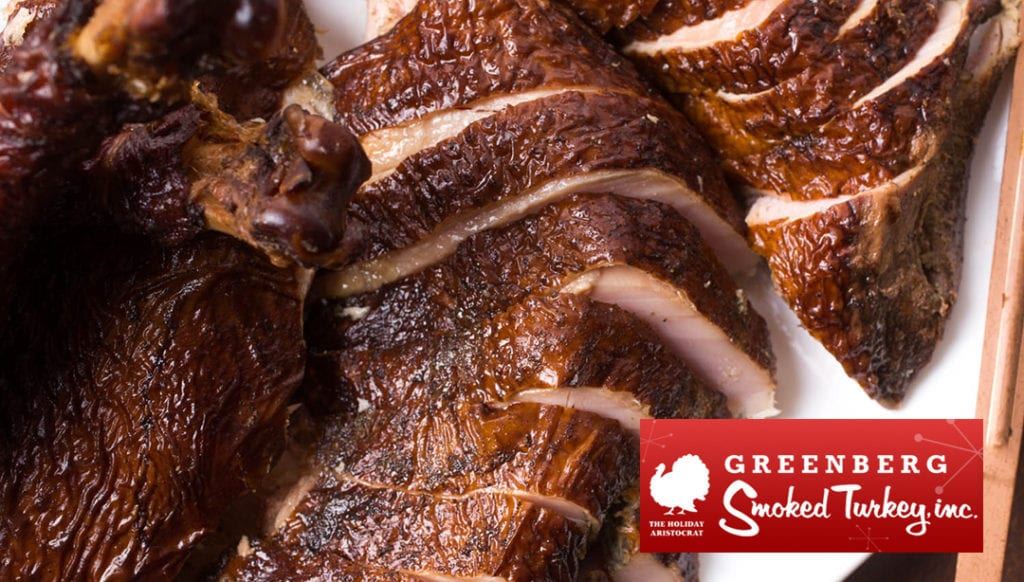 It's that time again – time for the holidays, and with this time of year comes all of our favorite foods and traditions. Here are a few of our locals' favorites.
Greenberg Smoked Turkey
A legend in its history, and a tradition for many is for a Greenberg Turkey to be on their Thanksgiving table. Just driving by the Greenberg Turkey plant this time of year – with the smoke rolling out of the buildings – will have your mouth watering as you smell that heavenly, smoked turkey scent.
One taste and you'll understand why so many people make a Greenberg Smoked Turkey the center of their holiday celebrations.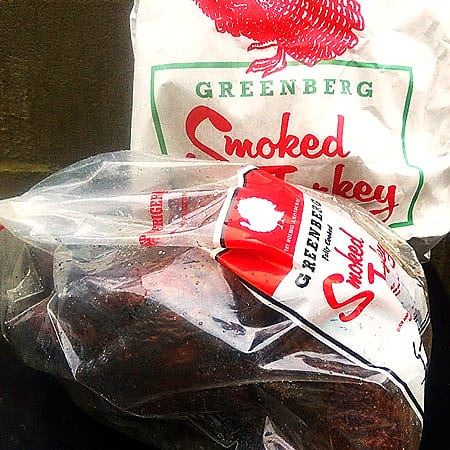 From their website, Sam Greenberg said, "For 70 years our family has slow smoked turkey over hickory fires for an unmatched flavor. Then we ship them fully cooked and ready to eat. All you have to do is slice it and enjoy. When you serve Greenberg Smoked Turkey, you're sharing in an East Texas family tradition that spans four generations. It all started when my grandfather began smoking turkeys for family and friends in a corner of his dairy barn. Word spread about his delicious gifts, and by the 1940's my father fulfilled the family's first official order – an unsolicited request from 100 miles away in Dallas. Not much has changed since those days. We still smoke turkeys the way my grandfather did – seasoned with our family spice recipe and slow-cooked over a hickory fire. Around 200,000 customers make us a part of their holiday season each year."
Turkeys are available from 6 pounds (feeds 12 to 18 people) all the way to 15 pounds (feeds 30-45 people), and range from $33.40-79.40 each. A rule of thumb for size is a third to half a pound per person for average eaters. The average size of turkeys is between 8 and 10 pounds. They ask that you order early to ensure that the size of your choice is available. Closer to the holiday's sizes of turkeys available may become limited.
Whether you are serving a Greenberg Smoked Turkey at your own table or sending them as gifts to family and friends, you can place your order online or drop by their office Monday-Friday, 8:30am-5pm.
Also, on the website, there are a few recipes in case you have leftovers, including a favorite in my family, the Greenberg Smoked Turkey and Andouille Sausage Gumbo.
Greenberg will ship nationwide. The office and plant are located at 221 McMurrey Dr., Tyler. For more info and to order online go to gobblegobble.com or call (903) 595-0725.
Hebert's Specialty Meats
Hebert's (pronounced A Bears) is the home of the original deboned, stuffed poultry, and is owned and operated by true Cajuns. Their Cajun market has developed unique seasonings, marinades, stuffings, and cooking processes to produce wonderfully delicious products. They have all the Cajun favorites: gourmet Turducken, Andouille sausage, etouffee, crawfish pie, and much more.
Hebert's starts with a selection of the finest products available. The timely combination of cooking and seasoning creates the authentic Cajun flavor, which until now, was found only in South Louisiana. Their goal is to provide customers with a consistent, high-quality product and a true Cajun flavor. Hebert's has been in business since 1984, with the original store in Maurice, Louisiana (just south of Lafayette). After just one taste you will understand why.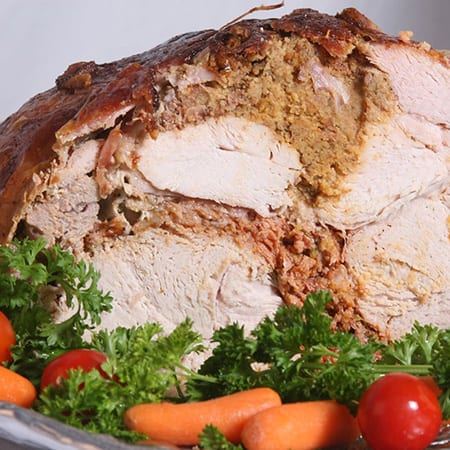 This time of year, Herbert's specializes in something unique- Turducken. A Turducken is a completely deboned turkey that is stuffed with a boneless duck plus a whole deboned chicken. Then a delicious cornbread dressing and pork stuffing are added between each layer to separate each poultry. Special seasonings are sprinkled over and into the entire product; then the Turducken is vacuum sealed, forcing the seasonings into the product, enhancing flavors and freshness.
Herbert's does all the work for you so all you have to do is put it in the oven. Variations include Turducken with Chicken Sausage, Jalapeno Chicken Sausage Turducken, and a Turken – a traditional Turducken without the duck meat and chicken. They are available in a couple of sizes, but normal ones weight 8 to 10 pounds and feeds 12 (or 6 hungry Cajuns)
Herbert's also sells smoked hams, Boudin, sausage, crawfish pies, deboned stuffed chickens, deboned stuffed turkeys, gumbo, etouffee, kabobs, and their custom created sauces, spices, and rubs. They also sell fine cut steaks that are ready to throw on the grill after defrosting. Their roasts are stuffed with onion, bell pepper,and garlic, and are oven ready after defrosting, too.
Variety is key here and Herbert's has something different for your holiday dinners. The deboned chickens or turkeys have all the bones except for the wing tip and the two small bones in the wing. They are then stuffed with three pounds of a delicious combination of ingredients. They come ready for the oven, either fresh or frozen. You can choose ten different stuffings: alligator and rice dressing*, broccoli and cheese dressing*, traditional cornbread dressing*, jalapeno cornbread and crawfish dressing*, crawfish and rice dressing*, eggplant and brown rice dressing*, pork stuffing*, rice dressing*, shrimp and rice dressing*, or boudin. Deboned turkeys are available too, noted with an asterisk, plus they also offer a duck dressing.
Herbert's has several locations in East Texas. The Lindale market is located at 2304 S. Main St., and in Longview, you can find them at 1301 Judson Rd.
For more info and to see their menu go to hebertstexas.com, e-mail sales@hebertstexas.com, or call (903)247-MEAT (6328).
Stanley's Famous Bar-B-Q
Stanley's Famous Bar-B-Q is smokin'! Stanley's – well-known for their pecan smoked meats such as their perfect brisket, baby back ribs, turkey, chicken, fresh made sausage, and even pulled pork, throughout Texas – also smokes turkeys during the holidays. "We will take orders up until November 21st (the Monday of the week of Thanksgiving) and the turkeys will need to be picked up by end of business on Wednesday, November 23rd, as we are closed on Thanksgiving day. The turkeys are priced by the pound at market price and come in a variety of sizes," said Nick Pencis, owner.
They start taking orders 2 weeks before Thanksgiving. You can place your order at the walk-up counter, call (903)593-0311, or go to www.stanleysfamous.com.
Loggins Restaurant

Pie in the sky is not just a saying – it is a description for the pies at Loggins – which are sheer heaven!
Loggins Restaurant is family-owned and has been a favorite eatery in the heart of Tyler since 1949. Originally it was a drive-in, and old pictures are located on the walls.
Offering southern-style foods on a lunch buffet, Loggins is a great place to get that "warm eating at grandma's" feeling. Loggins has been a popular lunch spot, typically packed to the gills every day, for eons for East Texans. They are open 10:30am- 2pm Sunday-Friday (closed Saturdays). Be sure to get there early, the line is sometimes out the door. Loggins has different menu items daily on the buffet.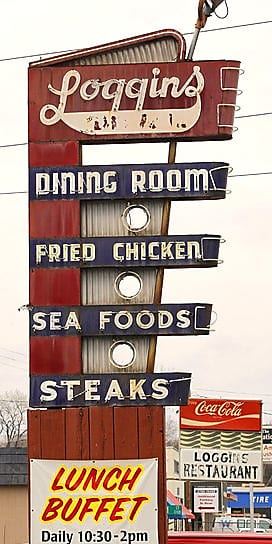 Southern style foods are their mainstay on the buffet (and their fried chicken is the best we've found), but their pies have become legendary as well. Some have described the pies as "best pies in the world," and being that their restaurant is only a buffet, you can sample as many different kinds as you like. All are made fresh daily with old time recipes passed down for generations. Typical most days is a delicious looking array of pies to choose from, including cherry, apple, cheesecake, coconut, and lemon meringue. The variety available changes often.
During the holidays, you can get whole pies to go too. Be sure to call a day ahead.
Loggins is owned by Jerry and Lyana Loggins, who offer excellent service to the folks of East Texas. They are also Johnny Football's grandparents and huge Aggie fans.
Loggins is located at 137 S. Glenwood Blvd., in Tyler. For more info call (903)595-5022 or go to logginsrestaurant.com.
If you go there more than once, it is likely that the staff (and some patrons) will remember your name. It is just that kinda place.
Village Bakery
The Village Bakery, owned by Bettie Smith, has been a Tyler tradition for more than 60 years, baking up goodies since 1948 in the Bergfeld Center in Tyler. "Generations of families have enjoyed our famous gingerbread men, Easter petit fours, and Thanksgiving treats. Custom cakes have been a special part of many birthdays, weddings, and family occasions."
Their homemade and hand decorated gingerbread men and women are a tradition among a lot of locals. "I have lived in Tyler most of my 46 years, and Village Bakery is a place we have enjoyed since childhood. I had to have a gingerbread cookie whenever my mom would take me there as a child. For special occasions Village Bakery's cakes are amazing, both in presentation and melt in your mouth," said Libby McMann.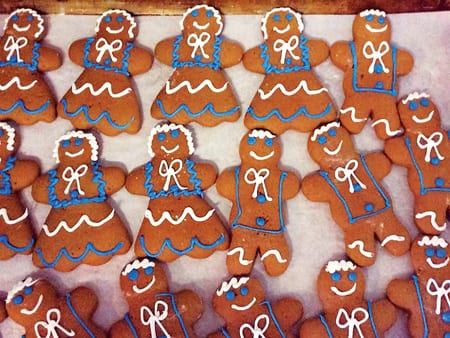 "My favorite changes with the seasons: summer favorite has to be strawberry cake, for fall I crave Italian cream cake, Springtime calls for her Easter egg petit fours, and for the holidays the rolls and chocolate cake with fudge icing are to die for! Also, my son asks for the Hungarian pull apart bread every time I go. It is like sticky sweet monkey bread that is amazing with coffee or cold milk. Bettie Smith has continued her same traditions of superb quality and service throughout my lifetime. For a bakery, The Village Bakery is superb and a holiday tradition in my family," said McMann.
"I have been a visitor to the Village Bakery for over 20 years. I was born and raised in Tyler, and every time my grandmother and I went shopping, we would stop by, and she would buy me a gingerbread man and woman," said Kay Keele. "When my children were young, an annual quick stop for gingerbread men and women, or special cookies, was always a must too. And now, my children visit the bakery during the fall and get these traditional cute gingerbread cookies for their children," said Keele. "It's been a tradition for three generations!"
Village Bakery also features baked delicious pies, pastries, breads, cookies, muffins, cakes, brownies, or cupcakes as well as wedding cakes and by special arrangement, you can taste different wedding cakes by appointment.
Village Bakery is located at 111 E. 8th St., Tyler. They are open 7am-6pm Monday-Friday, and 7am-5pm on Saturday, closed Sunday. For more info call (903)592-1011 or go to villagebakerytyler.com.
More Traditions
A few other food traditions include:
The Annual Edom Fire Department Turkey Fry – Stop by the Edom's fire department for its annual fundraiser where they will fry your turkey for you. An added bonus, they try to educate people on the fire hazards of frying your own turkey. They will fry the turkeys on November 23rd for pick up November 25th at the fire department. For more info call (903)852-6642 or (903)571-0334 with questions.
Let's get a little fruity! Collin St. Bakery, located at 17044 I-20 W., in Lindale at the Hideaway Lake exit, offers their world-famous DeLuxe® Fruitcake every year. It has been a favorite since 1896 and is still baked faithfully to the original recipe. According to their website, each fruitcake is the perfect balance of native pecans (27%), shelled in Corsicana, Texas, hand-picked Golden sweet pineapple and lush papaya, ripe, red cherries from Oregon and Washington State, pure clover honey, plump golden raisins. The fruitcakes are offered in both full-cake size and petites, a perfect bite-sized morsel of their world-famous fruitcake. For the chocolate lover, the petites come dipped in delicious milk chocolate. For more info and to place an order call (903)882-9205 or go to collinstreet.com.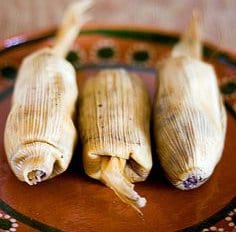 When you start to get tired of turkey, in come the tamales! "Tyler Tortilla Factory offers homemade tamales and tortillas in Tyler, Texas. We offer tasty, delicious corn and flour tortillas, homemade chips and salsas, and our famous tamales made with the Correa family recipe. We are proud to have served delicious Mexican products to everyone in East Texas for over 35 years." Every year, some families like to have tamales on the Saturday after Thanksgiving. At the Tyler Tortilla Factory choose from a selection of traditional pork tamales, beef tamales, chicken tamales, and their famous spinach tamales too. Ordering in advance is highly recommended. Tyler Tortilla Factory is located at 513 N. Border, Tyler. For more info and to place an order call (903)595-0873 or go to tylertortillafactory.com. By the way, their green salsa, although very hot, is heavenly! Get a container to go.
Heartland Hams are available again at Traditions Restaurant in Tyler located at 6205 S. Broadway. To place your order call (903)534-1111 or e-mail traditionstyler@gmail.com. Don't forget to get a Pumpkin Roll too!
And let's not forget dessert. There are some local sweet treats that people like to get for gifts during the holidays. Texas Moon Gourmet Toffee are some of those. They are sold at Sweet Gourmet, located at 4554 S. Broadway in the French Quarter in Tyler. "Founded more than 15 years ago, Texas Moon Gourmet Toffee was created by Gail White, who made it for friends and family during the holidays each year. After years of rave reviews from these friends, her daughter decided it would have mass appeal. Its' crunchy texture and delicious, buttery flavor make it a favorite treat each year during the holidays."
The toffee is only available for a couple of months before and after the holiday season, so it's definitely a holiday commodity. You can also order it online at txmoon.com. They offer a pretty cool gift service too where you can just select the "Create Your List" button, download the form, and send them your list of corporate gifts to fulfill for you. They can even handle all the shipping.


Farmers Markets Around East Texas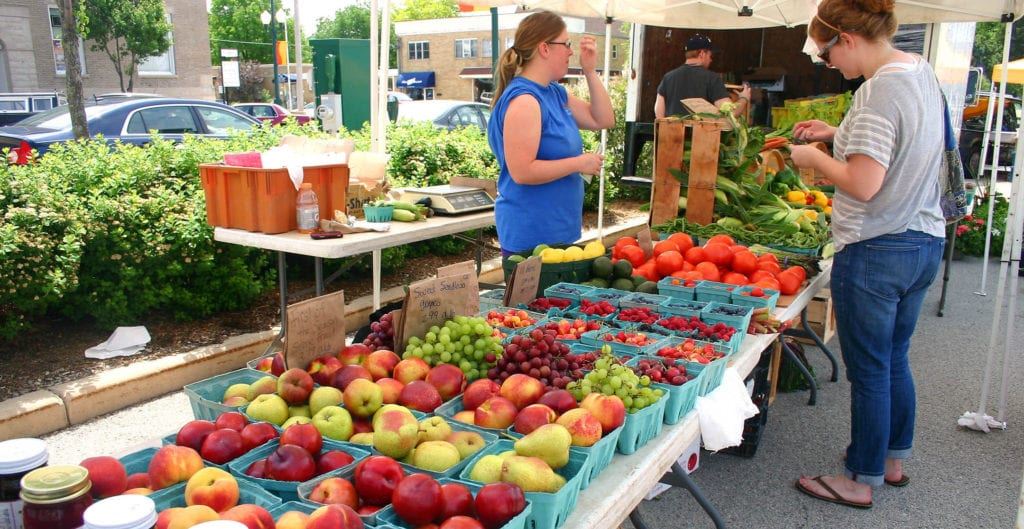 Everything is blooming, growing, and flourishing in East Texas, and it's time to head to your local favorite farmers market. Be sure to check one of these out for all kinds of goodies.
Rose City Farmers Market, Downtown Tyler
Saturday mornings, 8am-12 noon, the Rose City Farmers Market is a neat, unique experience for the whole family and even your furry four-legged friends. Located just a block from the Square, in the Unclaimed Furniture parking lot in Tyler (236 S. Broadway), the market brings all that's fresh straight to you: fruits, vegetables, and herbs all grown within 75 miles of Tyler. That includes pasture-raised beef, lamb, pork, chicken, and turkey, free-range/non GMO eggs, and goat cheeses. Every Saturday, the available selections are different featuring treasures from East Texas fields as the crops come in.  Also, there's fresh bread, flowers, coffee, jams and jellies, baked goods, Texas olive oil, handcrafted art, and Texas fruit wines on hand. Local musicians will be perform every Saturday. Visit them on Facebook, and foodcoalition.org.
Tyler Farmers Market
Tyler Farmers Market has moved to a new location at 2700 WSW Loop 323, Tyler, adjacent to Peltier Chevrolet. The Tyler Farmers Market is open Tuesdays, Thursdays, and Saturdays 7am-2pm. They feature seasonal items under a big white tent. You can visit them online at tylerfarmersmarket.org.
East Texas State Fair Farmers Market
East Texas State Fair Farmers Market, located at the Fairgrounds, 2112 W. Front Street, Tyler, is held under the large pavilion. They are open Tuesdays and Saturdays 7am-1pm. The East Texas State Fair Farmers Market is sourced from 100% local farmers who grow every last bit of food they sell on their own land. This is a covered/open air market, with locally grown fresh fruits, veggies, and flowers. There are also crafters, homemade baked goods, preserves, and fresh eggs. This farmer's market is located right behind the Rose Garden.
Lindale Farmers Market
Open through August 31st, this ongoing farmer's market occurs every Saturday (8am-1pm). Lindale Farmers Market will be held at the Picker's Pavilion, 205 E. North St., Lindale. Fruits, vegetables, artisan wares, and more are featured each week. Everything is home grown, home made, and hand crafted by artisans, ranchers, and growers. For more info go to www.facebook.com/Lindale-Farmers-Market.
Stillwater Farm Market Store
Located at 109 W. Main St. in Chandler, Stillwater Farm Market Store features locally fresh produce, pecans, local meats, baked goods, lunches, and ice cream! This is a destination for "all things fresh" and a great place to pick up locally grown produce. Stillwater Farm is the name given to their family land that is contiguous to the section of Fitzgerald farmland.  The farm features a pecan, peach, and fig orchard. Approximately 10 acres of irrigated row crop vegetables are also grown including onions, watermelons, tomatoes, peas, squash, okra, peppers, and more. For more info call (903)515-3502. They are open Monday-Friday 10am-6pm and Saturday 10am-5pm.

Foodie Events: June 19th-20th, Royal Feast Vintner's Dinner

June 3rd (9:30am): Coffee Talk –
Join for some coffee talk. GABC's head barista will talk about different specialty coffees and how they are made. They will have a demonstration and a taste testing session as well as some awesome giveaways! This is held at Connections Cafe, 1607 Troup Hwy, Tyler.
June 19th-20th (7-10pm): Royal Feast Vintner's Dinner –
Vintner's Dinners are fun events where you get to try wine and eat some of the best food from the Restaurant at Kiepersol! Each dinner event happens at a large table with all the attendees. This dinner includes 4 courses, each course paired with a Kiepersol Wine or Spirit. This a great social event or date night. You will have the opportunity to hear directly from some of the leaders at Kiepersol and dine with some fellow Texas wine lovers. The Royal Feast Vintner's Dinner menu is a Charcuterie Spread, Fennel Seared Scallops, Steak and Pommes Frites, and Royal Trifle. Tickets are $100 plus tax per person, excluding gratuity. Dinner is served promptly at 7pm. You're welcome to come early and visit the bar, which is first come, first served or you can visit the Winery and Distillery at Kiepersol. They request that all parties are seated and ready to have fun by 7pm. Sign up at
shop.kiepersol.com
. Kiepersol is located at 21508 Merlot Lane, Bullard. Future Vintner's dinners are July 24th-25th, September 18th, and November 20th.
Rescheduled: June 21st (5-9pm) & 22nd (11am-7pm): 2019 Piney Woods Wine Festival –
The City of Lindale is hosting the 9th Annual Piney Woods Wine Festival featuring wine tastings by the 20 wineries on the Piney Woods Wine Trail – many of them national award winners. Uncork the fun for musical entertainment, arts, crafts geared for the wine enthusiast, great food, and of course wine! This event is free to attend, however, a wristband ($10) is required per day to enter the wine garden (tastings are not included in the $10 entry fee). If you plan on tasting wine, each tasting will cost $1, a glass of wine will range from $5-$8 per glass, and bottles of wine may be purchased from the individual wineries. Each wristband comes with a wine glass and a six-bottle wine tote. Tickets are available at
visitlindale.com
and may also be purchased at the event on the northeast corner of Picker's Pavilion. Picker's Pavilion is located at 205 E. North Street, Lindale.
July 27th (9am-5pm): Chapel Hill Farmers Market & Trade Days –
Please join and celebrate local businesses with a Farmer's Market & Trade Days event. Businesses and Farmers please email
CHBAlliance@gmail.com
to sign up as a vendor. The fee is $50 dollars per booth. If you will need something larger than 6×10 ft of space, or electrical equipment, please let them know in advance. You can also bring payment to Wood & Bean, or to Daily Grace Effect. This will be held at Chapel Hill High School, 13172 Hwy. 64E, Tyler. For more info go to
facebook.com/events/323409231683759
.

Warm Weather and a Full Stomach…What's Better? Fav Patios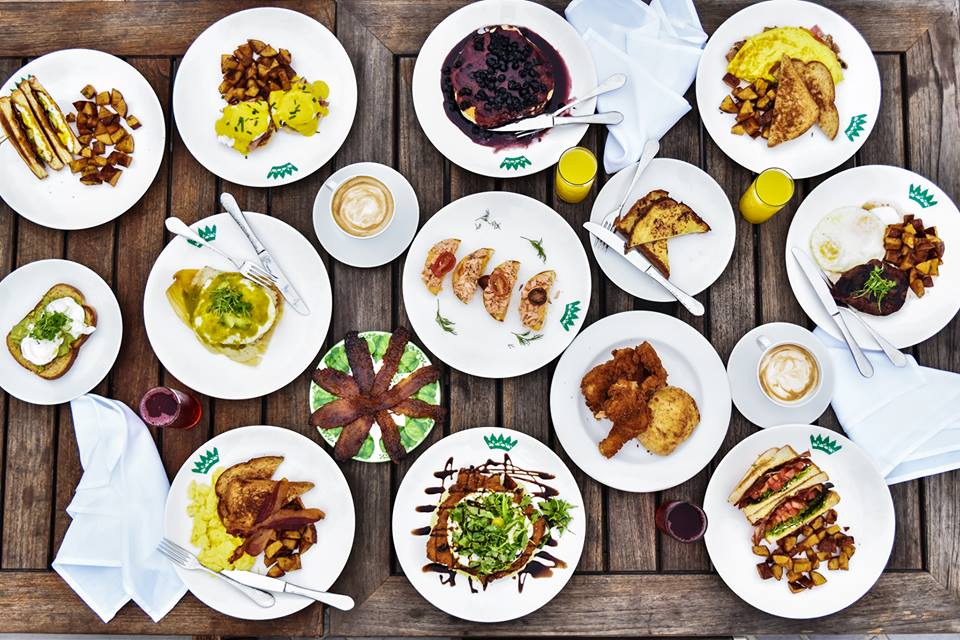 Spring and Outdoor
Patios Go Hand in Hand:
Where to Eat & Drink Al Fresco This Spring
It's that time of year – time to celebrate patio season by sitting outside and enjoying a patio. From garden atmospheres to cocktail bars and restaurants with expansive outdoor spaces, these establishments offer al fresco drinking and dining along with the opportunity to soak up some vitamin D.
Whether you are about grabbing a drink or just enjoying a meal and the cool spring atmosphere, Tyler has something for your tastes.
If you are seeking breakfast, brunch, afternoon cocktails, or a nice relaxing dinner, a local patio is a great place to spend the cooler springtime. Before it gets too hot, check out some of our reader's favorite fun patios in Tyler.
Chuy's Mexican Eatery (5935 S. Broadway, Tyler (903)509-2489) – Serving "big as yo' face" burritos and other Tex-Mex dishes, Chuy's is a great place to unwind after work. The Elvis Green Chile Fried Chicken is to die for. Happy hour specials include drinks and food as well as a free chip bar inside in the bar area. The patio is covered by a palapa and has wind windows and fans which makes it nice year round. Also, large groups can easily sit outside on the patio. Inside is a fun, kitschy, Elvis-heavy setting.
The Catch (1714 S. Beckham, Tyler, (903)596-8226) – The cajun-inspired menu at The Catch brings locals and tourist in by droves and the outdoor patio is a great place to stretch out and enjoy a huge pan of boiled crawfish. This no frills, laid-back seafood restaurant's covered patio has picnic style tables, ceiling fans and will protect you from the wind and sun. The Admiral's Platter is great to share family-style at the table. All of the dishes come with huge portions with the plates are piled high. The shrimp po'boy rivals New Orleans with large fresh fried shrimp and remoulade sauce all combo'd to make a great sandwich.
Dakota's Chophouse (4803 Old Bullard Rd., Tyler, (903)581-6700) – Dakota's offers choice steaks, seafood and global wines served in sophisticated but never stuffy setting inside, but if you are wanting something more casual, we suggest sitting outside on the lovely patio. Live music makes for an overall enjoyable experience. It doesn't get better than relaxing at Dakota's on the patio on a Saturday night. Oysters Rockefeller are some of the best we had.
ETX Brewing Co. & The Porch (221 S. Broadway, Downtown Tyler, (903)630-7720) – ETX Brewery has been open for a while offering craft beers, tables inside, picnic tables outside, and a wonderful atmosphere reminiscent of the Austin vibe. When it's warm outside, they will open the garage doors to combo the two spaces, making it expansive and open. Now, The Porch, located next door to ETX Brewery is open serving food with a unique menu to accompany ETX's Brewing's locally-made craft beers. The menu has classics like build-your-own burgers as well as original creations like the Mac 'n Cheese Fries (add bacon), Fried Cheese Curds, and The Kitchen Sink: a sandwich on a hoagie with a choice of three meats, two cheeses and sides. The on-site brews are often seasonal so try them all with a "Flight." We love the Brickstreet Blonde (a classic American blonde ale that is light, crisp, and lightly hopped with a mild maltiness), the Downtown Cherry Brown (a brown ale bearing notes of tart cherry), Hitching Post (a mellow amber ale with a faint caramel influence), and the rich Coffee City Stout (a dark beer made with a little locally roasted coffee and Belgian chocolate).
FRESH by Brookshire's (6991 Old Jacksonville Hwy., Tyler, freshbybrookshires.com) – FRESH is so much more than an excellent grocery store. Offering a huge patio, live music, an amazing view of the east Texas skyline, plus The FRESH Grill + Patio, FRESH has something for everyone. Live music is every Friday and Saturday starting at 6pm. With the food, drinks, live music, and a great atmosphere, it has become a hangout for foodies and music lovers. It's a great place to meet friends or bring the family for a relaxing evening. Menu items include gourmet salads, fish tacos, burgers, fries and a kids menu for little Freshies. We love the J'Ville Burger and the Asian Shrimp Tacos. Beer and wine are available for the adults.
The Grove Kitchen & Gardens (3500 Old Jacksonville Hwy., Tyler, (903)939-0209) – "Where all ages can come to play outdoors!" You can dine outside, in the main dining area, or try their barbeque in its own building, The Smoke Shack. Upon entering, you'll see a large fire pit, lots of trees, and tables of all sizes located all around – some in the shade, some under umbrellas and even some in the sun. There's comfortable cushioned couch-style seating as well. Most nights there are musicians performing. All of this creates a nice isolated outdoors feeling even though you are still in town. There is also a gated roomy, kid-friendly lawn area for your kids to run off some of that energy.
Stanley's Famous Pit BBQ (525 S. Beckham, Tyler, (903)593-0311) – Where all the cool kids go! This unpretentious barbecue joint and bar offers open outdoor seating, excellent barbecue, live music, and happy hour Monday-Friday and all day on Wednesdays. The menu has beef brisket, ribs, chicken, turkey and sausage, as well as stuffed potatoes and Frito pie. The famous Mother Clucker (smoked chicken thigh meat with spicy mayo, cheddar and fried egg on jalapeno cheese sourdough) as well as the morning specialty, the Breakfast Brother-in-Law (a grilled hot link with cheese and scrambled eggs on a bun) are good choices. There's live music six days a week, a list of delicious cocktails, and it is best enjoyed at a picnic table outside in the sun. Stanley's patio is covered with sunshades to help keep things cool.
Strada Caffe – (302 E. Front St., Tyler, (903)944-7744) – This coffee shop has expanded to evening hours and with that, they are now offering small plates, wine, and craft beers. In the mornings, an Espresso plus a breakfast taquito and the outside patio equal a great combo. In the afternoons, the patio is quite roomy and a good place to unwind after a long day of work. Strada offers breakfast, lunch and small plates at dinnertime, live music sometimes, Sunday brunches, and local art in the caffe. Extra parking is available across the street.
Republic Icehouse (3807 University Blvd., Tyler, (903)504-5860) – This bar and restaurant has a large patio which accommodates both small and large groups with picnic tables and quaint small cafe-style tables. Most nights they have live music inside. There are TV's everywhere if you are wanting to catch a game. Outside is more quiet and intimate. Republic's pizzas are great, their burgers are on point, and the beer is always cold.
Rick's on the Square (104 W. Erwin St., Downtown Tyler, (903)531-2415) – Rick's features southern seafood and steaks in a vintage, brick-walled space with a patio and live music on weekends. Happy hour daily.
Roast Social Kitchen (1125 E. 5th St., Tyler (903)202-0295) – The eclectic atmosphere and the yummy brick-oven pizzas, chef-inspired specials, small plates, and a full bar is always a great time. Inside the atmosphere is industrial-chic with a touch of cool. Happy hour drinks and food are offered. Roast has a brick oven that produces exceptional pizza, the super-thin variety made from handcrafted dough and fresh ingredients roasted on-site. Outside, the sidewalk cafe-style patio atmosphere is a nice place to sit after dark. This is a great way to spend a spring evening with a cocktail in hand. Our favorite pizza, along with thousands of other's, is the Bee's Knees, topped with roasted garlic, a variety of cheeses, sopressata, Italian sausage, local spicy honey and fresh thyme. In the bar, find wine, beer and cocktails on tap, including a favorite, Rose's Night Out, vodka with rose syrup and lemon for a light effect.
Villa Montez (3324 Old Henderson Hwy., Tyler, (903)592-9696) – The Latin-inspired menu offers seafood and meat dishes, plus comfort classics, all presented in the swanky old-world charm atmosphere of a hilltop mansion. The huge deck is a great place to have a casual meal outside among the treetops. You will not have a care in the world when you leave this expansive balcony style outdoor area. The Chimichurri Steak, sea bass, and margarita shrimp are delicious.
Zoe's Kitchen – (8926 S. Broadway, Tyler, (903)939-0925) – The great Mediterranean salads, shrimp or beef kabobs, chicken salad sandwiches, lentil soup, Mediterranean chicken plate, and the chocolate cake are always perfect at Zoe's and sitting outside on the patio is quite lovely this time of year. Be sure to try the fried potato salad, too. The food is always freshly prepared. This hip little place has a cool atmosphere and reasonable prices for delicious healthy food. They have a vegan and vegetarian menu.