By Gini Rainey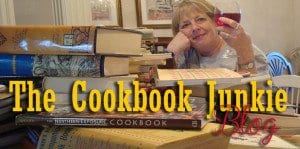 So, after the last couple of weeks, one of my bestest (yes, that is a real word – it's MY real word!) friends and readers said he didn't care much for my recent choices of recipes (that had used broccoli and chicken) that I had featured and was afraid that next thing you know, I might have one that contained cottage cheese!  Now, just out of meanness, I should probably search for a recipe (like chicken lasagna) that does contain those offensive items, but I don't think I'll go there.  After all, I should to listen to my readers!
So, as I was looking through the "library" for today's book of inspiration, I came across a nice little Junior League cookbook from Beaumont, Texas.  Published in 1982, "Lagniappe – A Little Something Extra," is filled with recipes from the Beaumont Junior League members and was used as a fund raiser for their many community projects.  Not only does it have some wonderful recipes, but it also contains menu plans using those recipes and along with lots of helpful hints and serving ideas.
Even if you aren't a seasoned cook, or your kitchen seems like foreign territory to you, this nifty 350 page book can help make you feel more at home while in there and help you feel more at ease when you invite folks in for a bite to eat.  Whether you are just in the mood for hors d'oeuvres and cocktails, a full meal deal, or dessert and a digestif, with this little book at your side, you should be able to make peace with your stove and impress your friends.  I mean, how much easier (and impressive could it be) than to serve up an artichoke dip with crustini and a glass of white wine?  All you would need for the dip is a cup of Parmesan cheese, a cup of mayonnaise, a cup of canned, drained and chopped artichoke hearts, and a teaspoon of salt.  How much easier, I ask!
Of course, if you would like to do something just as easy and impressive for dessert, their recipe for Macadamia Nut Pie might be the way to go.  Similar to its mainland cousin, Pecan Pie, the macadamia nut pie can give your after meal-meal, a whole new twist.  By
basically substituting chopped macadamias for the pecans in your recipe, you've created a pie that might just become your new "go-to" recipe for a dessert.  Topped with either whipped cream or ice cream and joined with a crisp, cold flute of champagne, and you will have elevated your dessert to an all time high.
One of my favorite ways to dress up a meal is by putting a new twist on an old favorite.  Take chicken pot pie, for example.  Instead of using a pie crust, why not serve it up in a pop over?  Hearty and delicious, you can make the ordinary extra-ordinary by changing it up a bit.  This cookbook offers a recipe for Giant Popovers that will serve 10.  Begin by lightly beating 6 eggs and ¼ cup of peanut oil. Then slowly beat in 2 cups of milk, 1 ¾ cups of flour and 1 ½ teaspoons of salt.  Pour into ten well-oiled custard cups and bake at 375° for 1 hour until firm and brown.
Meanwhile, boil two whole chicken breasts until done, let cool and then cube.  In a 2-quart sauce pan, melt 1/3 cup of butter and stir in 1/3 cup of flour, ½ teaspoon of salt, and ¼ teaspoon of pepper, stirring frequently, to make a roux.  Gradually add 1 ¾ cups of chicken broth and ½ cup of milk, stirring until thick and bubbly.  Stir in the chicken, 2 cups of thawed, frozen mixed vegetables, and one cup of halved, thawed frozen pearl onions and bring to serving temperature.   Break open the pop overs, ladle on the creamed chicken and vegetables, then lightly sprinkle with paprika.  Serve with a fresh green salad and you have one very impressive, relatively easy meal, ready in no time.  The lagniappe (pronounced LAN yap) or something extra that you've added to this meal is the time and care you took to prepare it!