Jan. 12th: Elvis Returns in 2019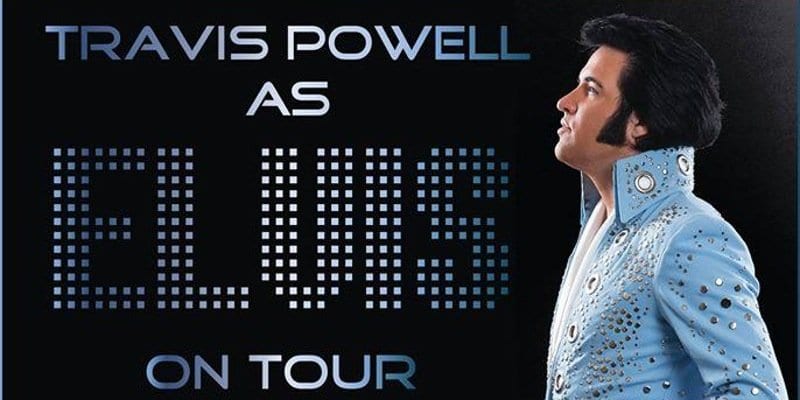 "Who could beat the King of Rock and Roll with his song, 'Suspicious Minds?' Not many. But there is one man who comes close." — Travis Powell.
East Texas is in luck because this smooth impersonator will perform songs from Elvis' 1968 comeback special and 1970s concert years at 7pm on January 12th in Gilmer and January 13th in Palestine.
This 34-year-old North Carolina native has traveled the nation as an Elvis impersonator for years. With his whiskey-smooth vocals and "Well, thank ya, thank ya very much" lines, most people can't tell the difference.
In the two-part act, Powell dons a svelte, playful black leather-clad outfit as Elvis wore in the '68 comeback. Powell will also be seen wearing the iconic Las Vegas-era white jumpsuit and singing songs like "American Trilogy" and "If I Can Dream."
Houston promoter Steve Fountain has been producing Elvis tribute shows for 10 years and said Powell is one of the best. "He (Powell) takes you back in time," Fountain said. "It's as if you are watching the real Elvis in Vegas. He is amazing."
Powell has won many Elvis tribute contests, including the Potawatomi Hotel & Casino's "A Tribute to the King" competition in January, which put $25,000 in prize money in that jeweled jumpsuit pocket of his.
Powell's love of Elvis started when he was four. "I have a VHS tape of myself in my grandparent's living room in a jumpsuit singing Elvis songs," Powell said. "I just wanted to be Elvis. He was cool to me and had an amazing voice."
Though the avid Elvis fan never got to meet his hero, Powell believes Elvis was a "great guy."
"One of the things that don't get mentioned much about Elvis is how he helped others," Powell said. "You can go to Greystone and see a lot of the different checks he wrote to people and different organizations. We all have our flaws, but deep down I think he was just a great guy who cared about people."
Besides having a big heart, Powell said Elvis had "it."
"He had charisma, what you'd call 'it', in the entertainment business," Powell said. "He could walk on stage and just smile and people loved him. I wanted to be Elvis." If someone had told Powell at four years old that he would be performing as the greatest entertainer of all time, he'd think they were crazy. "Second of all, I'd be like, 'Yes!'" Powell said. "I would be very happy. And I am. I get to live the dream every day and go to work happy. I don't know too many people in this world that enjoy everything about their job. I'm very blessed."
Powell invited the community to attend this two-hour show for "a great night of good, clean fun."
Special guest 14-year-old rising Elvis tribute artist Moses Snow will open the show.
VIP tickets cost $40 and reserved tickets cost $30 or $20. To purchase tickets, contact (832)312-0074 or email stevemdxelvis@gmail.com. For more info visit etatravispowell.com.