By Johnny Griffith
In case you haven't noticed, the price of oil is down drastically from a year or two ago, consequently the oil and gas related jobs are down all over the region. This has caused many local men and women to consider career changes with circumstances being considered unfortunate by most. For some people, however, the current industry climate has been seen as a sign to jump out and take a chance on long made plans, or dreams pushed to the side while business was good.
One of these intrepid opportunists is local singer/songwriter, Jeremy Peyton. As the oil industry shrank, Peyton saw the writing on the wall, made the hard choice to pursue his passion, and jumped to being a full-time musician instead of continuing to tread water until oil prices bounced back.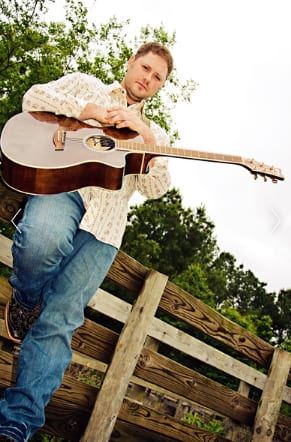 Born in Tyler in 1977 , the Longview resident found a love for music at an early age, and it remained in the background as a priority for several years until he assembled a group of musicians to provide support on stage and started playing local venues on the weekend. With a penchant for Texas Country and a knack for writing relatable, authentic lyrics, Peyton has built an impressive catalog of songs he weaves among crowd-favorite covers to keep people coming back for more.
We found Jeremy out on the road somewhere between Houston and Ft. Worth traveling between gigs and got some more insight to his motivations, background, and future plans:
Johnny: When did you really start thinking about music being more than a hobby?
Jeremy: I've always loved music and knew that's what I wanted to do someday; so while I was on my three-year vacation in Nacogdoches at Stephen F. Austin State University, I started playing parties with a handful of songs that I'd sing over and over, and it just grew from there. A few years later I started venturing into forming a band.
Johnny: When was the moment you said, "Okay, let's jump in with both feet and go full time?"
Jeremy: January 21st, 2016. Besides being a musician, I've been in the heavy equipment and oil field business going on 24 years. With the recent crash, I had my music to fall back on. I had been juggling my music career for a long time, so the choice was easy.
Johnny: How would you describe your music?
Jeremy: Pure Texas Country with a twist of southern rock and honky tonk.
Johnny: How much of the music you perform is original?
Jeremy: I have a ton of originals, and I try to write every day. They aren't all great, but I never throw them away because I have a pretty good memory, and I'll go back and revisit songs or steal lines from them for a current song I'm working on. My motto – never waste a good line.
Johnny: I like to ask all the musicians I interview what their most memorable gig has been so far, so…yours?
Jeremy: That one's easy: Billy Joe Shaver. He's one of my heroes, and we hung out for hours telling stories. I've had several other shows that were huge mile markers, but none bigger to me than this one, and I only played three songs.

Johnny: Obviously, any time you choose to do music on a regular occasion there are challenges, but even more so when you are committed full-time. What have been some of yours?
Jeremy: There are always obstacles to overcome, but probably the most significant are finances. Recording is very consuming on the budget, traveling, long hours (which I was used to because my oil field days), and finding the perfect blend of musicians. They've all been great, but perfection, or close to, is always the goal.
Johnny: Speaking of traveling, how far are you traveling to play shows these days?
Jeremy: Right now we're playing shows all over Texas, Louisiana, Arkansas, Oklahoma, and the venues keep growing.
Johnny: What about that "perfect blend of musicians?" Who do you have on stage with you to craft your sound?
Jeremy: I've got a great lineup of quality players right now. Currently we've got Dalton Simmons on lead guitar and fiddle, David Sweat on drums, Jon Morrow on bass, Wayne McGeorge fills in for us on bass as well, and Justin Spates on lead guitar.
Johnny: There's a lots of live acts around, especially in the Texas Country genre. What do you feel sets you apart?
Jeremy: You're absolutely right, there are a lot of great musicians around, but we just focus on doing our brand of music. We try to be authentic with everything we do, tell great stories, and play great songs. People recognize and appreciate that experience of real Texas Country with the stories and emotions captured in our songs.
Johnny: What's on the immediate horizon for you?
Jeremy: I'm currently working on finishing a two-year project and hopefully releasing an album very soon. I have two radio singles out currently. I'm also working with Rebecca Creek Distilleries on a sponsorship level and looking forward to seeing what the future holds down the road. There are lots of great shows to come, but first, I'll be taking November off for hunting season. I'll continue to do all my weekly acoustic shows, but I'm really just concentrating on time with my kids and hunting for a bit.
Jeremy Peyton will play at Circle M Crawfish in Big Sandy Saturday, November 12th, 8pm.
Find him on Facebook page at facebook.com/jeremy.peyton or go to reverbnation.com/jeremypeyton.