Keep Tyler Beautiful will be celebrating Bee Day in the Garden on Thursday, June 23 from 4 to 6 p.m. at the Tyler Rose Garden, 420 Rose Park Dr.
This event is a culmination of a week-long celebration of National Pollinator Week and celebrates our favorite pollinator, the honeybee.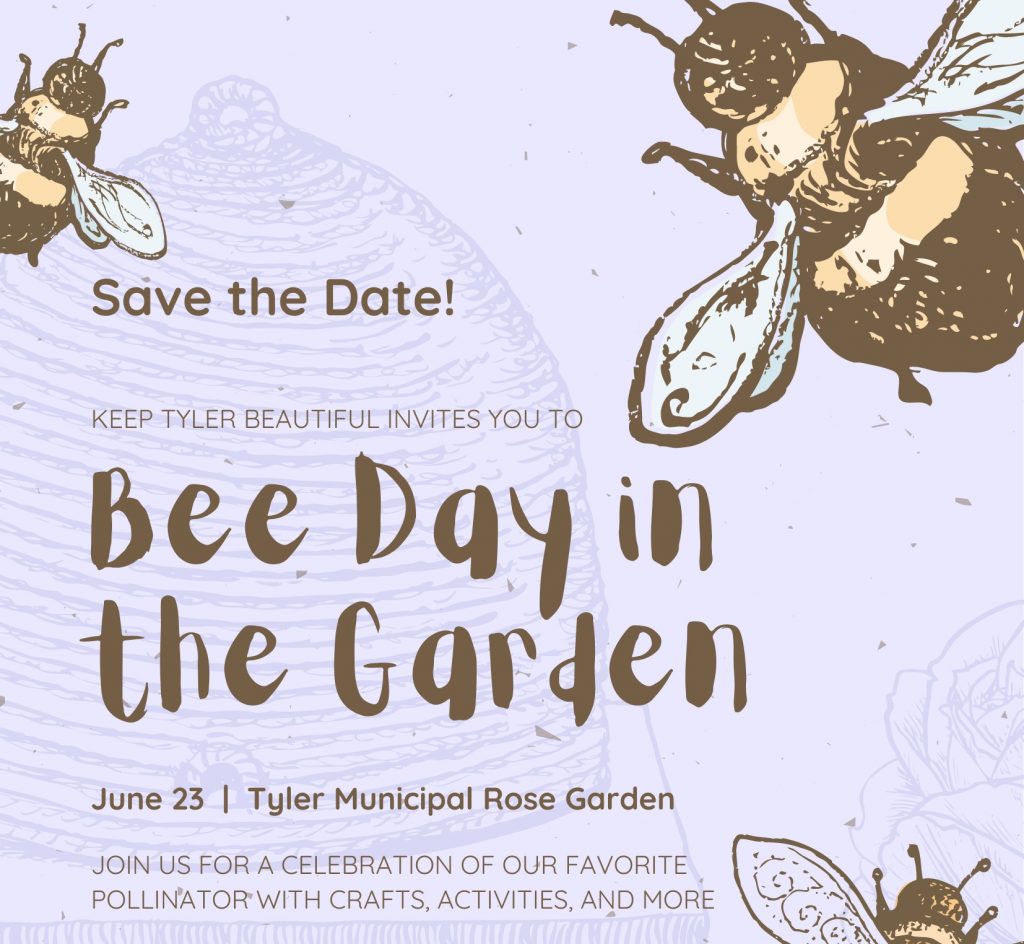 We invite the community to come and learn about bees and other pollinators and their importance. The celebration includes activities for children, honey vendors, face painters, and local food trucks. Educational workshops will be offered for residents interested in becoming beekeepers or planting a pollinator garden. The workshops will be led by the East Texas Beekeepers Association and the Smith County Master Gardeners.
The City of Tyler is one of nine cities in Texas to be designated a Bee City USA, under the Keep Tyler Beautiful program. Our mission as an affiliate is to educate and raise awareness in the community on the importance of all pollinator species, including Honey Bees.
All Bee Day in the Garden activities and educational workshops are free of cost.
For more information on the Bee City USA and Keep Tyler Beautiful program, please contact Erin Garner, Community Coordinator at KTyB@TylerTexas.com or (903) 531-1335 or visit bit.ly/BeeDayintheGarden.
About Keep Tyler Beautiful
Keep Tyler Beautiful's goal is to encourage beautification, waste reduction, and recycling activities in the community. Through planning, initiating, and coordinating programs for litter control, environmental sustainability, and beautification, we strive to bring people together and raise public interest in building a cleaner, better city.
About Bee City USA
The Bee City USA program, an initiative of the Xerces Society, "endorses a set of commitments, defined in a resolution, for creating sustainable habitats for pollinators, which are vital to feeding the planet."