True Vine Brewing Celebrates Fall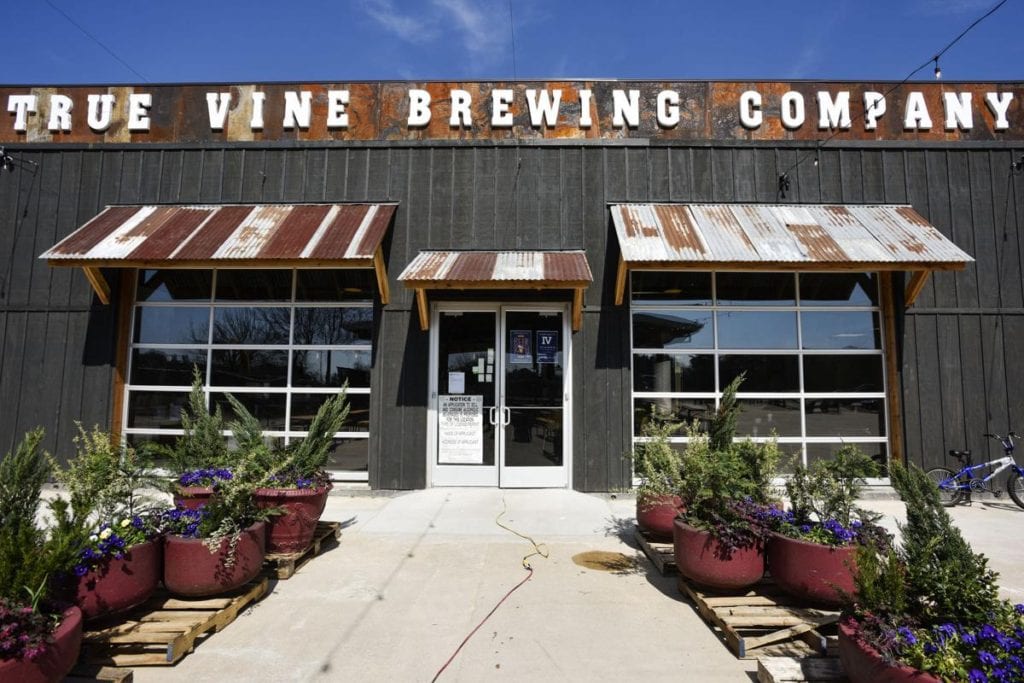 True Vine Brewing Company is located at 2453 Earl Campbell Parkway, Tyler, truevinebrewing.com, facebook.com/truevinebrewing. True Vine Brewing has a lot going on this month!
September 8th, October 13th, November 10th and December 8th (10-11am): Yoga and Beer at True Vine – Every second Saturday of the month, a beautiful yoga practice is held under the pavilion. Afterwards, you can enjoy a beer. Class and one beer is included in price of admission. Sola Bread pizza will be serving up breakfast pastries and lunch. This is a super fun way to spend a Saturday morning. Tickets are available at the door for $10.
September 15th, October 20th, November 17th and December 15th (10:30-11:30am): Barre & Brew with Studio B – Held the third Saturday of the month is this Barre + Brew class with Studio B Pilates+Barre! For just $10 at the door, you can enjoy this amazing class inside the brewery and enjoy a cold beer after. Barre classes mix elements of ballet at the barre and functional movements set to motivating music. You'll use the barre, small balls, bands, and hand weights to work your entire body. Isometric training and small range of motion exercises along with planks, push-ups, and core-focused training will round out these energizing classes.
September 15th (7-10pm): 2018 Pine Curtain Gala – The Cancer Foundation for Life® will host the first annual Pine Curtain Gala and will include beer, food, fun, and live music by Edwin Holt's Red Clay Roadhouse Band with special guest Henri Herbert, all to benefit the FitSteps for Life® program. FitSteps for Life® is designed to help strengthen cancer patients both physically and emotionally by providing support and empowerment in their cancer experience. As cancer treatment can be quite costly, FitSteps is provided free of charge to the patient eliminating cost as a barrier to exercise and the benefits of the program. Providing this free program takes resources that are utilized every year, and their commitment to cancer patients never ceases. Tickets are $35-$100 and available at cancerfoundationforlife.org.
October 13th (5-11pm): Hoptober Fest '18 – Details to come!
October 27th (8:30am): Mindfulness Triathlon – This is not your typical triathlon! The race begins with a 2-mile walk/run, transitions into a 45-minute yoga session by BeFree Yoga and finishes with a 20-minute meditation. After the race, enjoy a True Vine Beer and check out the amazing local vendors promoting health and wellness in Tyler. Register at getmeregistered.com/MindfulnessTriathlon. The Mindfulness Triathlon is designed to promote health, wellness, and healing by exploring alternative holistic treatments for anxiety and depression disorders. Running, yoga, and meditation are among the most popular natural treatments for depression and anxiety. Healing of the mind, body, and soul can be experienced through these practices.


903 Music Fest Coming October 12th-13th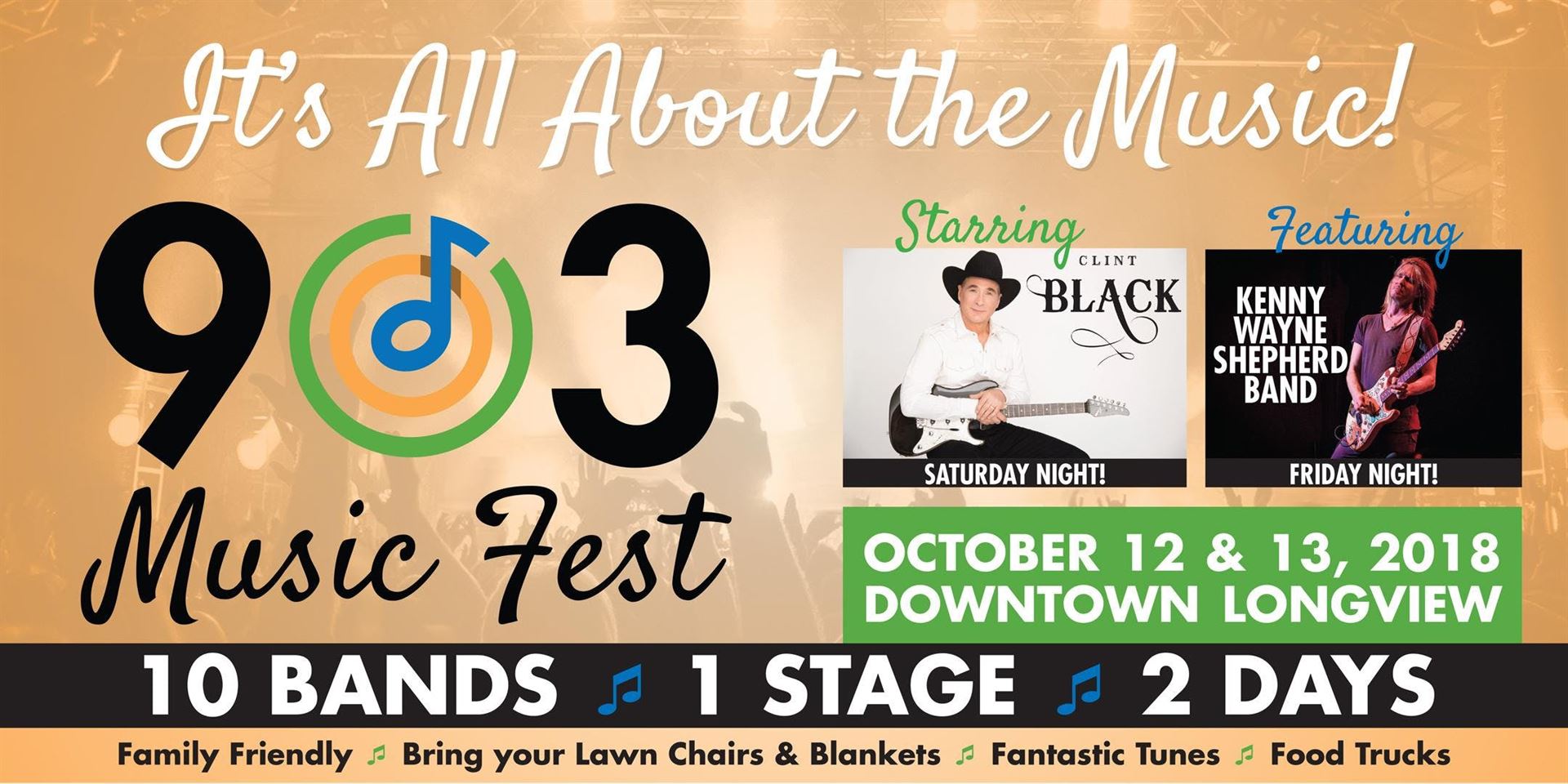 The 903 Music Fest:
10 Bands on 1 Stage in 2 Days
Introducing…The 2018 903 Music Fest! There will be 10 bands on 1 Stage in 2 days!
Music starts at 6pm on Friday, October 12th, and 12 noon on Saturday, October 13th. This new family and community focused event features a number of different musical genres performed by locally, nationally, and internationally-known artists.
Friday night's headliner is Kenny Wayne Shepherd Band. Saturday night's headliner is Clint Black. Friday night Casey James and Sam Hyman Band will perform. Saturday Tusk, The Molly Ringwalds, Dagnabbit, Chad Cook Band, Akeem Kemp, and The Mansion Family will be on stage.
Tickets range from $20-$375. This will be held in Downtown Longview at Methvin and Green Streets. For more info or tickets go to 903musicfest.com.
Sept. 29th: Texas Tenors at Cowan Center
Bring on the unforgettable concerts! Bring on the big Broadway musicals! Bring on the amazing shows! Bring on the insightful lectures! It's a new season at Cowan Center!
The Cowan Center is located at 3900 University Blvd. on the UT Tyler campus. Tickets are available at the box office by calling (903)566-7424, or go to cowancenter.org. Upcoming productions are:
September 29th (7:30pm) – The Texas Tenors –
Over 100 million people from around the world tuned in to NBC's "America's Got Talent" in 2009 to see The Texas Tenors become the highest ranking vocal group in the history of the show. Performing everything from country legend Alabama to opera's Puccini, John Hagen, Marcus Collins, and JC Fisher bring their unique blend of country, gospel, classical, and Broadway to the stage. Public sales start August 27th. Tickets are $37-$62.
October 4th (7:30pm) – Dennis Miller –
Maybe you've seen him on the FOX News Channel. Or, perhaps you remember him from his days as anchor of the "Weekend Update" segment on "Saturday Night Live." Dennis Miller is also an award-winning comedian, talk show host, sports commentator, actor, author, and television personality. After captivating audiences on Saturday Night Live from 1985 to 1991, he went on to earn five Emmy
®
Awards and three Writers Guild Awards for his critically acclaimed talk show, "Dennis Miller Live." Public sales start September 10th. Tickets are $27-$57.
October 13th (7:30pm) – "iLuminate,"
the fantastic journey of wireless technology and dance, is coming to Tyler! Music, art, and the technological magic of iLuminate brings you a story of adventure and romance told through dance styles ranging from contemporary, hip-hop, Latin, to breaking – all using the power of light. "America's Got Talent" called it, "The Best New Act in America!" Public sales start September 1st. Tickets are $32-$57.
October 27th (7:30pm) – The Selena Experience –
It's hard to believe more than 20 years have passed since Selena was taken from this world far too soon. Even though she was known as "La Reina de Tejano," Selena was more than a Tejano artist. She was a pop cultural icon. A true superstar. In this concert by Los Chicos del 512 and featuring Evelyn Molina, you will relive all of the songs ("Dreaming of You," "I Could Fall In Love," "Baila Esta Cumbia") that keep Selena's star shining bright today. Public sales start October 1st. Tickets are $27-$57.
November 8th (7:30pm) – "The Sound of Music" – The Hills Are Alive! The beloved musical story of Maria and the von Trapp family will once again thrill audiences with its Tony
®
-, Grammy
®
– and Academy Award
®
– winning Best Score, including "My Favorite Things," "Edelweiss," and the title song. 2015 marked the 50th anniversary of the film version, which continues to be the most successful movie musical in history. Public sales start October 8th. Tickets are $37-$77.
December 8th (7:30pm) – The Robert Cray Band –
With five Grammys
®
, fifteen "Billboard" chart-topping releases, and numerous W.C. Handy Blues Awards, Robert Cray is one of the most successful blues artists of our time. His 40-plus years of touring have featured him in bars, concert halls, festivals, and the largest arenas around the world. Public sales start November 5th. Tickets are $42-$67.
January 24th (7:30pm) – "Something Rotten!"
is "Broadway's big, fat hit!" ("New York Post"). Set in 1595, this hilarious smash tells the story of Nick and Nigel Bottom, two brothers who are desperate to write a hit play. When a local soothsayer foretells that the future of theatre involves singing, dancing, and acting at the same time, Nick and Nigel set out to write the world's very first musical. Public sales start December 3rd. Tickets are $37-$72.
February 1st (10am and 12:30pm) – "The Ugly Duckling" – Hans Christian Andersen's classic "The Ugly Duckling" has helped generations of children understand one of humanity's universal struggles. This classic story comes to life in this modern stage production and offers hope to us all as we root for the ugly duckling who exemplifies resilience and heroism along the way to becoming a beautiful swan. This is jointly presented by UT Tyler Cowan Center with Young Audiences of Northeast Texas and The Discovery Science Place. Public sales start August 20th. Tickets are $4.
February 4th (7:30pm) – "The King & I" –
Two worlds collide in this "breathtaking and exquisite" ("The New York Times") musical, based on the 2015 Tony Award
®
-winning Lincoln Center Theater production. One of Rodgers & Hammerstein's finest works, "The King and I" boasts a score that features such beloved classics as "Getting To Know You," "I Whistle a Happy Tune," "Hello Young Lovers," "Shall We Dance," and "Something Wonderful." Set in 1860's Bangkok, the musical tells the story of the unconventional and tempestuous relationship that develops between the King of Siam and Anna Leonowens. Public sales start December 3rd.
February 9th (7:30pm) – Kool & The Gang –
Indeed, it will be a huge "Celebration" when these living legends raise the roof. Kool & The Gang has sold over 70 million albums worldwide and influenced the music of three generations. During their 50-plus years together, they've earned two Grammy
®
Awards, seven American Music Awards, 25 Top Ten R&B hits with 31 gold and platinum albums. Public sales start December 3rd. Tickets are $52-$117.
February 19th (10am and 12:30pm) – "The Magic School Bus" – When the class gets lost on the way to the planetarium, Ms. Frizzle saves the day by blasting into outer space for an epic interplanetary field trip! This is jointly presented by UT Tyler Cowan Center with Young Audiences of Northeast Texas and The Discovery Science Place. Public sales start August 20th. Tickets are $4.
February 26th (7:30pm) – Los Vivancos: Born to Dance –
Brothers from Spain ignite the stage with power, grace, virtuosity, and passion! Metallica, Deep Purple, Leonard Cohen…the best hits of all-time music legends come together in an impressive extravaganza created by the award-winning group Los Vivancos. Through tap dance, humor, martial arts, aerial performance, musical virtuosity, and flamenco, these six artistic and athletic performers create a spectacular stage utopia. Public sales start January 28th. Tickets are $37-$62.
March 16th (7pm) – The Chieftains with Paddy Moloney – Irish luck must be on our side because the band most recognized for reinventing traditional Irish music on a contemporary and international scale will be on the Cowan Center stage on St. Patrick's Day eve! Six-time Grammy
®
winners The Chieftains have been making music together for over 50 years. Their ability to transcend musical boundaries has notably hailed them as one of the most renowned and revered musical groups to this day. And after 55 years of making some of the most beautiful music in the world, their music remains as fresh and relevant as when they first began. The band Switchback, known for playing American roots and Celtic soul, returns to the Cowan Center to open for The Chieftains! Public sales start February 18th. Tickets are $37-$77.
March 19th (7:30pm) – Dan Rather – Those who hear Dan Rather speak often say that he is one of the most extraordinary communicators of our time. With more than 60 years spent chronicling our world and nation, few can match the authority, experience, and perspective that the famed newsman brings to almost any subject. With a career that began in radio and is currently shaping news coverage in social media and beyond, Dan Rather has earned his place as one of the world's most influential and respected journalists. During 44 years at CBS, including 24 years as anchor of the CBS "Evening News," he interviewed every president since Eisenhower and personally covered history-making events. He is the recipient of virtually every honor in broadcast journalism, including numerous Emmy® Awards, several Peabody Awards and the 2012 Edward R. Murrow Lifetime Achievement Award. Public sales start February 18th. Tickets are $27-$57.
March 30th (7:30pm) – New York Philharmonic String Quartet – To commemorate the 175th anniversary of the New York Philharmonic, this phenomenal string quartet made its much-anticipated debut in Lincoln Center in March 2017. The members of the acclaimed ensemble, all multiple prize winners, are Concertmaster Frank Huang, Principal Associate Concertmaster Sheryl Staples, Principal Viola Cynthia Phelps and Principal Cello Carter Brey. Their concert program for their evening in Tyler includes pieces by Haydn, Shostakovich, and Brahms. Expect an evening of magnificent music with the New York Philharmonic String Quartet! Public sales start March 4th. Tickets are $27-$47.
April 9th (7:30pm) – "Finding Neverland" – This breathtaking smash, based on the critically-acclaimed Academy Award-® winning film, "Finding Neverland" tells the incredible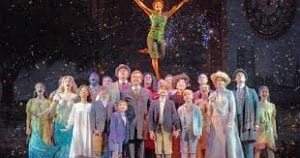 story behind one of the world's most beloved characters: Peter Pan. Playwright J.M. Barrie struggles to find inspiration until he meets four young brothers and their beautiful widowed mother. Spellbound by the boys' enchanting make-believe adventures, he sets out to write a play that will astound London theatergoers. With a little bit of pixie dust and a lot of faith, Barrie leaves his old world behind for Neverland. The magic of Barrie's classic tale springs spectacularly to life in this heartwarming theatrical event. Public sales start March 4th. Tickets are $37-$77.