RESCHEDULED June 21st-22nd: 9th Annual Piney Woods Wine Festival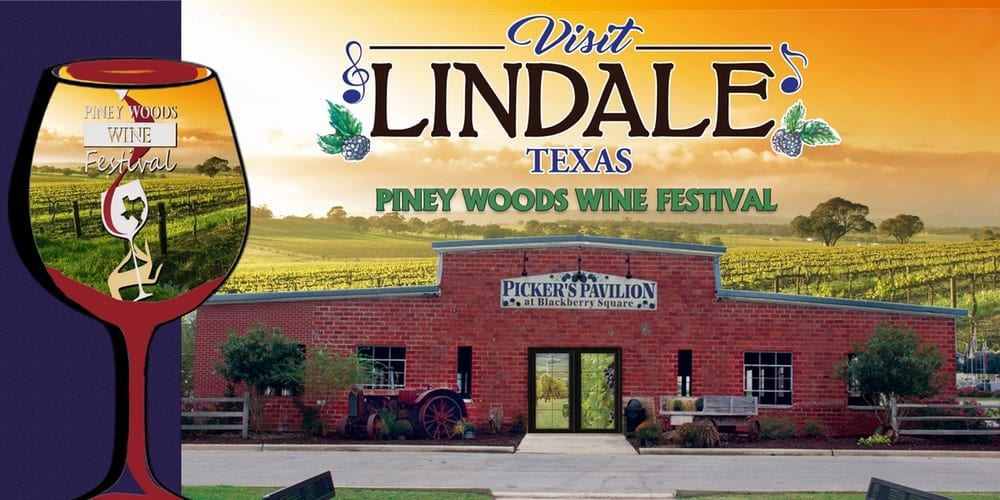 Uncork the Fun at Picker's Pavilion with 20 local wineries
The Cannery welcomes Visit Lindale's 9th Annual Piney Woods Wine Festival to Picker's Pavilion, Friday, June 21st – Saturday, June 22nd.
The annual event features wine tastings by the 20 wineries on the Piney Woods Wine Trail. The two-day event will feature national award-winning wines, live music, and a variety of food. Saturday will feature arts and crafts vendors for the wine enthusiasts.
Like a fine wine, the Cannery just keeps getting better with age. Located in downtown Lindale at Blackberry Square, Picker's Pavilion has transformed from its former use as a cannery storage facility to a destination for big-name concerts, community festivals, and event space rentals.
The event is free to the public. A wristband ($10) is required per day to enter the wine garden (tastings are not included in the $10 entry fee). Each wristband comes with a wine glass and a six-bottle wine tote. Tastings will cost $1; a glass of wine will range from $5 to $8 per glass; and bottles of wine may be purchased from the individual wineries.
This will be held at The Cannery, Picker's Pavilion, 205 East North St., Lindale. Packed with Texas charm, The Cannery's one-of-a-kind space turns up the modern amenities while grooving to a vintage beat. Its location inside a former cannery celebrates Downtown Lindale's industrial past — and they are proud to be a part of the city's continued growth! Come see why many call it the premier destination for entertainment, shopping, and dining in East Texas. For more information about the Cannery, venues, retail, and restaurants, please visit their website: thecannerylindale.com.
Tickets may be purchased online through Eventbrite, or onsite at the event on the northeast corner of Picker's Pavilion.
2019 Wineries include: Bella Stella Winery, Briar Creek Winery, Cannon Creek Vineyard, Della Terra Farms, Dixie Wine Company, Enoch's Stomp Vineyard and Winery, Kiepersol Vineyard and Winery, Los Pinos Ranch Vineyards, M6 Winery, Naca Valley Vineyard, O'Farrell Country Vineyards, Pelle Legna, Red 55 Winery, Red House Winery, Red Road Vineyard & Winery, Silvery Lakes Cellars, Tara Vineyard & Winery, Tara (Downtown location), Texas Vineyard & Smokehaus, Valle della Pace Vineyards & Winery, and White Fox Vineyards.
For more information on Visit Lindale, please visit their website: visitlindale.com.

July 4th: Celebrate America All Weekend Long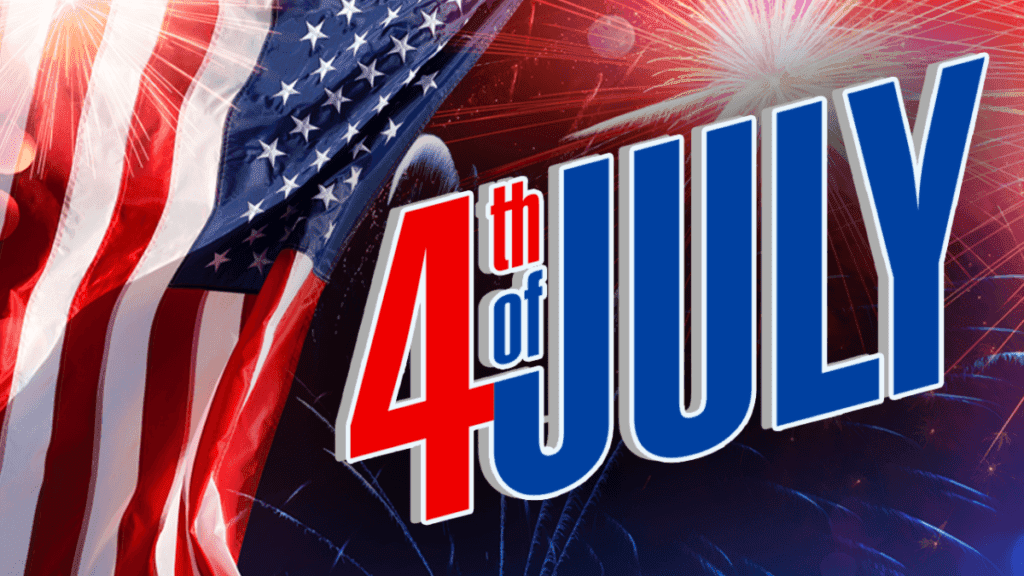 Fireworks, food, parades and patriotic music are always part of July 4th festivities throughout East Texas. Here is a list of all of the fun events as well as a few guides for FREE stuff to do and more!

Cowan Center: "Little Mermaid" on Stage Nov. 14th
June 21st-22nd: The 7th Annual Junebug Summer Fair


Mark your calendars for  June 21st, 22nd and 23rd when the 7th annual Junebug Summer Fair kicks into high gear. The family-friendly festival, which is located in the tiny art enclave of Ben Wheeler, Texas, highlights the work of artists, musicians,  and artisans from the Lone Star state. The festival will be held Friday, June 21st (7-10pm, VIP ticket holders), Saturday June 22nd (10am-12 midnight), and Sunday, June 23rd (10am-3pm).
Headquartered on the three-acre park-like property surrounding the Forge (a local restaurant, bar, and music venue), the festival will give attendees an opportunity to witness the creative process through "live art" displays as well as the chance to actively join in the process. Here are just a few of the fun events planned for the day:
Long Table Dinner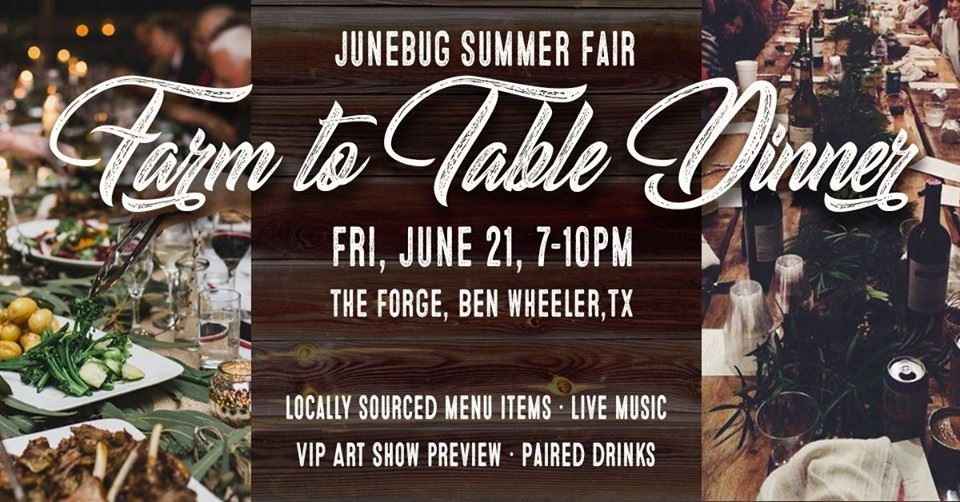 Kicking off the Junebug Summer Fair Friday night, June 21st from 7-10pm, The Forge will be hosting an intimate Long Table Dinner in the Grist Mill, serving local ingredients paired with local wines. The menu will show where each ingredient came from. You will also get a VIP preview of the art show and live music.
Farmers Market
The Forge will be hosting a Farmers Market both days of the festival to promote local farms and cottage businesses. There will also be a space reserved for vendors who sell goods and services based on health and wellness including Thai Yoga massage, handmade lotions and soaps, and other wellness-based businesses. This will be held Saturday June 22nd (10am-4pm), and Sunday, June 23rd (10am-3pm).
Live Music
Live acoustic music will run both days throughout the grounds, with a larger concert set for Saturday evening with Porters Bluff headlining. Bands on the Grist Mill stage start at 7pm Friday and Saturday.
Live Hands-on Art Demos
Live art stations will be set up where artists will show how they perform their particular craft. Last year, there was a live community loom where adults and children alike had the opportunity to add to the large woven piece. There was also a pottery wheel with artisans helping teach how to throw pottery and make simple pieces. The festival will also have weaving stations along with artist demonstrations.
Health And Wellness
There will be an area for health and wellness with Thai Yoga massage, organic soaps, handmade clothes, and other wonderful products and services with wellness in mind.
You may simply want to wander around the beautifully manicured herb gardens and grounds of the Forge, or grab a cone of homemade ice cream or an adult beverage from the Forge's bar and settle into one of the many park benches and tables to listen to local musicians as they play their original songs.
For more info go to theforgebenwheeler.com/2019-junebug/ or email junebugsummerfair@gmail.com.