By Johnny Griffith
Change is not always the easiest thing to accomplish but let's face it, if you don't have the ability to change, sooner or later you will be left behind. This holds true in most things and certainly in music. The guys from Metrograde, a rock band out of East Texas, know this all too well as they have all came from different projects to end up in Metrograde, which even began life as a different band before settling on the current band lineup. Burning up stages all over Tyler, Dallas, and beyond, Metrograde has carved out their own brand of entertainment that is musically sound, relevant, and complex enough to keep even the most casual listeners engaged. Eager to get some background on these guys, I tracked them down to get more info.
Johnny: Give me some history on the band members so the readers get a sense of who you are.
Seth: I was born in Shreveport, LA. I grew up both in Shreveport and Jacksonville, Texas. I started playing piano as a kid, taught by my mom, then drums, then guitar as a teenager. I played the French horn and cello in school and grew up with a love for classical music, rock music, and folk music, [all while] being influenced by my widely-varied family. I was very influenced on the guitar by Pink Floyd and Led Zeppelin, and later on things like Smashing Pumpkins and Incubus. Played in a band called Truffula Tree for several years that I loved, and now I love what we are doing with Metrograde. I'm very thankful to the other guys for bringing me in because I've learned a lot, and this is some of the most fun I've ever had playing music.
Joe: I grew up in Tyler and went to Robert E. Lee High School. My grandfather and dad were musicians and got me into playing violin and drum lessons when I was a kid. That was how I got into music. I always played with my neighbor, and [we] learned songs we liked. At 13 I decided I wanted to play music for the rest of my life.
Darriel: I was a military brat, so I grew up in a lot of different places. I was born in Maryland, started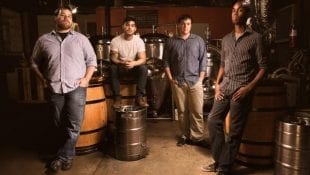 school in Hawaii, and would eventually grow up and finish school in Greenville, Texas. My grandfather was a alto saxophonist for the U.S. Navy Jazz Band, and when my family lived in Maryland, I would play the piano in his basement all the time as a kid. I eventually joined band in 7th grade and played the clarinet. During high school, I also played alto sax and drums in jazz band. I went to Trinity Valley Community College and started my music degree as a percussionist. During that time, I played keys (split keys and bass) for a band that meant a lot to me, called Blue Jean Harmonica. After getting tired of having to split all of my parts, I picked up the bass guitar, and I fell in love with that instrument. I later went to Tyler Junior College and was a member of the drumline there, where I met Joe and Boomer. I went to UT Arlington after that to finish my undergrad degree and got heavily involved with the jazz program there as a bassist. Much of the influence on my playing comes from what I've learned there.
Boomer: I grew up in Marshall. My first musical influence was my grandfather who would play old southern gospel songs on guitar while my grandmother sang. He always saw how much I enjoyed listening and learning some of those old hymns and would eventually encourage me to pursue music in life. I came to Tyler for school where I met Joe and Darriel. Being on the Apache Punch Drumline was an incredible experience and what gave me the drive to be the best musician I can be.
Johnny: Where does the name Metrograde come from?
Metrograde: It came around when we were deciding to rebrand the band after we learned that we shared names with another established band called Night Lights. Around that same time, our lead singer at the time was leaving as well, so it lent itself to a natural evolution of the band. Basically, we were sitting around a table having a meeting about that and new names, when Darriel (the bassist) came up with the name Metrograde, and it stuck.
Johnny: Whose idea was it to start the band?
Metrograde: It was Joe and Boomer's idea to start the band. It grew out of the open mic that Joe, Boomer, and Darriel were playing that summer. The topic of bringing back some old music from an old band came up, and we ran with it. Shortly after we found Brandon and wrote some new music for a few months before recording.
Johnny: What was the original line-up?
Metrograde: The original line-up was Brandon Van Hoven on the vocals, Joe Snyder on guitar, Darriel (pronounced Dare-EEE-uhl) Montgomery on bass, and Austin "Boomer" Tackett on drums.

Johnny: What's the current line-up of the band?
Metrograde: The line-up is the same, other than the lead singer. Seth Lord, who has the coolest last name ever, is now our lead singer, as well as our second guitarist.
Johnny: How would you describe your sound?
Metrograde: As pretentious as this may sound, what we go for is music that is very accessible and engaging to both musicians and the common listener.
Johnny: What are your influences musically?
Metrograde: A few of our many influences are Kings of Leon, Minus the Bear, The Killers, Incubus, and Two Door Cinema Club.
Johnny: When and where was your first gig?
Metrograde: Our first gig was on St. Patrick's Day in 2014 at The Chuggin' Monk in Arlington.
Johnny: What's been your favorite memory so far as a band?
Metrograde: It's kind of a tie between opening up for P.O.D. a few years ago and the process of recording our new album.
Johnny: Obviously you guys play the Tyler/Dallas areas, but how far outside those markets do you book shows?
Metrograde: We don't really play outside of those areas, but that's a strategic choice. We're really focused on building up a more regional following so that when we eventually push outside of Tyler/DFW, we can do so with more success.
Johnny: What are some of the highlights of this fall for Metrograde?
Metrograde: A few weeks ago, we got to play for an engagement! We played Eric Clapton's "Baby I Love Your Way" as our friend proposed to his girlfriend of nearly three years. She said yes, and it made for a really cool moment for all of us!
Johnny: How about the next year, what are the goals for the group?
Metrograde: We're looking to finish our album and try to get ourselves signed to a reputable label. We all feel pretty strongly that we have the drive, the talent, and the product to make that happen.
Johnny: What has been your biggest success so far as a band?
Metrograde: Over the past year or so, we've been meeting more and more people who seem to have a genuine interest not only in our music, but in our ambitions. It's been really cool to see so many people come out of the woodwork to help us attain our goal of performing our music as a career.
Johnny: What do you hope that people hearing you for the first time take away from the show?
Metrograde: This is kind of cliche, too, but we really hope that the passion for making and performing music for others really shines through when we're on stage and that it encourages others to do the same.
Metrograde on the web: