On Stage at Tyler Civic: "The Complete Works Of William Shakespeare Abridged"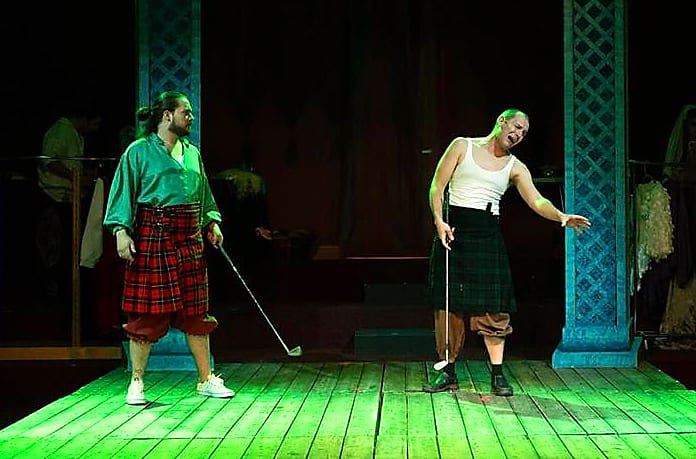 By John Baggett
It is without question that William Shakespeare is one of the greatest writers in the history of the English language, let alone the theatre. There's just one huge problem – his plays are all incredibly long and there's no way to see them all without doing a bit of globetrotting. Okay, that's two problems. But, what if I told you that for one low price, you can see all 37 of The Bard's plays in less than two hours (give or take)? No, I haven't gone mad. Tyler Civic Theatre is bringing such a feat to life by presenting "The Complete Works of William Shakespeare…Abridged."
"The Complete Works of William Shakespeare Abridged" offers exactly what the title promises – a quick, yet mostly thorough, presentation of every play Shakespeare wrote. The show is a madcap and irreverent farce that doesn't just cram the entire collection of one man's life's work into your head, but it also offers an examination of the man himself, along with some current day pop culture references and mild audience participation.
Created by Adam Long, Daniel Singer, and Jess Winfield, a trio of actors and writers who founded The Reduced Shakespeare Company, which would go on to create many similar productions including "The Complete History of America Abridged," "The Complete World of Sports Abridged," and, most recently. "William Shakespeare's Long Lost First Play Abridged." I thought I'd mention those not just a s referenced but also as suggestions to the Civic Theatre.
The basic premise of the show is that three actors are tasked to perform every single work of Shakespeare in a single performance, unless they wish to suffer the same fate as the last trio that attempted such a feat. Our actors, Dustin Simington, Blake Rohus, and Evan-Blake Winningham) embrace the challenge, starting with a quick reenactment of "Romeo & Juliet," followed by a short presentation of "Titus Andronicus" as a cooking show. We are also treated to a rundown of all of his comedies, that all seem to be a variation of the same story 13 times, a condensed version of his histories comparing them to sports, and culminating with their recreation of the greatest play ever written, "Hamlet."
The show is co-directed by Sean Holliday and Coby Archa, reuniting after their previous collaboration, "Noises Off." In the five years since this joint effort, Holliday has directed "A Little Theatre" and "Farce of Nature" for TCT and Archa has directed and starred in Liberty Hall's annual shadowcast production of "The Rocky Horror Picture Show," just to name a handful of credits.
The pair have assembled a trio of incredibly talented actors who absolutely wear themselves out on stage, giving  everything they have in them to make you laugh and they definitely succeed. With some assistance from the story's original cursed trio, Wench (Emmy Anderson), Shrew (Maven Andrade), and Bob "the Tech Guy" (Jack Ragland), everyone on stage works together to deliver one of the funniest shows you will have a chance to see, not just at TCT, but anywhere.
It should be noted that the humor will not be to everyone's taste, as it is essentially rated PG-13, but those who enjoy things like Monty Python and the works of Mel Brooks will absolutely love every second of the show.
"The Complete Works of William Shakespeare Abridged" might not be the right show for the hardcore Shakespeare purist, but for those who want a good laugh, this is a perfect show. Go see it and, if you're brave, you should sit in the pit.
"The Complete Works of William Shakespeare" opened on Friday, April 5, and will run through Sunday, April 14.


Theatre TJC presents Shakespeare's 'Othello' Feb. 19th-22nd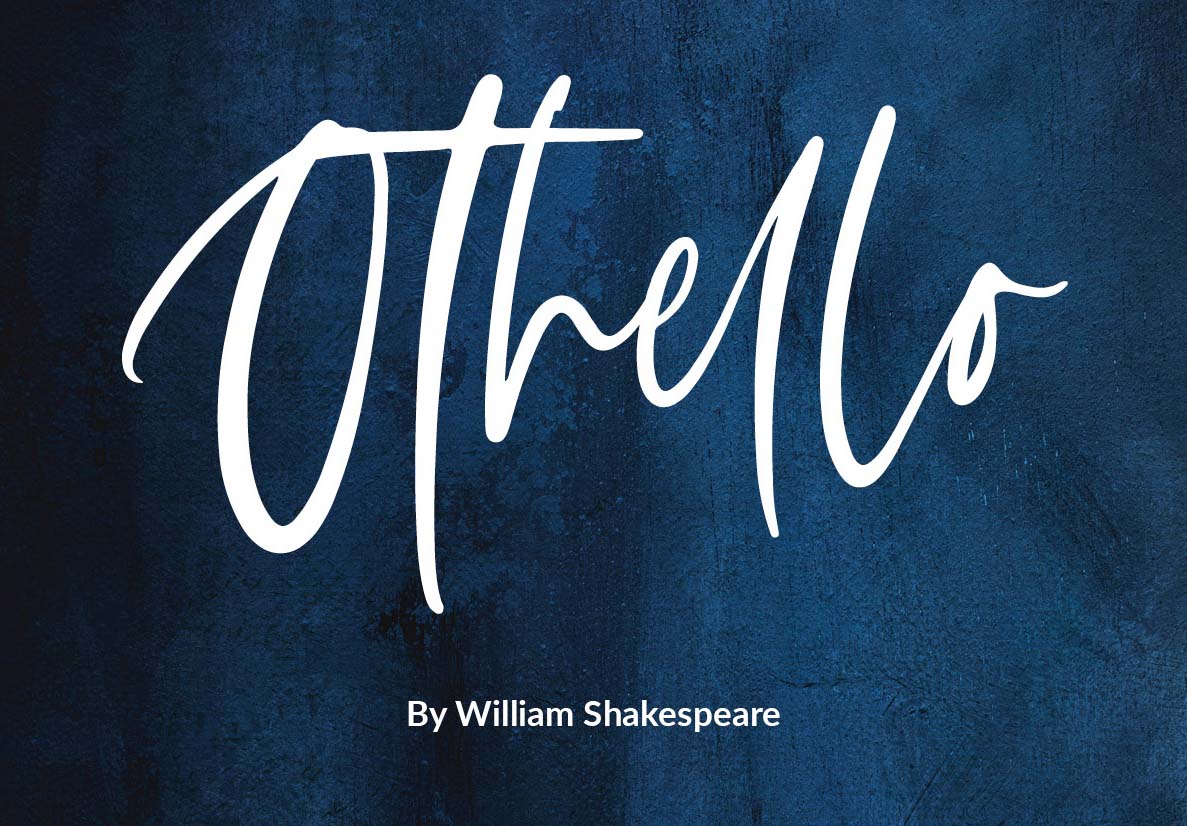 Theatre TJC continues its 2019-2020 season with William Shakespeare's "Othello," under the direction of Denise Weatherly-Green, TJC theater professor.
Undeterred by the differences in their backgrounds and life experiences, Othello and Desdemona defy prejudice to be united in marriage. However, deadly malice lurks where the newlyweds least expect it, as the man Othello trusts the most resolves to destroy their happiness at any cost.
Whispers of suspicion feed irrational jealousy in this gripping psychological drama, one of Shakespeare's greatest and best-known tragedies.
Performances are scheduled for 7:30 p.m. Wednesday-Saturday, Feb. 19-22; with a matinee at 2:30 p.m. Saturday, Feb. 22, in Jean Browne Theatre.
Tickets are $10 for adults, $5 for seniors, students, and active military.
The TJC Box Office opens Wednesday, Feb. 12, and box office hours are 1-6 p.m. weekdays. For reservations, call 903-510-2212.
Characters, cast members and their hometowns are: Roderigo, Tyler Baker of Tyler; Iago, Patrick Richardson of Crandall; Brabantio, James Cross, Bullard; Othello, Bryson Chalk of Big Sandy; Cassio, Tanner Garza of Whitehouse; Gratiano, Gabriel Mullen of Alba; Officer, Ethan Farris Mays of Mount Pleasant; Duchess, Brianna Adeline Velasquez of Muleshoe; Senator, Orion Johnson of Kaufman; Lodovico, Aidan Wilt of Chapel Hill; Desdemona, Keirsten Culver of Forney; Emilia, Hanna Odom of Winona; Montano, D'Kameron Edmonson of Forney; Courier of Cyprus, Preciosa Villeda of Mineola; Courier of Cyprus, Darby Owen of Tyler; and Bianca, Maddie Grace Beam of Bullard.
Crew includes: Tyler Baker of Tyler, assistant director, and scene shop foreman; Lillian French of Winona, stage manager; Mariza Clayton of Dallas, assistant stage manager, and soundboard operator; Riley Patrick of Brenham, costume master; Makenna Cooke of Houston, makeup and hair; Maddie Grace Beam of Bullard, master carpenter; Baylee LaFont of Tyler, scenic paint charge; Macy Cowart of Tyler, box office; and Wayne Tyler of New Orleans, Louisiana, head usher.
For more on TJC arts programs, go to TJC.edu/PerformingArts.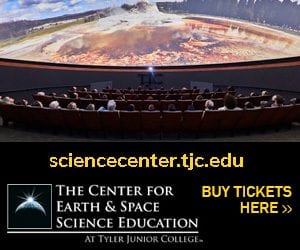 Cowan Center: Pointer Sisters Feb. 22nd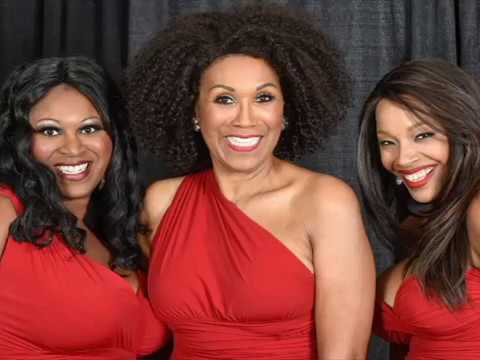 For more events, check out EGuideMagazine.com 's entire


Wondering what is showing at the Cowan Center? Check it out and purchase tickets online at cowancenter.org. All events are performed in the Cowan Center located on the campus of The University of Texas at Tyler, 3900 University Boulevard – FAC 1120, Tyler. More information about the new season can be found at CowanCenter.org. Upcoming acts are:

Bored? Find something FUN to do…Download our App!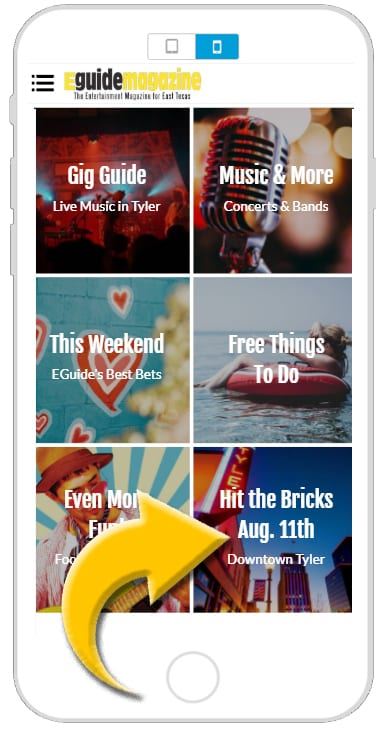 Looking for something to do? Want to know who is playing live music around town?
See what is going on Downtown?
What is "EGuide Tyler TX"?
"EGuide Tyler TX" is a FREE events app from EGuideMagazine.com, the #1 entertainment guide for Tyler, Texas and the northeast Texas region.
What can "EGuide Tyler TX" do for me?
With "EGuide Tyler TX" you can:
Find new places to eat and drink.
Get info about the best local live music going on daily
See what is going on today, this weekend, or next month
Find festivals, theatre, art, concerts and tons more
Enter to win fabulous weekly giveaways
The easy-to-use menu helps you find out what to do this weekend…all at your fingertips….plus, it is FREE!
Download our free app "EGuide Tyler TX"!