By Gini Rainey 
It's that time of year again. You know, the time when we are all scratching our heads and pondering the age-old question "What should I get them for Christmas?" First of all, remember to instill the reason for the season in the members of your family, no matter what denomination or walk of faith you follow: always, always remember the purpose behind the celebration. And then, if I might interject a bit of my own sense of sensibility, try to keep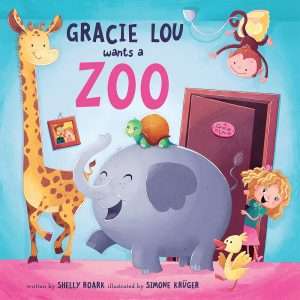 the KISS method prevalent in your motivations. There's nothing better to receive at the holiday than a good book and new jammies. This was how I was raised, and a tradition I passed on to my daughters and they have passed on to their children. So I would love to share a few book ideas for giving: 
"Gracie Lou Wants a Zoo" by Shelly Roark 
Ms. Roark approached me recently to let me know that she had written a new book and wondered if I would like to read and review it. Well, of course I would! Ms. Roark has been writing professionally for almost 30 years and is presently a senior copywriter for "Focus on the Family." I reviewed her debut children's picture book, "The Bubble Who Would Not POP!" recently and was delighted, not only in her awesome positivity, but also in the lovely illustrations by Simone Krüger, a German-based illustrator. 
Now the two have paired up again to tell the charming story about a little girl who wants every animal around. Unfortunately, she and her parents live in an apartment that is just about the right size for the three of them, but not so for the elephant, giraffe, and more that Gracie Lou would like to have. Follow her journey to becoming her heart's desire of what was always intended for her. 
Rating: 5 of 5, Copyright 2019 by Little Lamb Books 
 Ah, but (you say) that's good for the littlest of the littles, but what about my older children or grandchildren? I have to tell you that in my opinion, books that delight and expand the imagination are what I think are the best. 
A few recommended series are "The Borrowers," The Cherry Ames Series & The Hardy Boys plus "The Dangerous Book for Boys" & "The Daring Book for Girls."
One of my favorite series of books when I was growing up was The Borrowers and features a family of tiny people who live secretly in the walls and floors of an English house and "borrow" from the big people in order to survive. This set consists of five books and was written by British author Mary Norton in the 1950's and yes, I know there was a mini-series based on these books, but nothing will build your child's imagination more than mentally visualizing the tiny world of this tiny family. For me, this series is a rating of 5 of 5 and well worth the investment.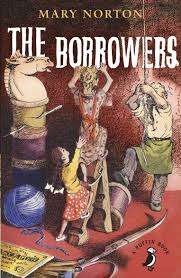 Another series of books that had a huge impact on my world was the Cherry Ames series. Written between 1943 and 1968 and originally published by Grossett and Dunlap, this series consists of 27 books and were written by Helen Wells and Julie Campbell Tatham (who also wrote the Trixie Belden series). Starting with Cherry Ames, Student Nurse," these books follow Cherry's adventures and misadventures all the way from nursing school to being a jungle nurse. This set might encourage your little ones to take a look at a medical career down the road. I also must give this series a rating of 5 of 5, and if you wind up with a medical professional in your family, well…there ya go…you're welcome! 
For the young men in your family, you just can't beat the Hardy Boys series. Written by Franklin W. Dixon and first published in 1927, The Hardy Boys books have sold over 70 million copies and feature Frank and Joe solving mysteries that have their adult counterparts stumped. Sleuthing through 190 mysteries from 1927 to 2005, this set of books has kept the imaginations of young readers jumping to conclusions for several generation. Without a doubt, this series deserves a rating of 5 of 5 also. 
One other set of books I would highly recommend would be The Dangerous Book for Boys by Conn and Hal Igulddon and The Daring Book for Girls by Andrea Buchannon and Miriam Peskowitz. 
Described as being for every boy from eight to eighty, covering essential boyhood skills such as building tree houses, learning how to fish, finding true north, and even answering the age-old question of what the big deal with girls is, the Igulddons tell it like it is in plain and simple, yet enjoyable language even grandpa can understand. 
Not to be outdone, the girls book is the manual for everything they need to know—and that doesn't mean sewing buttonholes! Whether it's female heroes in history, secret note-passing skills, science projects, friendship bracelets, double dutch, cat's cradle, the perfect cartwheel, or the eternal mystery of what boys are thinking, Peskowitz tells it all! Rated 5 of 5, these are great books for young and old alike.