By Gini Rainey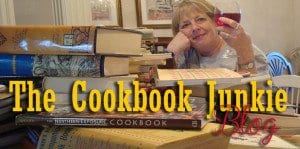 Hopefully, some of you realized that I took a break from writing last weekend.  My husband and I took a much needed weekend away, and visited with my cousin and her husband in Richardson, Texas.  We always have a great time together, and it always seems to involve eating, drinking, antiquing, and lots of laughing.  This time we jumped into their car and drove north to McKinney and hit a couple of the antique shops around the downtown square, ate a great lunch at Spoons, and generally had a good time.
But, one of my favorite things to do while in Dallas is to eat at La Madeleine's, and I wasn't disappointed on this trip.  We had brunch at one close to their home and, of course, I ordered the Strawberries Romanoff.  I fell in love with this yummy serving of fruit several years ago when I was introduced to them by a good friend.  Straight home, I went to check out my
French cookbook, "France The Beautiful Cookbook," for the recipe.  As wonderfully gorgeous as this book is, I was sadly disappointed that it didn't have anything that was comparable to the scrumptious dish I had experienced at La Madeleine's.
This cookbook, given to me by my sister many years ago (because part of our heritage is from the Lyon region of France) was published in 1989 by Collins Publishers, Inc., and is equally at home on a coffee table as in a kitchen.  Without thinking I'm gushing, let me say this is a magnificent book that is filled with absolutely amazing photographs of not only the food you can prepare, but also with the lovely scenery that abounds in France.   This book is filled with an incredible amount of information about France, the people, their customs, and their food.  Even if you've never even thought you would like to travel to France, I promise that once you begin leafing through the pages of this book you will not only be hungry, but you will also be filled with a wanderlust that will make you want to visit our friends across the ocean.
Whether you are a fan of their wonderfully crusty breads, soups or pastries, you won't feel short-suited when it comes to a total French gastronomic experience with this cookbook.  In fact, if we hadn't already planned to grill pork chops tonight for dinner, I might actually be tempted to try my hand with a quiche or soufflé.  And, if you ever thought that those of us in east Texas and Louisiana were the only ones who put their teeth into crawfish, there are even recipes that elevate our lowly mudbugs to crayfish and are used in dishes that have them swimming in champagne, like Écrevisses au Champagne, or surrounded by heavy cream and Emmenthaler cheese in Gratin de Queues d'Écrevisses. Real money gambling is becoming trendy among USA people. In this situation gamblers ought to keep in mind a few crucial factors such as security or bankroll management. Specialists on Fancasinos.org created a rating of the top real money online casinos by analysing their bonuses and promotions, banking options, and software providers.
But, less I digress, (Ha! I always digress) back to Strawberries Romanoff and how I quenched my craving for them a while back!  I'm fairly good at figuring out what ingredients are in dishes, and I had a handle on the fact that there was some type of liquor involved in the Romanoff sauce.  Off to Google I went, and I came up with a recipe for Zabaglione that sounded fairly close to what I was craving.  (I might add, there are now several recipes on Google for Strawberries Romanoff) So, this is what I made, and it was close enough – maybe even better – to the taste-treat I was looking for.  First, in the top pan of a double boiler, combine 6 egg yolks, 1/3 cup sugar, and a pinch of salt.  Using a wire whisk or a hand-held mixer, beat until the eggs are pale and creamy – about 3 minutes.  Slowly whisk in ½ cup of Marsala wine (or any other favorite spirit like bourbon, rum or brandy – or add a favorite liquor such as praline or Frangelico).  Now, place the pan over the bottom of the double boiler, that is filled with gently simmering (not boiling) water and continue to beat until the custard is thick and doubled in volume – 5 to 8 minutes.  It will just hold its shape.  Pour into a bowl and chill.  Serve with chilled, fresh strawberries, and OMG – get ready to enjoy a wonderful way to eat strawberries!