By Gini Rainey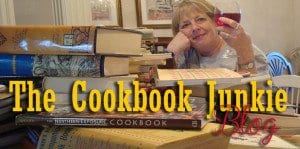 Hopefully, some of you realized that I took a break from writing last weekend.  My husband and I took a much needed weekend away, and visited with my cousin and her husband in Richardson, Texas.  We always have a great time together, and it always seems to involve eating, drinking, antiquing, and lots of laughing.  This time we jumped into their car and drove north to McKinney and hit a couple of the antique shops around the downtown square, ate a great lunch at Spoons, and generally had a good time.
But, one of my favorite things to do while in Dallas is to eat at La Madeleine's, and I wasn't disappointed on this trip.  We had brunch at one close to their home and, of course, I ordered the Strawberries Romanoff.  I fell in love with this yummy serving of fruit several years ago when I was introduced to them by a good friend.  Straight home, I went to check out my
French cookbook, "France The Beautiful Cookbook," for the recipe.  As wonderfully gorgeous as this book is, I was sadly disappointed that it didn't have anything that was comparable to the scrumptious dish I had experienced at La Madeleine's.
This cookbook, given to me by my sister many years ago (because part of our heritage is from the Lyon region of France) was published in 1989 by Collins Publishers, Inc., and is equally at home on a coffee table as in a kitchen.  Without thinking I'm gushing, let me say this is a magnificent book that is filled with absolutely amazing photographs of not only the food you can prepare, but also with the lovely scenery that abounds in France.   This book is filled with an incredible amount of information about France, the people, their customs, and their food.  Even if you've never even thought you would like to travel to France, I promise that once you begin leafing through the pages of this book you will not only be hungry, but you will also be filled with a wanderlust that will make you want to visit our friends across the ocean.
Whether you are a fan of their wonderfully crusty breads, soups or pastries, you won't feel short-suited when it comes to a total French gastronomic experience with this cookbook.  In fact, if we hadn't already planned to grill pork chops tonight for dinner, I might actually be tempted to try my hand with a quiche or soufflé.  And, if you ever thought that those of us in east Texas and Louisiana were the only ones who put their teeth into crawfish, there are even recipes that elevate our lowly mudbugs to crayfish and are used in dishes that have them swimming in champagne, like Écrevisses au Champagne, or surrounded by heavy cream and Emmenthaler cheese in Gratin de Queues d'Écrevisses.
But, less I digress, (Ha! I always digress) back to Strawberries Romanoff and how I quenched my craving for them a while back!  I'm fairly good at figuring out what ingredients are in dishes, and I had a handle on the fact that there was some type of liquor involved in the Romanoff sauce.  Off to Google I went, and I came up with a recipe for Zabaglione that sounded fairly close to what I was craving.  (I might add, there are now several recipes on Google for Strawberries Romanoff) So, this is what I made, and it was close enough – maybe even better – to the taste-treat I was looking for.  First, in the top pan of a double boiler, combine 6 egg yolks, 1/3 cup sugar, and a pinch of salt.  Using a wire whisk or a hand-held mixer, beat until the eggs are pale and creamy – about 3 minutes.  Slowly whisk in ½ cup of Marsala wine (or any other favorite spirit like bourbon, rum or brandy – or add a favorite liquor such as praline or Frangelico).  Now, place the pan over the bottom of the double boiler, that is filled with gently simmering (not boiling) water and continue to beat until the custard is thick and doubled in volume – 5 to 8 minutes.  It will just hold its shape.  Pour into a bowl and chill.  Serve with chilled, fresh strawberries, and OMG – get ready to enjoy a wonderful way to eat strawberries!


By Gini Rainey
Good grief, that's exactly what I deserve.  I have been so over-whelmed with life in the past few months – okay, this year – that I have neglected to do what I love doing – writing!  So, apparently it took an email to our editor/publisher to get me off high center.  She forwarded this email to me on June 24th and it comes from an editor named Jess Miller who just happens to be associated with jenreviews.com.  Jen Reviews is the authority on everything food, fitness and home and has been featured in some mind-blowing (my mind, anyway!) publications such as Forbes, Fast Company, The Guardian, The Huffington Post, Cosmopolitan, Greatist, Reader's Digest, MindBodyGreen, Livestrong, Bustle, Lifehacker, Wikihow, and oh my goodness, many many more. 
Jess' email says "I was doing research on pound cake recipes and just finished reading your wonderful blog post: https://eguidemagazine.com/janies-cakes-finally-oprah-realizes-something-weve-all-known-for-years/ In that article, I noticed that you cited a solid post that I've read in the past: https://janiescakes.com/  We just published a
delicious cranberry pound cake with orange glaze recipe complete with step-by-step pictures and detailed instructions. It is completely free and you can find it here: https://www.jenreviews.com/cranberry-pound-cake-recipe/.  If you like the recipe we'd be humbled if you cited us in your article." 
The gauntlet was thrown and I tried it.  I baked it last night and it is yummy.  Of course, knowing me, you know I have to pull in a cookbook of some sort, and for those of you out there who don't know where the name "Pound Cake" comes from, I pulled out my earliest reference that I have, which is a replica of "American Cookery" written by Amelia Simmons in 1796. It's really interesting to leaf through this book and try to read some of the recipes.  It is actually a photocopy of the original and along with various spots and stains, the letter "f" is used in place of the letter "s."  Originally, a pound cake called for one pound of sugar, one pound of butter, one pound of flour, one pound or ten eggs, one gill of rose water and spices to your taste. (Hence pound cake!) We are told to watch it well (remember – wood burning stoves/ovens back then) It will bake in a slow oven in 15 minutes. 
The recipe referred to by Jess is a bit different and perhaps produces a much lighter version than the 1796 version.  What you will need to do to make Jess's recipe is to begin with a 350° pre-heated oven and a lightly greased and floured 12×4 inch loaf pan.  Then in a bowl, whisk together 1 ¾ cups flour, 1 teaspoon baking powder and ¼ teaspoon salt.  In another bowl, cream 9 ounces of softened butter, 1 teaspoon vanilla extract and 1 tablespoon orange zest until light and fluffy.  Then slowly add in 4 eggs plus 2 yolks (at room temp), followed by 1 ¼ cups granulated sugar. Then alternating between the flour mixture and ¼ cup room temp milk, gradually add to the sugar/egg mixture.  Lightly dredge in flour 1 ¼ cups of washed and dried fresh cranberries (because fresh cranberries aren't on the market at this time, I substituted rehydrated dried cranberries and I think they did well) and gently fold into the mixture.  Pour into the pan and bake for 55 minutes or until a toothpick inserted in the center comes out clean.  For the glaze, combine 2 cups of powdered sugar with 2 ½ tablespoons of fresh orange juice, and using a small spoon, drizzle over the completely cooled cake. 
This is one yummy cake – the unexpected tartness is a wonderful compliment to the buttery richness of the cake and would serve you well at a winter holiday meal – or even right now in the middle of the hot Texas summer along with a bowl of home-made ice cream! 

Smith's Bar-B-Que Opens in Jacksonville

Smith's Bar-B-Que had a great Ribbon Cutting on Friday, April 5. Smith's Bar-B-Que is owned and operated by Gary Smith and has been in business for 11 years. They started in the Exxon parking lot but has now found a home at the Travis Towers parking lot at 558 S. Ragsdale. They serve ribs, brisket, sausage, pulled pork and their famous stuffed baked potato. You can also add beans, potato salad and peach cobbler. They also offer catering with no event being too big or too small. Gary Smith is a culinary school graduate, food service manager and the 1st to obtain his vendors permit from the City of Jacksonville. Hours are Friday and Saturday 11 am until…..
They are at 558 S. Ragsdale in Jacksonville, Texas and can be reached at 903.944.0036.


By Gini Rainey
I have many passions in my life, mostly leaning toward my right brain, but after working for over 25 years as a business manager/owner, my left brain seems to have shoved a lot of those passions to the side, but trust me – they're still there!  So, when I come across a cookbook that has wonderful recipes that are paired up with amazing works of art from the National Gallery of Art, you can be sure this is one book I had to have. 
With notable chefs such as Julia Child, Jeremiah Tower and Alice Waters creating dishes and menus to compliment the art of Matisse, Pissaro, and Gauguin, to name a few, you can only imagine what a lovely and creative book this must be. 
While using paintings of the obvious subjects, such as Vollon's Mound of Butter and Jean Simeon Chardin's Still Life with Game for inspiration, I think the recipes that truly intrigue me are from the chefs who viewed such paintings as Raoul Dufy's The Basket and Mary Cassatt's Afternoon Tea Party, let their imaginations run wild and came up with what might have been in the basket or what Cassatt might served at her Tea Party. 
Pablo Picasso's Le Gourmet was the inspiration for Nancy Silverton's Butterscotch Sauce that would make a delicious topping for a bread pudding or a dish of Blue Bell's Homemade Vanilla ice cream. To make the sauce, combine 1 cup granulated sugar, 2 ½ tablespoons light corn syrup, and 2 ½ tablespoons Scotch whisky in a large saucepan over medium-high heat and cook, swirling the pan occasionally until the mixture just begins to smoke and turns an amber color.  Meanwhile, place 1 ¼ cup heavy (whipping) cream in another large saucepan, split a vanilla bean in half lengthwise, scrape its seeds into the and then add the pod.  Add 1 cup of butter and bring to a boil.  Remove from heat and set aside until needed.
When the sugar mixture reaches the proper color, immediately stop its cooking by whisking in the cream mixture in small amounts, waiting a few seconds between additions to prevent it from boiling over.  Once all the cream mixture is incorporated, simmer the sauce for 5 minutes.  Whisk in ½ cup of butter until combined.  The sauce will keep for several weeks in an airtight container in the refrigerator.  To reheat, place the sauce in a bowl over simmering water.  If desired, add some toasted pecans or add a dash of sea salt to taste, and wow, you have got something really yummy going on there.