Profetic Calaveras: Bringing Life Through Music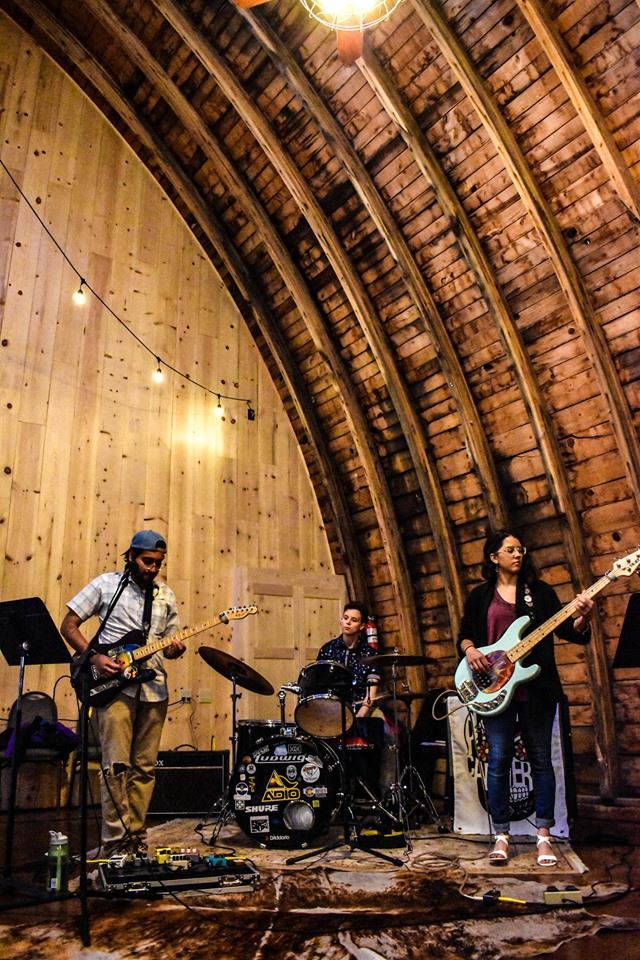 By Johnny Griffith
The name is fittingly memorable as the music they create and isn't what you'll find on most stages in the area on any given weekend. The Durango, Colorado trio known as Profetic Calaveras (PC) originated right here in Tyler and has been using their music to spread positivity ever since. An intriguing blend of several different influences, PC combines cultures and musical philosophies for a set full of grooves which will leave you smiling and wanting more.
As they are headed back to East Texas for a show at Clicks Live on June 1st, we recently caught up to Profetic Calaveras to find out more about them.
Johnny: What is the current lineup of Profetic Calaveras?
Profetic Calaveras: Alex Ruiz on guitar and vocals, Carolina Ruiz on bass, and Gab Kaplan on drums.
Johnny: Who do you individually feel was most responsible for starting you down a musical path, and why?
Alex: My cousin, Emmanuel, was the person who got me to listen to a lot of bands that became really influential for me later in life. He was the first person to get me started on guitar. A lot of my family is musical; I feel like it has always been flowing in my blood.
Cali: In 2015, my brother-in-law had a dream and woke up saying that I was meant to be a bass player. After that he taught me some technique. With my sister as the drummer, me as the bass player, and him (Kendrick) as the guitarist, we started playing. I wrote my first, very basic, riff within a week or so; it took some direction and guidance but that became one of our first songs as a band.
Gab: My parents took me to see The Who (what was left of them anyway) before the age of 7. They always took me to shows and supported me playing music in school and with bands. From high school marching band to college ensembles to Drum Corps International, they were always there cheering me on. As for actually starting, my babysitter Michelle was the one who got me my first guitar.
Johnny: Who were some of your biggest early musical influences?
Alex: Jimi Hendrix, Under Oath, Mexican pop music, Christian radio. I was all over the place.
Cali: Some Brazilian music my parents loved like Antonio Carlos Jobim, Gilberto Gil, Gabriel Pensador, Seu Jorge, and Ana Carolina. And my main bass influence, Victor Wooten.
Gab: The Who, AC/DC, Led Zeppelin, Metallica, Rush.
Johnny: When did the idea of PC begin to form?
Profetic Calaveras: After touring with Alex's previous project called Star Steed, it felt like the music was starting to move in a different direction. All the members at that point begun to go their separate ways and Cali and Alex decided to create a project all their own.
Johnny: So what about that name? How did that originate and what's the significance?
Profetic Calaveras: We brainstormed for a while. At one point Alex looked at the "Calavera" tattoo on his arm and said the name offhandedly. After that we decided that spiritually that meant a lot more to us. It reminded us of the scripture Ezekiel 37, where Ezekiel is taken to a field of dried bones in a vision and is asked to bring them to life with his words. He does this and raises an army. The band's name to us basically means that we can bring life and color to people through our music, and its meaning celebrates the beauty of life. The Calaveras aspect is a nod to Alex's Mexican heritage and the imagery that comes up with the Day of the Dead celebration.
Johnny: When and where was the first Profetic Calaveras show?
Profetic Calaveras: Technically, our first show was in NYC at a place called "The Shrine;" however, right before coming on stage one of Cali's tuning pegs completely broke off. Needless to say the show didn't go as planned and is probably one of the worst shows we ever played. So, our first official full band show was at ETX Brewing Company in Downtown Tyler. The line-up was Alex, Cali, Daniel Armstrong on melodica, and Eddie Farina on cajón.
Johnny: About how many shows a month does PC play these days?
Profetic Calaveras: We usually play 2-3 shows a month. We have been in a little bit of hiatus since moving to Durango and we are still trying to do some more recording to release our first album this fall, titled "The Road Ahead."
Johnny: There is a very cool vibe to your music, a sort of laid back complexity. How would you describe your sound and how did that sound evolve as you started practicing and putting pieces together?
Profetic Calaveras: The sound is truly unique with us having difficulty to really pinpoint a specific "genre." Sometimes we just tell people it's like 'Vulfpeck met Santana' but there's also so much more we like to sprinkle in. We like to think the band's music is a mirror image of us as individuals, and that our differences and similarities form a cohesive unit. Lately, since Gab has joined the band, we've been really digging into a more progressive rock sound.
Johnny: What would you say the ratio of cover tunes to originals is?
Profetic Calaveras: Honestly, it's about 80% original tunes to 20% covers. When we do covers, we really like to just make them our own, messing with different genres and time signatures.
Johnny: You originated in East Texas but are now based out of Durango, Colorado. What prompted the move and how has the reception been to the band up there?
Profetic Calaveras: Well, it started when we introduced a new member to the band, Zion Spencer. We booked a gig at the Venice Beach Bar in LA in September 2017, and were able to put together a West Coast tour that lasted about 3 months. Zion suggested we spend the winter in Durango, since he had lived here for 3 years and had family out here. When we finally got to Durango we fell in love with its chill mountain town vibe. It has been a privilege to grow roots here and call this place home. The reception to our music has been great; there is a thriving music scene there and they have welcomed us with open arms.
Johnny: Profetic Calaveras is playing a show at Clicks Live on June 1st. What brings PC back to East Texas for the show?
Profetic Calaveras: It's actually a few reasons. We've wanted to show our newest member, Gab, our old stomping grounds, and the opportunity presented itself when we were asked to play our friend's wedding in Denton. From there we decided to do a little mini-tour and go do the fun stuff in Texas — we're calling it a "play-cation."
Johnny: What is on the radar for the rest of 2019 and beyond?
Profetic Calaveras: We are planning some more dates around Colorado during the summer, and we'll be releasing our first album "The Road Ahead" in the fall. 2019 is looking great!
Check out Profetic Calaveras at facebook.com/profeticcalaveras/ and profeticcalaveras.com.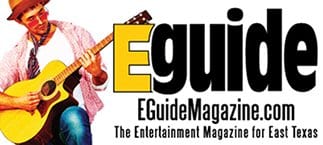 Leaving The World Better, One Blue Note At a Time: Wesley Pruitt Jr.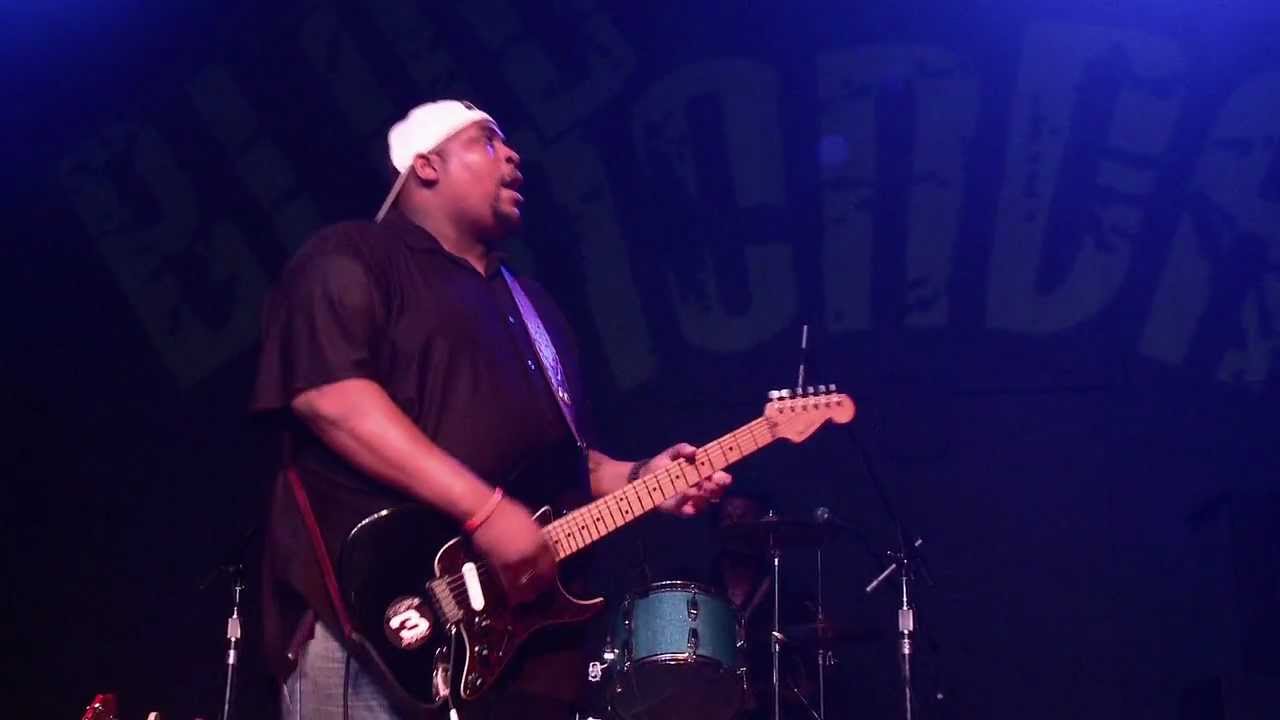 By Johnny Griffith
Music is a funny thing. It's really all up to interpretation as to how it affects the listener, no matter what the original composer intended. That's why music performed live and in person is so important to conveying a certain feeling with that music as it gives a chance for people to experience the performance rather than just listen to it, and there might not be a better example of a musician in this area bringing people into the experience of music than Wesley Pruitt Jr.
A lifelong music fan, Pruitt has been immersed in the blues since he was a teenager, but his outlook on life is anything but blue. He believes he had the destiny to play music and share his joy of performing with those around him and he has been sharing that joy on stages for a couple of decades now. A talented vocalist and accomplished guitarist, Pruitt takes the stage with his band and delights audiences with his interpretation of blues classics. I sat down with him earlier this month to learn more about the bluesman:
Johnny: Let's start with a little history lesson. Are you from East Texas originally?
Wesley: I grew up right here in Canton. I moved away for a brief time but currently reside in Canton. I graduated from Canton High School in 2001 and later received my associates degree from TJC. Earning my associates was a personal goal I set before completing high school and it was a "must do" before I pursued music full time. I've worked some jobs while playing gigs but I've been a full time musician since about 2007.
Johnny: So when did you first start taking an interest in music?
Wesley: I honestly don't think I took an interest as much as it took an interest in me from the time I was a baby. Long before my dad, Wesley Sr., passed I remember he and mom telling me stories of how proud he was that he finally had a son. He would ride around the community with me as a baby listening to music, and I really remember the music. I remember the guitar bends of BB King, the driving bass lines of Waylon Jennings, and the smooth phenomenal vocals of Bobby Blue Bland. Still to this day, Mom is shocked how I can remember describing what I heard. Since then I've been chasing what's been in me the whole time.
Johnny: Was there anyone in particular that helped push you in those early years and kept you focused on music when it would have been easier to have gone another direction?
Wesley: In my early years there wasn't really anyone that helped me. However, as a young boy I was heavily drawn to the electric guitar and I loved when they had gospel quartets at church. My sister took piano lessons, so in grade school I broke the house rules then of not being allowed to play the piano without supervision. Back then I was trying to play by ear and didn't really know what I was doing. I just heard what I liked and it had to be figured out. While growing up James Temple would play songs for me when mom took me to the music store. He knew I was destined to play and was very patient in helping me understand the things I ran from in my early days of trying to learn guitar. Rob Toups is the single most important person that lit the fire under my behind with music. He taught so much more than learning how to play. He provided all of the band students with every tool it took to be successful in high school and beyond! Oh did I mention I was a sousaphone player in the Canton High School Mighty Eagle Band. My first choice was to play the sax but we couldn't afford the instrument. 
Johnny: Who were some of your early musical influences?
Wesley: My early musical influences range from B.B. King; a gentleman by the name Stanley McGee who was at the time the lead musician – he was a guitarist of Evangelist Temple C.O.G.I.C; and all blues guitar players that I heard while growing up. I received my first electric guitar at age 7 and I have to admit the enjoyment and work ethic at learning didn't last long at that point, but at age 15, I was introduced to Stevie Ray Vaughan. He blew me away and I've never looked back since then. 
Johnny: At what point did you first get the feeling you could take this beyond just a hobby and do something else with it?
Wesley: At age 15, I was learning at a very speedy pace and by age 17, I was one of two guitar players in the high school Jazz Band. I absolutely got crushed day after day by my band director Mr. Toups and it was the best thing that really could've happened at the time. I was learning everything backwards. All I cared for and knew was that I wanted to shred and play like Stevie Ray Vaughan. Well, obviously there is so much more in being a musician and mastering the guitar. I'll never stop learning ya know! The jazz band played at one of our pep rallies and the school literally exploded with cheer when I first sang and played "Tightrope" with the jazz band. It was so loud, none of us could hear the vocals or music like we needed to. After that, I knew there was really something there and I started to see a path to push forward. 
Johnny: When and where was your first public performance and what do you remember from it?
Wesley: I have had so many performances, but I think at my first performance I wasn't even a guitar player at the time. I had put together a band to perform at church. It went well but I wanted so much more. 
Johnny: What is the current line up of the Wesley Pruitt Band?
Wesley: The core line up of The Wesley Pruitt Band is Chase Murdock on drums, Calvin Sheffield on bass, and myself on guitar and vocals. I hire out guest players as our fourth piece. We've been very honored to have players such as Junior Knight, Chris Keathley, Andrew Frye, Danny Phillips Jr., and so many more.
Johnny: You've played a lot of stages around the region and state, do any stand out amongst the rest?
Wesley: For the longest, the Main Silverado Stage of the Great State Fair of Texas has always been one of our favs. It truly is one of the best of what we call "the big" stages." Performing at Piedmont Park in Atlanta, Georgia ranks really high, but one of the best shows, and best times, we've had on stage is when we performed on the outside stage at Omas Secret Garden. It's in Gruene, just outside of New Braunfels. We played 3 hours straight our first time there with no break. We tried to end the show and got two standing ovations in a row with encores. That's a feeling, and a stage, I'll never forget!
Johnny: East Texas isn't necessarily synonymous with the blues like other parts of the country are, yet there have been notable blues artists to come out of this area and find success. Do you feel it has been more of a challenge to "convert" local fans to the gospel of the blues or do you feel there is a firm foundation in the genre here for newer generations of blues artists?
Wesley: I think the foundation of the blues is as firm as ever, but I only feel that way because everything has the blues in it. I get such a kick out of seeing younger musicians than myself be taken by the blues. It feels so good ya know. With that being said and thankfully getting to pick up knowledge from reading things by my idol, Buddy Guy, I no longer try to "convert" people with the blues. I used to be ashamed early on to perform it amongst certain "cool" people, but from hearing from the added list of influences that I have now, it's all about just saying something, man, from deep within. The end result is digging out, loving one another, and spreading the love through music. 
Johnny: What have been some of the biggest challenges in your musical career thus far?
Wesley: The biggest challenge has been to balance music career full time and be a father with school for my son and all the responsibility that comes with that. Sometimes I have to miss him for a day or two during the week because of out of state shows. I also know at times I will be more demanded and will miss even more. I try to make sure I spend as much time with him as I can at this point. He's definitely my heartbeat! I thank God every day for the awesome support system I have through my mom, aunt, and best friends that are always there for him as well. It really does take a village. 
Johnny: How many albums have you released to this point? Are there any plans for one in the near future?
Wesley: I've released a total of three albums: two EPs and one full album, "Line 'Em Up." There are definitely huge plans for several more in the future. It's not officially launched but I'm currently in the middle of kicking off a campaign to raise funds for a new album, two music videos, radio promoting, artwork, album designs, radio tours etc. Our number one goal in the beginning was to get businesses and individuals to sign on for 10 private shows for "X" amount of dollars. There have been a few to already commit to that. All of the funds, except for what we have to pay out for sound, will go straight to our album campaign. It's very hard and we learned so much from having such a great album with "Line 'Em Up" but now we are not able to put all the resources behind it. I'm not saying we have it all figured out, but a lot has been learned since our first chart single fizzled out at number 39.
Johnny: When you take the stage each night, what is one thing you hope you can convey to the fans before they leave to go home?
Wesley: Before every show I can almost see it from beginning to middle to the end of how I hope it goes! It's not always that way but the path of life I'm on, which comes with my faith in Christ, is to speak good things into existence. I want people to leave our show much happier than they came and I want them to have a sense of peace in their hearts. I don't think the world can have too much of that. 
Johnny: What do you have coming up on the radar that excites you for the rest of 2019 and beyond?
Wesley: We have shows all the way through next year and our calendar can be seen at wesleypruittbandmusic.com. Anytime we are at Moore's Store in Ben Wheeler, Texas it's a blast. I know we are doing some Arkansas runs and very excited to be performing a festival in Missouri, I think in mid October. I'm very excited to perform at Moore's Store for New Year's Eve again this year and raise funds for The Van Zandt County Children's Advocacy Center as well. Some of the proceeds from us and other ways will go towards the Advocacy. Keep watch on our website for more information as we head into 2020 with a bang.
Follow the Wesley Pruitt Jr. band online at facebook.com/wesleypruittband and wesleypruittbandmusic.com.

Please Fasten Your Seat Belts: This is Clutch Cargo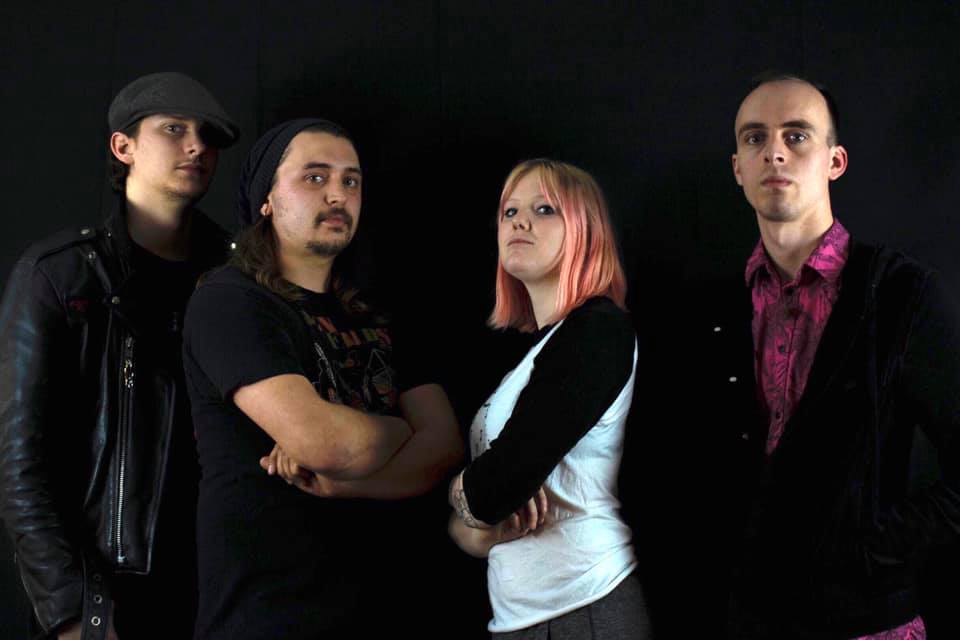 By Johnny Griffith
I'm a child of the '70's, started school in the '80's, and really came into my own, musically, in the '90's.  As a result of the vast diversity of music created during that time period, combined with music from other decades I was exposed to, I like to think my tastes are pretty eclectic. One of the challenges of such a broad scope of music I like is that it's hard to get more than just a narrow spectrum of that satisfied during a live show on any given night.
And then I discovered Clutch Cargo.
A self-described alternative pop-hard rock fusion band based in Tyler, an evening with Clutch Cargo is a joy ride through several genres, spanning several decades as a result of the melding of their own diverse musical backgrounds to form a sound that is sure to please and will keep you new and old listeners alike guessing throughout the show as to what direction they might take next.  Between gigs, practices, and day jobs that keep them going full speed most of the time, I managed to steal some time to get to know the band a little better this month:
Johnny: So what is the current lineup of the band?
Clutch Cargo: The band is Austin Goswick, vocals and keys; Greg Wahl on guitar; Tori Pence on guitar; Robin Martin on bass; Matt Coats on drums.
Johnny: How did you all get started in music?
Tori: I grew up with a grandfather that sings Country Gospel music and he always encouraged us to pick up instruments and make music a part of our lives. I've had a guitar in my hand since I was 6 years old and have had some lessons and taught myself, learning other instruments such as ukulele, bass, banjo, and drums along the way.
Austin: My first iteration in music happened when I sang in the choir as a kid living in West Texas. After moving to East Texas, I gained experience playing and singing in a worship band, musical theater, opera, and studying music at TVCC and UT Tyler.
Greg: I taught myself to play the guitar when I was 9 years old, and bass and drums shortly followed. I've been in bands/musical acts and school musical performances since I was 11. I've been playing shows and performing on stages out of town and out of state since 2008.
Robin: I got started kinda late into music. I didn't find my love of it until I was about 16. I went through several instruments, flute, guitar, saxophone, and drums, before finally finding my love of bass. My dad bought me my first bass for Christmas when I was 18 and I ran with it. I joined the School of Rock in Ft. Worth and studied under Darroh Sudderth of Fair to Midland back when he still managed that location. In and out of bands with Tori, my love of bass has stayed consistent taking influences from Steve Harris of Iron Maiden, Futoshi Uehara from Maximum the Hormone, and Rudy Sarzo of…what seems like just about every rock band from the '80's.
Matt: I got my start in music at the age of 8 when I picked up a guitar. I progressed in my playing through the years by attempting to learn any style I could find. I became fluent in rock, country, and blues guitar. All the while, I would take time off to work on my drumming. My drumming style is hard and loud.  I am currently the frontman and guitarist for my band The Matt Coats Band and the drummer for Clutch Cargo.
Johnny: How did you guys all meet and when did the idea of the band begin to take shape?
Clutch Cargo: Robin and Tori have been in bands together on and off for the past 9 years in DFW and Tyler. After being in Tyler for about a year, Robin joined a local band with Greg Wahl on drums. Shortly after, Tori joined as well. The band collapsed leading to the departure of Tori, Greg, and Robin. The three of them decided to start a project later becoming Clutch Cargo. We auditioned several vocalists, none of which stuck. Tori invited her coworker Austin, a vocal instructor, to audition for the band. His vocal power and lyrical capability led him to become the lead singer. With the departure of our former drummer came Matt Coats. 
Johnny: When and where was the first gig as Clutch Cargo? Anything memorable that sticks out from that show?
Clutch Cargo: Our first gig was a featured spot at Mike's Open Mic night at Yamato's Hibachi Grill in Tyler. That show demonstrated the number of people that liked Clutch Cargo and our sound. 
Johnny: So about the name?  Where did "Clutch Cargo" come from?
Clutch Cargo: During a night of drinking, Greg went on a rant about gigs not being "Clutch Cargo" and Tori wrote it down thinking it would be a good band name for future endeavors. Once our project started taking shape, Tori brought it up as a potential band name and it stuck. 
Johnny: So you guys have a style that is a little different than what you'll find on a lot of the stages around the area. Your EP "Dance" reminds me of a mix of '80's new wave and '90's college rock.  How would you describe your sound?
Clutch Cargo: That is a very good description of us. We take pride in being able to fuse many different genres and sounds in our songs. 
Johnny: About how many shows are you guys playing a month now?
Clutch Cargo: We are currently playing about two shows a month, however, we are working at increasing that number. 
Johnny: You've done some studio work in the past with the aforementioned EP release.  Anything you took away from that experience that has served you well moving forward, and about how many originals do you currently have in your catalog?
Clutch Cargo: We learned to take our time and not rush things. There is a difference between doing things fast and doing things right. At the moment, we have 13 originals and are working at creating new music.
Johnny: What is coming up on the radar that we should be looking forward to?
Clutch Cargo: We have been working on a new full-length album to come out in November as well as a Breast Cancer Awareness acoustic show on November 9th. We will also have already released our music video for our song "Fast" by the time this issue is out. You can follow us on Instagram (@clutchcargoband), Facebook, and Twitter (@bandclutchcargo) to keep up with upcoming shows.
Johnny: Okay, try to describe for someone coming to their first show what they're in for?
Clutch Cargo: We are a high energy band that brings many different genres and decades of music to the table. We love to interact and meet new fans as well as having a good time! Come say hi! 
Editor's note: According to Urban Dictionary, the definition of clutch cargo is explained as: "Clutch means awesome, great or perfect. 'Clutch cargo' translates to something that you presently think is awesome."

You Say White Trash Like It's a Bad Thing:  White Trash Wannabees

By Johnny Griffith
They're loud, they're rowdy, and they're some of the most talented musicians you'll find on one stage. They are the White Trash Wannabees (WTW) and in case you didn't get the memo, they're here to have fun and play some great music. This three-piece band out of East Texas has been tearing up stages in the area for over a decade and brings a mix of talent and charisma to the stage that is second to none in the rock scene around here. 
With a healthy catalog of crowd favorites and a growing number of originals mixed in, WTW has cultivated a loyal fan base with whom they have a great relationship and love to interact with from the stage during shows. Having recently released a new CD and with more originals on the way, I decided it was time to sit down with guitarist and frontman Donnie Dodson to get a better idea of just exactly who these guys are:
Johnny: So what is the current lineup of White Trash Wannabees?
Donnie: For a while now WTW has been me, Donnie Dodson on guitar, my brother Dustin Dodson on bass, and Jay Baker on drums and vocals. We've got a really good groove together and have gotten really tight with the current lineup.
Johnny: Where is everyone from originally, and currently living? If not local, what brought you to East Texas?
Donnie: Dustin and I grew up in Linden and have been living there pretty much our whole lives. Jay currently lives in Longview. 
Johnny: You guys have been in the East Texas music scene for several years. When did the idea for the band first take shape?
Donnie: Well, I guess it would be around 2008 when it first took shape. I was just getting out of another band and Dustin was just finishing High School so we decided it would be a great idea to put something together so we could be in a band together. There aren't just a ton of opportunities out there to do something you love doing with your brother so we made it happen.
Johnny: How did you all get started in music initially?
Donnie: Our family on our mom's side pretty much all play music so it was sort of expected that you'd end up playing something growing up. Jay's family was pretty much the same way, so I would say we all came by it naturally from a very young age.
Johnny: Who were some of your early influences?
Donnie: Man that's always a tough question to really nail down. Our influences are kind of all over the place. I think though, for the band as a whole, it would be safe to say our influences would be mainly 70's and 90's rock, like Led Zeppelin, ZZ Top from the '70s and Alice In Chains and STP from the '90s. Pretty much it's the rock that you can sing along to and sticks in your head.
Johnny: So how about the name of the band, what's the story behind that?
Donnie: Well the name kind of started out as a joke several years ago and at some point just became permanent. 
Johnny: A typical WTW show could have just about any song, from any genre, in it including your own originals. What do you consider the "genre" of the band to be, or do you like being hard to pin down?
Donnie: We really don't like to be pinned down but at the end of the day we are definitely more of a Rock band than anything else. That being said, we will try to please everyone that comes to see us no matter what genre of music they want to hear. We can have fun with anything and are willing to try to play just about anything. You might come to one of our shows and hear anything from rock to country to our originals to our version of some old rap songs. It just depends on the night and the crowd.
Johnny: White Trash Wannabees had a CD release party recently. Was this your first CD and what was that process like?
Donnie: We've had a couple of CDs we released previously but this is really the first thing that we really went all out on and tried our best to make it as perfect as we were capable of doing. As far as the process, we recorded in Dallas at Empire Sound Studio, which I would recommend to anybody who is looking to record. We really had a fun time recording and getting to hear the songs really come to life, but we're glad to be done and have our album out for our fans to enjoy.
Johnny: How has the reception been so far?
Donnie: The reception to the album has been great, and we just recently released it online so we're really excited. It's been great hearing all the positive feedback.
Johnny: Do you have any show you've played that sticks out in the memory banks?
Donnie: Man, there have been so many fun shows over the years it would be impossible to pick just one. Each show has its own personality and memories that are just as good as the next one.
Johnny: What's coming up in the rest of 2019 that has you excited?
Donnie: We are looking forward to trying to spread the music around as much as possible. We're going to continue writing and do our best to give everybody some more original songs that we plan to be recording in the near future.
Johnny: How would you describe a White Trash Wannabees show to a first-timer?
Donnie: It's definitely a high energy show and it's just a good time. We love having fun WITH the audience, and if they want to hear something, we don't want them to be scared to come ask for it. 
Johnny: The East Texas music scene is a pretty tight group. Besides yourselves, who's the one-act out there locally, maybe flying under the radar, that you're excited to see what they do next?
Donnie: We're definitely fortunate to be friends with a lot of the local bands. It's all a pretty tight bunch and we tend to get on stage together often. There are a bunch of great bands in this area that are all deserving of attention, but Post Profit and Lee Mathis and the Brutally Handsome are putting out some good stuff right now that everyone needs to check out.
Find WTW online at:
www.facebook.com/whitetrashwannabees