Profetic Calaveras: Bringing Life Through Music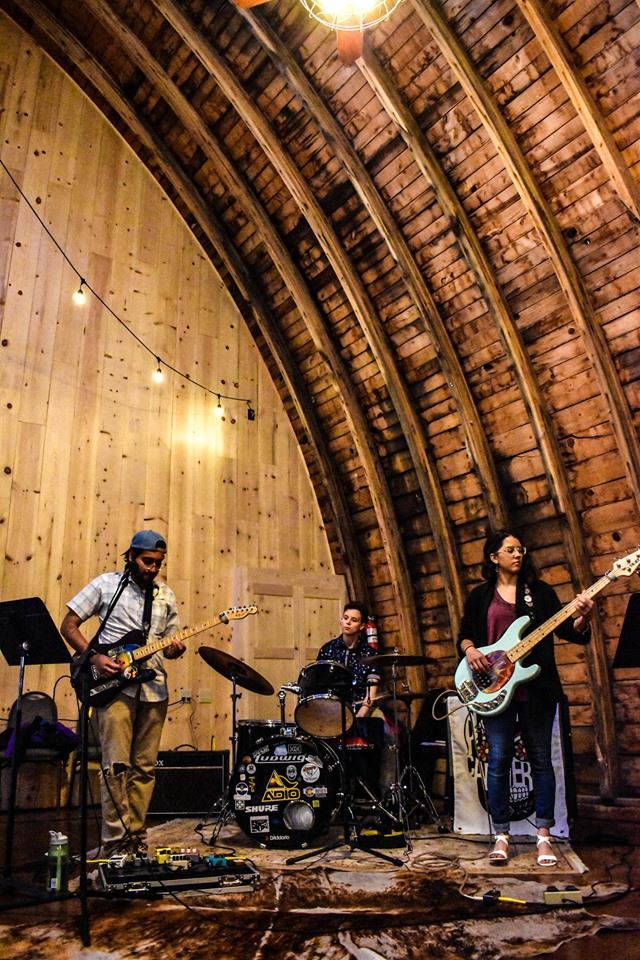 By Johnny Griffith
The name is fittingly memorable as the music they create and isn't what you'll find on most stages in the area on any given weekend. The Durango, Colorado trio known as Profetic Calaveras (PC) originated right here in Tyler and has been using their music to spread positivity ever since. An intriguing blend of several different influences, PC combines cultures and musical philosophies for a set full of grooves which will leave you smiling and wanting more.
As they are headed back to East Texas for a show at Clicks Live on June 1st, we recently caught up to Profetic Calaveras to find out more about them.
Johnny: What is the current lineup of Profetic Calaveras?
Profetic Calaveras: Alex Ruiz on guitar and vocals, Carolina Ruiz on bass, and Gab Kaplan on drums.
Johnny: Who do you individually feel was most responsible for starting you down a musical path, and why?
Alex: My cousin, Emmanuel, was the person who got me to listen to a lot of bands that became really influential for me later in life. He was the first person to get me started on guitar. A lot of my family is musical; I feel like it has always been flowing in my blood.
Cali: In 2015, my brother-in-law had a dream and woke up saying that I was meant to be a bass player. After that he taught me some technique. With my sister as the drummer, me as the bass player, and him (Kendrick) as the guitarist, we started playing. I wrote my first, very basic, riff within a week or so; it took some direction and guidance but that became one of our first songs as a band.
Gab: My parents took me to see The Who (what was left of them anyway) before the age of 7. They always took me to shows and supported me playing music in school and with bands. From high school marching band to college ensembles to Drum Corps International, they were always there cheering me on. As for actually starting, my babysitter Michelle was the one who got me my first guitar.
Johnny: Who were some of your biggest early musical influences?
Alex: Jimi Hendrix, Under Oath, Mexican pop music, Christian radio. I was all over the place.
Cali: Some Brazilian music my parents loved like Antonio Carlos Jobim, Gilberto Gil, Gabriel Pensador, Seu Jorge, and Ana Carolina. And my main bass influence, Victor Wooten.
Gab: The Who, AC/DC, Led Zeppelin, Metallica, Rush.
Johnny: When did the idea of PC begin to form?
Profetic Calaveras: After touring with Alex's previous project called Star Steed, it felt like the music was starting to move in a different direction. All the members at that point begun to go their separate ways and Cali and Alex decided to create a project all their own.
Johnny: So what about that name? How did that originate and what's the significance?
Profetic Calaveras: We brainstormed for a while. At one point Alex looked at the "Calavera" tattoo on his arm and said the name offhandedly. After that we decided that spiritually that meant a lot more to us. It reminded us of the scripture Ezekiel 37, where Ezekiel is taken to a field of dried bones in a vision and is asked to bring them to life with his words. He does this and raises an army. The band's name to us basically means that we can bring life and color to people through our music, and its meaning celebrates the beauty of life. The Calaveras aspect is a nod to Alex's Mexican heritage and the imagery that comes up with the Day of the Dead celebration.
Johnny: When and where was the first Profetic Calaveras show?
Profetic Calaveras: Technically, our first show was in NYC at a place called "The Shrine;" however, right before coming on stage one of Cali's tuning pegs completely broke off. Needless to say the show didn't go as planned and is probably one of the worst shows we ever played. So, our first official full band show was at ETX Brewing Company in Downtown Tyler. The line-up was Alex, Cali, Daniel Armstrong on melodica, and Eddie Farina on cajón.
Johnny: About how many shows a month does PC play these days?
Profetic Calaveras: We usually play 2-3 shows a month. We have been in a little bit of hiatus since moving to Durango and we are still trying to do some more recording to release our first album this fall, titled "The Road Ahead."
Johnny: There is a very cool vibe to your music, a sort of laid back complexity. How would you describe your sound and how did that sound evolve as you started practicing and putting pieces together?
Profetic Calaveras: The sound is truly unique with us having difficulty to really pinpoint a specific "genre." Sometimes we just tell people it's like 'Vulfpeck met Santana' but there's also so much more we like to sprinkle in. We like to think the band's music is a mirror image of us as individuals, and that our differences and similarities form a cohesive unit. Lately, since Gab has joined the band, we've been really digging into a more progressive rock sound.
Johnny: What would you say the ratio of cover tunes to originals is?
Profetic Calaveras: Honestly, it's about 80% original tunes to 20% covers. When we do covers, we really like to just make them our own, messing with different genres and time signatures.
Johnny: You originated in East Texas but are now based out of Durango, Colorado. What prompted the move and how has the reception been to the band up there?
Profetic Calaveras: Well, it started when we introduced a new member to the band, Zion Spencer. We booked a gig at the Venice Beach Bar in LA in September 2017, and were able to put together a West Coast tour that lasted about 3 months. Zion suggested we spend the winter in Durango, since he had lived here for 3 years and had family out here. When we finally got to Durango we fell in love with its chill mountain town vibe. It has been a privilege to grow roots here and call this place home. The reception to our music has been great; there is a thriving music scene there and they have welcomed us with open arms.
Johnny: Profetic Calaveras is playing a show at Clicks Live on June 1st. What brings PC back to East Texas for the show?
Profetic Calaveras: It's actually a few reasons. We've wanted to show our newest member, Gab, our old stomping grounds, and the opportunity presented itself when we were asked to play our friend's wedding in Denton. From there we decided to do a little mini-tour and go do the fun stuff in Texas — we're calling it a "play-cation."
Johnny: What is on the radar for the rest of 2019 and beyond?
Profetic Calaveras: We are planning some more dates around Colorado during the summer, and we'll be releasing our first album "The Road Ahead" in the fall. 2019 is looking great!
Check out Profetic Calaveras at facebook.com/profeticcalaveras/ and profeticcalaveras.com.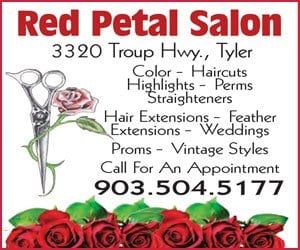 July 18th: Little Universe at True Vine Brewing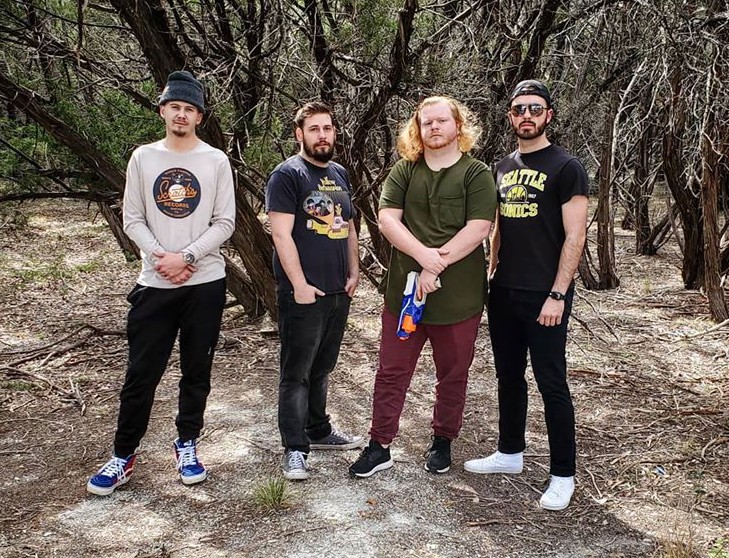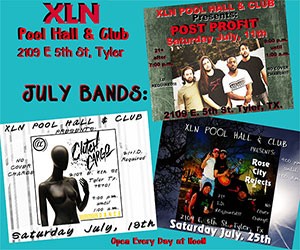 Little Universe returns to True Vine Brewing Company in Tyler Saturday, July 18, 2020, hosting the fourth edition of their "Party of Unison" concert series.
Party of Unison #4 will feature headliners Meredith Crawford Band as well as Meat Sandal, a liquid light show. Music is from 7-10pm; Christian Deibert, of Good Shed recording studio in Canton, will be running stage lights and sound. Little Universe opens with a regular set, Meredith Crawford follows, and Little Universe returns with a second set of longer jams and other surprises to close the night. "Never miss a second set!"
Included in Little Universe's second set will be the first live performance of their just-released four-song EP, "The Riot Part1: Looking Outward."
"The Party of Unison" will be at True Vine's expansive outdoor concert stage; physical distancing will be observed, but True Vine is open at full capacity so best to arrive early!
True Vine Brewing Company is at 2453 Earl Campbell Pkwy., in Tyler.
About Little Universe from Facebook:
In early 2017, on the heels of the split-up of his band, Fabian and The Breaks, singer/songwriter Fabian Michael Moran began the search to start a new project. By summer, bassist Preston Light and drummer Darrell Monk had joined forces to start crafting new material. Later that year, the three began working on an ambitious double album titled "Everything Is Nothing", a call back album to early rock and roll and 70's fuzz rock. They enlisted the help of seasoned studio owner/producer/engineer and close friend, Christian Deibert of GoodShed Studio in Canton, TX, and began tracking in the fall. But before the album's completion, the band was forced to take an 8-month hiatus for personal reasons. They never gave up on the album and reconvened the tracking after the break.
It was during the second birth of the band that lead guitarist Cameron O'Reilly was asked to sit in on one of the songs for a studio session. The band and he immediately found chemistry and Cameron was asked to join the band full time. Much of the previous guitar work Fabian had laid down was cut, and Cameron and he re-tracked guitar parts for more than half of the record. The album was released digitally on Halloween 2018 and physically in November 2018, almost exactly a year after its conception.
Quickly after the release, the band enjoyed radio play from TCU radio in Fort Worth and were featured on 97.1's Loud and Local, even before playing their first show. With roots in DFW and East TX, they began their multi-region show schedule and continue to stay busy life, as well as working on writing the second album. They plan on every record is a double album showcasing a wide variety of music genres and styles. They also plan to release singles and one of a kind merch for their most loyal fans.
They are quickly becoming known as one of the more solid outfits in the Texas rock scene, sharing stages with notable artists at iconic venues and gathering a fierce group of fans sending out the signal and spreading the message!
The name Little Universe came from Fabian's intense love of astrophysics and a Neil Degrasse Tyson reference. We are all our own little universe, comprised of the same ingredients that form the stars. The band slogan is "Stella Carmina", Latin for "Star Songs". Simply put, Little Universe means creation and inclusion. The band hopes to foster a culture of free-thinking, kindness, compassion, and art, as well as continue to make rock and roll on their own terms, with no rules!
Little Universe (4 of 5 are Canton residents) is:
Fabian Michael Moran (songwriter, lead vocals, guitars, and piano)
Cameron O'Reilly (lead guitar, backing vocals)
Chris Goodson (drums, backing vocals)
Jake Wilburn (bass, backing vocals)
Nick Schaefer (guitar, organ, sax, backing vocals)
Amongst Little Universe's past local shows was a memorable performance at the 2019 East Texas Music Awards at The Texan, in Athens.
More Info
LITTLE UNIVERSE: Website: www.littleuniverseband.com
FB: @Littleuniverseband
Insta: @Littl3Univers3
Spotify: https://open.spotify.com/artist/5v8o5CpfwY2o0Vd86ULK3S?si=oiJGNLgDQO2nSnk66EsBuw
Itunes: https://music.apple.com/us/artist/little-universe/806186975
Rose City Strong: Buy Cool Swag & #supportlocal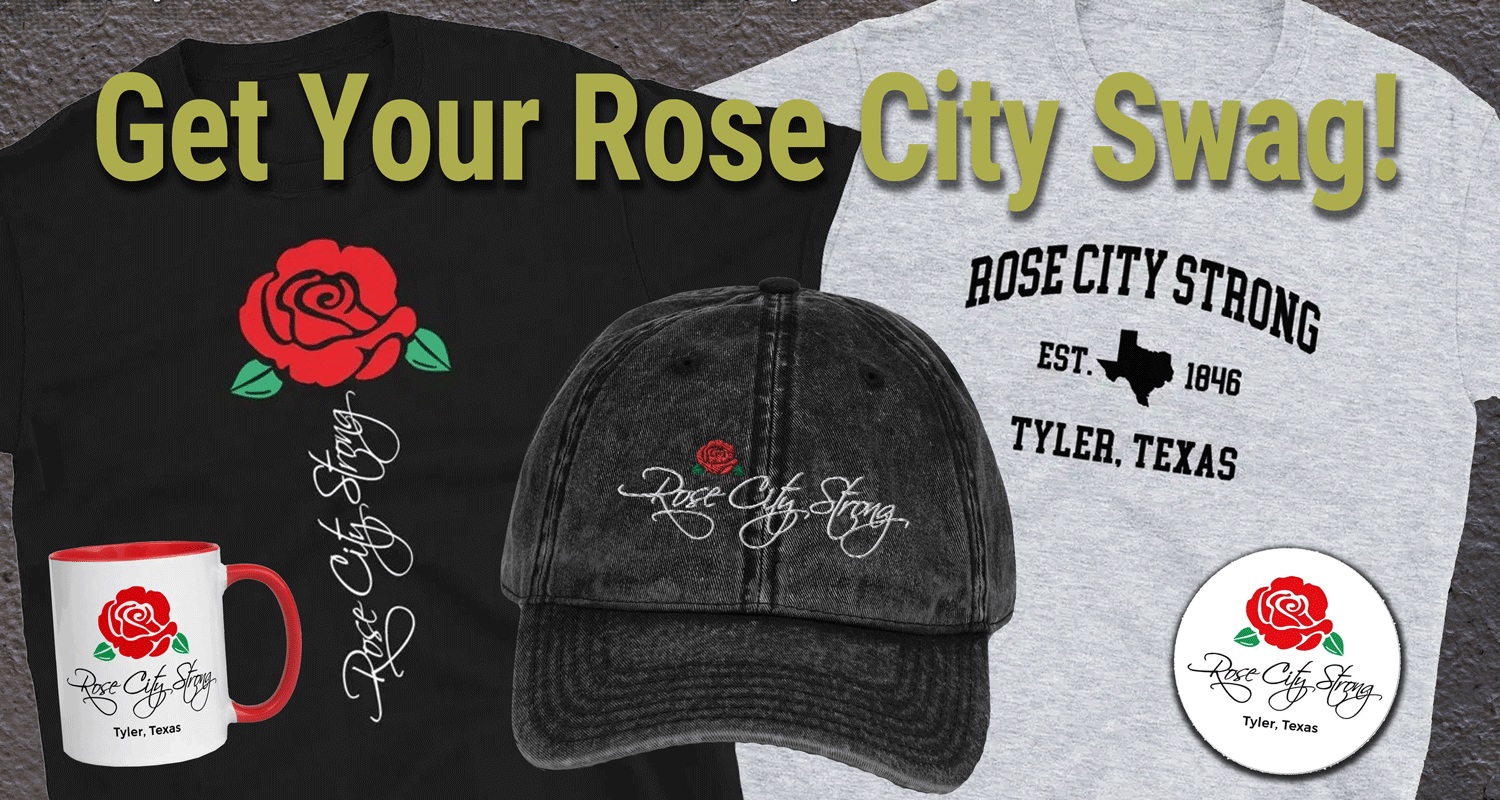 In these trying times, everyone wants to help and do their part. One way is to support local businesses. You can do so and get a cool t-shirt in the process!
VisitTyler and EGuideMagazine.com have teamed up and created a cool line of t-shirts, mugs, stickers, caps, and more!
Check out this cool swag and #supportlocal by being #rosecitystrong!

Live Music Guide, Tyler TX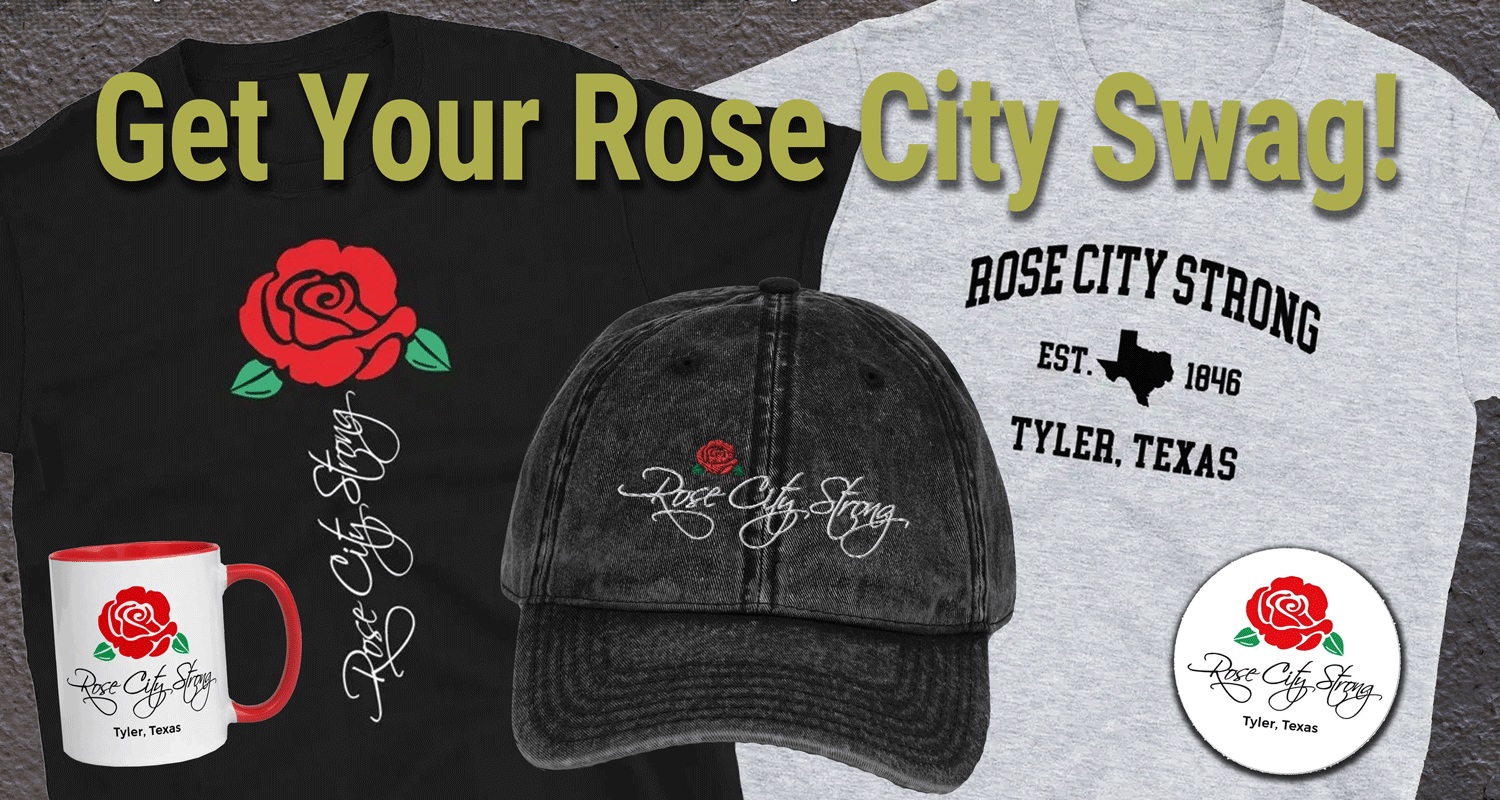 In the constantly changing world of Covid-19 pandemic, we at EGuideMagazine.com are making every attempt to keep our Big Calendar updated. However, we suggest that you still double-check with the businesses to confirm that the events are still happening.
To list or make any changes to this Live Music Gig Guide for #tylertx, please e-mail to eguidemagazine@gmail.com or text 903-530-2041.



---