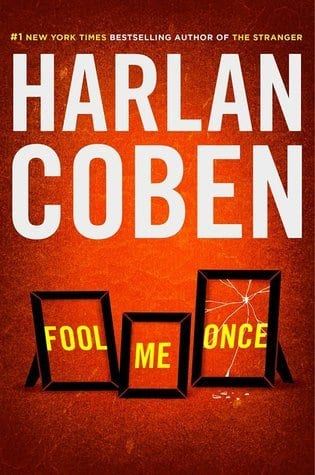 By Tena Jerger
I've read a ton of Harlan Coben books and by "a ton," I mean close to 25. Let me also say, I love a good "whodunit." This year's release, "Fool Me Once" is his latest impossible-to-put-down thriller. Harlan Coben knows how to spin a story, keep it moving along, and hold your interest. As always, you won't want to put this book down.
From the Hardcover edition, "You think you know the truth. The truth you know is nothing. In the course of eight consecutive #1 'New York Times' bestsellers, millions of readers have discovered Harlan Coben's page-turning thrillers, filled with his trademark edge-of-your-seat suspense and gut-wrenching emotion."
Former special ops pilot Maya, home from the war, sees an unthinkable image captured by her nanny cam while she is at work: her two-year-old daughter playing with Maya's husband, Joe – who was brutally murdered two weeks earlier.
Many, many other shocks follow throughout the book but the provocative question at the heart of the mystery is: Can you believe everything you see with your own eyes, even when you desperately want to? To find the answer, Maya must finally come to terms with deep secrets and deceit in her own past before she can face the unbelievable truth about her husband – and herself.
The plot is thickened even more because Maya is already dealing with the nightmares from her combat experiences and the murder of her sister, Claire, four months earlier while Maya was stationed in Kuwait.
Implausible links arise between Joe's death and her sister Claire's, and Maya must face the possibility of even more revelations.
It has been said that "Coben is like a skilled magician saving the best, most stunning trick for the very end." I totally agree; Coben's books are definitely a guaranteed stay-up-all-night read. However, having said that, this latest book had so many characters in it that I got confused as to who did what when. I also thought some of the character development was thin at best, especially when developing Joe's family characters of Maya's brother in law and his children. I will not spoil the ending, but as long as you pay attention to all the character names in your head, you will not be disappointed.
As always, Coben's stories have loads of twists and turns in each chapter building enough suspense to continue reading. The ending is great and once again, Harlan Coben spun a tale that sent me off in the wrong direction and gave me a spinning "wait, what?" ending.
Said of Coben, "Coben is simply one of the all-time greats – pick up any one of his thrillers and you'll find a riveting, twisty, surprising story with a big, beating heart at its core." — Gillian Flynn, bestselling author of "Gone Girl"
Coben's latest is definitely not a disappointment.
Rating: 4 of 5, Penguin Publishing Group
To comment on this review please e-mail HERE.