Review: "Groucho A Life in Revue" at Tyler Civic This Weekend


By John Baggett
The 70th season for Tyler Civic Theatre is coming to a close and it has truly flown by. A wise man once said, "Time flies like an arrow but fruit flies like a banana." That man was a legendary comedian and performer Groucho Marx. Luckily, that quote is fitting as he is the subject of the final play for TCT this season, "Groucho Marx: A Life in Revue."
Set on the stage of Carnegie Hall, the show tells the story of Groucho by the one man who could tell it the best – Groucho himself, played here by Nyc Moy. On stage we get to see the man through the ages, from childhood (played by Paul LeBritton), to his days playing vaudeville shows, his success on stage and screen, his days performing with his brothers, his time hosting "You Bet Your Life," and ending as an elderly man looking back on his life. We even get to see him age on stage as time progresses through the show.
"Groucho" is written by Arthur Marx, son of Groucho and former tennis pro turned TV writer, and Robert Fisher, a playwright and writer for such shows as "McHale's Navy" and "My Three Sons." The show has been performed on stages around the world, once filmed for television with "Welcome Back, Kotter" star Gabe Kaplan in the role. The TCT version is brought to us by Roger Pharr, a veteran of the Civic stage making his debut as director. Backing him up as assistant director is Austin Sandy, who has appeared in shows such as "On Golden Pond" and "Dial M For Murder." "Groucho" is a perfect fit for Pharr, who has always done well in comedic roles as an actor.
As Groucho, Moy deserves all the praise in the world. He had so much dialogue to memorize that it's worth championing that he could pull it off alone. The icing on the cake is that for the runtime for this show, Moy doesn't just say the words of Marx, he IS Marx, as he nails the icon perfectly from the look, the mannerisms, and the inflection. This is not an easy role by a long shot and he triumphs. While on the subject of Groucho, I have to equally give LeBreton his due, returning to the stage after appearing in "On Golden Pond" this year. This is his second show at Civic and he is a very talented young man that needs to keep doing shows. He's a natural.
While it could be easy to transform this into a one man show, it's anything but. Backing up Moy is a fantastic cast surrounding him. Jade Allen, in his TCT debut, plays Chico Marx, the brother featured most throughout the show. As Chico, he holds his own in getting laughs, but also helps provide some nice, somber and emotional moments in the show. Jesse Stamper II plays Chico as a young man, and is fun to watch as well. He returns after also appearing in "On Golden Pond," where he also delivered a strong, entertaining performance.
Harpo is played by Dylan Maxwell, another TCT debut, and absolutely nails Harpo's comic sensibility. He is hilarious to watch and I hope to see him in more shows. Appearing in multiple roles are Jennifer Rader and Kaci Combest, both of whom have graced the Civic Theatre stage multiple times and are a delight to see on stage. They both get big laughs as well as delivering truly strong performances as women who have either challenged Groucho or made him reflect on how he could have been a better man off stage.  With Tyler McCuan on piano and Sarah Pharr providing rimshots to the one liners she feels deserve them, this is a fantasic cast and show that puts a lot of heart and soul into telling the story of a Hollywood and comedy legend.
Groucho Marx once said, "I've had a perfectly lovely evening, but this wasn't it." That quote may be fitting for a lot of evenings, but an evening at Tyler Civic Theatre seeing this show? It absolutely does not apply. Go see this show and I guarantee a perfectly lovely evening.
"Groucho: A Life in Review" opens on Friday, May 10, and runs through Sunday, May 19.


Theatre TJC presents Shakespeare's 'Othello' Feb. 19th-22nd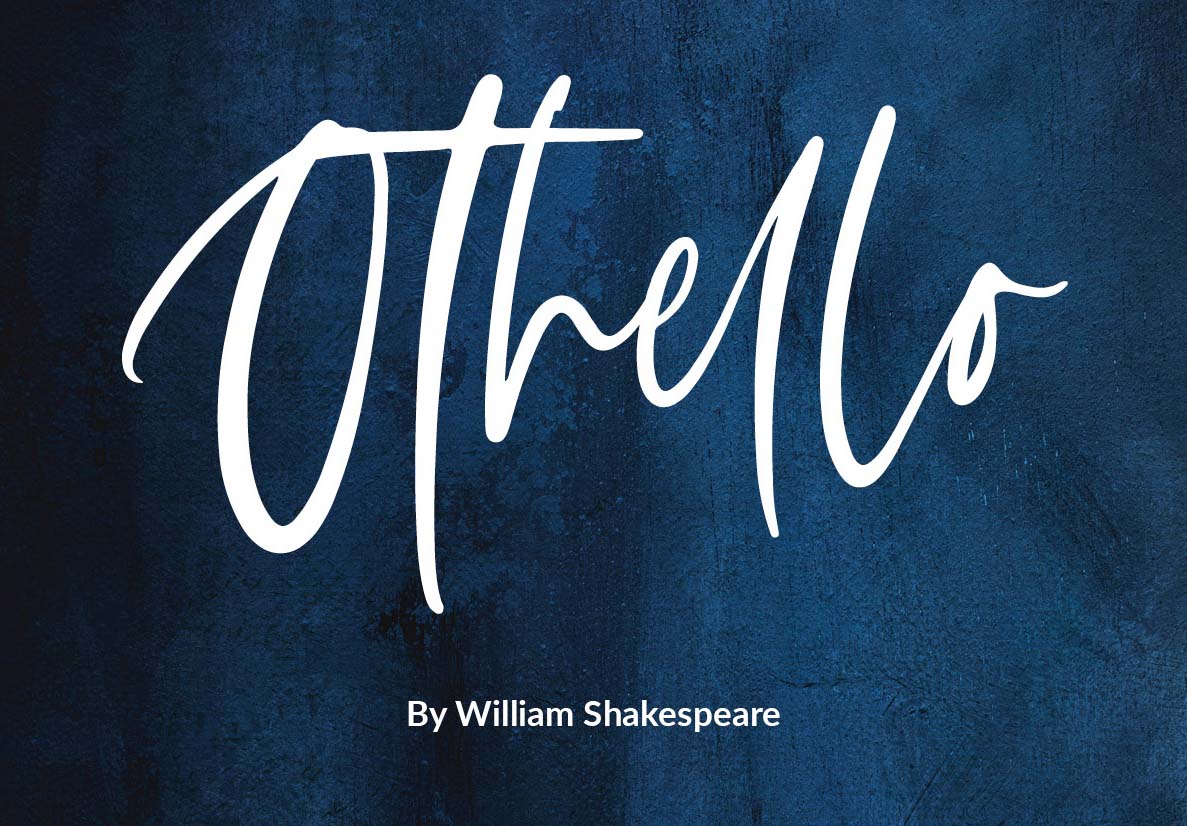 Theatre TJC continues its 2019-2020 season with William Shakespeare's "Othello," under the direction of Denise Weatherly-Green, TJC theater professor.
Undeterred by the differences in their backgrounds and life experiences, Othello and Desdemona defy prejudice to be united in marriage. However, deadly malice lurks where the newlyweds least expect it, as the man Othello trusts the most resolves to destroy their happiness at any cost.
Whispers of suspicion feed irrational jealousy in this gripping psychological drama, one of Shakespeare's greatest and best-known tragedies.
Performances are scheduled for 7:30 p.m. Wednesday-Saturday, Feb. 19-22; with a matinee at 2:30 p.m. Saturday, Feb. 22, in Jean Browne Theatre.
Tickets are $10 for adults, $5 for seniors, students, and active military.
The TJC Box Office opens Wednesday, Feb. 12, and box office hours are 1-6 p.m. weekdays. For reservations, call 903-510-2212.
Characters, cast members and their hometowns are: Roderigo, Tyler Baker of Tyler; Iago, Patrick Richardson of Crandall; Brabantio, James Cross, Bullard; Othello, Bryson Chalk of Big Sandy; Cassio, Tanner Garza of Whitehouse; Gratiano, Gabriel Mullen of Alba; Officer, Ethan Farris Mays of Mount Pleasant; Duchess, Brianna Adeline Velasquez of Muleshoe; Senator, Orion Johnson of Kaufman; Lodovico, Aidan Wilt of Chapel Hill; Desdemona, Keirsten Culver of Forney; Emilia, Hanna Odom of Winona; Montano, D'Kameron Edmonson of Forney; Courier of Cyprus, Preciosa Villeda of Mineola; Courier of Cyprus, Darby Owen of Tyler; and Bianca, Maddie Grace Beam of Bullard.
Crew includes: Tyler Baker of Tyler, assistant director, and scene shop foreman; Lillian French of Winona, stage manager; Mariza Clayton of Dallas, assistant stage manager, and soundboard operator; Riley Patrick of Brenham, costume master; Makenna Cooke of Houston, makeup and hair; Maddie Grace Beam of Bullard, master carpenter; Baylee LaFont of Tyler, scenic paint charge; Macy Cowart of Tyler, box office; and Wayne Tyler of New Orleans, Louisiana, head usher.
For more on TJC arts programs, go to TJC.edu/PerformingArts.
Cowan Center: Pointer Sisters Feb. 22nd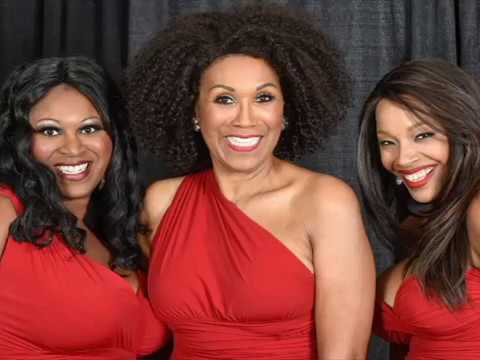 For more events, check out EGuideMagazine.com 's entire


Wondering what is showing at the Cowan Center? Check it out and purchase tickets online at cowancenter.org. All events are performed in the Cowan Center located on the campus of The University of Texas at Tyler, 3900 University Boulevard – FAC 1120, Tyler. More information about the new season can be found at CowanCenter.org. Upcoming acts are:

Bored? Find something FUN to do…Download our App!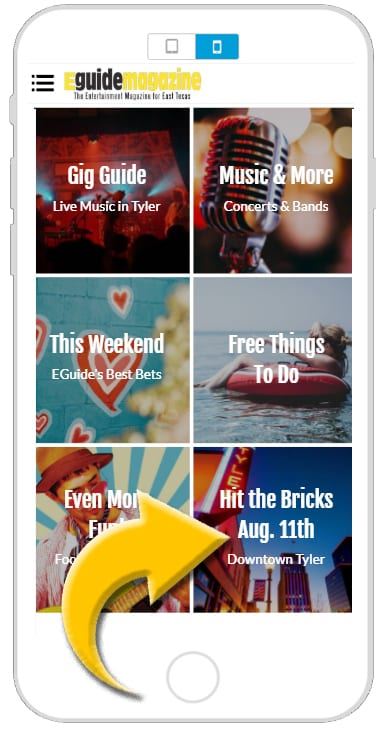 Looking for something to do? Want to know who is playing live music around town?
See what is going on Downtown?
What is "EGuide Tyler TX"?
"EGuide Tyler TX" is a FREE events app from EGuideMagazine.com, the #1 entertainment guide for Tyler, Texas and the northeast Texas region.
What can "EGuide Tyler TX" do for me?
With "EGuide Tyler TX" you can:
Find new places to eat and drink.
Get info about the best local live music going on daily
See what is going on today, this weekend, or next month
Find festivals, theatre, art, concerts and tons more
Enter to win fabulous weekly giveaways
The easy-to-use menu helps you find out what to do this weekend…all at your fingertips….plus, it is FREE!
Download our free app "EGuide Tyler TX"!