Review: I'm Not Rappaport


By John Baggett
The year has just begun, and Tyler Civic Theatre is continuing their hot streak with a production of the Tony Award winning classic, "I'm Not Rappaport."
Set in the fall of 1982, the story centers around two elderly gentlemen who spend their time sitting on the bench in the lower income section of Central Park. There is Nat (Allison Cambre), an aging Communist with a penchant for tall tales and a disdain of capitalism and being "a nobody." His frequent, unwilling audience is Midge (William Igbokwe), a superintendent whose eyesight is almost as absent as his patience for Nat. The taller the tale Nat tells, the more Midge falls for it, only to come to his senses as the story becomes grander.
Both men are hiding in plain sight – Nat from his daughter, Clara (DeAnna Hargrove) and Midge from Danforth (Michael McLeod), the head of the tenants' association who intends to rid the building of Midge's services and residency, as the building is being turned into a co-op. Clara wants Nat to come stay with her or move into a retirement home, as the neighborhood has become too dangerous. This is something Midge can attest to, as he pays one of the local muggers, Gilley (Asa Johnson), to walk him home, as well as protection from other thieves.
Observing them all is a quiet young art student, Laurie (Tara Hoover), whose connection to a mysterious man only known as Cowboy (Jake Gillard) will inevitably draw Midge and Nat into her problems, causing them to get into even more trouble than they were already in, thanks to Nat's mouth.
The play was written by the great Herb Gardner, who is also known for "A Thousand Clowns" and "The Good People." Along with "Rappaport," he also adapted these works into feature films. This production was directed by Tilly McLeod, who previous directed productions of "A Christmas Story" and "Harvey." McLeod took on this award winning classic and delivered the production is deserves, assembling a cast of wonderful talent, several of whom learned their parts in just a handful of rehearsals due to illness and weather. Even with all of the obstacles they faced, they pulled off a fantastic show.
Cambre is great as Nat, adding an air of sweetness to the role, and getting big laughs the more his character boasts with each wild yarn he spins. Igbokwe, in his first play ever, takes on a role beyond his years and holds his own against stage veterans. He often steals the show, is incredibly talented, and hopefully returns to the Civic Theatre stage very soon.
Hargrove is fantastic as Clara, mixing New York sassiness with heartfelt emotion as a daughter trying to protect her father. Hoover is great in her handful of scenes. Her character may not say much, but her physical performance is wonderfully natural and you can tell her joy of watching Nat and Midge is genuine. As Danforth, Mr. McLeod is hysterical, and you almost feel bad for him when he becomes the target of Nat's shenanigans. Finally, our two villains, Cowboy (Gillard) and Gilley (Johnson), in a show filled with laughs, do an excellent job of reminding us of the looming threats around the rest of the cast. They both deliver performances that are as menacing as everyone else is charming.
"I'm Not Rappaport" is a delightful, frequently funny show that despite being set in the early 80s feels pretty timeless. Honestly, if they didn't tell you it was set in the 80s, save for one costume, this story could be from 30 years or 3 days ago. It's another great show at Tyler Civic Theatre and one that I truly believe you will enjoy.
"I'm Not Rappaport" opens on Friday, February 2nd and runs through Sunday, February 11th.  Tyler Civic Theatre is located at 400 Rose Park Drive.  For more information and to purchase tickets go to http://tylercivictheatre.com/production/2017-2018/im-not-rappaport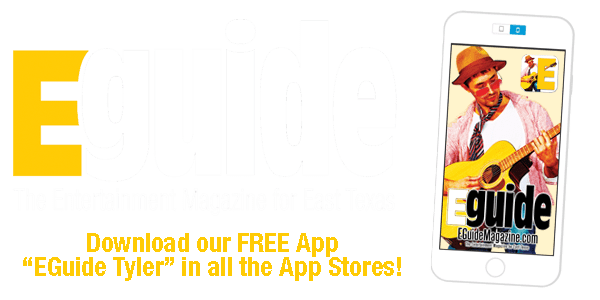 East Texas State Fair Returns Sept. 21st-30th!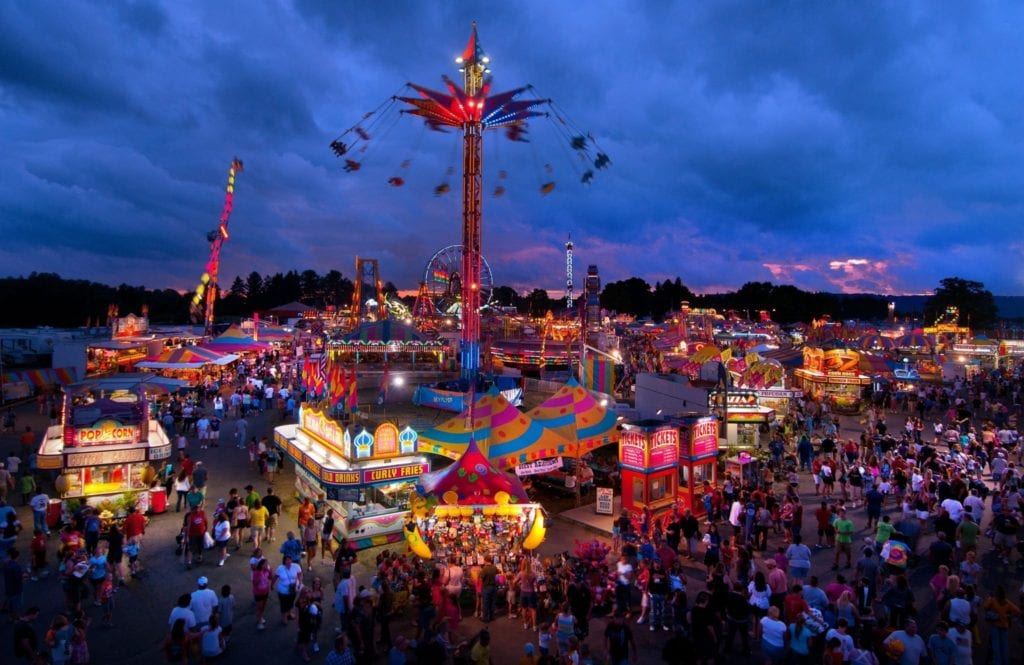 East Texas State Fair to Bring Lots of Festivities!
The 2018 East Texas State Fair takes place September 21st-30th in Tyler.
The annual East Texas State Fair is set to host an estimated 250,000 visitors during the ten-day event to enjoy concerts, shows, rides, food, exhibits, and much more. Here's a look at just some of the festivities to come:
Sheldon Casavant, Magician: World-renowned magician Sheldon Casavant takes the stage in the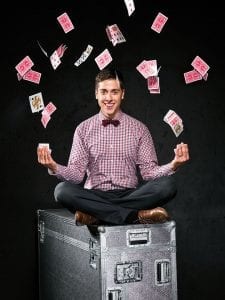 historic Mayfair building for an amazing show full of laughter, thrills, and impressive illusions. The show is featured each night during the fair at 8pm. The show is set to be as impressive as the 100-year-old building it's hosted in. The historic Mayfair building was built in the late 1920's and has seen musicians such as Elvis Presley, Dolly Parton, Johnny Cash, Hank Williams and so many more. While the building hasn't been used in many years, fair organizers are opening it up once again for this spectacular show. Every Day.
The Craft Beer Tour: New to the fair this year the craft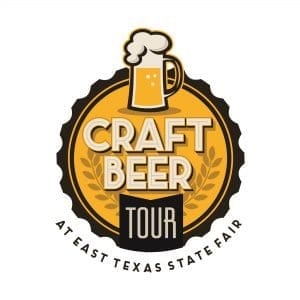 beer tour is an event you don't want to miss. Craft breweries from all over Texas will gather in the upscale venue to present their beers to the public. For just $15 you can purchase a passport to sample up to 24 different beers from all over the State of Texas. So gather your friends and embark on a craft beer adventure. Fridays, Saturdays, and Sundays during the Fair.
The Summit: The ultimate party in the heart of the Fair! The Summit is an all-new venue for live music, beer, margaritas, and a great place to hang out with friends and family. The Summit stage will feature live local music from artist such as Ray Johnston Band, Billie Jo Sewell, Holly Tucker, Sabrina Toole, and many more. Every Day.
Chili Cook-Off: Come enjoy samples of chili from over 30 different teams as they compete for the prize of "Grand Champion." It's going to be a great place to hang out with live music, cold beer, and plenty of delicious chili. Interested in having a team of your own? Gather your friends, family, co-workers, etc. and register to compete. Sunday, September 23rd beginning at 9am.
Sea Lion Splash: Sea Lion Splash is a unique show that will have crowds cheering and laughing. It's an educational show with a "splash." The sea lions will amaze the crowd as they balance balls, shoot hoops, dance, perform stunts, and show their pretty smiles. This is the only show in the U.S. to feature both California and South American sea lions.
Timberworks: You'll love this fast-paced thrilling show as two authentic lumberjacks go head-to-head in a variety of competitions. These include log rolling, cross-cut sawing, hot sawing, axe throwing, chainsaw carving, chopping, and speed pole climbing. Timberwork's Lumberjack Show offers spectators a unique blend of logging history, world class competition, and plenty of hilarious comedy. Every Day.
The Sound Exchange: The Sound Exchange is a five member a cappella group bringing dazzling harmonies, and wise-cracking audience interaction together in a whirlwind a cappella experience that is not to be missed. Whether you love soulful ballads, blistering rock anthems, jazz standards, or chart-topping singles…. or, perhaps you just love to laugh and have fun. Then, you're in for a treat with the hijinks & harmonies of The Sound Exchange. Every Day
That's not all! The Fair will be full of a variety of exhibits, attractions, rides, games, and more. From fair favorites like the petting zoo, pony rides, and the legendary food row to a variety of exhibits like AgriWorld, Creative Arts, and The Marketplace there's sure to be something for everyone to enjoy.
This impressive lineup of all things new to do at the Fair will not disappoint- there's truly something for everyone. And let's not forget all the favorite returning attractions:
The Great American Petting Zoo: This petting zoo is unlike any other- held within a 1,200 square foot enclosure, each animal runs freely with the public once inside. A favorite among kiddos, these friendly animals- all hand raised here in Texas- make for a ton of fun in this barrier-free petting zoo. The space is kept immaculately clean, and trained petting zoo staff are always available for any questions. Open every single day of the Fair, find more info here: etstatefair.com/events/2018/great-american-petting-zoo(17)/
The Pony Rides: Your kid will thank you for this one! Come let them experience a real live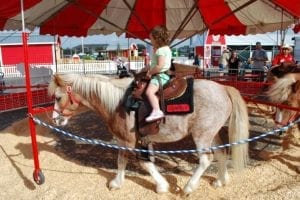 pony ride, carousel style. For $5, these beautiful, purebred Welsh ponies will take your kiddos for a ride they won't soon forget. Presented by Pony Express of Texas, these local ponies are safe, clean, and a whole lotta fun. Happening everyday of the fair, find more info here: etstatefair.com/events/2018/pony-rides/
Carnival Rides and Games: As always, the Fair won't leave you hanging if you're in need of some thrill or friendly competition. You'll find tons of exciting rides like The Freak Out, The Tornado, and The Ring of Fire, along with plenty of gaming fun this year at the Fair. For detailed schedule and pricing info, head here: etstatefair.com/p/entertainment-/carnival-rides
Legendary Food Row: Mac & Cheese Fries, Chocolate Covered Fried Bacon, Chili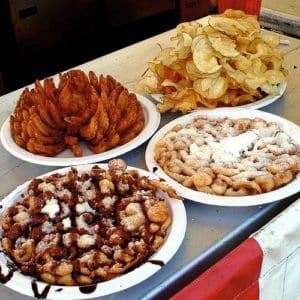 Dogs, Turkey Legs, 4 Meat Baked Potato, Fried Cheesecake…need we say more? The options available at Food Row are endless- wear your comfy pants and your maybe belt a tad loose, because everyone knows there's no such thing as a diet during the Fair. This is the real deal, folks- find a list of all the different vendors and food offerings here (it's crazy long!): etstatefair.com/p/entertainment-/food-row
A Ride Share: a special new drop-off lane for coming and going to the fair, made for guests who use a Rideshare service for transportation instead of driving themselves. That's right folks: this is the year that Fair parking woes and hassles will finally come to an end, leaving you with more important things to worry about (like whether to order a smoked turkey leg or funnel cake..or both.)
"Our goal is to take some of the strain off of our parking lots and make it easier for visitors to come and go safely. The lane will literally drop you off right at the North gate. You'll step out of your car and walk right in!" -Cody Rosenbalm, Director of Marketing at Park of East Texas.
The drop-off lane is located at the intersection of Front St. (Hwy 31) and Fair Park Dr. The lane is only accessible when traveling eastbound on Front St. (Hwy 31) from the Loop towards downtown.
It's hard to believe how much there is to offer at this year's Fair- the organizers have gone above and beyond to ensure an unforgettable experience for each and every guest.
And don't forget- there's still SO much more to see and do at the Fair in addition to this incredible curation of attractions. Whether it be the Photography Contest, the Livestock Show, Senior Day Bingo, or the countless exhibits in The Marketplace, this is only the tip of the iceberg. Gear up, everybody- The East Texas State Fair plans to blow it out of the water for 2018. See you there!
For more information or to get tickets go to etstatefair.com.
Announcing…Dogtoberfest 2018
Dogtoberfest 2018:
Craft Beer and Cute Puppies Join For a Great Cause
Join the fun with your four-legged best friend October 27th (11am-7pm) at Dogtoberfest 2018!
Held at Juls Event Center, 7212 Old Jacksonville Hwy., Tyler, Dogtoberfest is the culmination of adoptable pets from local animal rescue groups, pet-related vendors, local live bands, restaurants and food trucks and craft breweries.
The Craft Beer tasting will take place indoors in the newly remodeled Juls Event Center!
The ultimate goal of the day is finding forever homes for as many homeless pets as possible.
They are currently seeking vendors, breweries, and more; applications are available online. For more info go to spcaeasttx.com/events/dogtoberfest-2018. If you have questions about the event, contact: marketing@spcaeasttx.com.
Green Goat Winery and Vineyard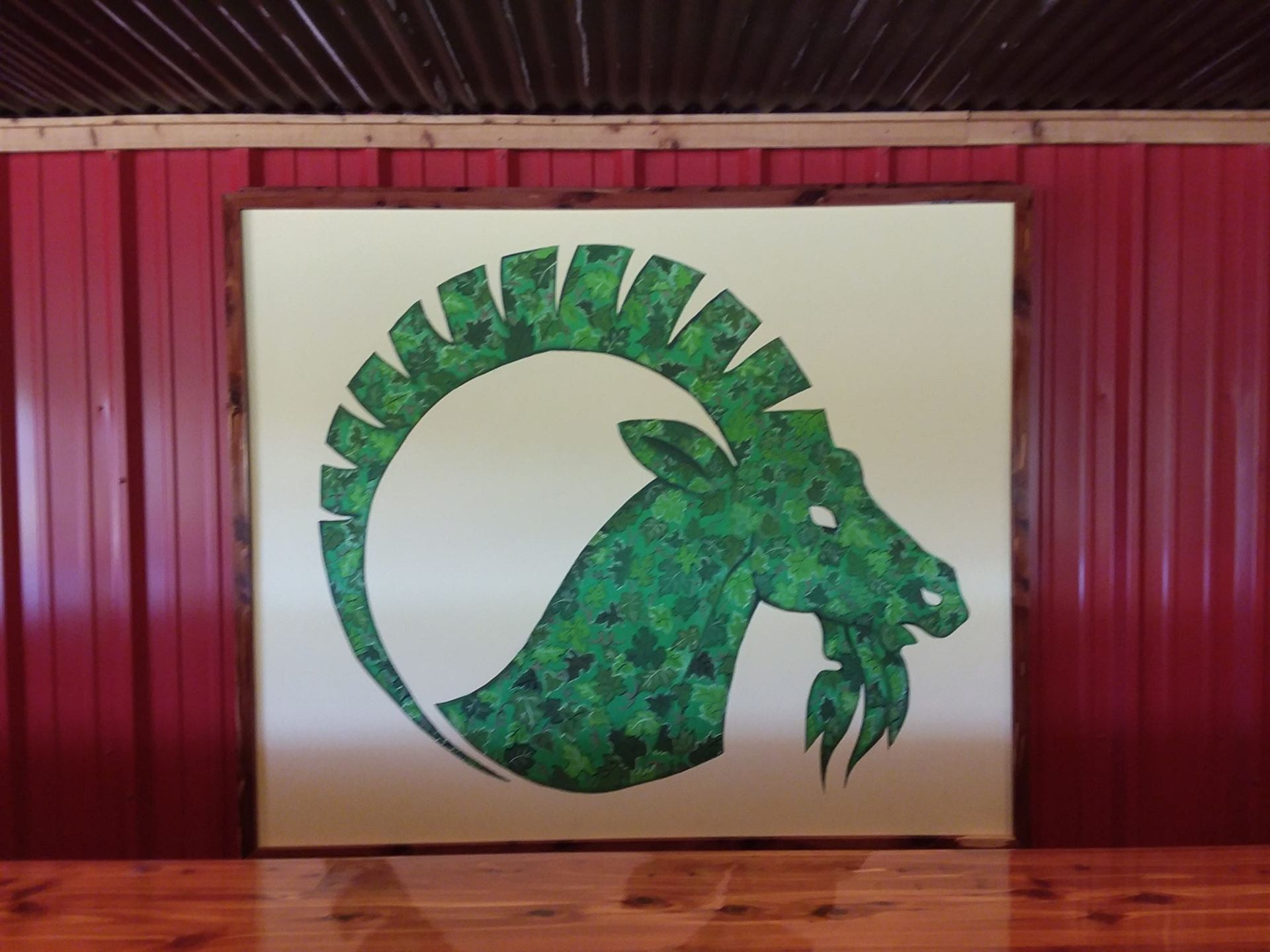 "Wine is Sunlight Held Together by Water"
By Barbara Greenbauer
Nestled in the countryside outside of Edom is an oasis that is a totally unexpected treat to the senses.  Green Goat Winery and Vineyard, established in 2015, is the passion and dream of Rip and Cindy Cunningham, the husband and wife team that envisioned a vineyard oasis.
On their 22 acre property, the rows and rows of gleaming grapes catch your eye as you turn up the road onto the property.  Six acres of land are given over to the succulent fruit, shimmering in the sun in hues of purples, golds, and greens.
Farther up the country road is the winery and tasting room, a testament to the fact that production is a local, hands-on affair, from harvest to bottle, and a labor of love for the couple.
Both Rip and Cindy have "full time" jobs, but spend all their spare time out in the fields,
netting, irrigating and tending to the grapes.  Wine production from grapes is a five-step, time-intensive process: harvesting, crushing and pressing, fermenting, clarification (removing solids such as tannins and proteins), racking (transfer to oak barrels or steel tanks), corking, and bottling.
Green Goat wines are made right on the premises, and a behind the scenes tour showcases the gleaming tanks and corking machinery and thousands of bottles ready to be filled and labelled.  
"In 2016, we ended up with about 4,000 bottles of wine, and this year we are anticipating about 6,000," explained Rip. The above ground wine cellar is full of glistening reds and whites, topped off with the distinctive Green Goat Winery logo.
The winery is currently offering six different varieties of wine, and the varied assortment is sure to please everyone's palette.  "We are constantly testing throughout the entire process and making changes to make sure our wine is up to our own expectations," said Rip.
The tasting room is a treasure in itself, with a rough-hewn bar, high bistro and trestle tables, with plenty of room to move around and socialize.  The real bonus is the view; from anywhere in the tasting room you have a perfect look out onto the vineyard itself. If you want to really be a part of the experience, the tasting room also features a wrap-around porch, with huge wooden rocking chairs and plenty of ceiling fans for the Texas heat. It's also the perfect spot for date night on Friday and Saturday nights with live performances by local musicians.
Rip and Cindy are the perfect hosts, warmly greeting each guest and guiding them through the wine selections.  You can tell that the vineyard is their passion, and they want everyone to feel right at home.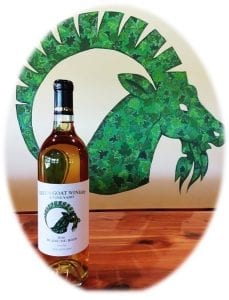 Start with a tasting of six different wines for $8, or nine different tastes for $10.  You can also enjoy Green Goat wine by the bottle or glass, and it is the hope of the Cunninghams that you will love the wine so much you will want to share it and take a some home. Bottles of the unique wines are very reasonably priced between $18.50 and $24.
Pair your pours with meat and cheese plates for a delectable combination. Three different plates are available including meat and cheese mix, a "stinky" mix (cranberry goat feta and apricot crumble), Italia plate (provolone, asiago, and fontino cheeses) or a regular (port wine, derby, smoked gouda, and swiss).
The winery boasts a great selection of both whites and reds including: Blanc du Bois, a semi-dry light white citrus with undertones of peach and apricot; Lamanto, a semi-dry Texas red, silky smooth to the palate with a lingering aroma; and Lenoir, another Texas red, well-rounded with a burst of flavor.
Their extraordinary Texas fruit wines are made from 100% fresh local berries from nearby farms and include Blackberry (aged in French oak), Blueberry (with strong notes of vanilla) and Strawberry (with hints of elder flower).  Also featured are a Cabernet Sauvignon and a Chardonnay blended at the vineyard.
Lenell Lambright from Athens and Jim Hartung from McKinney were enjoying a glass and the classy yet comfortable ambience of the tasting room.  "The wines have a very distinctive aroma and flavor," said Jim. "We love the beautiful setting and the great relaxed atmosphere," added Lenell.
"We take great pride in every bottle made," said Cindy.  As hands-on owners, the Cunninghams do everything from hand harvesting the grapes to working behind the bar as a large group celebrating a birthday walk through the door on a Saturday afternoon.
The Cunninghams encourage guests to walk among the grapes and take an up close and personal view, along with your glass of wine.  On this Saturday evening, Rip invited us to climb on the mule and took us on a personal tour of the vineyard, along with the opportunity to sample a cluster of the sweet, delicious grapes.
In the Tasting room, a sign with a perfect quote summarizes the winery by Galileo, "Wine is sunlight held together by water."
The Green Goat Winery and Vineyard is open Friday and Saturday 12 noon-8pm and is located at 11384 FM 279 in Chandler.  They can be reached at (903)360-0448 or (903)360-1952 or at Greengoat2017@gmail.com.  Find them on FB @greengoatwinery.  They are located about 25 minutes from Tyler. (Edom and Chandler area).