Review: "It's A Wonderful Life" on Stage at Tyler Civic Theatre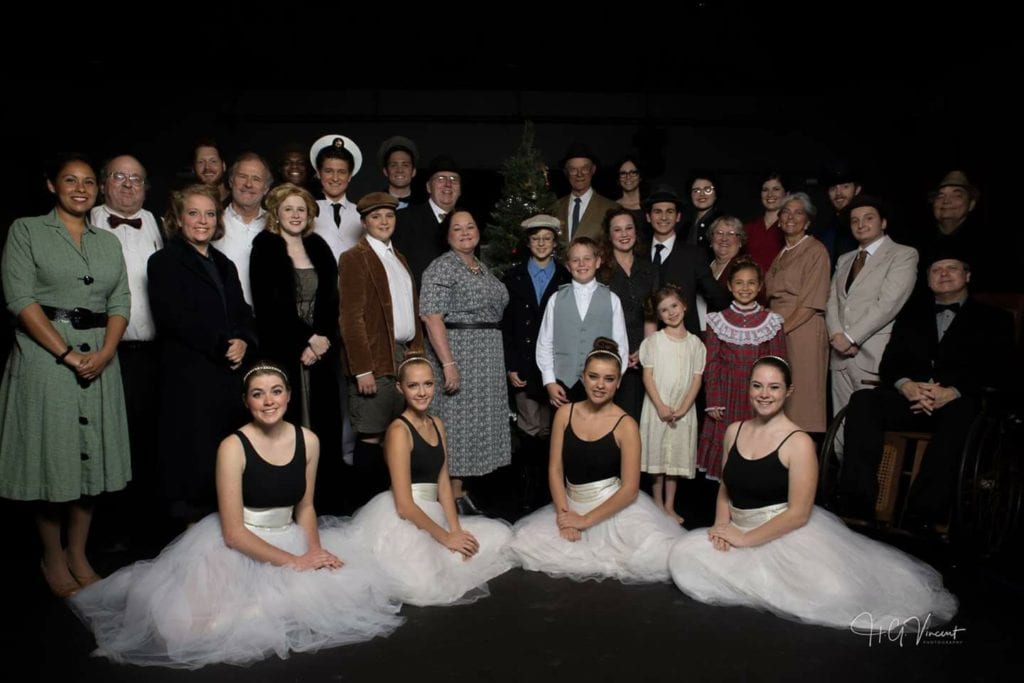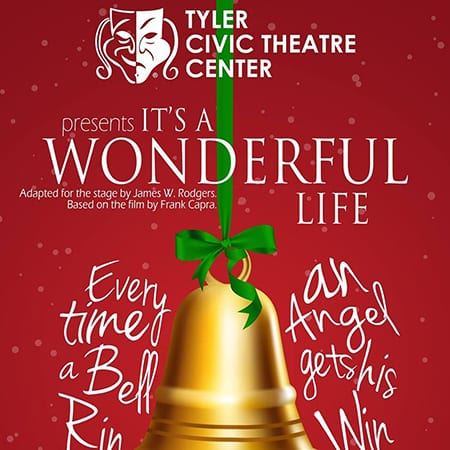 By John Baggett
"It's a Wonderful Life" opened on December 2nd and will run through December 11th at Tyler Civic Theater, located at 400 Rose Park Drive in Tyler.  
It's the holiday season. There is a lot going on around the city to get you in the spirit, from parades to open houses at museums, holiday concerts celebrating Christmas and Chanukah, and, of course, live theatre. Tyler Civic Theatre is continuing their current season and celebrating the holidays with their production of "It's a Wonderful Life."
"It's a Wonderful Life" is the story of George Bailey (Jon Dickson), a man we meet contemplating jumping off a bridge after finding himself in a desperate situation on Christmas Eve. Before he can jump, he is greeted by Clarence Odbody (Richard York), an angel, second class, who is also George's guardian angel. Clarence believes that if he is able to help George, he might finally earn his wings and no longer be "second class." Clarence came to find George after not just hearing his prayer, but the prayers of his friends and family.
In an effort to show George that his life has meaning, he shows him basically a highlight reel of his life. Among his memories are the time he as a young boy (Aiden Pettypool) prevented pharmacist Mr. Gower (Allison Cambre) from accidentally poisoning a young boy with the wrong medication, how he took over his late father's Savings and Loan business and helped his Uncle Billy (Bill Burgdoff) from losing it, and how the love of his life, Mary Hatch (Caitlin Pierson), went from girl he used to know to his wife. He even has recent cause for celebration, because his younger brother Harry (Grayson Lackey) has been declared a war hero, receiving the Medal of Honor from the President himself. Unfortunately, none of that is enough to convince George he has a great life. George is more preoccupied with a missing $8,000 that could sink his business, send him to prison, and wreck the life that he thinks is worth more if he were dead. Clarence grants George's wish that he'd never been born in order to show him once and for all what impact the life of one man can have on the world.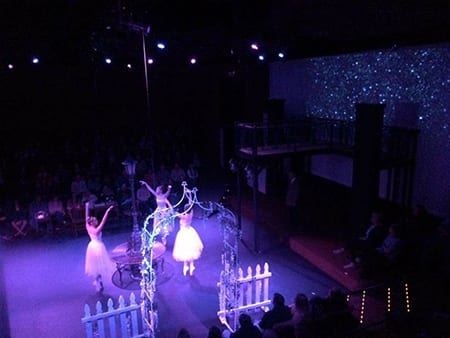 "It's a Wonderful Life" is an adaptation of the 1946 film of the same name from director Frank Capra, which itself was an adaptation of the short story, "The Greatest Gift" by Phillip Van Doren Stern. The stage production was written by James W. Rodgers, also known for penning "A Winnie the Pooh Christmas Tail." The production at TCT is directed by Marlene Dickson, bringing this show to the stage for a third time, and produced by Chris Brantley, who was last seen on stage as Sebastian in this summer's "The Little Mermaid."
"It's a Wonderful Life" is the ultimate feel good story, something Dickson clearly understands, and manages to make a story that has been a part of pop culture for seven decades still have an impact, or as the kids might say, "hit you right in the feels." This is a story that has been told in various forms for years now, and yet this production still manages to make as much as an impact as it would the first time you saw the original film.
Much of this emotional impact absolutely comes from the cast. Dickson, and I mean Jon this time, who just finished playing the titular "The Great Gatsby," very much channeling Jimmy Stewart here, is excellent as George Bailey. He has down Stewart's mannerisms and cadence so much, if anyone ever decides to do a biopic about the actor's life, they seriously need to cast him. He has fantastic chemistry with everyone on stage, particularly York, who has incredible comic timing, and if I could meet my guardian angel in person, I'd want it to be just like him.
As our antagonist, Mr. Potter, Sean Holliday is amazing. Holliday is an actor that has recently come onto my radar after his performance in "Random Access" earlier this year, and he is as loathsome (in a good way) here as he was heartbreaking in that show. Pierson is delightful as Mary, and, I'll be honest, for a few hours after hearing her performance of the song "Buffalo Girls," it was stuck in my head. Not a complaint. I hope to see her in more productions, because she is a very talented young actress that hopefully has a great career ahead of her. The entire cast is wonderful, and I want to name each and every single one of them in this review, but that would make this review go on forever, so, kudos to all of you, because you all did a great job.
I've been reviewing the shows at Tyler Civic Theatre since January 2016, and while I've enjoyed them all, this one is absolutely one of the best shows I've seen this year. I urge you to see this show. It's a truly great show and is a great way to get you in the Christmas spirit.
For more information visit tylercivictheatre.com and to purchase tickets, go to buy.ticketstothecity.com/purchase.php?event_id=4460.


Loads of Science Fun at CESSE

With school out, why not spend more time at the Center for Earth & Space Science Education at Tyler Junior College?
Most shows offer tickets for $7, with students, children, and seniors admitted for $5. Tickets for All Day passes are $12 for adults and $9 for students, children, and senior citizens. Exhibit-only tickets are $3. Tickets can be purchased at sciencecenter.tjc.edu. CESSE is open Tuesday-Friday 9:30am-4:30pm, and Saturday 10:30am-4:30pm. CESSE is located on the Tyler Junior College campus at 1411 E. Lake St., Tyler.
$1 Tuesdays
Back by popular request, CESSE has started $1 Tuesdays again. For just $1 per person per show on Tuesdays, you can check out the new planetarium lineup and exhibit. This applies to holiday shows too.
For more events, check out EGuideMagazine.com 's entire

Dome Shows
Dome shows are shown daily for all ages. This schedule is good daily June 1st-August 24th.
10am (Tuesday-Friday): Children's Show

11am: "Space Park 360"

12 noon: "Journey Through Space Live"

1pm: "Secret Ocean"

2pm: "Mysteries of the Unseen World"

3pm: "Robots"

4pm: "East Texas Sky Live"

Fall Festival Fun for Everyone

Sunny days and mild nights make northeast Texas and Tyler TX the perfect place to enjoy festivals year-round. Many festivals celebrate art, music, film, food, beer, and wine while others celebrate various ethnic and cultural holidays. Here is a list of these festivals: 
For more events, check out EGuideMagazine.com 's entire


5K plus Other Runs & More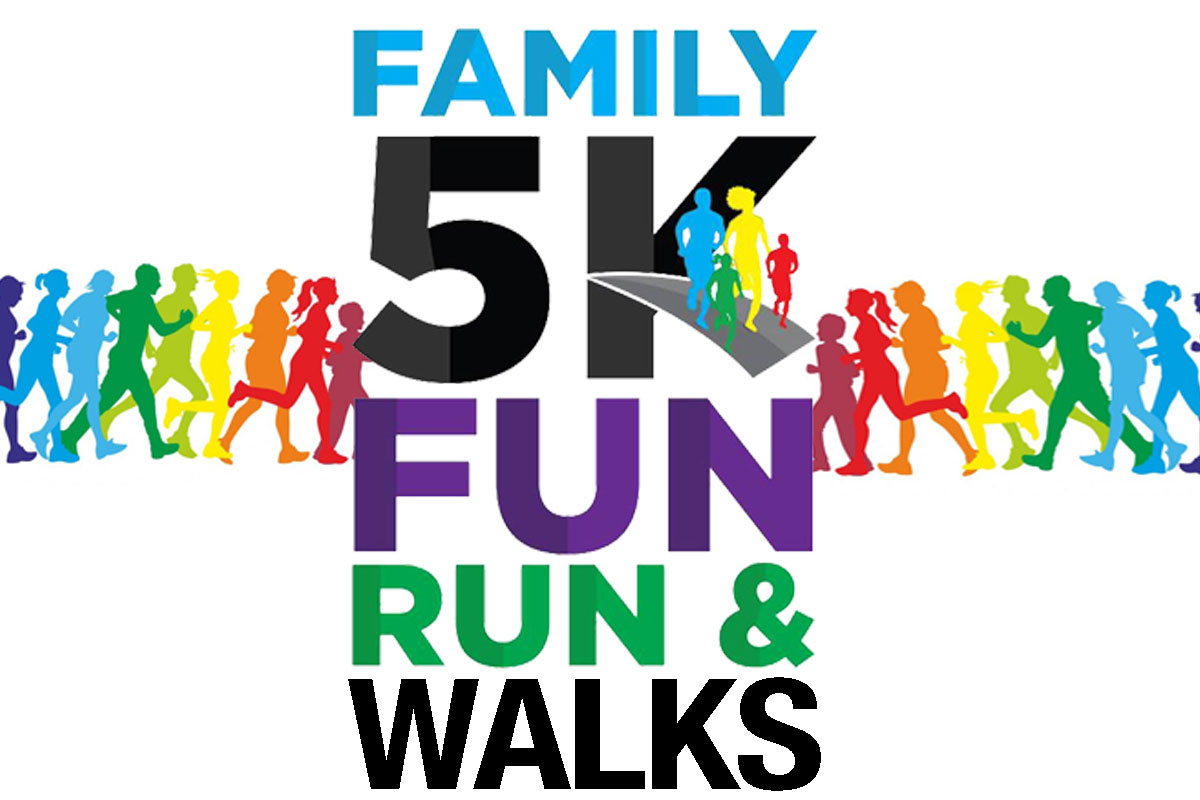 To add a walk, run, or biking event, please go to CALENDAR and select "Submit Event".
For more events, check out EGuideMagazine.com 's entire