Review: "Little Shop of Horrors" at Tyler Civic Theatre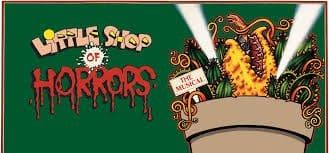 It's spooky season and Tyler Civic Theatre is ready to deliver you a night of thrills, suspense, romance, and one giant, man-eating plant. Welcome to the Little Shop of Horrors.
Based on the 1960 film from Roger Corman, and later adapted into the 1986 movie musical, this is the tale of a boy, a girl, and a giant man-eating plant. Set in the 1960s, the story follows the employees of Mushnik's Skid Row Flower Shop on…well…Skid Row. Here we have grumpy owner Mushnik (Regi Fowler), sweet but troubled Audrey (Holly Tarkon), and geeky Seymour (Stephen Rainwater), an orphan that Mushnik informally adopted and put to work in his flower shop. Unfortunately for all of them, the business of late has been terrible.
In an effort to drum up business, Audrey suggests that they try selling one of the unusual plants Seymour has been tooling around within Mushnik's basement. The plant he chooses was one Seymour picked up immediately following a solar eclipse. They stick it in the shop window and it begins to attract not only customers but the media. When asked what he calls the plant, he names it Audrey II.
While the shop is having success, it hasn't made the personal lives of Audrey and Seymour any easier. Audrey is trapped in an abusive relationship with Orin (Matt Magill), a sadistic dentist hooked on laughing gas. As long as Audrey is stuck with Orin, it means that Seymour can't be with her, despite his very clear affection for her. Even though everyone from Mushnik to people on the street to even Audrey herself think she should be with Seymour.
Also added to Seymour's woes is the fact that Audrey II is sick. None of his efforts to feed the plant fail until one night when he pricks his finger on a rose bush and it cries out for his blood. The blood nourishes Audrey II but as it grows in size, so does its appetite. Audrey II, who can speak, tells Seymour that if he feeds it, it can help make his wishes come true. Seymour, however, must decide if his dreams are worth the life of an innocent…or a not so innocent.
"Little Shop of Horrors" was written by Alan Menken and Howard Ashman, who also collaborated on the Disney films "The Little Mermaid" and "Beauty and the Beast." The TCT production was directed by Megan Magill, making her TCT directorial debut. Magill assembled a wonderful collection of actors, musicians, and tech crew to bring this production to life. I hope she continues to be as prolific at the Civic Theatre as she and her husband, Matt, are in the East Texas music scene.
I have been a huge fan of the shows a TCT since I started reviewing them over a year ago. It's been an absolute joy seeing all of the amazing talents we have in the East Texas area. I don't like to play favorites but of all the productions I've seen there, this one is easily one of my favorites.
Let's talk about the cast. I have to give the first shout out and praise to Sherry Berry, Brittany Crowe, and Cedtrese Williams, the trio that plays the street urchins, the Greek chorus that is the heart and soul, emphasis on soul, of this show. They provide three powerhouse voices that, quite honestly, gave me goosebumps in their opening number.
I also want to give praise to Justin Forward, Kendall Phillips, and Sarah Smith who may be credited as "dancers," but they do far more than that, providing back up to the urchins and as part of the ensemble. This trio was part of "Rock of Ages" (Forward and Phillips) and "Legally Blonde" (Smith) this summer, and are as great here as they were in their previous shows. Speaking of ensemble, Cameron Davis, Alexis Leyva, Helaina Wilkerson, Trisha Wise, and Alan Zamaron all bring their A game and hold as much attention as the lead characters.
This cast also has some wonderful scene-stealing performances. Matt Magill is insanely good as Orin, the dentist. The energy he brings to the role creates a character that is a third Jack Nicholson, a third Steve Martin (from the 1986 movie), and a third Elvis Presley. I already was well aware of Magill's skills as a singer but he is has a manic comic energy that makes me want him to do more theatrical performances. Same with Regi Fowler, who is absolutely wonderful as Mushnik. He is incredibly funny and has an almost operatic voice at times.
Audrey II is a great villain and this man-eating plant is brought to life by David Barthiaume, who provides the motion, and Michael Barnhart, who provides the voice. This pair does an amazing job both on and off stage, one that makes the character transcend beyond mere puppet.
Which brings me to Tarkon and Rainwater, the leads of this show. Tarkon, making her TCT debut as Audrey, is truly great. Her performance is Audrey is as funny as it is heartbreaking at times. I hope to see her in more shows because she has immense talent. And as Seymour, Rainwater steps into the role he was absolutely born to play, providing, at least from my perspective, a career-best performance.
I also have to give Randall Powell, Giant Boykin, Corey McCurry, and Dan Spivey a special thumbs up for providing the music to the show. Everyone who worked on this show, on and off stage, truly put their blood, sweat, and tears into making this one killer show.
"Little Shop" is a gem of a show, one that has stood the test of time, be it the film or the stage version. It's great that Tyler Civic Theatre made this show part of their season. In fact, this could very well be the best production of the current season. If ever there was a show to kick off Halloween weekend, this is it.
"Little Shop of Horrors" opens on Friday, October 27 and runs through Sunday, November 5. Tickets are available at the www.tylercivictheatre.com or call the box office at 903-592-0561.

Texas Shakespeare Festival Returns to Kilgore June 27th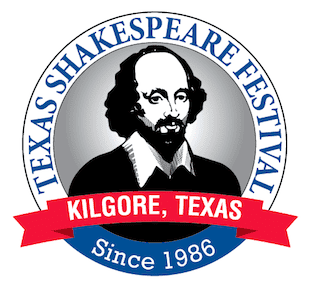 The Texas Shakespeare Festival returns to Kilgore College on June 27th for a season that continues through July 28th. Performances take place in Van Cliburn Auditorium located in Kilgore College's Anne Dean Turk Fine Arts Center. The 2019 shows are:
"As You Like It," one of Shakespeare's most frequently performed comedies, is a "hilarious tale of disguises and mistaken identities." Harold Bloom wrote that Rosalind is among Shakespeare's greatest and most fully realized female characters. This will be on stage June 27th, July 4th, 6th, 12th,* 14th,* 19th, 21st, 25th,* and 27th*.
"Born Yesterday" will be on stage. After its opening on Broadway in 1946, the Garson Kanin comedy became the longest-running show on Broadway with 1,642 performances, a record it held for almost 30 years. It is the story of an unethical millionaire doing illegal business in Washington DC, while the behavior of his unrefined mistress threatens to spoil his plans. It's a funny play with an important message. This will be on stage June 28th, July 5th,* 7th,* 12th, 14th, 18th,* 20th,* 25th, and 27th.
"Othello," one of Shakespeare's most famous tragedies, tells the story of a Moorish general and his disloyal ensign, Iago, who convinces him that his wife Desdemona has been unfaithful. The play deals with themes of including love, jealousy, betrayal, revenge, and repentance. This will on stage June 29th, July 5th, 7th, 11th,* 13th,* 18th, 20th, 26th,* and 28th*.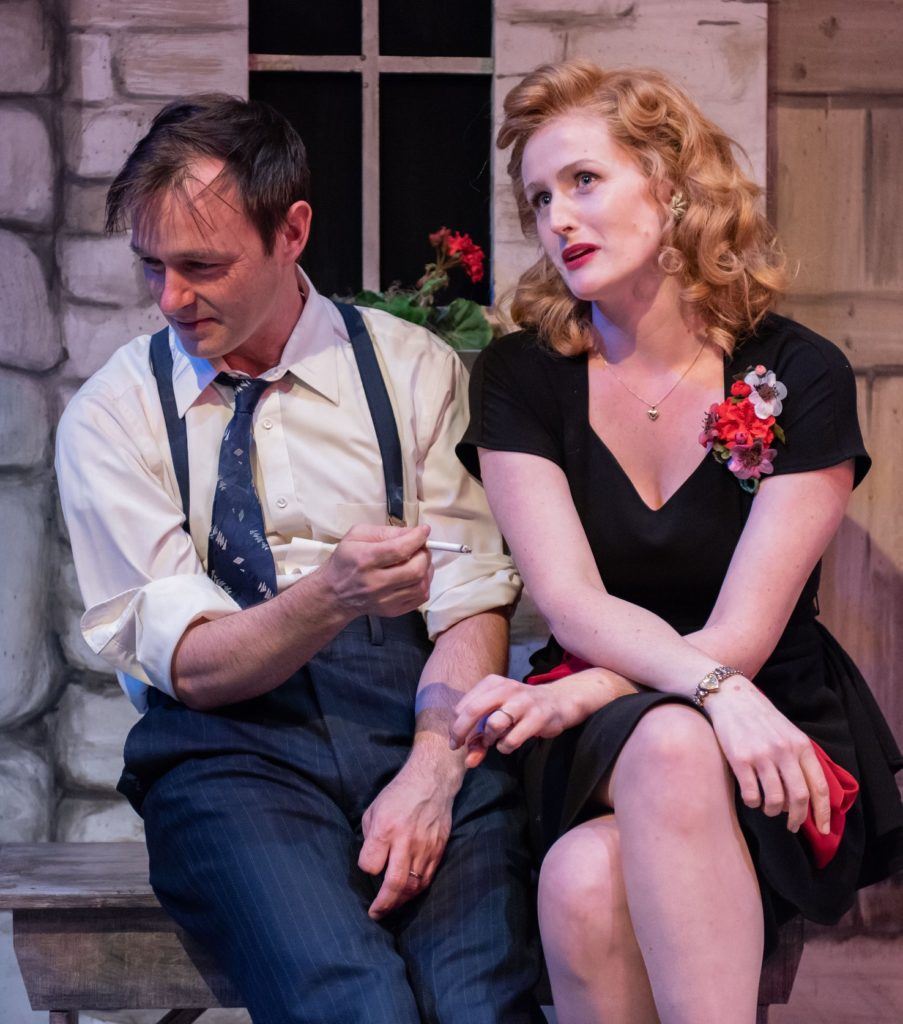 "Into the Woods," a musical by Stephen Sondheim and James Lapine, intertwines the plots of several well-known fairy tales as it explores the consequences of the characters' wishes and quests. "Be careful what you wish for" seems to be the connecting theme, along with the message that people must come together to save each other. This will be on stage June 30th, July 4th,* 6th,* 11th, 13th, 19th,* 21st,* 26th, and 28th.
"The Girl Who Cried Throgmonster" will also be on stage. In this quirky retelling of an Aesop fable, a young girl must save her town from the destructive force of a not-quite-extinct monster while simultaneously learning about the destructive force of one foolish wish. Toss in a goat-obsessed scout leader, a squash-squashing granny, and a fairy godmother constantly plagued with legal woes, and you have a twisted tale that will delight young and old alike! Productions are July 17th, 18th, 19th, 20th, 25th, 26th, and 27th at 10am.
The Chinese Talent Night! Since 2009, the Texas Shakespeare Festival has had the pleasure of hosting a group of theatre artists from Chongqing and Shanghai, China. Audiences are allowed a glimpse into their artistic process with an original piece premiered at the Texas Shakespeare Festival. Admission to this performance is free (though registrations are required),  and the audience is invited to join the company for a post-performance reception. Chinese Talent Night is Tuesday, July 23rd at 7:30pm.
TSF Talent Showcase: Stage to Screen is one of the hottest tickets of the summer. This one-day-only performance lets you see the Texas Shakespeare Festival company in a whole new light. It's a day filled with humor and music that celebrates all the hard work done throughout the summer season. Combining classics with the most contemporary, this year's show "Stage to Screen" will feature songs originally featured on the stage and made famous on the screen, performed by the 2019 Company. Due to popular demand, a matinee performance has been added to the bill, allowing double the amount of attendees. The Showcase takes place on Wednesday July 24th at 2pm and 7:30pm. Tickets are $25.
A special Backstage Tour will be held Sunday, July 28th at 8pm. Take a guided backstage tour of the Festival Shops. Call the TSF Ticket Office at (903)983-8601 to schedule a tour. Groups are welcome. Tours available Tuesday-Sunday. Tickets are $5 per person.
Matinee performances(*) are at 2pm. All evening performances are at 7:30pm. Performances are in the Van Cliburn Theatre on the Kilgore College Campus, 1200 S. Henderson Blvd., Kilgore.
Tickets vary in prices. Season tickets are $99 (includes one ticket to "As You Like It," "Born Yesterday," "Othello," and "Into the Woods"). Individual performance tickets are $33. Padded Bench Seat tickets are $28. "The Girl Who Cried Throgmonster" tickets are $8. Group tickets are available.
Go to texasshakespeare.tix.com to purchase. You can purchase tickets by calling the TSF Box Office, (903)983-8601 9am-5:30pm, Tuesday through Sunday. By mail, complete the order form on the Season Brochure and mail with payment to TSF Box Office, 1100 Broadway, Kilgore, TX 75662-3204. Include a daytime telephone number and you will receive a return call to confirm your order. You can also come by the TSF Box Office in the Anne Dean Turk Fine Arts Center at 1200 Hwy. 259 South and Brook Ave. (east side of the crosswalk), on the Kilgore College campus. Box Office hours are 9am-5:30pm Tuesday-Sunday.

Theatre Guide: Through June 30th, "Mamma Mia" at Tyler Civic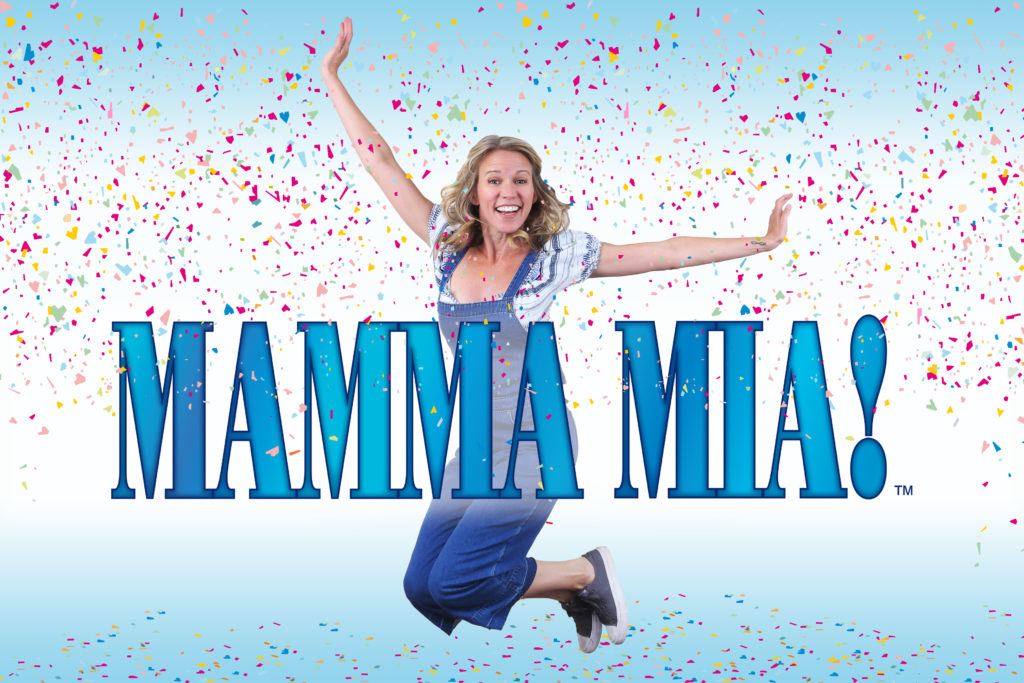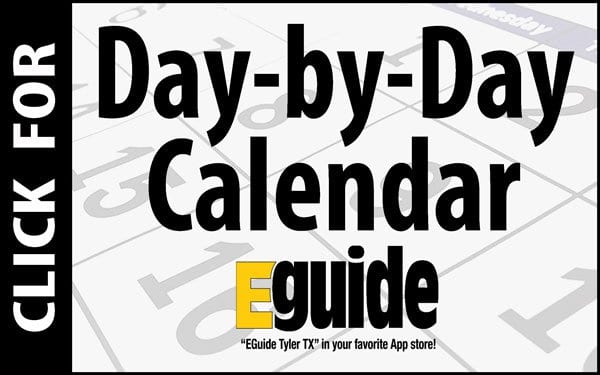 June 13th-30th (Friday-Saturday at 7:30pm, Sunday at 2:30pm): "Mamma Mia!" – Over 60 million people worldwide have fallen in love with the characters, the story and the music that make "Mamma Mia!" the ultimate feel-good show! ABBA's hits tell the hilarious story of a young woman's search for her birth father. This sunny and funny tale unfolds on a Greek island paradise. On the eve of her wedding, a daughter's quest to discover the identity of her father brings three men from her mother's past back to the island they last visited 20 years ago. The story-telling magic of ABBA's timeless songs propels this enchanting tale of love, laughter, and friendship, creating an unforgettable show. A large cast, non-stop laughs and explosive dance numbers combine to make "Mamma Mia!" a guaranteed smash hit for any theatre. A mother. A daughter. Three possible dads. And a trip down the aisle you'll never forget! Tyler Civic Theatre is located at 400 Rose Park Dr., Tyler, next to the Tyler Rose Garden Center. For more info call (903)592-0561 or go to tylercivictheatre.com.
June 21st-30th (Friday-Saturday at 7:30pm, Sunday at 2:30pm): "Death of a Salesman" will be on the stage at Henderson Civic Theatre. Arthur Miller's play Death of a Salesman addresses a loss of identity and a man's inability to accept change within himself and society. The play is a montage of memories, dreams, confrontations, and arguments, all of which make up the last 24 hours of Willy Loman's life. The play concludes with Willy's suicide and subsequent funeral. Henderson Civic Theatre is located at 122 E. Main St., Henderson. For more information call (903)657-2968 or go to hendersoncivictheatre.org.
June 29th (2:30pm and 4:30pm): "The Pirates of the Penzance Jr." – A hilarious farce with sentimental pirates, dim-witted young lovers, and an eccentric Major-General, based on the Gilbert and Sullivan operetta. Set sail with this classic comedy that boasts one of the most famous patter songs in musical theatre history. The wit and whimsy of Gilbert and Sullivan's classic score is suffused with a modern sensibility in "The Pirates of Penzance Jr.," a swashbuckling musical journey! Set on the rocky coast of Cornwall, England, "The Pirates of Penzance Jr." begins with a group of pirates who are celebrating the birthday of one of their own, Frederic, who has reached his 21st year. Finally having served the full length of his required time with the pirates, he decides to strike off on his own and become an upstanding citizen – which may even mean bringing the pirates to justice. Thus turns out to be a tricky prospect indeed, especially when Frederic's freedom is called into question! Tyler Civic Theatre is located at 400 Rose Park Dr., Tyler, next to the Tyler Rose Garden Center. For more info call (903)592-0561 or go to tylercivictheatre.com.
July 5th-6th (Friday-Saturday at 7:30pm, Saturday at 2:30pm): "Shrek the Musical Jr." – Everyone's favorite ogre is back in this hilarious stage spectacle, based on the Oscar-winning smash hit film and outrageous Broadway musical. It's a "big bright beautiful world" as Shrek leads a cast of fairytale misfits on an adventure to rescue a princess and find true acceptance. Part romance and part twisted fairy tale, Shrek Jr. is an irreverently fun show with a powerful message for the whole family. Once upon a time, in a far away swamp, there lived an ogre named Shrek. One day, Shrek finds his swamp invaded by banished fairytale misfits who have been cast off by Lord Farquaad, a tiny terror with big ambitions. When Shrek sets off with a wisecracking donkey to confront Farquaad, he's handed a task – if he rescues feisty princess Fiona, his swamp will be righted. Shrek tries to win Fiona's love and vanquish Lord Farquaad, but a fairytale wouldn't be complete without a few twists and turns along the way. Tyler Civic Theatre is located at 400 Rose Park Dr., Tyler, next to the Tyler Rose Garden Center. For more info call (903)592-0561 or go to tylercivictheatre.com.
July 25th-August 11th (Friday-Saturday at 7:30pm, Sunday at 2:30pm): "Disney's Newsies – The Musical:" – Stop the presses! This Disney film turned Tony-winning Broadway hit inspires everyone to fight for what's right and seize the day.It's time to carry the banner on your stage with "Disney's Newsies!" Set in turn-of-the-century New York City, "Newsies" is the rousing tale of Jack Kelly, a charismatic newsboy and leader of a band of teenaged "newsies." When titans of publishing raise distribution prices at the newsboys' expense, Jack rallies newsies from across the city to strike against the unfair conditions and fight for what's right! Based on the 1992 motion picture and inspired by a true story, "Newsies" features a Tony Award-winning score by Alan Menken ("Little Shop of Horrors," "Sister Act") and Jack Feldman. and a book by Tony Award winner Harvey Fierstein ("Kinky Boots"). Featuring the now classic songs "Carrying the Banner," "Seize the Day," and "Santa Fe," "Newsies" is packed with non-stop thrills and a timeless message, perfect for the whole family and every audience. Tyler Civic Theatre is located at 400 Rose Park Dr., Tyler, next to the Tyler Rose Garden Center. For more info call (903)592-0561 or go to tylercivictheatre.com.

Review: "Groucho A Life in Revue" at Tyler Civic This Weekend


By John Baggett
The 70th season for Tyler Civic Theatre is coming to a close and it has truly flown by. A wise man once said, "Time flies like an arrow but fruit flies like a banana." That man was a legendary comedian and performer Groucho Marx. Luckily, that quote is fitting as he is the subject of the final play for TCT this season, "Groucho Marx: A Life in Revue."
Set on the stage of Carnegie Hall, the show tells the story of Groucho by the one man who could tell it the best – Groucho himself, played here by Nyc Moy. On stage we get to see the man through the ages, from childhood (played by Paul LeBritton), to his days playing vaudeville shows, his success on stage and screen, his days performing with his brothers, his time hosting "You Bet Your Life," and ending as an elderly man looking back on his life. We even get to see him age on stage as time progresses through the show.
"Groucho" is written by Arthur Marx, son of Groucho and former tennis pro turned TV writer, and Robert Fisher, a playwright and writer for such shows as "McHale's Navy" and "My Three Sons." The show has been performed on stages around the world, once filmed for television with "Welcome Back, Kotter" star Gabe Kaplan in the role. The TCT version is brought to us by Roger Pharr, a veteran of the Civic stage making his debut as director. Backing him up as assistant director is Austin Sandy, who has appeared in shows such as "On Golden Pond" and "Dial M For Murder." "Groucho" is a perfect fit for Pharr, who has always done well in comedic roles as an actor.
As Groucho, Moy deserves all the praise in the world. He had so much dialogue to memorize that it's worth championing that he could pull it off alone. The icing on the cake is that for the runtime for this show, Moy doesn't just say the words of Marx, he IS Marx, as he nails the icon perfectly from the look, the mannerisms, and the inflection. This is not an easy role by a long shot and he triumphs. While on the subject of Groucho, I have to equally give LeBreton his due, returning to the stage after appearing in "On Golden Pond" this year. This is his second show at Civic and he is a very talented young man that needs to keep doing shows. He's a natural.
While it could be easy to transform this into a one man show, it's anything but. Backing up Moy is a fantastic cast surrounding him. Jade Allen, in his TCT debut, plays Chico Marx, the brother featured most throughout the show. As Chico, he holds his own in getting laughs, but also helps provide some nice, somber and emotional moments in the show. Jesse Stamper II plays Chico as a young man, and is fun to watch as well. He returns after also appearing in "On Golden Pond," where he also delivered a strong, entertaining performance.
Harpo is played by Dylan Maxwell, another TCT debut, and absolutely nails Harpo's comic sensibility. He is hilarious to watch and I hope to see him in more shows. Appearing in multiple roles are Jennifer Rader and Kaci Combest, both of whom have graced the Civic Theatre stage multiple times and are a delight to see on stage. They both get big laughs as well as delivering truly strong performances as women who have either challenged Groucho or made him reflect on how he could have been a better man off stage.  With Tyler McCuan on piano and Sarah Pharr providing rimshots to the one liners she feels deserve them, this is a fantasic cast and show that puts a lot of heart and soul into telling the story of a Hollywood and comedy legend.
Groucho Marx once said, "I've had a perfectly lovely evening, but this wasn't it." That quote may be fitting for a lot of evenings, but an evening at Tyler Civic Theatre seeing this show? It absolutely does not apply. Go see this show and I guarantee a perfectly lovely evening.
"Groucho: A Life in Review" opens on Friday, May 10, and runs through Sunday, May 19.