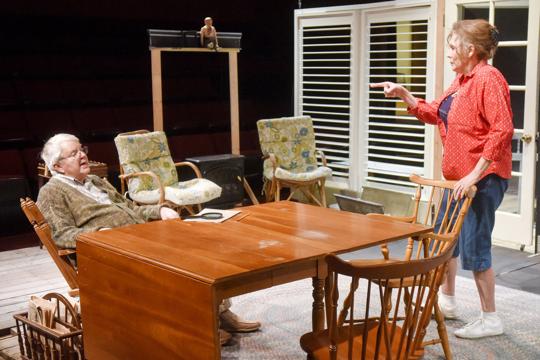 By John Baggett
As the 70th season for Tyler Civic Theatre continues, the line up this year has let me see a lot of shows that I probably should have seen a long time ago. In this case, it allowed me to visit both a cinematic classic and the play that inspired it thanks to the latest production, "On Golden Pond."
"On Golden Pond" is the story of the Thayer's, Norman (Dan Trent) and Ethel (Lisa Ormandy), an aging  couple who have been married over 40 years. The pair returns to Golden Pond in Maine every summer as they have for most of their married life. With Norman's 80th birthday approaching, his preoccupation with his mortality is in full force, especially since he has been having heart palpitations and his memory is starting to fade. Still, he is able to fill his days harassing mailman Charlie (Austin Sandy) and driving Ethel crazy.
When their daughter, Chelsea (Kristina Suberbielle), writes that she is coming for a visit with her new boyfriend, Bill (Heath Huffstetter), Ethel hopes that for once they can all get along as a family. With Chelsea's return, it brings back bad memories, but the beginning of new ones with Bill's son, Billy (Jesse Stamper II). Ethel asks Norman to let Billy stay with them while Chelsea and Bill go to Europe, which is the best thing, not just for the boy, but for Ethel and Norman as well.
"On Golden Pond" was written by Ernest Thompson, who would later adapt his play into the script for the 1981 Oscar-winning film. (I actually watched the movie just days before opening night for the first time ever, and I'm really glad I did.) The Civic Theatre production is directed by DeAnna Hargrove, a veteran director and actress, whose previous show was the debut performance of Mike Hargrove's "The Touch." Hargrove assembled a wonderful cast that took this classic material and made it their own.
Trent and Ormandy have the task of taking characters once portrayed by the legendary Peter Fonda and Katherine Hepburn, and both of them exceeded expectations. Trent, who was previously in "Screwtape" and "The Odd Couple," brings warmth and humor to a role I felt Fonda was a little cold in, but still manages to be the loveable curmudgeon as well. Ormandy is easily the biggest surprise in the show as this is her acting debut. For someone that hasn't been on stage before, she was flawless, taking on a heavy role with the grace and ease of a stage veteran. I hope that she continues to appear in shows because she is truly gifted.
With our supporting cast, we have a fantastic group of actors. Hufstetter, who has been in many shows such as "Christmas Belles" and "Charlotte's Web," gives another great performance. Sandy, who was last seen in "Dial M For Murder" is fun to watch as Charlie, and you can't help but smile along with him while he is on stage. In her Civic Theatre debut, Suberbielle is also great, returning to the stage for the first time in two decades, and I hope she continues to act. Finally, as Billy, Stamper is a delight to watch, with a natural talent that makes me hope he keeps it up. I also want to give a shout out to Joclyn Ewers, who is the voice of the operator and an understudy for Ormandy, and Paul LeBerton, who was an understudy for Stamper.
"On Golden Pond" is a delightful show, one that is funny and emotional. Every performance is great and it's a show that, whether you've seen the movie a thousand times or not at all, you owe it to yourself to check out.  Tyler Civic Theatre is located at 400 Rose Park Drive.  For more information or to purchase tickets call 903-592-0561 or go to http://tylercivictheatre.com/production/2018-2019/on-golden-pond.


Bored? Find something FUN to do…download our App!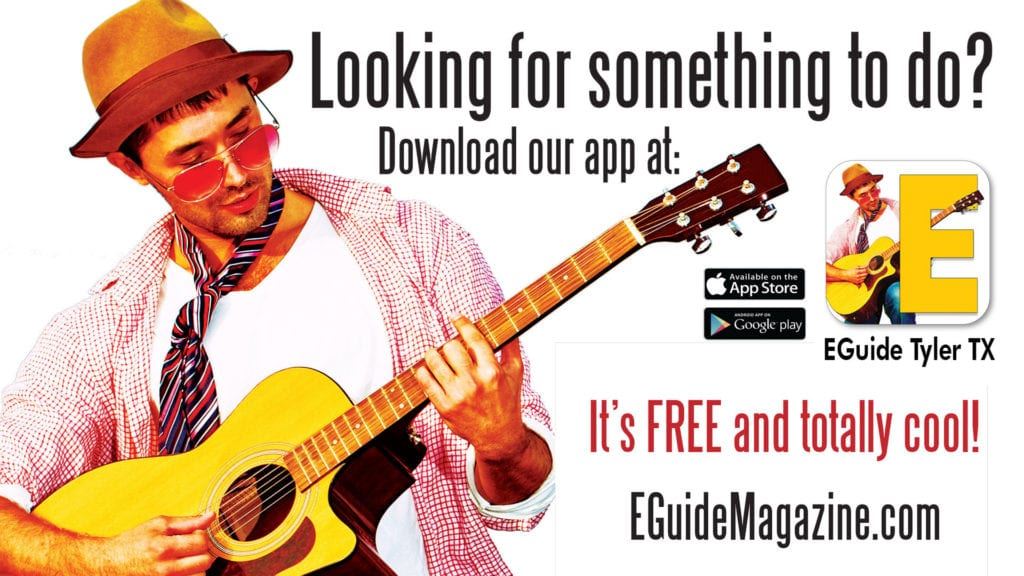 Looking for something to do?
Want to know who is playing live music around town?
See what is going on Downtown?
What is "EGuide Tyler TX"?
"EGuide Tyler TX" is a FREE events app from EGuideMagazine.com, the #1 entertainment guide for Tyler, Texas and the northeast Texas region.
What can "EGuide Tyler TX" do for me?
With "EGuide Tyler TX" you can:
Find new places to eat and drink.
Get info about the best local live music going on daily
See what is going on today, this weekend, or next month
Find festivals, theatre, art, concerts and tons more
Enter to win fabulous weekly giveaways
The easy-to-use menu helps you find out what to do this weekend
…all at your fingertips….and it is FREE!
Download our free app "EGuide Tyler TX" here:


Cowan Center: The Color of Purple & More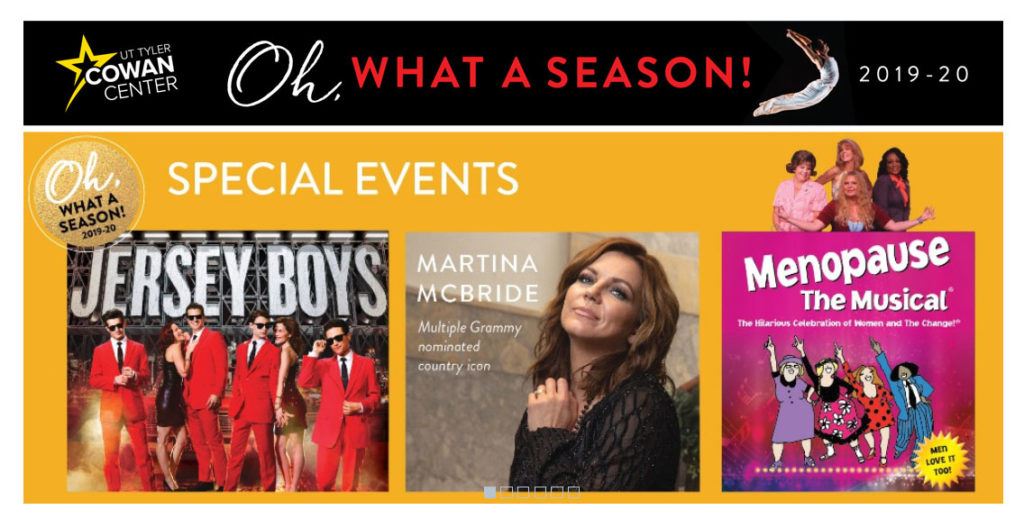 Wondering what will be showing at the Cowan Center in the next year? The center unveiled their lineup for the upcoming season Thursday. Eighteen live events are planned for the 2019-2020 season for the University of Texas at Tyler Cowan Center.
Season tickets and individual tickets can be purchased by calling the Cowan Center box office at (903)566-7424 or visiting in person 9am-4pm Monday-Friday. You can also purchase tickets online at cowancenter.org.
All events are performed in the Cowan Center located on the campus of The University of Texas at Tyler, 3900 University Boulevard – FAC 1120, Tyler. More information about the new season can be found at CowanCenter.org.
The upcoming season's acts are:
For more events, check out EGuideMagazine.com 's entire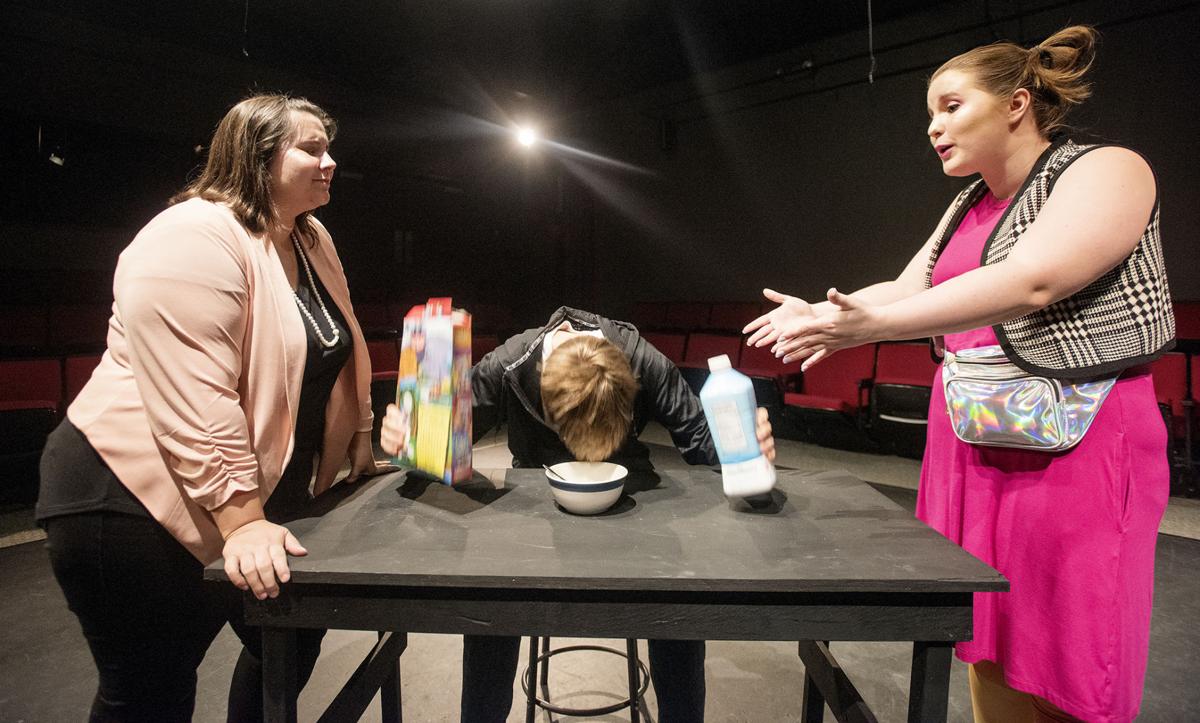 By John Baggett
Did you know that every decision you make is either an example of left brain or right brain thinking? All of them – how you put on your socks and shoes, how you pour a bowl of cereal, how to talk to a girl, I do mean all of them. It is this dichotomy that is the subject of the first play of the new season at Tyler Civic Theatre and the winner of the 2019 New Play Festival, the hilarious comedy – "A Mind of My Own."
"A Mind of My Own" is the story of Ross (Luke Pearson), a teenager whose every decision is an absolute struggle. This is because there is a war inside his head between the two sides of his brain – Left (Jessica Fite) and Right (Sarah Pharr). Left Brain is more analytical,  strict, and rigid while Right Brain is more free spirited, creative, and emotional. Their tug of war over every decision forces Ross to live his life unable to make a decision at all.
The only thing he has been able to decide on is that he has the biggest crush on his classmate, Shira (Layla Wragg). No matter what side of his brain is in control, one thing is clear – Ross is hopeless. Every time he is around her he turns into a babbling wreck. When his friends August (Johnathan Hodges) and Barry (Zach Combs) try to step in and help, it just makes matters worse. If Ross is going to open up his heart to Shira, he's going to need all the help he can get.
"A Mind of My Own" was written by Lila Katz. This is her first produced play, and one thing is very clear – she can write. I actually have gotten to see this story performed twice – once at the New Play Festival in which the show was read aloud and the fully realized production. Both versions managed to nail Katz's humor and heart, which is all over this story.
The production is directed by Hannah Claire, who previously directed "The Disappearance of Maud Crawford" and, most recently, "The Taming of the Shrew" for Tyler Civic Theatre and she assembled a perfect cast to bring this show to life.
As Ross, Pearson delivers a knockout performance. He makes his character incredibly real and uncomfortably relatable because I'm pretty sure I've been in Ross's shoes more than once in my life. He's also got great comedic chops and I hope he continues to do shows in the future. Wragg, in her first production at Tyler Civic, is great as Shirah, who is more than just "the love interest." Her character is smart and self-driven, as well as incredibly aware of Ross's crush. She's got some good acting chops and I hope to see her on the Civic stage in future shows.
Hodges and Combs are fantastic as August and Barry. Hodges, also in his first role at TCT, is cocky and smarmy in all the right ways, almost like the villain in an 80s comedy. He does a wonderful job and I hope to see him in future shows. Combs, fresh from performing in "Newsies" just a few weeks ago, is absolutely hilarious. He has great, natural comic timing and absolutely steals one of the scenes.
Which brings me to the Brain. Fite and Pharr are incredible. They practically steal the show, especially Pharr who is not afraid to go for it, delivering an absolute laugh out loud performance. Fite's character is the straight man in the pair, the Abbott to Pharr's Costello, but that's not to say she isn't a delight to watch. I could watch these two go back and forth all day, but I'll settle for what I got.
"A Mind of My Own" is a great show. It may have been written by a teen and performed by (mostly) teens, but the themes of this show are universal and everyone will get something out of it. It may be about being an awkward, love struck teen, something we've all been; but the examination of right vs. left brain thinking is genius. Katz has a talent beyond her years, and I feel like she is only getting started.
My only criticism of the show is that it's too short. When I say that, I don't mean that the show is rushing to tell its story. It gets everything across perfectly and there isn't a wasted second on the stage. What I mean is I want more of this world Katz has created. I want more adventures of Ross and his brain. So, I appeal to Lila, please, give me more – sequels, spin offs, a series of short film, maybe a Netflix series. Just give me more.
"A Mind of My Own" is a great show; funny, intelligent, and incredibly heartfelt. It's another shining example of the great collection of young talent.  Also, it's only running for a single weekend, so I would take full advantage and come see this show while you can. This is another one of those Tyler Civic Theatre productions that if you miss it, you'll regret it.
Tyler Civic Theatre is located at 400 Rose Park Drive in Tyler. This play is has a short run, August 29th-September 1st at 7:30pm. For more information or to purchase tickets go to https://www.tylercivictheatre.com/?fbclid=IwAR0rvLg24nEODcZiXkHhYYNrBitcc2pfQSrzf3cSbpS194kZbGXfo4IDN7Q