By John Baggett
This has been a great season for Tyler Civic Theater so far, mixing laughs, tragedy, history, and the occasional singing, man eating plant, but now it's time for something downright devilish. For a special one week engagement, they are bringing to stage a highly anticipated production of the dark comedy, "Screwtape."
The story of "Screwtape" focuses on the attempt to recruit the soul of young Michael Green (Derek Large) by the senior demon Screwtape (Justin Purser) and his nephew, the fiend in training, Wormwood (Douglas Lake). The plan is to ruin Mike's life so they can take his soul to hell with them for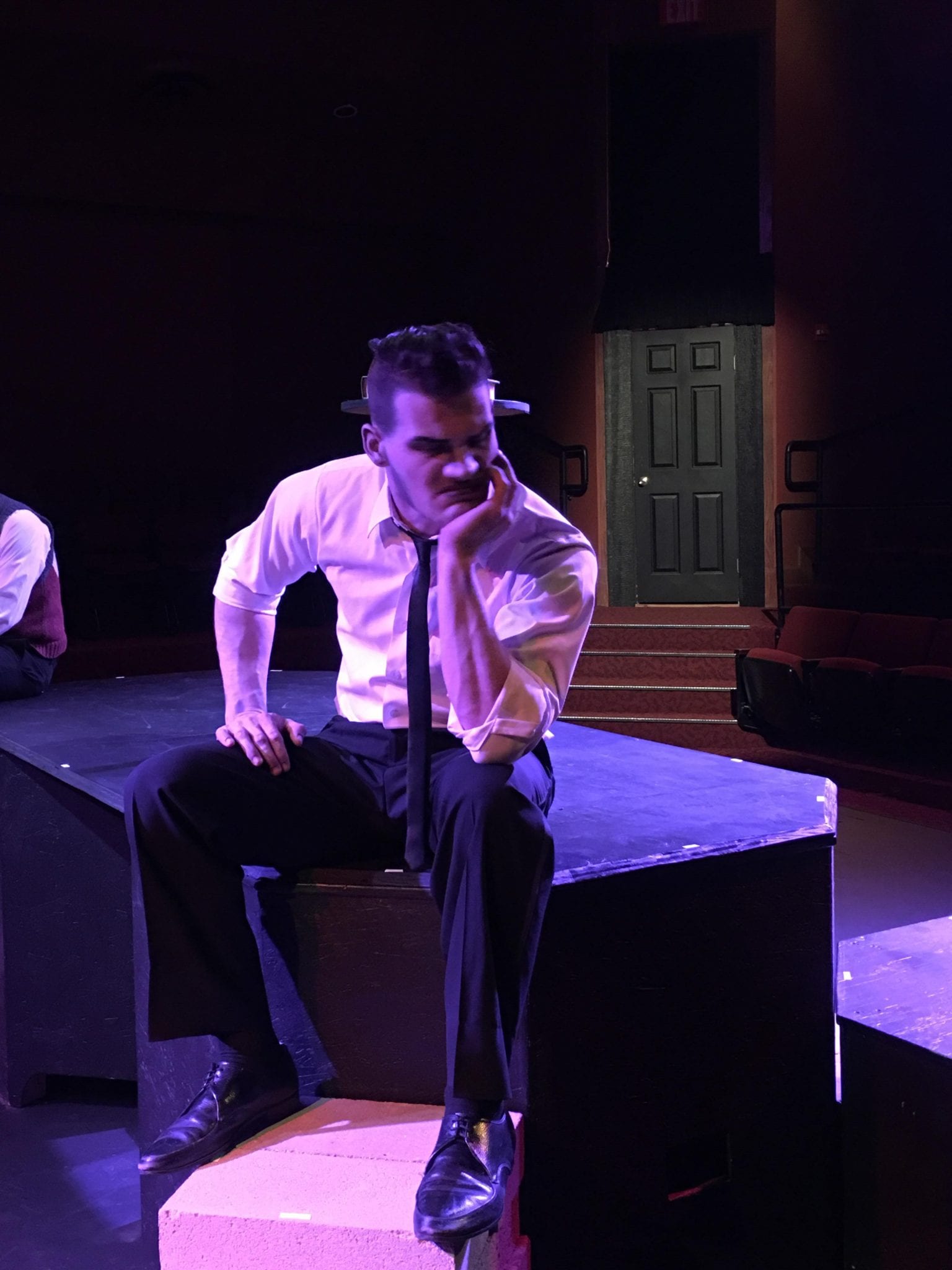 all eternity. It shouldn't be hard, since Mike's life isn't ideal, to him, at least. He lives at home with his mother (DeAnna Hargrove), his father abandoned the family, they are not well off, he is unhappy in his job, and his mother is taking a strong liking to local vicar, Mr. Spike (Jeff Bryce), and not for his sermons.
It doesn't take much to ruin his work life as Wormwood gets in Mike's head and makes him tell off his boss, Mr. Macadam (Dan Trent), after he is asked to work on a project at his boss's home. He also runs into the slick, womanizing Rex Skinner (Jeff Bullock), who promises Mike he will take him to a club and asks him to send a message to Milly (Emmy Anderson) that upsets her. Yet, despite all of their efforts to truly ruin Mike's life, they inadvertently send him to meet Judy Macadam (Tara Hoover), the daughter of his now former boss and the one true faithful follower of Mr. Spike, and a devout believer in God. Mike falls for her, but as Wormwood tries to turn his potential victim's thoughts to lust, it pushes Judy away. This leads Screwtape to call upon help and Hell sends Slumtrimpet (Mary Henson), whose specialty is lust.
However, things take a turn for Wormwood when he finds out that Screwtape is not as beloved down below as he was led to believe. Even worse, he suddenly discovers he has the most unsavory thing that can befall a demon – feelings.
Despite everything I just typed, this play is a comedy. A somewhat dark comedy, but a comedy nonetheless. "Screwtape" is based on the novel, "The Screwtape Letters" by C.S. Lewis, who is best known for the "Chronicles of Narnia" series. The book was adapted for the stage by James Forsyth, a Scottish playwright who served as a dramatist for the Old Vic Theatre and a writer for the BBC. The TCT production was directed by Helen Strotman who has been a part of TCT both on and off stage since 2015. Taking such heavy material, and making sure the cast she assembled finds the right
tone to present this story, was surely no easy feat, but she pulled is off very well.
With a cast such as this, Strotman could only succeed. As our fiendish demons, Purser and Lake are fantastic, chewing scenery with absolute perfection. (I hope to see Lake pop up in future productions.) They are dastardly, frequently hilarious, and despite being the villains of the piece, they are an absolute delight to watch. As our main human protagonist, Large, in his Civic Theatre debut, is great. He brings to life a character that we can't help but root for, even when demonic forces are pushing him further and further over the edge. He, too, needs to return for more shows. As Slumtrimpet, Henson is brilliant, getting big laughs and holding her own with her hellish brethren.
Hoover, as our female lead, is more than just a love interest or a prize at the end of the rainbow, and delivers a very heartfelt performance. In his dual role as vicar and John Mortar, one of Mike's co-workers, Bryce does a great job in his debut performance at TCT. As loathsome Rex Skinner, Bullock does an absolutely great job. Hargrove is superb as Mike's overbearing but good hearted mother. Anderson, who helps bring out the feelings in Wormwood, is wonderful and tragic at the same time. Trent does a great job as Mr. Macadam, and I hope he comes back for more productions. And even though we only see her in a couple of scenes as Queenie, an associate of Skinner, Caitlin Butler is great in her debut at TCT; she needs to come back for more roles.
"Screwtape" is a darkly funny, twisted romp of a show. Like most of C.S. Lewis's works, it does have something of a spiritual message, wrapped up in an incredibly entertaining production. You will laugh with demons, sometimes feel for them (well, one of them), and be moved. It's a fantastic show that deserves to be sold out every night of its run. So, go make that happen!
"Screwtape" opens on Thursday, April 5th, and runs through Sunday, April 8th at Tyler Civic Theatre located at 400 Rose Park Drive.  For more information and tickets call (903) 592-0561 go to http://tylercivictheatre.com/.