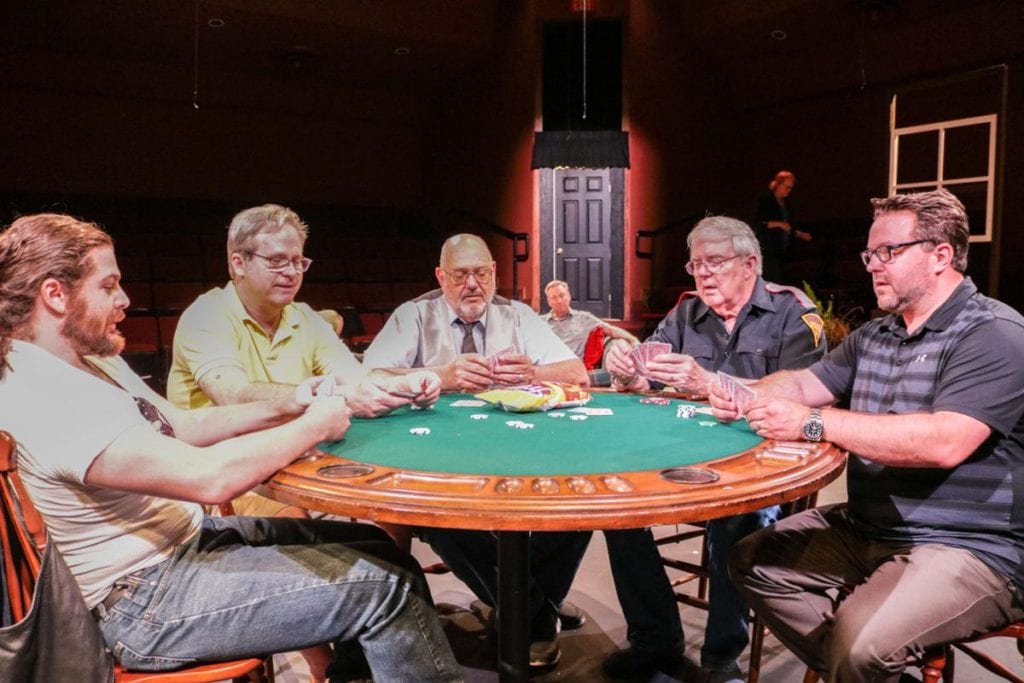 By John Baggett
For over 50 years, audiences have been entertained by the story of loveable slob Oscar and neurotic neat freak Felix, be it on stage, on the big screen, or on television. As the 69th season for Tyler Civic Theatre draws to a close, they are not just bringing these characters back to the stage, they're doing it twice. It's a battle of the sexes as TCT presents the male and female versions of Neil Simon's classic, "The Odd Couple."
The story centers around Oscar (Sean Holliday) and Felix (Regi Fowler). Oscar is a recently divorced, somewhat slobby sportswriter who lives alone in his New York apartment. There he holds frequent poker games with his friends Murray the Cop (Dan Trent), gruff Speedy (Jack Ragland), accountant Roy (Jim Tindall), and time conscientious Vinny (Ryan Anderson). Missing from the group is Oscar's oldest, dearest friend, the neurotic, neat freak, and hypochondriac, Felix.
During the game, Felix's wife calls to tell them that he is missing, the group worries but Oscar tries to focus on the game. But when Oscar lets it slip that she has thrown Felix out and that he sent a "suicide telegram," they panic until finally Felix shows up at the game and breaks down.
Oscar extends to Felix a spare bedroom and an offer to move in. Felix accepts and takes to cooking and cleaning every day. Slowly, the gestures begin to drive Oscar and everyone else, crazy. Oscar hopes he can get Felix to snap out of it and become a changed man. Even going so far as to talking him into a double date with fellow tenants, the Pigeon sisters, Cecile (Brenda Korichh and Gwendolyn (Tricia Thorn-Leeson). But when hints don't go to Oscar's planning, he begins to see why Felix might be getting a divorce.
"The Odd Couple" was written by Neil Simon, one of the best known comedic playwrights of the 20th Century. His works have been performed all over the world and adapted for the big screen and the small screen. This show may be his most widely known. The Male Version for Tyler Civic Theatre is directed by Ray Dark, a TCT veteran making his directorial debut. Dark assembled a wonderful cast that really does justice to this classic material.
As our leads, Fowler and Holliday are absolutely hysterical. Both of these men make these time honored characters and make them their own, while bringing out what has always made them loveable since Neil Simon committed their names to paper. Both give performances that will leave your face sore and warm from laughter.
The rest of the cast is just as wonderful. Trent, Ragland, Anderson, and Tindall are equally fantastic, each getting laughs on their own and coming off as a real group of guys that would get together to play cards. As the only two women in the cast, Thorn-Leeson and Korch are great and hold their own with our Oscar and Felix. If their scenes together don't leave you in stitches, you might need to check you pulse.
"The Odd Couple (Male Version)" is a delightfully hysterical play that definitely sets the bar high for the female version next week. While I do encourage you to attend both versions of this show, I will definitely say if you only see this version you're going to have a good time. With only a short run for the male version, you shouldn't wait. I think the men did a fantastic job, and I am just as excited to see what the ladies do when their version opens up next week.
"The Odd Couple (Male Version" opens Friday, May 4 and runs through Sunday, May 6. "The Odd Couple (Female Version)" will open on Thursday, May 10 and run through Sunday, May 13 at Tyler Civic Theatre located at 400 Rose Park Drive. For more information and to purchase tickets, call (903) 592-0561 or go to http://tylercivictheatre.com/production/2017-2018/the-odd-couple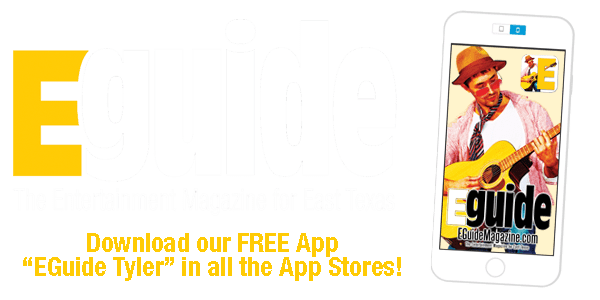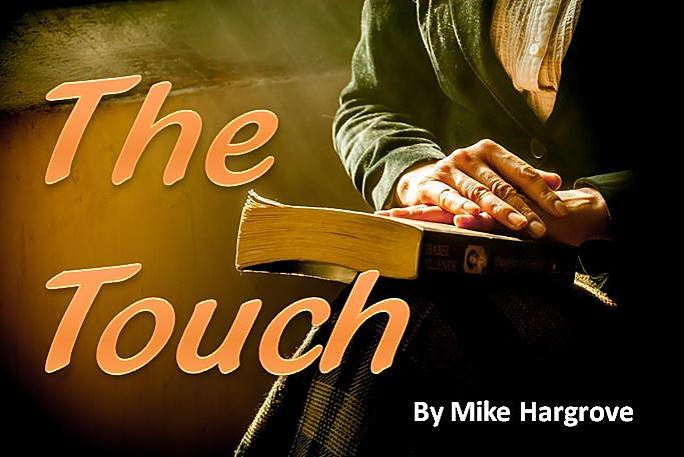 By John Baggett
Tyler Civic Theatre is kicking off its 70th season. To start the brand new season, they begin with a very special one week run of the new play, the heartwarming drama, "The Touch."
Set in East Texas, generations ago, the story revolves around Big Granny (Traci Smith), a woman who has the ability to heal those with just her touch, a power passed down in her family every other generation. While her grandmother healed almost everyone she could, Big Granny is afraid of her powers. She is haunted by the loss of her daughter to pneumonia, whom she could have healed but was afraid that her attempt would have killed her.
Now, a great grandmother, Big Granny lives with her granddaughter Faye (Brianna Beard) and great-granddaughter Juney (Delaney Mullee). Faye stayed home to raise her daughter and help out while her husband left to work on the docks and her sister, Betsy (Kaylee Parker), travels the world. Betsy returns with news that she has a permanent teaching position in Dallas. Her return stirs up feelings of hurt in Faye, but when Juney gets hurt in an accident, everyone, including Big Granny, must face their worse fears to be a whole family again.
"The Touch" was written by Mike Hargrove, a veteran of Tyler Civic Theatre, having written a dozen plays and directed several shows. This is his final work, completed just days before he sadly passed away. This debut production is directed by his wife, DeAnna Hargrove, who also directed "I Never Saw Another Butterfly" earlier this year.
This is a play that was written with love, as much of it was inspired by Hargrove's family, and beautifully produced. So much heart and soul into this show, from writing to casting to every single performance. It is truly a labor of love.
This cast is superb. Smith, who is always excellent in every role, has never been better. She delivers such a warm, yet powerful performance, and gives her absolute all on stage. Beard is also outstanding, running almost the entire span of human emotion. Mullee continues her streak of wonderful performances and this also is a career best for her. She has talent beyond her years. Parker is also amazing, delivering an almost effortless, natural performance.
The supporting cast is brilliant as well. Cheyenne Whorton plays Sonny, a man who was healed as a child by Big Granny's mother, and he gave a flawless performance. Kenneth Reid plays Monroe, the patriarch of the Marner family, and is terrific in his few scenes. Stan King gives as another first-rate performance as the doubting Doc Fleming, who believes there is a scientific reason for everything.
Making their TCT debuts are Austin Sandy and Maria de la Garza-Grahm, M.D, as the shopkeepers of a local market and I hope they continue to grace the stage. Finally, in silent roles as customers are Chylar Whorton, Blair Gonzalez, and Bella Schenck. Every single one of them did a fantastic job and I cannot wait to see what they do next.
"The Touch" starts this new season on an incredible high. It is a touching, funny, emotional experience and I really encourage you to see this show. It's going to be over before you know it, so go see this wonderful play before it's too late.
"The Touch" opens on Thursday, September 6 and runs through Sunday, September 9. For more information and to purchase tickets call (903) 592-0561 or go to  http://tylercivictheatre.com Tyler Civic Theatre is located at 400 Rose Park Drive.
The 70th Season Begins at Tyler Civic Theatre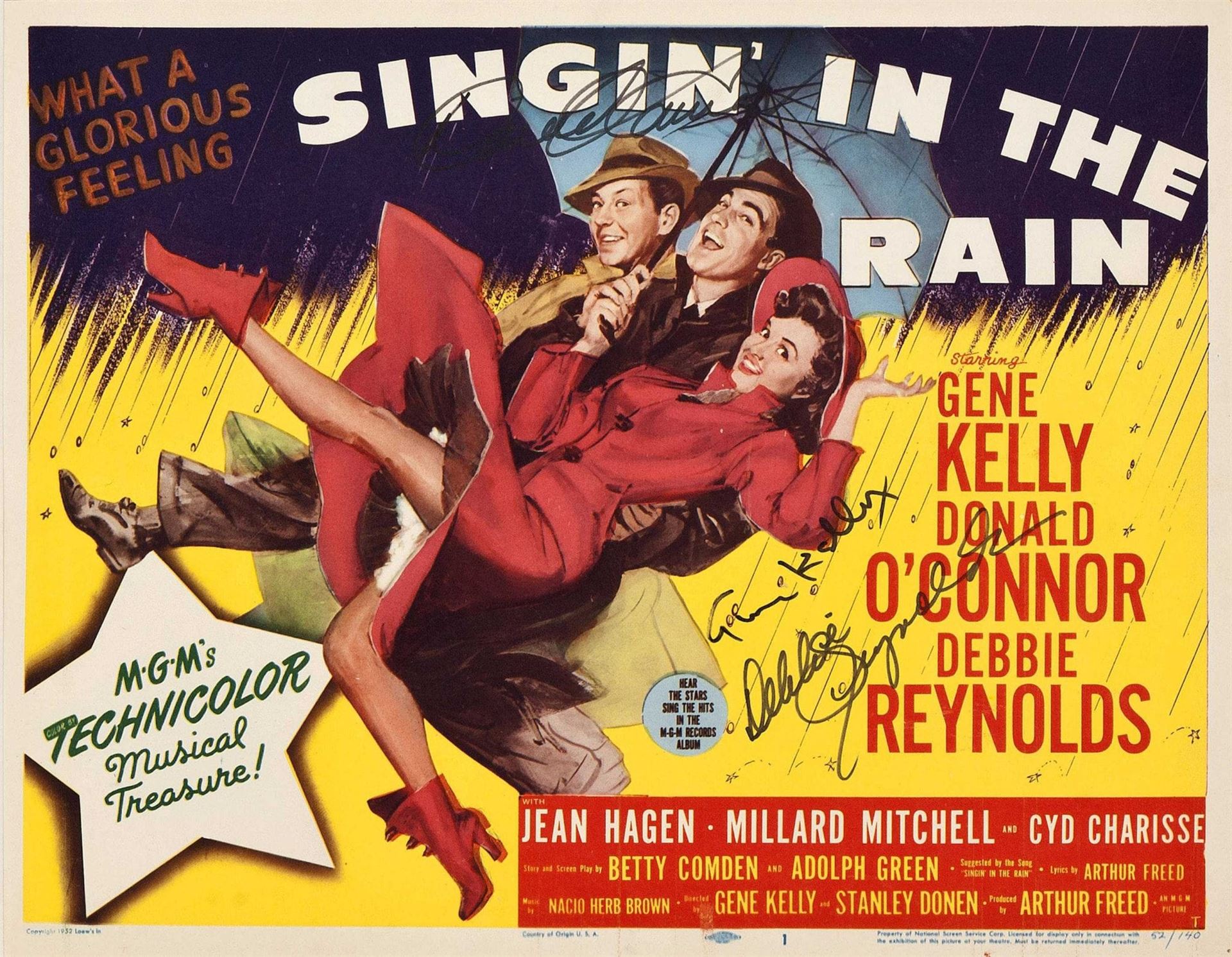 Single show tickets are available for $18 for adults and $15 for students. FLEX Pass are available for multiple performances. Tyler Civic Theatre is located at 400 Rose Park Dr., Tyler, next to the Tyler Rose Garden Center. For more info or tickets call (903)592-0561 or go to tylercivictheatre.com. The 2018-2019 productions are:
October 5th-14th (Thursday-Saturday at 7:30pm, Sunday at 2:30pm): "Dial M for Murder" – Tony Wendice has married his wife, Margot, for her money and now plans to murder her for the same reason. He arranges the perfect murder. He blackmails a scoundrel he used to know into strangling her for a fee of one thousand pounds, and arranges a brilliant alibi for himself. Unfortunately…the murderer gets murdered and the victim survives. But this doesn't baffle the husband: He sees his hireling's death as an opportunity to have his wife convicted for the murder of the man who tried to murder her, and that is what almost happens. Luckily, the police inspector from Scotland Yard and a young man who is in love with the wife discover the truth, and in a scene of almost unbearable suspense they trap the husband into revealing his guilt, thus freeing Margot.
November 6th-7th (school shows) and November 8th-11th (Thursday-Saturday at 7:30pm, Sunday at 2:30pm): "Snow White & the Seven Dwarfs" – The classic children's tale of Snow White, seven dwarfs, a magic mirror and an evil queen comes to Tyler Civic! Supposedly disposed of by the wicked queen, Snow White finds her way to a happy glen and the home of seven friendly dwarfs. A deadly apple casts her into a deep sleep, from which she is revived in time by her devoted prince.
January 13th-14th (school shows) and January 15th-20th (Thursday-Saturday at 7:30pm, Sunday at 2:30pm): "The Taming of the Shrew (Condensed)" – This season TCT performs a hilarious, but seriously abridged version of Shakespeare's classic "The Taming of the Shrew." The 45-minute play preserved the original language along with all the major plot turns, but condensed it down to a one-act play and is a perfect introduction to the Bard for participant and audience member alike.
February 8th-17th (Thursday-Saturday at 7:30pm, Sunday at 2:30pm): "On Golden Pond" – This is the love story of Ethel and Norman Thayer, who are returning to their summer home on Golden Pond for the 48th year. He is a retired professor, nearing 80, with heart palpitations and a failing memory but still as tart-tongued, observant, and eager for life as ever. Ethel, ten years younger, and the perfect foil for Norman, delights in all the small things that have enriched and continue to enrich their long life together. They are visited by their divorced, middle-aged daughter and her dentist fiancé, who then go off to Europe, leaving his teenage son behind for the summer. The boy quickly becomes the "grandchild" the elderly couple have longed for, and as Norman revels in taking his ward fishing and thrusting good books at him, he also learns some lessons about modern teenage awareness – and slang – in return. Date Night for Valentine's Day will be February 14th with a Dessert Theatre. Tickets are $24 for adults, $20 for students.
March 8th-17th (Thursday-Saturday at 7:30pm, Sunday at 2:30pm): "Bus Stop" – In the middle of a howling snowstorm, a bus out of Kansas City pulls up at a cheerful roadside diner. All roads are blocked, and four or five weary travelers are going to have to hole up until morning. Cherie, a nightclub chanteuse in a sparkling gown and a seedy fur-trimmed jacket, is the passenger with most to worry about. She's been pursued, made love to and finally kidnapped by a twenty-one-year-old cowboy with a ranch of his own and the romantic methods of an unusually headstrong bull. The belligerent cowhand is right behind her, ready to sling her over his shoulder and carry her, alive and kicking, all the way to Montana. Even as she's ducking out from under his clumsy but confident embraces, and screeching at him fiercely to shut him up, she pauses to furrow her forehead and muse, "Somehow deep inside of me I got a funny feeling I'm gonna end up in Montana …" As a counterpoint to the main romance, the proprietor of the cafe and the bus driver at last find time to develop a friendship of their own; a middle-age scholar comes to terms with himself; and a young girl who works in the cafe also gets her first taste of romance.
April 11th-14th (Thursday-Saturday at 7:30pm, Sunday at 2:30pm): "The Complete Works of Shakespeare – Abridged" – Come see all 37 Shakespeare plays performed in 97 minutes! Three madcap men in tights weave their wicked way through all of Shakespeare's comedies, histories, and tragedies in one wild ride that will leave you breathless and helpless with laughter. An irreverent, fast-paced romp through the Bard's plays, "The Complete Works of Shakespeare – Abridged" was London's longest-running comedy.
May 10th-19th (Thursday-Saturday at 7:30pm, Sunday at 2:30pm): "Groucho Marx, A Life in Revue" is a stage play written by Groucho Marx's son Arthur Marx and Robert Fisher with musical direction by Jim Grady. It is a look at the life and career of the famous entertainer Groucho Marx of the Marx Brothers and "You Bet Your Life" fame. It opened off-Broadway at the Lucille Lortel Theatre on October 8, 1986 and played 254 performances closing on May 3, 1987. This inspired bio musical about "The One and Only" begins with Groucho as an old man doing his famous Carnegie Hall show. It then goes back to the beginnings of the Marx Brothers and their struggles to make it in vaudeville, their rise to stardom and their eventual break up. All classic Groucho songs are included. One actor plays Groucho, another plays Chico and Harpo, and one actress plays all the wives, girlfriends and Margaret Dumont. A hit in New York, across the U.S. and in London, this show will delight Marx Brothers fans and the as yet uninitiated. The performance on Sunday, May 12th (Mother's Day) has an optional pre-show brunch. Tickets are $34 for adults, $30 for students. Also, a dinner-theatre opportunity will be available for Thursday May 16th performance.
Memberships Available for CCT's 2018-19 Season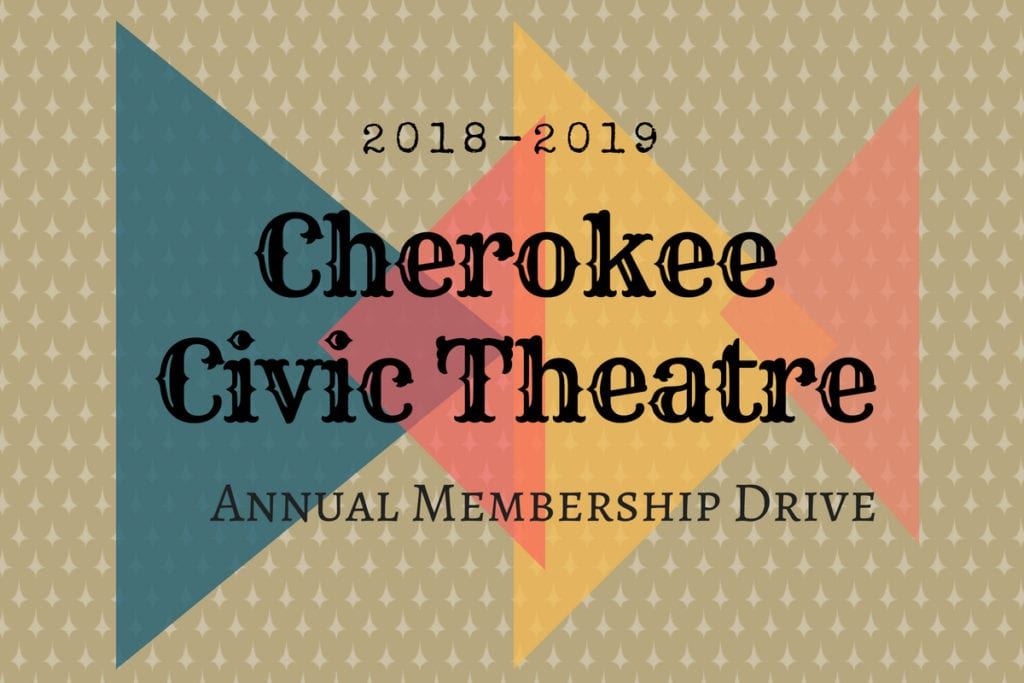 If you love the theatre, does the Cherokee Civic Theatre have a deal for you! The Cherokee Civic Theatre's (CCT) annual membership drive is open, and theater patrons are invited to cash in on the deals, steals, perks, and privileges that come with being a CCT member.
"With the price of movie tickets and concessions on the rise, becoming a member of the Theatre really is the best bang for your entertainment buck," CCT Vice President of Membership, Carol Dilliard said.
CCT audiences are treated to a traditional season of four full-length live-theater productions including at least one musical and a Christmas show which runs from October through April.
"The show would not go on without our patrons, members, and volunteers," longtime theater volunteer and board member Jerry Parker said. "We appreciate so much the support of all our members and patrons – you're why we do this in the first place."
The First Night membership package starts at $50 and includes one ticket to every show, reserved seating, mailed reminders of upcoming productions, recognition in every show's program, discounts on additional tickets, and voting privileges at the theater's annual meeting. Student memberships and junior memberships are also available for $25 and $10, respectively. Contact the CCT Box Office at (903)683-2131 or visit cherokeetheatre.net to become a CCT Patron member.
This season's line up of plays begins this fall with the musical, "You're a Good Man, Charlie Brown," set for October 6th-7th and 12th-14th.
The annual Christmas play, "Scrooge of the West," hits the stage December 7th-9th and features a holiday classic with an old West twist, written by longtime CCT alum and Rusk resident Sheilah O'Heaney.
The spring production, set for February 23rd-24th and March 1st-2nd, showcases the world premiere of "A.M WWJG," penned by another local writer, Minette Bryant, of Jacksonville.
The final show of the 2018-19 season is "Leading Ladies" by Ken Ludwig, set for May 4th-5th and 10th-11th.
Proceeds from shows, season ticket memberships, and donations help keep the theater moving forward.
The all-volunteer, non-profit organization has dedicated more than 45 years to bringing the dramatic arts to the greater East Texas area.
According to the CCT's website, the group's mission is "to afford opportunities for cultural and artistic enrichment in East Texas by providing a venue for local talent to produce live theater for the entertainment of diverse audiences. Our goal is to educate both youth and adults in all aspects of the theater and to encourage volunteers to learn and showcase their skills both on and off the stage."
Get Involved
Adults can get in on the fun during Cherokee Civic Theatre's regular season, both in front of and behind the curtain.
"You can get involved by being cast in a show or by volunteering for backstage positions like stage manager, set or sound design, lighting and costume design," CCT board member Lisa Pierce said. "There is no experience required, just show up on the audition day. There is no shortage of ways to get involved here."
The Cherokee Civic Theatre is located at 157 W. Fifth St., just off the square in Downtown Rusk. Tickets are available for the entire season or for individually for  at cherokeetheatre.net.