Review: "The Second Time Around" at Tyler Civic Theatre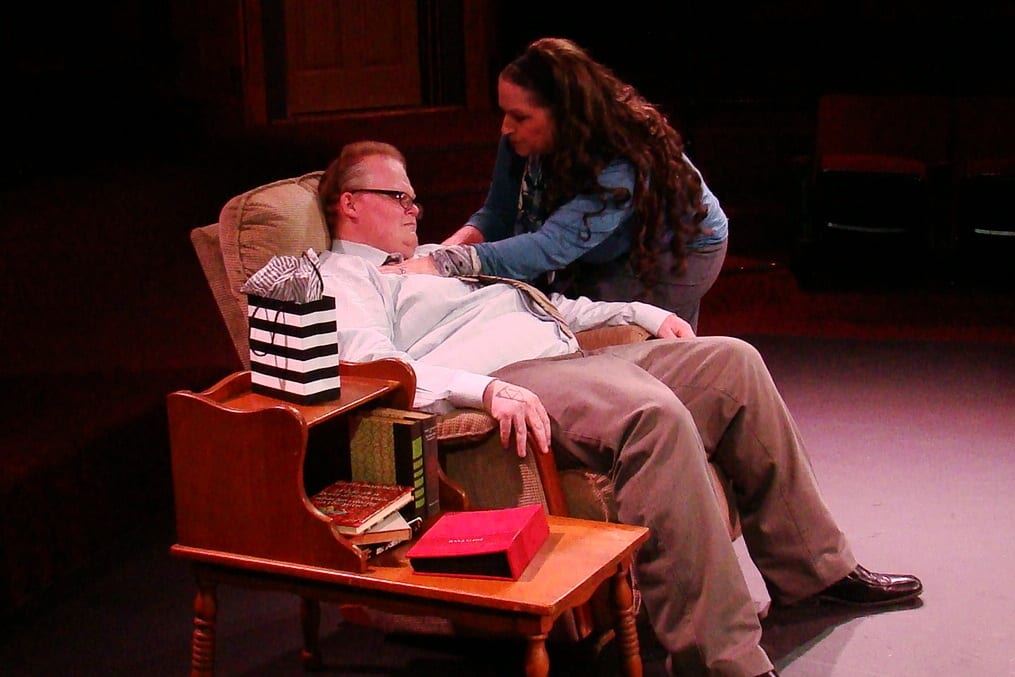 By John Baggett
Tyler Civic Theatre is ending its 68th season, which in my opinion has been really great, and they're capping it off in style with their latest comedy, "The Second Time Around."
Set in the 1970's, the play follows Samuel (Ray Deal) and Laura (Judy Griffin-Deal), a widow and widower that have begun a relationship after meeting in the doctor's office. The pair have decided to tell their adult children, his neurotic daughter, Cynthia (Monica Kelley), and her son, Mike (Stan), whose stomach becomes upset when his stress level arises. Cynthia and Mike meet first before their parents can tell them the big news, but they jump to conclusions pretty quickly. Cynthia is against the relationship since it has only been ten months since her mother passed away, but Mike is generally supportive. Well, that is, until they announce that they have decided to "shack up."
Mike and Cynthia immediately become worried about what people will think about their parents deciding to live together, but not as man and wife. Part of this decision stems from laws and stipulations saying if they get married they'd lose inheritance and social security money. Cynthia decides to get her (not very good) analyst husband (and her own former analyst) Arthur (Nick Buntin) to try to break the relationship up. Mike tries to get his lawyer involved by looking into legal reasons why they'd have to get married instead of just moving in together.
Samuel and Laura seem unfazed by all of the protest, they just want to be happy. However, their children have their own unhappy marriages as Arthur seemed to have only married Cynthia after he couldn't "fix" her. Mike is trapped by his wife, Eleanor (Traci Smith), who makes him read marital aid books and refuses to serve any food to him and their kids that might have caused cancer in a lab rat. Despite all of the drama, Samuel and Laura still intend to spend the rest of their lives together, no matter what their kids say.
"The Second Time Around" is directed by Sheila O'Heaney, who previously directed productions of "Arsenic and Old Lace" and "Moon Over Buffalo." The play was written by Henry Denker, a former lawyer who left the legal profession after The Great Depression. He went on to be a writer, working on radio dramas, early television, novels, plays, and film scripts. He helped write the "first television series ever produced" for NBC, titled "False Witness."
The cast of production consists of many TCT veterans, including Deal and Griffin-Deal, both of whom have graced the stage in many shows, but this one is their first as man and wife, in real life. The two actually got hitched during production! The pair has great chemistry, and the youthful defiance of their characters is hilarious, both getting more than a few one-liners. Kelley, who previously appeared on the Civic Theatre stage in "The Drunkard," is wonderful and an absolute natural. I'm hoping to see her in more roles here.
King was in "A Little Theatre" earlier this year and is just as funny as he was in his previous role. Buntin, learned his entire part in about a week, filling in for a cast member who had to drop out, and nailed his performance. It's sad to know Buntin will be leaving our area, so it might be a while before we see him on the stage around here. He will be missed as he is a truly gifted actor. Smith is delightful as Eleanor, playing a character you love to hate. Also appearing in the show is Joshua Alexander, who is great as Samuel's grandson, Bruce.  Morgan Robbins is great as Bruce's girlfriend Angela. Robbins is in a small role here, but it is nice to see her back on stage after her performance in "45 Seconds from Broadway."
"The Second Time Around" is a very cute, frequently funny show that may be looking at love and relationships from an older point of view, but is still enjoyable to watch. Samuel and Laura are a couple that you can't help but root for. They meet adversity with wit and charm. The rest of the cast helps get big laughs that make for a fun night at the theatre. This is a great show to end the current season on, and it's one you need absolutely need to check out.
"Second Time Around' opened on May 5 and runs through May 14 at Tyler Civic Theatre located at 400 Rose Park Drive in Tyler.  For more information and to purchase tickets, go to http://tylercivictheatre.com/production/2016-2017/the-second-time-around


Theatre Guide: Live on a Stage Near You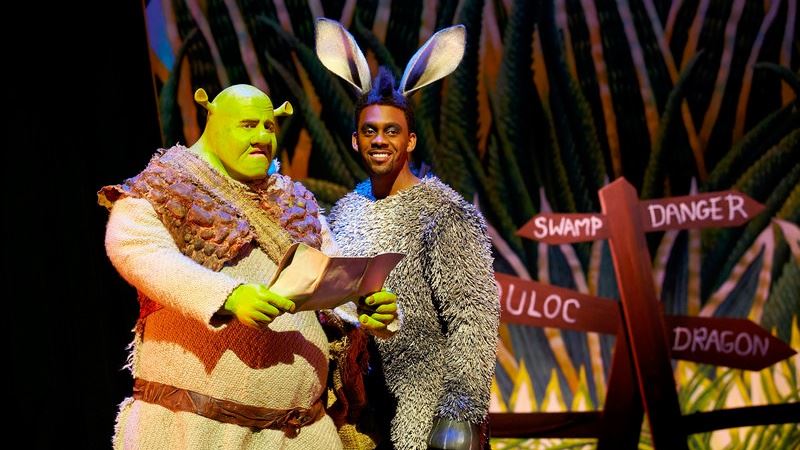 Theaters and performing arts venues around Tyler offer amazing performances throughout the year – from avant-garde productions to children's shows – there's something live on a stage every weekend. Check out these upcoming productions…
For more events, check out EGuideMagazine.com 's entire


Cowan Center: Pat Benatar, The Color of Purple & More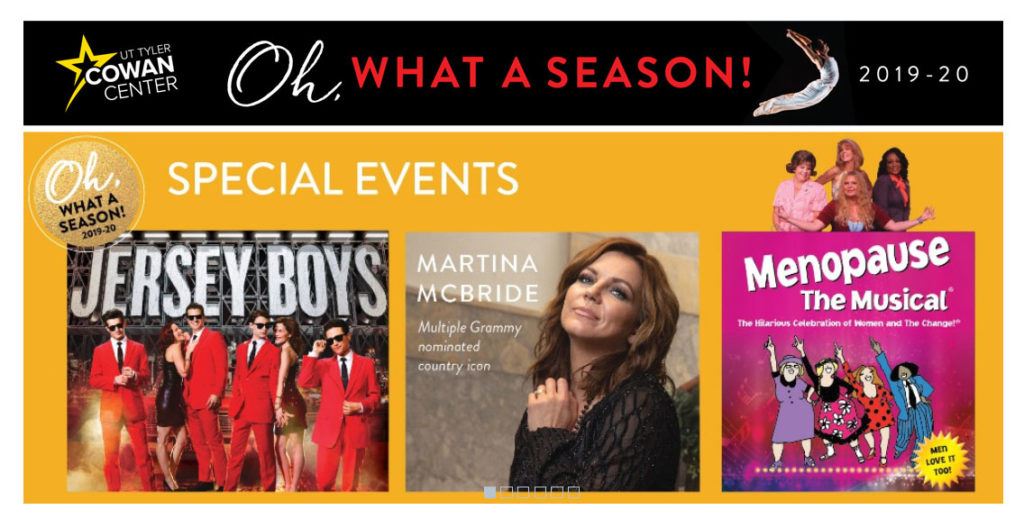 Wondering what will be showing at the Cowan Center in the next year? The center unveiled their lineup for the upcoming season Thursday. Eighteen live events are planned for the 2019-2020 season for the University of Texas at Tyler Cowan Center.
Season tickets and individual tickets can be purchased by calling the Cowan Center box office at (903)566-7424 or visiting in person 9am-4pm Monday-Friday. You can also purchase tickets online at cowancenter.org.
All events are performed in the Cowan Center located on the campus of The University of Texas at Tyler, 3900 University Boulevard – FAC 1120, Tyler. More information about the new season can be found at CowanCenter.org.
The upcoming season's acts are:
For more events, check out EGuideMagazine.com 's entire


Bored? Find something FUN to do…download our App!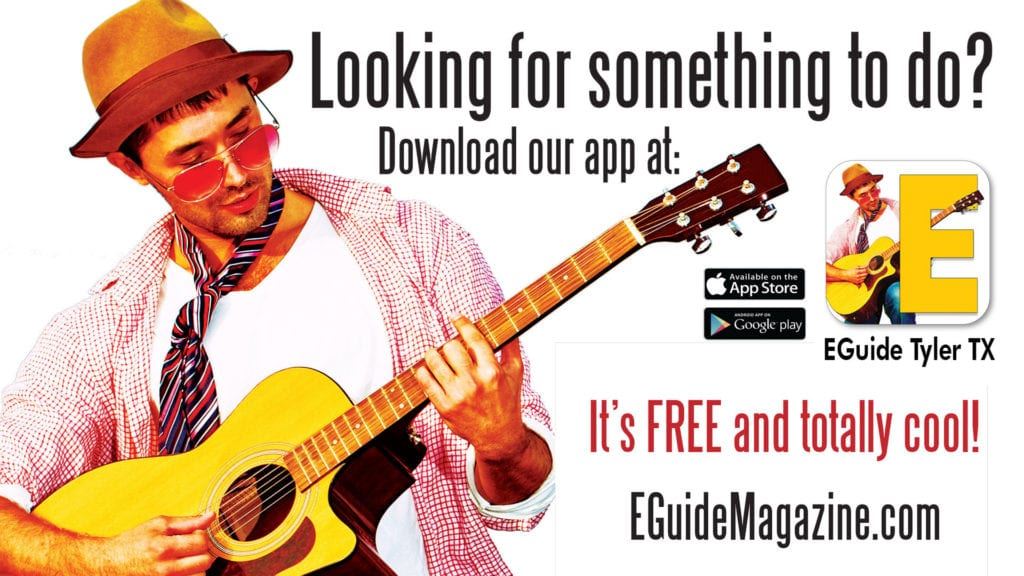 Looking for something to do?
Want to know who is playing live music around town?
See what is going on Downtown?
What is "EGuide Tyler TX"?
"EGuide Tyler TX" is a FREE events app from EGuideMagazine.com, the #1 entertainment guide for Tyler, Texas and the northeast Texas region.
What can "EGuide Tyler TX" do for me?
With "EGuide Tyler TX" you can:
Find new places to eat and drink.
Get info about the best local live music going on daily
See what is going on today, this weekend, or next month
Find festivals, theatre, art, concerts and tons more
Enter to win fabulous weekly giveaways
The easy-to-use menu helps you find out what to do this weekend
…all at your fingertips….and it is FREE!
Download our free app "EGuide Tyler TX" here: