Review: "Winnie The Pooh" on Stage at Tyler Civic Theatre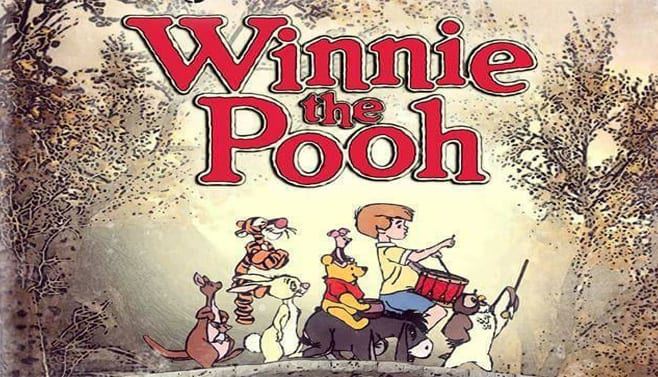 "Winnie The Pooh" on Stage at Tyler Civic Theatre:
A Family-Fun Classic Production
By John Baggett
"Winnie the Pooh" opens on Thursday, November 16th and runs through Sunday, November 19th. Tickets are available at the tylercivictheatre.com or call the box office at (903)592-0561.
Sometimes it's really hard to find activities that the entire family can enjoy. Luckily for all of us Tyler Civic Theatre has us covered. Join them as they venture into the Hundred Acre Forest with their special production of "Winnie the Pooh."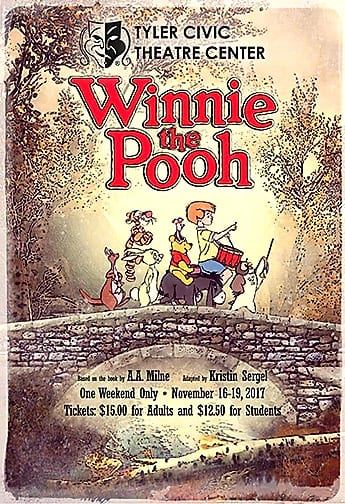 Based on the classic tales by A.A. Milne, the play opens as Christopher Robin (Karter Simmons) is told a bedtime story by his Nanny (Georgi Dumas) about his stuffed bear, Winnie the Pooh (Justin Wayne Purser) and his best friend, Piglet (Gianna Mahfood). The story she tells finds Pooh attempting to get a beehive down from a tree because it is full of honey. This mission causes him to ignore the concerns of Piglet and everyone else in the forest who is nervous about the arrival of Kanga (Dumas), her son Roo (Tres Taylor), her big blue bathtub, and her bottle of "poison." (Spoiler alert – it's shampoo.)
The looming threat of Kanga arriving has Rabbit (Carter Oyer), Owl (Eliot Burk), and Eeyore (Joshua Alexander) in an uproar. (Well, as much of an uproar as Eeyore can have.) But, what they don't know is, outside the potential threat of a bath, Kanga is no threat. She is just looking to settle into a new home with Roo. Roo, however, just wants to find a new playmate, be it Tigger (Steven Divon Young II), or Rabbit's nephews Huey (Alec Anderson) and Dewey (Levi Kreichbaum).
However, when his attempt to float to the top of the tree to retrieve honey goes awry, Pooh leaves Piglet alone, whom Kanga latches on and takes him off for a bath and a new place to stay as Roo's new playmate. Now, Pooh must work with the rest of the Hundred Acre Forest to get Piglet back.
"Winnie the Pooh" was written by Kristen Sergel, who also penned stage productions of "Seven Days in May" and "Gentlemen Prefer Blondes." The Civic Theatre production is directed by Robin Root, who previously directed runs of "Our Town" and "Alice in Wonderland." Root assembled a wonderful crew of young actors to bring these beloved characters to life.
As our lead, Purser embodies the honey and marmalade obsessed gentle bear, making his voice almost exactly match the one we've heard in decades worth of animated representations of Pooh. That being said, he makes the character very much his own and is delightfully funny and charming. Mahfood is simply adorable as Piglet, delivering a performance that can't help but make you smile.
Oyer is delightfully grumpy as Rabbit, getting big laughs and setting up laughs for others in the cast. After spending some time this year working behind the scenes on "Legally Blonde" and "The Disappearance of Maud Crawford," it's nice seeing him on the stage again. Alexander almost steals every scene he is in, with wonderful comic timing. How he kept it together on stage and didn't break into laughter, I'll never know!
Simmons is great as Christopher Robin, earning some big laughs during his interactions with Pooh and Piglet, and tugs at the heartstrings at the end. Burk is incredible as Owl, displaying a talent beyond his years, ensuring he has a bright future on the stage. In her dual role, Dumas also is a joy to watch, a wonderful young talent that I hope to see in more shows as she continues her journey as an actress. Taylor is also fantastic as Roo, another bright young star in the making, as are the rest of our cast – Young, Anderson, and Kreichbaum, all of whom I hope to continue to act because they are all a delight to watch.
"Winnie the Pooh" is not just a production for children. Yes, it is "children's theatre," but as someone that wasn't always the biggest fan of Pooh and his friends growing up, I was absolutely won over by this production. It is a heartwarming, laugh out loud night at the theatre that will entertain everyone from age 1 to 101. You should absolutely go see it. You will leave with a smile on your face.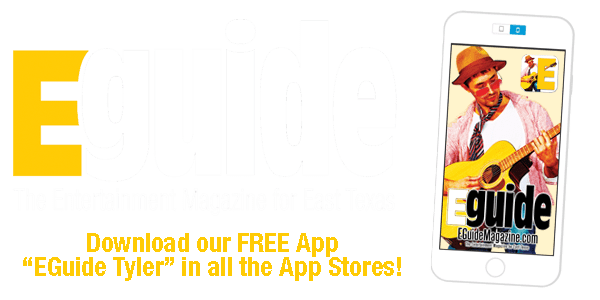 Bibeau in Concert August 25th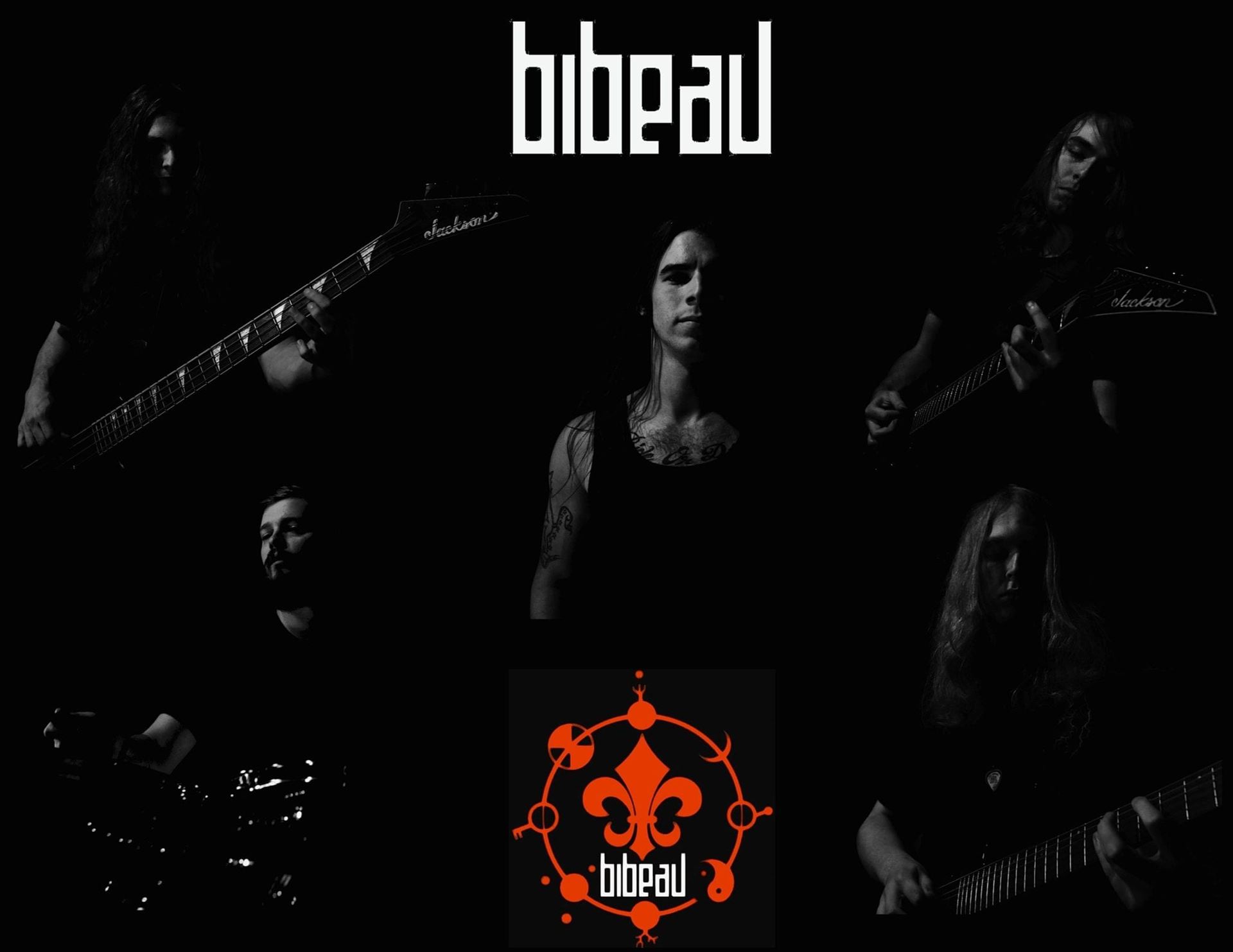 Bibeau has a rare Tyler show booked at Click's Live on Saturday, August 25th with our Louisiana brothers, Anxiety, the mod blues band, Matt Coats Trio and the fantastic female duo from the Dallas area Sweet Chaos (who recently opened for Bowling for Soup). Help break 500 people in attendance! Tickets will be available at the door for the low rock 'n roll price of $7. Must be 18+ to attend unless accompanied by a parent/legal guardian.
Upcoming 10th Anniversary Season at Old Firehouse Announced
The Old Firehouse is an intimate, smoke-free and alcohol-free "coffeehouse" that has made a name for itself by bringing national folk musicians and their all-original music to Edom's unique listening room and stage. Info can be found at theoldfirehouse.net or by calling (903)852-2781.
Concerts are typically scheduled each month from October through April and can be found at theoldfirehouse.net, along with links to samples of the music.
For the 2018-19 season, Old Firehouse will once again be offering Season Tickets for all nine Acoustic Music Concerts. By purchasing this season ticket, you will receive: admission for one person to all nine Acoustic Music Concerts, reserved seating of your choice that will remain yours throughout the season, one "bottomless" cup of coffee at each concert, freedom from having to remember to buy concert tickets month-to-month, advance ticket price for all concerts, and 20% discount on concert series merchandise (hats, t-shirts, tote bags, bumper stickers).
The cost per ticket is $111 (includes sales tax). Once the season begins, these tickets may no longer be available. Checks may be made out to "The Old Firehouse" and mailed to: The Old Firehouse, 8241 FM 279, Edom, TX 75754.
If you do not want to purchase season tickets, admission prices for concerts are $12 in advance and $15 at the door, and events are on Saturday evenings beginning at 7:30pm with doors opening early so the audience can enjoy coffee and desserts that are always available.
Scheduled this season is:
October 20th: Tony Ramey

November 10th: BrownRandy & Friends (Neal Katz & Connie Mims)

November 24th: Beth Wood

December 8th: Terri Hendrix

January 19th: Andy Gullahorn

February 2nd: Beyond the Pale

February 23rd: Tom Kimmel

March 23rd: Jacob Johnson

April 6th: Edie Carey
If you would like to sponsor any of these concerts, please contact info@theoldfirehouse.net.
Amy Holden Concert Benefiting Children's Miracle Network, Aug. 24th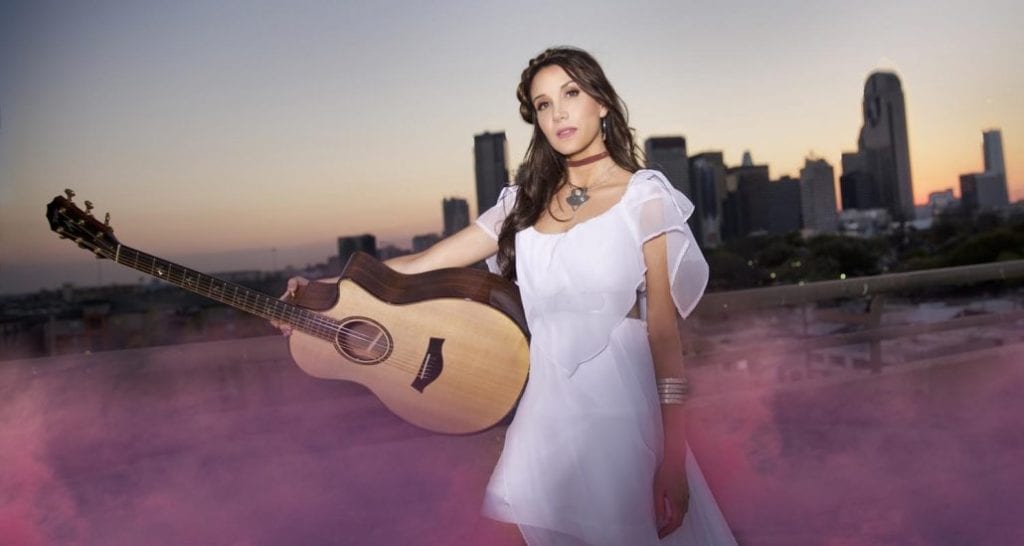 For one night only, east Texas singer-songwriter Amy Holden is set to perform live in concert at Liberty Hall on Friday, August 24th at 8pm.
Amy's friends, Cole Risner, Meredith Crawford, and Milo Deering are also set to perform.
Fresh off her single release, "Best Time" on Texas Red Dirt Radio, Amy brings a new soulful twang with her style and flavor of upbeat country music to Tyler. Amy, a Nashville and Texas recording artist, has performed from New Zealand to the House of Blues. Bring the whole family to this family-friendly event and be prepared to be thoroughly entertained.
100% of proceeds from ticket sales will benefit the Children's Miracle Network. This fundraising event is sponsored by Texas Strong Promotions, Fire Dog Records, and Amy Holden Music Group.
Liberty Hall is located at 103 E. Erwin, Downtown Tyler. Tickets are available at libertytyler.com.