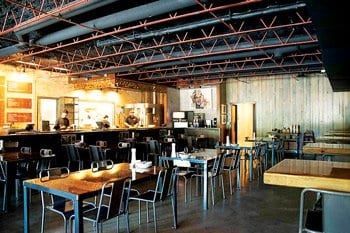 By Barbara King
You know the old adage, what's in a name? Well in the case of Roast Social Kitchen, pretty much everything! The edgy, urban, new production by the husband and wife team that brought you the famous Stanley's BBQ in Tyler is a restaurant dedicated to the nutrition of both body and soul.
Roast Social Kitchen is located in midtown, right in the heart of the Medical District on 5th St. and Fleishel St. It's the perfect spot for anything and everything: think "social." This is the spot to come in, kick back, spread out, and enjoy healthy, farm to table food in a fast, casual, laid-back environment.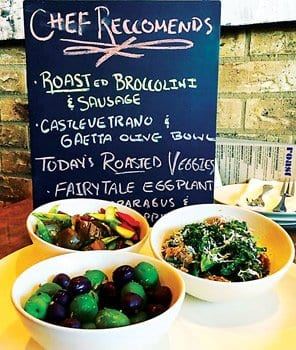 It took a lot of research, experimentation, and love to get Roast Social Kitchen (RSK) up and running, but most importantly, it was a family venture undertaken to give back to the community.
From a dozen different dough ideas to a trip to New York City with intensive pizza-making training, Nick and Jen Pencis have opened a restaurant that serves food with intention. "Anyone can eat well with all but one of our menu items gluten-free," explains Assistant GM Kate Tisdale. "The pizza oven that we use was purchased and shipped from Italy, and it has the capability to cook nine pizzas at the same time." The gargantuan oven, a high-tech version of the old wood-burning type, is much more efficient, cooking a pizza in literally three minutes on a rotating stone base.
Stepping through the front door is a treat to the senses featuring long reclaimed wood tables with fun and funky colorful artwork by local artists adorning the brick walls. There are great dining options to choose from. You can order up front and take your time in the spacious dining room, or hit the over 21 bar area with high-top seating and a great cool vibe.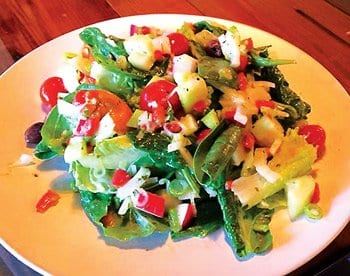 Whichever way you go, you can be sure that the service is going to be great and your server super helpful with menu options. Start your adventure with "small talk and conversation starters" that includes a wide variety of flavorful ideas such as caramelized onion dip, roasted red pepper, and three cheese spread, the big cheese board (gruyere, manchego, gorgonzola, and Haute Goat, served with summer fresh fruit and roasted pecans) all served with RSK dough-made crackers.
Fresh is the name of the game at RSK, so salads are as fresh as they come. Summer strawberry salad is a crowd pleaser (local goat cheese, cilantro, candied pecans, fresh organic strawberries tossed with spinach, romaine, and arugula in honey lime vinaigrette), CC's Caesar (named after Jen's mom who is a chef in her own right), and if cold is your favorite, try the cucumber, avocado, and roasted jalapeno gazpacho.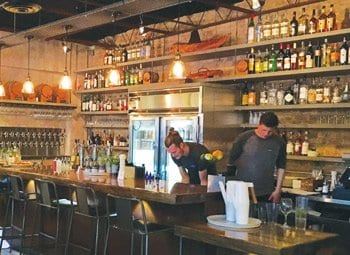 Pizzas are classic at RSK, and you can always build your own with some sage advice from your server. 5 Boroughs Pizza came straight from NYC, with a New York style crust topped with their signature tomato sauce and whole milk mozzarella. The classics also include a herb-crusted margherita pizza, with roasted garlic, homemade fresh mozzarella and fresh basil with a hint of balsamic. It's not hard to figure out that RSK is into 'fresh, farm, and local' whenever possible, and this makes for a one-of-a-kind pizza.
The pizza dough is made each day using unbleached flour milled from red spring wheat, sea salt, Texas-grown extra virgin olive oil, and filtered water. The dough is proofed and allowed to rise so that the yeast can produce maximum flavor, aroma, and texture.
Signature style pizzas include the much talked about Bee's Knees (roast garlic, RSK 4-cheese blend, soppressata, and RSK sausage topped with Mike's Hot Honey, thyme, and fresh orange).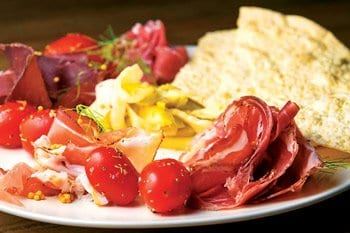 The Meat Hater's Pizza is a veggie delight with RSK sauce, mozzarella and manchego cheese, roasted cremini mushrooms, red peppers, and caramelized onion, topped with spinach, parsley, rosemary, gremolata in a citrus basil vinaigrette.
If you've forgotten that these are the folks from Stanley's BBQ, try the Smoke Stack, featuring their famous pecan-smoked chopped brisket, their incredible BBQ sauce, mozzarella, and diced red onion.
The tongue in cheek menu also promotes the Virgin Mary pizza, with Texas-grown extra virgin olive oil, gruyere, roasted potatoes, and Taggiasca olives topped with fresh rosemary.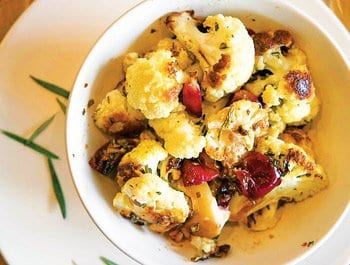 Kids are part of the family, so the menu comes complete with a kids' table list of treats, including coppa ham and cheese pizza; veggies, hummus, fruit, veggies, and peanut butter; and a coppa ham and mozzarella tray.
Top it all off with a sweet goodbye of a dessert: seasonal mascarpone fruit mousse, carrot cake whoopie pie, lavender cheesecake (topped with decadent Earl Grey whipped cream), made to order mousse, or Date Night (whipped ricotta topped with warmed Medjool dates dusted with salt and roasted pecans).
The art of the cocktail is evident in the bar area with a very extensive and interesting selection of spirits and libations including wine, local beers, and cocktails on draft. The House Old Fashioned is a popular favorite with a twist on a classic: rye, pecan syrup, and two types of bitters.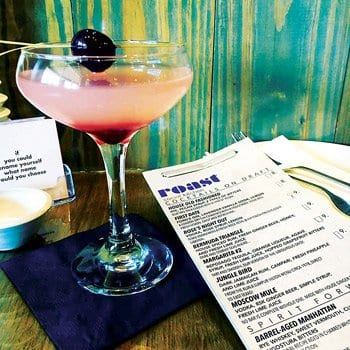 The bartender can whip up almost anything including martinis, barrel-aged manhattan, mai tais, and daiquiris. Beers on tap include local favorites from Tyler's own True Vine Brewery: Rose City Pale Ale and Round Table.
Of course, there's a wide variety of great wine by the glass and a huge spirits list with the best in bourbon, rye, Irish whiskey, rum, vodka, gin, tequila, and mescal.
What's bound to be a conversation starter is RSK's 20 red and white wines on tap. The on-tap method ensures wine that never goes bad with airing.
Happy hour is Monday-Friday 3-6:30pm, and Saturday 11am-5pm with craft beers available for $5, domestics for $3, cocktails for $5, and wine for $6.
Visit RSK where they "slice, dice, roast, peel, chop, marinate, caramelize, whip, rise, blend, assemble, and love all of their menu items."
Roast Social Kitchen is located at 1125 E. 5th St., Tyler. RSK is open Monday-Thursday 11am-10pm, Friday 11am-1am, Saturday 11am-2am, and closed Sunday.
For more info and to-go orders, call (903)202-0295 or go to roastsocialkitchen.com or on Facebook at @roastsocialkitchen.