---
Wings Over Pegasus is back live in 2023! The Pegasus Project will be hosting this airplane and equine extravaganza at the 95-acre Pegasus Ranch, located at 7111 FM 2339 in Murchison. The event is scheduled from 11am to 4pm on Saturday, April 8th. Airshow starts promptly at 1pm.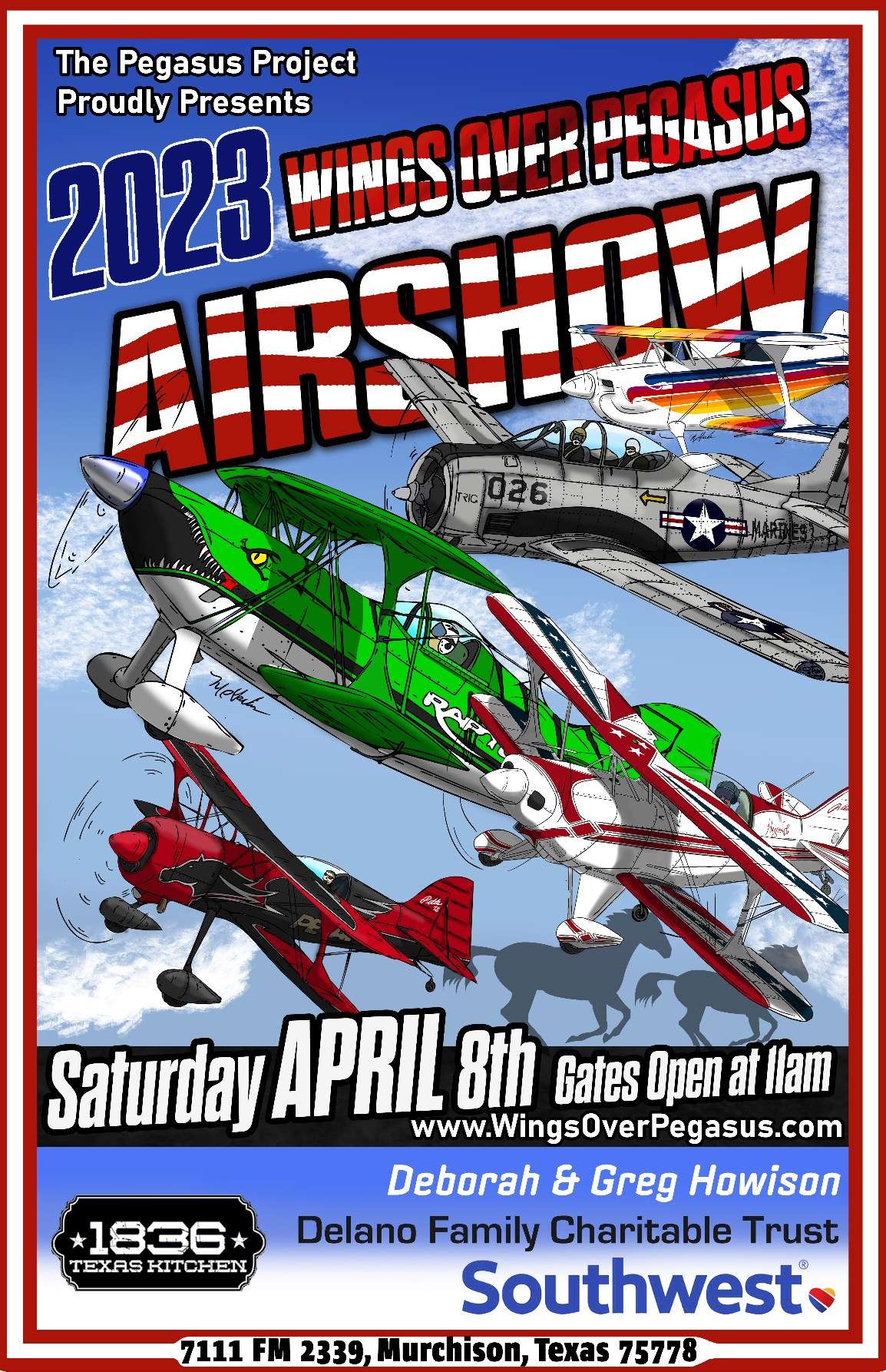 Wings Over Pegasus will feature a variety of skydivers, airplanes, and helicopters. The breath-taking airshow includes performances by Leland Kracher in a Christen Eagle, Kate Kyer in a Pitts Special, Jeremy Holt in the "Pegasus," a T-28 from the Trojan Phlyers & Racing Team, and Stephen Covington in the "Raptor." Expect a casual, family-friendly atmosphere featuring face painting, an Easter egg hunt, gourmet food trucks, a raffle drawing for two roundtrip tickets on Southwest Airlines, a tennis ball toss contest, and a flour bomb competition. Guests can enjoy photo opportunities with a variety of aircraft, Pegasus horses, the Easter Bunny, and "Pegasito," the winged donkey in his kissing booth.
The Pegasus rescue horses are available to meet, pet, and finger-paint. Guests can visit with the Pegasus trainers and staff to learn about the horses and get information regarding adoption and sponsorship opportunities. The SPCA of East Texas will be on-site with a variety of adoptable dogs.
Parking is $20/vehicle. Pegasus merchandise, food, refreshments, raffle tickets, and participation in games are available for purchase. Free parking, a VIP tent, lunch catered by Montez Brothers, and many extra perks are available for sponsors of the event.
This event is to raise awareness about the lifesaving work The Pegasus Project does year-round to care for at-risk horses in this community. Because horse neglect, abuse, and abandonment in East Texas is a prevalent and serious problem, The Pegasus Project was founded in 2010, and over the past thirteen years has rescued, rehabilitated, retrained, and rehomed hundreds of mistreated horses, donkeys, and mules. The public is invited to come to enjoy the day and help with this very worthy cause. All proceeds benefit the horses of The Pegasus Project.
For more details go to www.WingsOverPegasus.com.