Scavenger Hunts: Free Family Fun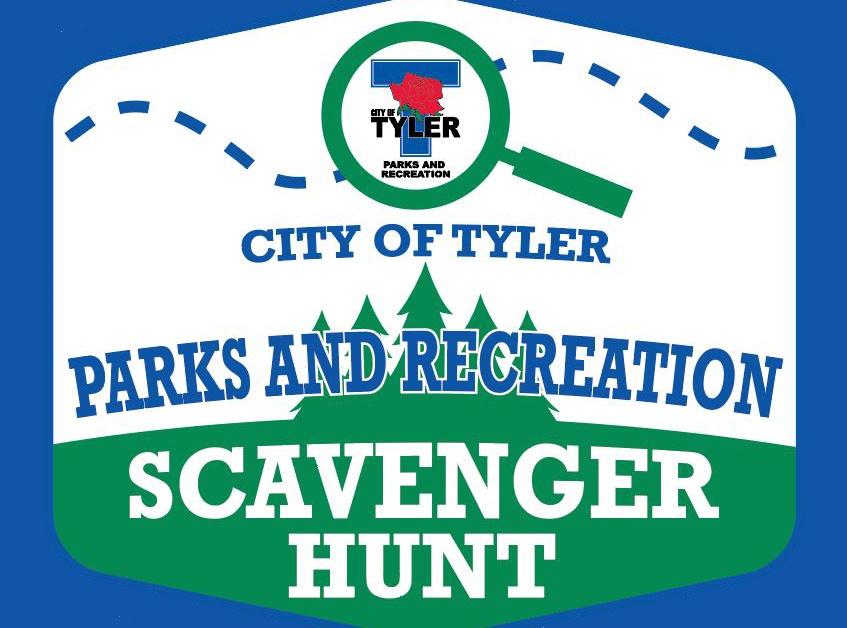 The City of Tyler Parks and Recreation Department presents the Parks and Recreation Scavenger Hunt! Upon completing all Scavenger Hunt tasks, you must submit your pictures for review. Your submission will be reviewed and once approved you will receive a Master Hunter decal. Your photo will also be displayed on our website below! Tag us in your social media using the hashtag  #TylerParksScavengerHunt
To participate, visit one of the following parks and look for the Scavenger Hunt sign.
Once you find the sign, scan the QR code to get a clue about the hidden item or task. You will find a Scavenger Hunt Marker Sign next to the task location or hidden item.
Master Hunters
See yourself pictured here once you complete all Scavenger Hunt tasks!
Scavenger Hunt Rules & Guidelines
You will not have to exit the park to complete any of the scavenger hunt tasks.
No task or hidden item should be unsafe to reach or located in a restricted area.
No hidden item will be placed underneath any parks equipment or above 7 ft. off the ground. You will not need to look through flower beds or dig anywhere to find hidden items.
To complete a task, you must photograph yourself with the item or marker.
Once you have completed all task, you may SUBMIT for review.
For more information, please contact Tyler Parks and Recreation at (903) 531-1371 or go to cityoftyler.org/government/departments/parks-rec/projects/parks-rec-scavenger-hunt.


Get Out, Get Wild, Stay Safe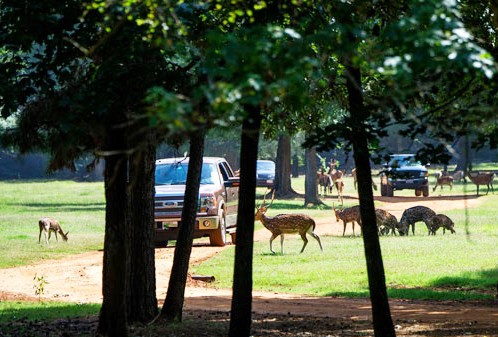 Need to get out of the house? Do your kids need to "do something?" Anything? Cabin Fever is real and I bet you are starting to realize that you need to get outside and do just that – something!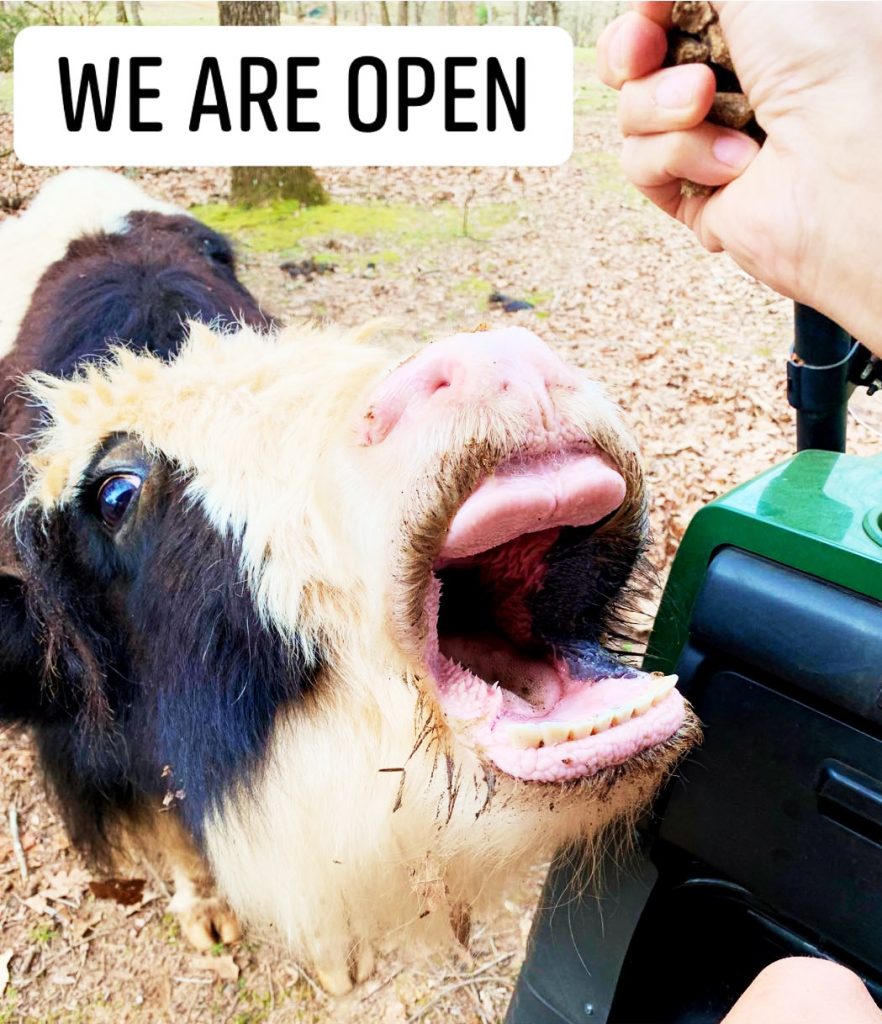 There's nothing better to pass some time than taking a drive. We suggest that you check out the Cherokee Trace Drive-Thru Safari, located at 1200 CR 4405 in Jacksonville. Cherokee Drive-Thru Safari is social distancing at its best plus it's fun, and sometimes it's even comical. It is a fun learning experience too.
Cherokee Trace Drive-Thru Safari is nestled in the lush piney woods of East Texas, 12 miles east of Jacksonville, TX.
It is a wildlife park that is home to an amazing variety of wildlife. See over two dozen exotic and endangered species that thrive in an open habitat similar to their native territory.
You can spot a Watusi (African longhorn cow) mother and calf grazing near a spring-fed pond. Watch the Blackbuck (Indian antelope) studding across an open field.
All of the animals are friendly and inquisitive!
There are Aoudad, deer, Barasingha, Canadian Wood Bison, Dromedary Camel, Emu, Javelina or Collared Peccary, Llama, miniature donkeys, a kangaroo, Rocky Mountain Elk, ducks, Sika, Water Buffalo, Zebras, Yaks and Wildebeest.
Don't know what some of these are? Check out Cherokee Trace Drive-Thru Safari's website and make a game out of spotting each one!
Alligators are around the pond and you might even see a few babies this time of year.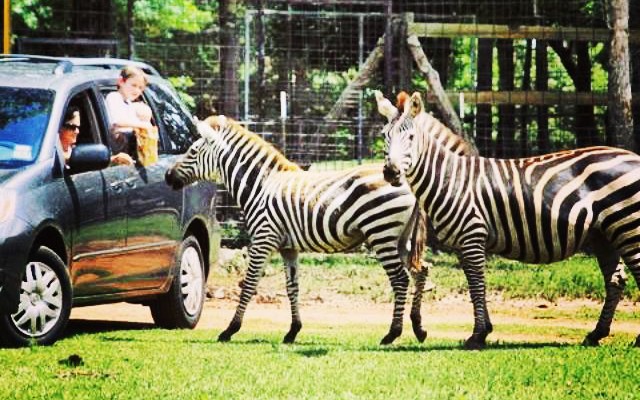 At your own pace, you and your family can enjoy a self-guided drive through the hills and open savannahs of this 300-acre preserve.
From the comfort of your own vehicle, you can observe, feed, and photograph these beautiful creatures. This natural environment has miles of roads that take you into a whole different world.
You only have to get out of your car to sign in, pay, and use the restroom facilities if needed.
There are a few simple rules: Stay inside your vehicle at all times. Feed only the food pellets provided. Drop food pellets on the ground do not hand feed. Keep doors closed at all times. Pets are not allowed. Stay on the roads.
Cherokee Trace Drive-Thru Safari is open (weather permitting) Monday-Saturday 10am-6pm and Sunday 1-6pm. The last car is admitted at 4pm.
The price, which includes one sack of feed, is 11.95 for kids age 3-12, 16.95 for adults, and 14.95 for seniors 65 and up. For more info call (903)683-3322 or go to facebook.com/cherokeetrace/.
"We want you to know that your health and safety are our number one priority. Cherokee Trace is following all of the CDC's recommended guidelines for the COVID-19 situation presently before us. At Cherokee Trace, you enjoy the animals from your own car; you only have to come in to check-in and use the restroom facilities.
So, it is a great way to get out of the house but still practice the recommended social distancing.
We kindly ask that if you or a family member is sick, please stay home. We also ask that you use proper coughing/sneezing etiquette and hand hygiene as recommended by the CDC: https://www.cdc.gov/coron…/2019-ncov/prepare/prevention.html.
Thank you for your understanding!"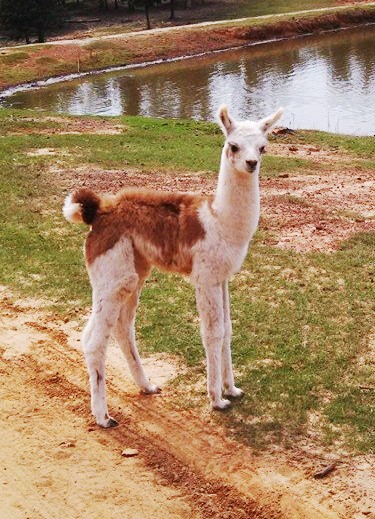 Laugh Out Loud: Card 53 Comedy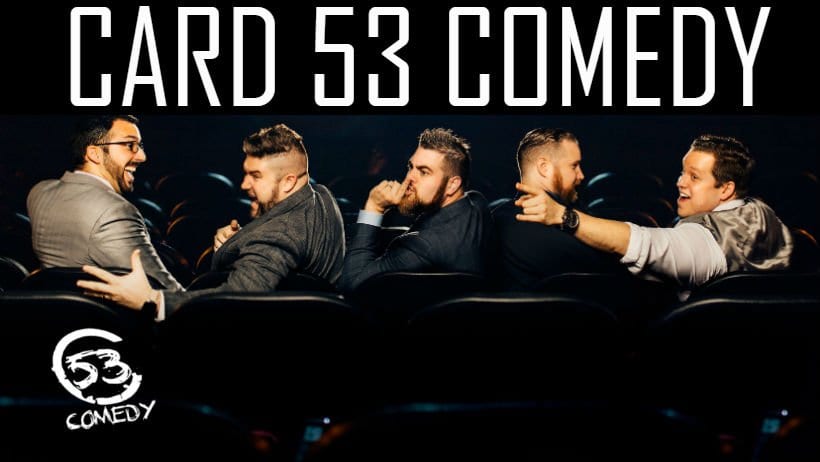 By Johnny Griffith
These guys are kidding around, seriously. The word is getting out about the fact that Tyler has a growing comedy scene. One of the hot spots in that community is Card 53 Comedy, an improv ensemble who specialize in random acts of hilarity on and off stage.
From stand-alone events, to corporate gatherings and educational events, the players in Card 53 are versatile, talented, and just plain ole' funny. Co-founder Jamey Whitley was gracious enough to sit down with me and give us some more insight into this stacked deck of funny.
Johnny: In your own words, what is Card 53?
Jamey: The name Card 53 basically represents the 53rd card in a deck of cards…. yes, the instructions. No, I'm kidding. It is the Joker.
Johnny: When did you first sense you had a talent for making people laugh?
Jamey: I think I've always enjoyed making people laugh. Whether it was a kid trying to hide my insecurities or in the moments when I could make people laugh to kill a depressed feeling I had. Comedy is rough. "There is no gap between comedy and tragedy" – William Shakespeare
Johnny: Were you known as "the funny guy" in school?
Jamey: I don't think so. My dad was a band director, and I knew I would be in trouble at home if I was the class clown.
Johnny: How did the idea of Card 53 begin to take shape?
Jamey: Aaron Smith and I met one day in an acting class at The University of Texas at Tyler (UTT). UTT had just disbanded their Theatre program but still offered a Theatre Minor. We both decided to start a theatre student organization called 'Patriot Act.'
We didn't have a budget so Aaron mentioned we should try improv. We checked out a Dallas Improv Show and then signed up for classes and started putting on our own shows. We decided to just create our own opportunity.
Johnny: Can you explain, for those of us who may not know, the main difference between more traditional stand-up routines you'll see on cable or on a streaming service and the Improv that Card 53 is doing?
Jamey: Card 53 isn't stand up at all. Stand up comedy is written and rehearsed. Improv Comedy is totally different. It's more like watching theatrical scenes without a script. In Improv everything is completely made up on the spot based off audience suggestions.
If you've seen "Whose Line Is It Anyway" on TV this is the most known example of Improv Comedy.
Johnny: Who makes up the current cast of Card 53?
Jamey: Myself and Aaron "Smitty" Smith are the co-founders. We also have RJ Norman who was on "American Idol" and made it to the Hollywood round. Then there is Brad Johnson, who has the hottest Dad bod in Tyler (he's also available, by the way).
Erfan Vafaie joined and made us more culturally diverse, while also a lot more intelligent. Erfan is an Iranian Canadian who works as an Entomologist for Texas A&M during the day.
Austin Day slings pizza's out of the oven at Roast Social Kitchen by day and tickles the keys of his piano as our musical director. We also have Charles Praytor, a Music Professor at Tyler Junior College, who sits in from time to time.
Johnny: How do you go about adding more members? Open auditions or just a general knowledge of who's in the craft and has the right set of skills for the troupe?
Jamey: Currently, we're not looking to add anyone new but hopefully, we can book more consistent shows in the future and have a problem on our hands where we need to add new talent. For anyone wanting to join, it's good to have some previous improv training from Four Day Weekend, Stomping Ground Comedy, Dallas Comedy House (all three in Dallas) or one of the nationally world-renowned programs such as Second City, iO, or Upright Citizens Brigade.
Johnny: About how many dates does Card 53 perform a year?
Jamey: It varies. We get hired to perform for a lot of private shows in addition to performing at Liberty Hall in Tyler. Last year, we performed for Robert E. Lee High School's Faculty Christmas Party, the Whitehouse Chamber of Commerce banquet, UT Tyler's New Faculty Orientation, and even the Wills Point Middle School Faculty Christmas Party.
Johnny: Does Card 53 try to perform as a complete group or do you sometimes go out in different variations?
Jamey: We're a total package. We're not like members of the Avengers, although we have our own individual talents, we work best when we work together. Plus, we're all best friends so it's more fun when we're doing this together.
Johnny: What's on the horizon for 2018 with the cast?
Jamey: Smitty is a new dad, so that's pretty amazing. We love adding to our Card 53 family. We're all about adding to our show to create the best overall experience possible for our audience, so look for even more production quality in our shows.
Johnny: What experience are you hoping people coming to a Card 53 show will walk away with if they're a first timer?
Jamey: We realize it's expensive to have a night out on the town and we want everyone to feel like they're in a bigger city when they come to our shows.
It's not just for Tyler, it's for all of East Texas.
Card 53 Comedy can be found at Facebook.com/CARD53 and card53.com.
Date Night: From Fancy to Simple, Tyler Offers a Lot of Romance

By Holli Conley
In Tyler, the city of roses, it's not hard to find a romantic spot to take that special someone. Whether you're celebrating an anniversary or simply spicing up a free weekend, these are the best date ideas for fun, quality time with your significant other.

Paint A Pretty Picture
Locally at Pinot's Palette, located at 322 ESE Loop 323 next to Plato's Closet in Tyler, you and your date can paint together! The studio has really neat, two-part mirror pieces that transform upon completion into an intricate design. You can also complete your masterpiece right there in the studio by picking a frame to suit your style for $35, making it possible for you, the proud artist, to walk away with your creation ready to hang.
One small step inside the front door of Pinot's Palette and you will feel your creative fire burning and want to put palette to canvas. The large, colorful painting area is jammed full of workspaces just waiting for the next budding artists.
Something also really unique at Pinot's Palette is the opportunity to paint your pet. Send the studio your pet's likeness and they can laser it onto canvas, then you can finish the creation with paint in the studio.

A Night on the Town
Downtown Tyler is a great spot for a romantic evening. Start the evening with dinner at one of Downtown's restaurants. For a fine dining experience try one of Tyler's newest restaurants: Jack Ryan's Steak & Chophouse. Take advantage of the free valet parking and really wow your date.
There are also a couple of options for more casual dining such as Don Juan's on the Square.
Next, take in a show with VIP box seat tickets at the historic Liberty Hall. The box seats are the best seats in the house and will be a little more intimate for a date night.
End the night with a cocktail or dessert and live entertainment at Rick's or Jake's.
All of these are conveniently located within walking distance of one another and make for a great night out on the town.

Dinner and a Movie
You can never go wrong with dinner and a movie, but sometimes you're in the mood for something a little more exciting. Spice up this classic date idea with some of Tyler's unique theater options.
Grab a picnic dinner, lawn chairs, and watch a movie under the stars at SkyVue Drive-In Theater. This theater offers tickets for $6 per person and shows a double feature.
One of Tyler's newest theaters, Studio Movie Grill, is another interesting option for a movie night. Studio Movie Grill is a one-stop-shop for dinner and a movie. You can eat dinner while watching a movie, or have a dessert or cocktail while you watch. Studio Movie Grill also offers classic date night movies for $3 a ticket on select nights. Check their website for details.

Enjoy Live Music
Tyler comes alive with the tunes of good music around every corner. Whether you are interested in a specific music event such as the Red Dirt BBQ & Music Festival or listening to a local band, Tyler has a variety of acts to satisfy your musical tastes.
Some of our favorite places to catch local bands are Cork Food & Wine, Stanley's Famous Pit BBQ, XLN, and Republic Ice House – just to name a few.
Downtown Tyler offers several fun acts as well on the weekend at Jake's or Rick's. Or for a more classical night you might choose to see a performance by the East Texas Symphony Orchestra.
No matter if you want to dance the night away or enjoy a cocktail with music in the background, Tyler has what you're looking for.

Go on an Adventure
There's something awfully romantic about going on an adventure together, and there are plenty adventures to be found around town.
Try hiking, biking, camping, or water sports at Tyler State Park or one of Tyler's many public parks.
Runners might consider doing a color run or mud run together in the area.
Animal lovers can enjoy Caldwell Zoo or Tiger Creek Wildlife Refuge.
For the thrill seekers, try one of Tyler's newest attractions: One Way Out. If you are a fan of puzzles and problem solving, this game is for you. You will be locked in a room where your team will use clues, hints, and teamwork to escape before time expires. Working together to solve the clues is a great way for a couple to get to know each other better and build a stronger relationship.

Love Don't Cost a Thing
Let's be honest, dating can be expensive. Luckily, in a beautiful city like this, romance is not hard to find on the cheap.
Tyler is home to several free museums that would be great for a date. Visit the Goodman-LeGrand House & Museum or the McClendon House to tour these romantic historic homes.
For the history buffs, you might enjoy the American Freedom Museum just outside of Tyler in Bullard, or the Half Mile of History Walk in Downtown Tyler. While you're in Downtown, stop by the Gallery Main Street, which features a new exhibit of original art approximately every eight weeks.
Tyler also hosts several cheap or free events throughout the year. Events will include everything from movies in the park to concerts and art walks.
Finally, when talking about budget-friendly date options, we can't forget a stroll through the Tyler Municipal Rose Garden. With 14 acres, 32,000 rose bushes, and more than 500 varieties, this is the largest rose garden in the United States. The Rose Garden is free and open to the public year-round. This is probably the most romantic location in all of Tyler and a great place to bring your love.
With all of the fun options in Tyler, it's not hard to find exciting date night ideas. Whether you want an expensive night out or a date on a budget, these ideas will help. Sometimes it's fun to break away from the norm and try something new. With all these ideas, we encourage you to get creative and get out on the town with your significant other.