Sept. 29th: "Coco" Free Movie in the Park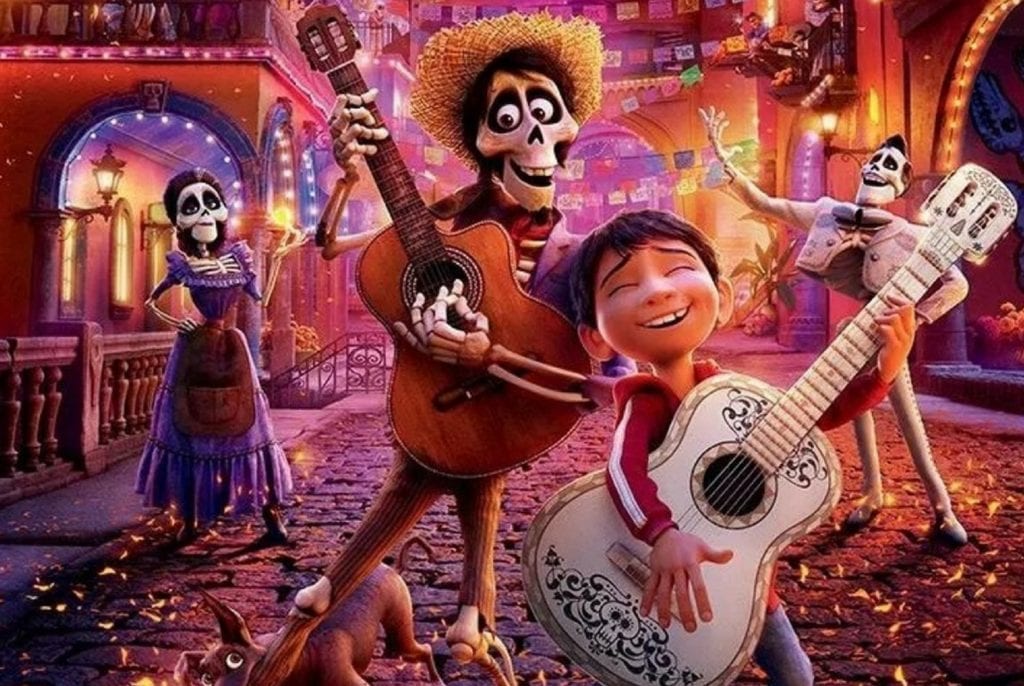 Movies in the Park Returns for
14th F

all Season

Cooler fall temperatures mean the return of the Tyler Parks and Recreation's popular Movies in the Park series. This season marks the fourteenth year for the outdoor film series, recognized locally as a budget-wise, family-friendly way to enjoy pleasant fall evenings in Bergfeld Park's amphitheater and Centene Stage on a new 24'x12' screen.

The film line-up for the new fall season includes:

Sept. 29 at 8 p.m. – "Coco" Despite his family's baffling generations-old ban on music, Miguel dreams of becoming an accomplished musician like his idol, Ernesto de la Cruz. Desperate to prove his talent, Miguel finds himself in the stunning and colorful Land of the Dead following a mysterious chain of events. Along the way, he meets the charming trickster Hector, and together, they set off on an extraordinary journey to unlock the real story behind Miguel's family history. This movie is being sponsored by the Hispanic Professionals Association of Tyler (HPAT) in recognition of Hispanic Heritage Month. 

Oct. 6 at 7:30 p.m. – "Wonder" A 10-year-old boy with a facial deformity attends school for the first time when he begins the fifth grade. With the support of his parents, he learns how to make friends and adjust to his new environment.

Oct. 20 at 7 p.m. – "The Greatest Showman" This movie is an original musical inspired by the life of P.T. Barnum, starring Hugh Jackman. Barnum was a visionary who rose from nothing to create the "Greatest Show on Earth," a spectacle and celebration of his larger-than-life imagination that captivated audiences around the globe. "The Greatest Showman" also features Michelle Williams, Zac Efron and Zendaya. This movie is part of the Rose Festival Arts and Crafts Fair event and is a great date night deal.

All films are rated PG and free soft drinks will be provided by Tyler Beverages. Concessions will also be available for a fee. Visitors can bring a blanket, chairs, picnic and enjoy the show.

"Without the public and private support of Parks and Recreation programming, the show might not go on," said Debbie Isham, special events/recreation manager. "The City must pay a licensing fee for the rights to show each movie. That's why donations and sponsorships are so important. We started Movies in the Park in the fall of 2004 and we have shown 100 movies so far."

Monetary support comes from a variety of sources, ranging from t-shirt sales, business sponsorships and entry fees for certain events.

The fall movie series is sponsored in part by Altra Federal Credit Union, a Friend of Bergfeld Park, HPAT and Heritage Land Bank.

Sponsors for the Movies in the Park series are still needed. For details, contact Debbie Isham, special events/recreation manager, at (903) 531-1214.



East Texas State Fair Returns Sept. 21st-30th!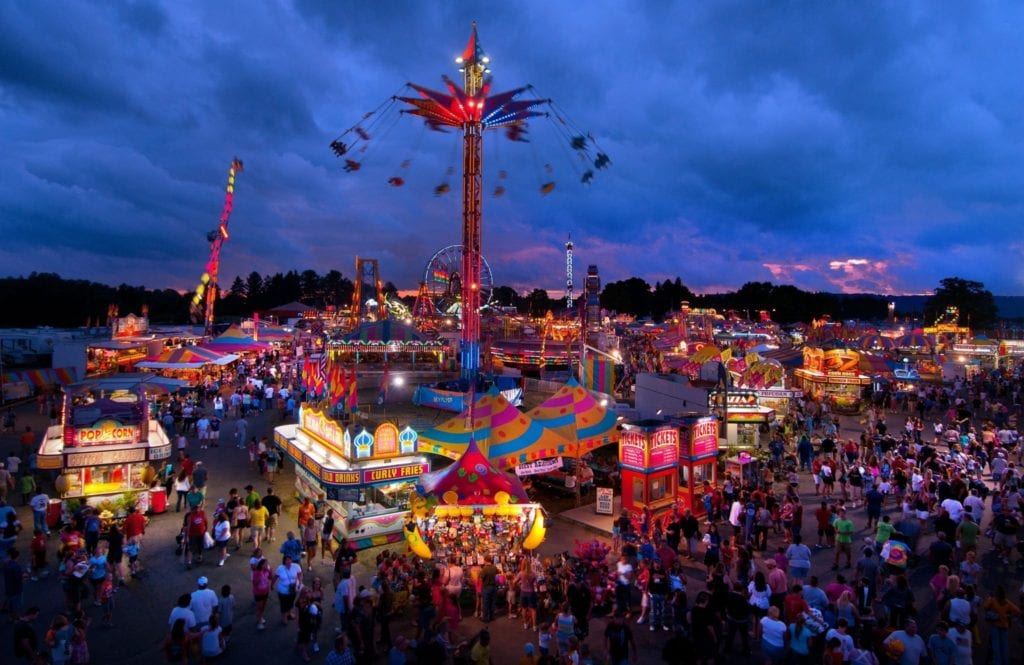 East Texas State Fair to Bring Lots of Festivities!
The 2018 East Texas State Fair takes place September 21st-30th in Tyler.
The annual East Texas State Fair is set to host an estimated 250,000 visitors during the ten-day event to enjoy concerts, shows, rides, food, exhibits, and much more. Here's a look at just some of the festivities to come:
Sheldon Casavant, Magician: World-renowned magician Sheldon Casavant takes the stage in the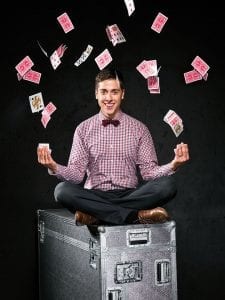 historic Mayfair building for an amazing show full of laughter, thrills, and impressive illusions. The show is featured each night during the fair at 8pm. The show is set to be as impressive as the 100-year-old building it's hosted in. The historic Mayfair building was built in the late 1920's and has seen musicians such as Elvis Presley, Dolly Parton, Johnny Cash, Hank Williams and so many more. While the building hasn't been used in many years, fair organizers are opening it up once again for this spectacular show. Every Day.
The Craft Beer Tour: New to the fair this year the craft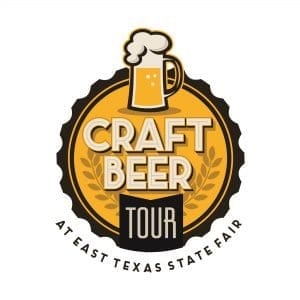 beer tour is an event you don't want to miss. Craft breweries from all over Texas will gather in the upscale venue to present their beers to the public. For just $15 you can purchase a passport to sample up to 24 different beers from all over the State of Texas. So gather your friends and embark on a craft beer adventure. Fridays, Saturdays, and Sundays during the Fair.
The Summit: The ultimate party in the heart of the Fair! The Summit is an all-new venue for live music, beer, margaritas, and a great place to hang out with friends and family. The Summit stage will feature live local music from artist such as Ray Johnston Band, Billie Jo Sewell, Holly Tucker, Sabrina Toole, and many more. Every Day:
September 21st
4-4:45pm: Hanah & Hailee's Scatter Proof Band

8:45-10:15pm: The Bluez Boys
September 22nd
5-6:45pm: Amy Holden

8:45-10:15pm: Billie Jo
September 23rd
1-4pm: Sabrina Toole

4:30-6:30pm: Ray Johnston Band

8:45-10:15pm: The Tuxedo Cats
September 25th
September 26th
8:45-10:15pm: Jericho March
September 27th
6-6:30pm: UT Tyler Spirit Squad

7-7:45pm: UT Tyler Jazz Ensemble

9:30-10:15pm: Cilbra
September 28th
8:45-10:15pm: Brian Chance Band
September 29th
5-6:45pm: Billie Jo with Hunter Douglas

8:45-10:15pm: Holly Tucker
September 30th
4-10:30pm: La Invasora Conjunto Fest
Chili Cook-Off: Come enjoy samples of chili from over 30 different teams as they compete for the prize of "Grand Champion." It's going to be a great place to hang out with live music, cold beer, and plenty of delicious chili. Interested in having a team of your own? Gather your friends, family, co-workers, etc. and register to compete. Sunday, September 23rd beginning at 9am.
Sea Lion Splash: Sea Lion Splash is a unique show that will have crowds cheering and laughing. It's an educational show with a "splash." The sea lions will amaze the crowd as they balance balls, shoot hoops, dance, perform stunts, and show their pretty smiles. This is the only show in the U.S. to feature both California and South American sea lions.
Timberworks: You'll love this fast-paced thrilling show as two authentic lumberjacks go head-to-head in a variety of competitions. These include log rolling, cross-cut sawing, hot sawing, axe throwing, chainsaw carving, chopping, and speed pole climbing. Timberwork's Lumberjack Show offers spectators a unique blend of logging history, world class competition, and plenty of hilarious comedy. Every Day.
The Sound Exchange: The Sound Exchange is a five member a cappella group bringing dazzling harmonies, and wise-cracking audience interaction together in a whirlwind a cappella experience that is not to be missed. Whether you love soulful ballads, blistering rock anthems, jazz standards, or chart-topping singles…. or, perhaps you just love to laugh and have fun. Then, you're in for a treat with the hijinks & harmonies of The Sound Exchange. Every Day
That's not all! The Fair will be full of a variety of exhibits, attractions, rides, games, and more. From fair favorites like the petting zoo, pony rides, and the legendary food row to a variety of exhibits like AgriWorld, Creative Arts, and The Marketplace there's sure to be something for everyone to enjoy.
This impressive lineup of all things new to do at the Fair will not disappoint- there's truly something for everyone. And let's not forget all the favorite returning attractions:
The Great American Petting Zoo: This petting zoo is unlike any other- held within a 1,200 square foot enclosure, each animal runs freely with the public once inside. A favorite among kiddos, these friendly animals- all hand raised here in Texas- make for a ton of fun in this barrier-free petting zoo. The space is kept immaculately clean, and trained petting zoo staff are always available for any questions. Open every single day of the Fair, find more info here: etstatefair.com/events/2018/great-american-petting-zoo(17)/
The Pony Rides: Your kid will thank you for this one! Come let them experience a real live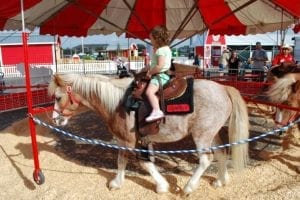 pony ride, carousel style. For $5, these beautiful, purebred Welsh ponies will take your kiddos for a ride they won't soon forget. Presented by Pony Express of Texas, these local ponies are safe, clean, and a whole lotta fun. Happening everyday of the fair, find more info here: etstatefair.com/events/2018/pony-rides/
Carnival Rides and Games: As always, the Fair won't leave you hanging if you're in need of some thrill or friendly competition. You'll find tons of exciting rides like The Freak Out, The Tornado, and The Ring of Fire, along with plenty of gaming fun this year at the Fair. For detailed schedule and pricing info, head here: etstatefair.com/p/entertainment-/carnival-rides
Legendary Food Row: Mac & Cheese Fries, Chocolate Covered Fried Bacon, Chili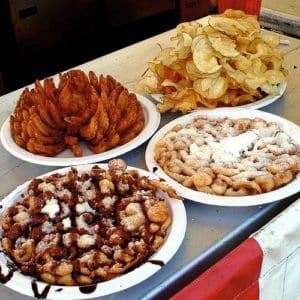 Dogs, Turkey Legs, 4 Meat Baked Potato, Fried Cheesecake…need we say more? The options available at Food Row are endless- wear your comfy pants and your maybe belt a tad loose, because everyone knows there's no such thing as a diet during the Fair. This is the real deal, folks- find a list of all the different vendors and food offerings here (it's crazy long!): etstatefair.com/p/entertainment-/food-row
A Ride Share: a special new drop-off lane for coming and going to the fair, made for guests who use a Rideshare service for transportation instead of driving themselves. That's right folks: this is the year that Fair parking woes and hassles will finally come to an end, leaving you with more important things to worry about (like whether to order a smoked turkey leg or funnel cake..or both.)
"Our goal is to take some of the strain off of our parking lots and make it easier for visitors to come and go safely. The lane will literally drop you off right at the North gate. You'll step out of your car and walk right in!" -Cody Rosenbalm, Director of Marketing at Park of East Texas.
Tyler Firefighters Association, Tee Off For Toys: Sept. 24th
8th Annual Tee Off For Toys
You are invited to sponsor or play in the 8th Annual "Tee Off for Toys" Golf Tournament Monday, September 24th, 9am-6pm at the beautiful and scenic Hideaway Lake Golf Course in Lindale.
Hosted by the Tyler Professional Firefighters Association, this four-player scramble benefits The Salvation Army's annual Angel Tree program.
Each player is also asked to bring an unwrapped toy ($10 and up value) with them on tournament day.
Prizes will be given for 1st place, 2nd place, 3rd place, closest to the pin, and longest drive.
For information or to register go to salvationarmytexas.org/tyler/tee-off-for-toys/ or email cindy.bell@uss.salvationarmy.org.