Seriously Joking with Card 53 Comedy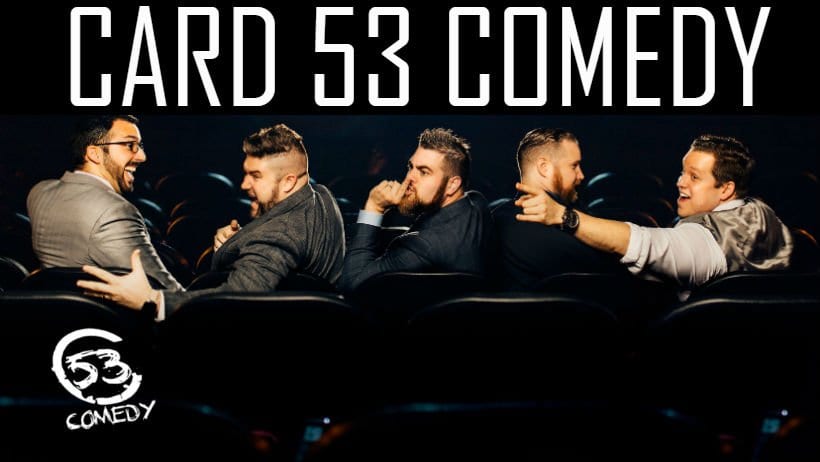 By Johnny Griffith
Live Saturday, July 14th at Liberty Hall!
These guys are kidding around, seriously. The word is getting out about the fact that Tyler has a growing comedy scene. One of the hot spots in that community is Card 53 Comedy, an improv ensemble who specialize in random acts of hilarity on and off stage. From stand-alone events, to corporate gatherings and educational events, the players in Card 53 are versatile, talented, and just plain ole' funny. Co-founder Jamey Whitley was gracious enough to sit down with me and give us some more insight into this stacked deck of funny.
Johnny: In your own words, what is Card 53?
Jamey: The name Card 53 basically represents the 53rd card in a deck of cards…. yes, the instructions. No, I'm kidding. It is the Joker.
Johnny: When did you first sense you had a talent for making people laugh?
Jamey: I think I've always enjoyed making people laugh. Whether it was a kid trying to hide my insecurities or in the moments when I could make people laugh to kill a depressed feeling I had. Comedy is rough. "There is no gap between comedy and tragedy" – William Shakespeare
Johnny: Were you known as "the funny guy" in school?
Jamey: I don't think so. My dad was a band director, and I knew I would be in trouble at home if I was the class clown.
Johnny: How did the idea of Card 53 begin to take shape?
Jamey: Aaron Smith and I met one day in an acting class at The University of Texas at Tyler (UTT). UTT had just disbanded their Theatre program but still offered a Theatre Minor. We both decided to start a theatre student organization called 'Patriot Act.' We didn't have a budget so Aaron mentioned we should try improv. We checked out a Dallas Improv Show and then signed up for classes and started putting on our own shows. We decided to just create our own opportunity.
Johnny: Can you explain, for those of us who may not know, the main difference between more traditional stand-up routines you'll see on cable or on a streaming service and the Improv that Card 53 is doing?
Jamey: Card 53 isn't stand up at all. Stand up comedy is written and rehearsed. Improv Comedy is totally different. It's more like watching theatrical scenes without a script. In Improv everything is completely made up on the spot based off audience suggestions. If you've seen "Whose Line Is It Anyway" on TV this is the most known example of Improv Comedy.
Johnny: Who makes up the current cast of Card 53?
Jamey: Myself and Aaron "Smitty" Smith are the co-founders. We also have RJ Norman who was on "American Idol" and made it to the Hollywood round. Then there is Brad Johnson, who has the hottest Dad bod in Tyler (he's also available, by the way). Erfan Vafaie joined and made us more culturally diverse, while also a lot more intelligent. Erfan is an Iranian Canadian who works as an Entomologist for Texas A&M during the day. Austin Day slings pizza's out of the oven at Roast Social Kitchen by day and tickles the keys of his piano as our musical director. We also have Charles Praytor, a Music Professor at Tyler Junior College, who sits in from time to time.
Johnny: How do you go about adding more members? Open auditions or just a general knowledge of who's in the craft and has the right set of skills for the troupe?
Jamey: Currently, we're not looking to add anyone new but hopefully, we can book more consistent shows in the future and have a problem on our hands where we need to add new talent. For anyone wanting to join, it's good to have some previous improv training from Four Day Weekend, Stomping Ground Comedy, Dallas Comedy House (all three in Dallas) or one of the nationally world-renowned programs such as Second City, iO, or Upright Citizens Brigade.
Johnny: About how many dates does Card 53 perform a year?
Jamey: It varies. We get hired to perform for a lot of private shows in addition to performing at Liberty Hall in Tyler. Last year, we performed for Robert E. Lee High School's Faculty Christmas Party, the Whitehouse Chamber of Commerce banquet, UT Tyler's New Faculty Orientation, and even the Wills Point Middle School Faculty Christmas Party.
Johnny: Does Card 53 try to perform as a complete group or do you sometimes go out in different variations?
Jamey: We're a total package. We're not like members of the Avengers, although we have our own individual talents, we work best when we work together. Plus, we're all best friends so it's more fun when we're doing this together.
Johnny: What does Card 53 have coming up that we need to have on our radar?
Jamey: It will be over by the time this gets published, but we have an event your readers would have absolutely loved called Easter Fools Weekend…it's on Easter Weekend or April Fools Weekend – however you want to look at it. Easter and April Fools are on the same day this year. The performance was the Saturday night before on March 31st at Liberty Hall, 113 E. Erwin St., Downtown Tyler. Like many of our stand alone shows, the doors open at 7pm and showtime is at 8pm with free wine and beer from True Vine Brewery. The last show we did there, sold out so we must have done something right.
Johnny: What's on the horizon for 2018 with the cast?
Jamey: Smitty is a new dad, so that's pretty amazing. We love adding to our Card 53 family. We're all about adding to our show to create the best overall experience possible for our audience, so look for even more production quality in our shows.
Johnny: What experience are you hoping people coming to a Card 53 show will walk away with if they're a first timer?
Jamey: We realize it's expensive to have a night out on the town and we want everyone to feel like they're in a bigger city when they come to our shows.
It's not just for Tyler, it's for all of East Texas.
Card 53 Comedy can be found at Facebook.com/CARD53 and card53.com.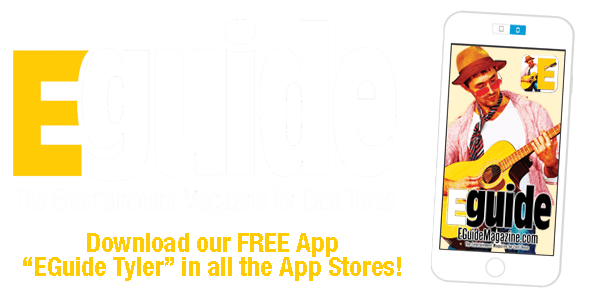 Make a Splash This Summer at The Waterpark at The Villages Resort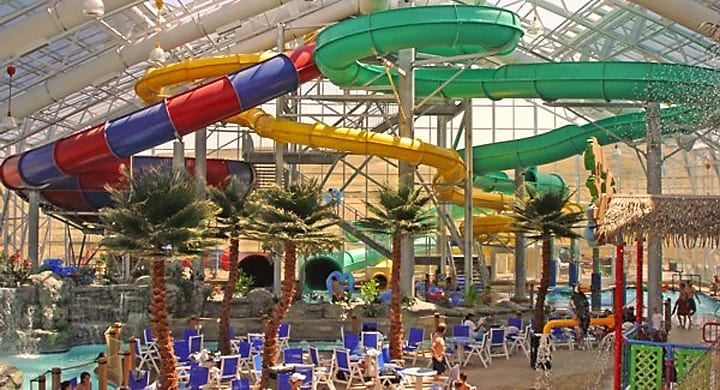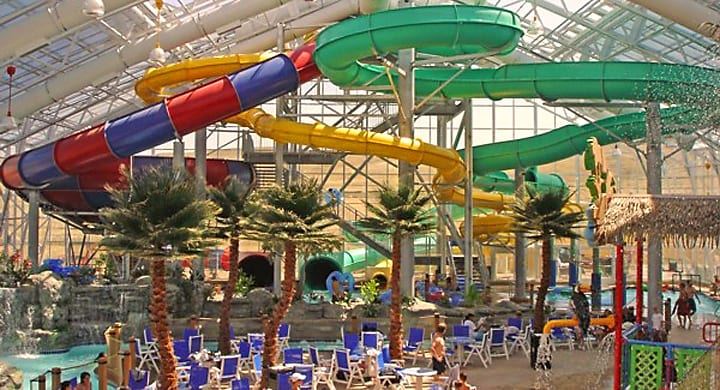 Did you know there's an indoor waterpark in Flint that features a lazy river, waterslides, a wave pool and many other attractions? The Waterpark at The Villages Resort offers 25,000 square feet of fun for the entire family, making it one of the largest in Texas. The 19,000-square-foot, glass-enclosed recreational area is climate-controlled for year-round fun, with a retractable roof that allows for open-air excitement in the summer.
Splash, float, slide or just relax at The Waterpark at The Villages Resort – this is an amusement park for the whole family. The waterpark features a lazy river with a whirlpool for tubers as well as four exciting three-story waterslides. Meanwhile, a forest ranger children's playscape offers a giant 10,000-gallon bucket dump, three kid-sized body slides and life-size figures of bears and moose.
For guests who just want to relax and watch the fun, there are plenty of lounge chairs and seating areas with tables surrounding the pool areas. Casual dining is also available, including Subway® and pizza.
There are men's and women's changing areas complete with lockers, restrooms, and showers. The Splash Store provides guests with any last-minute essentials needed for an exciting day of family fun.
The waterpark is a great venue for your next family reunion, work party, birthday party, or other gathering. The Party Room is ideal for a party up to 12 guests, while the entire waterpark can be reserved for up to 1,200 guests.
The waterpark, which first opened its doors in January 2008, is located on the grounds of Holiday Inn Club Vacations® Villages Resort. This family playground is a prime Texas vacation destination, featuring spacious villas and fun-filled amenities and spanning nearly 3,000 acres among the woods along Lake Palestine.
The Waterpark is open daily 10am-9pm. Tickets are $10 for observers, $21.95 for under 48" tall, $24.95 for others. Twilight Passes are $18.95 for under 48" tall, and $21.95 for others 4-9pm.
The Waterpark at the Villages Resort is located at 18270 Singing Wood Ln., Flint. For more info call (903)534-8400 or go to waterparkatthevillages.com
The 70th Season Begins at Tyler Civic Theatre Kicks-Off July 26th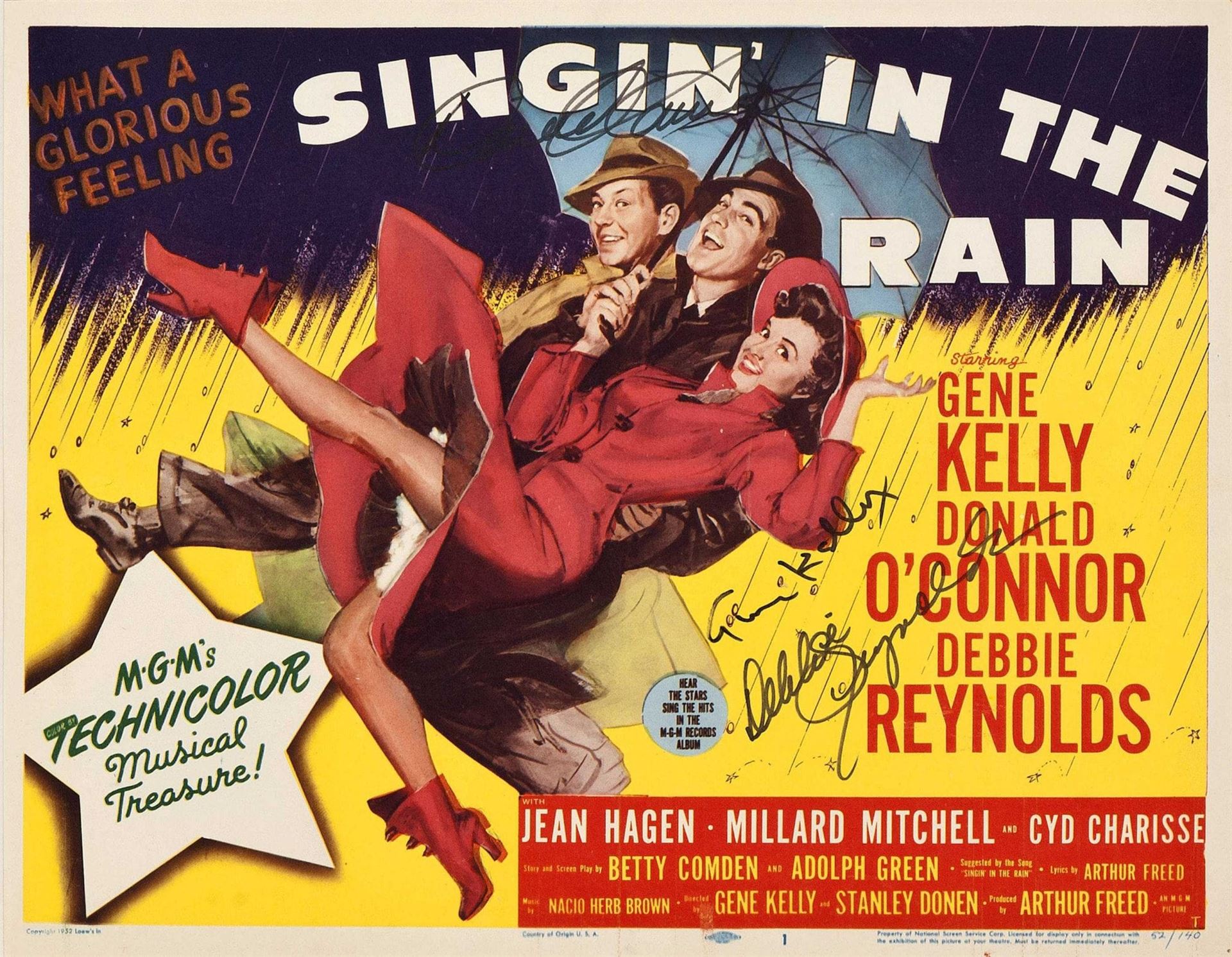 The 2018-2019 season begins with a lot of fun!
Single show tickets are available for $18 for adults and $15 for students. FLEX Pass are available for multiple performances. Tyler Civic Theatre is located at 400 Rose Park Dr., Tyler, next to the Tyler Rose Garden Center. For more info or tickets call (903)592-0561 or go to tylercivictheatre.com. The 2018-2019 productions are:
July 26th-August 12th (Thursday-Saturday at 7:30pm, Sunday at 2:30pm): "Singin' in the Rain" – The "Greatest Movie Musical of All Time" is faithfully and lovingly adapted by Broadway legends, Betty Comden and Adolph Green, from their original award-winning screenplay in "Singin' in the Rain." Each unforgettable scene, song, and dance is accounted for, including the show-stopping title number, complete with an onstage rainstorm! Hilarious situations, snappy dialogue and a hit-parade score of Hollywood standards make "Singin' in the Rain" the perfect entertainment for any fan of the golden age of movie musicals.
September 6th-9th (Thursday-Saturday at 7:30pm, Sunday at 2:30pm): "The Touch" by Mike Hargrove – "The Touch" tells the story of a grandmother with a healing touch – a secret "gift" her own grandmother helped her to discover and understand. An accident on the family farm brings opportunity for restoration of body and soul that spans four generations. Hope is found in a family secret buried beneath decades of doubt and skepticism. Playwright, Mike Hargrove made his final edits to the script only five days before his untimely death in January 2017. DeAnna Hargrove is honored to present her husband's story for the first time in the theatre he fervently supported alongside her.
October 5th-14th (Thursday-Saturday at 7:30pm, Sunday at 2:30pm): "Dial M for Murder" – Tony Wendice has married his wife, Margot, for her money and now plans to murder her for the same reason. He arranges the perfect murder. He blackmails a scoundrel he used to know into strangling her for a fee of one thousand pounds, and arranges a brilliant alibi for himself. Unfortunately…the murderer gets murdered and the victim survives. But this doesn't baffle the husband: He sees his hireling's death as an opportunity to have his wife convicted for the murder of the man who tried to murder her, and that is what almost happens. Luckily, the police inspector from Scotland Yard and a young man who is in love with the wife discover the truth, and in a scene of almost unbearable suspense they trap the husband into revealing his guilt, thus freeing Margot.
November 6th-7th (school shows) and November 8th-11th (Thursday-Saturday at 7:30pm, Sunday at 2:30pm): "Snow White & the Seven Dwarfs" – The classic children's tale of Snow White, seven dwarfs, a magic mirror and an evil queen comes to Tyler Civic! Supposedly disposed of by the wicked queen, Snow White finds her way to a happy glen and the home of seven friendly dwarfs. A deadly apple casts her into a deep sleep, from which she is revived in time by her devoted prince.
January 13th-14th (school shows) and January 15th-20th (Thursday-Saturday at 7:30pm, Sunday at 2:30pm): "The Taming of the Shrew (Condensed)" – This season TCT performs a hilarious, but seriously abridged version of Shakespeare's classic "The Taming of the Shrew." The 45-minute play preserved the original language along with all the major plot turns, but condensed it down to a one-act play and is a perfect introduction to the Bard for participant and audience member alike.
February 8th-17th (Thursday-Saturday at 7:30pm, Sunday at 2:30pm): "On Golden Pond" – This is the love story of Ethel and Norman Thayer, who are returning to their summer home on Golden Pond for the 48th year. He is a retired professor, nearing 80, with heart palpitations and a failing memory but still as tart-tongued, observant, and eager for life as ever. Ethel, ten years younger, and the perfect foil for Norman, delights in all the small things that have enriched and continue to enrich their long life together. They are visited by their divorced, middle-aged daughter and her dentist fiancé, who then go off to Europe, leaving his teenage son behind for the summer. The boy quickly becomes the "grandchild" the elderly couple have longed for, and as Norman revels in taking his ward fishing and thrusting good books at him, he also learns some lessons about modern teenage awareness – and slang – in return. Date Night for Valentine's Day will be February 14th with a Dessert Theatre. Tickets are $24 for adults, $20 for students.
March 8th-17th (Thursday-Saturday at 7:30pm, Sunday at 2:30pm): "Bus Stop" – In the middle of a howling snowstorm, a bus out of Kansas City pulls up at a cheerful roadside diner. All roads are blocked, and four or five weary travelers are going to have to hole up until morning. Cherie, a nightclub chanteuse in a sparkling gown and a seedy fur-trimmed jacket, is the passenger with most to worry about. She's been pursued, made love to and finally kidnapped by a twenty-one-year-old cowboy with a ranch of his own and the romantic methods of an unusually headstrong bull. The belligerent cowhand is right behind her, ready to sling her over his shoulder and carry her, alive and kicking, all the way to Montana. Even as she's ducking out from under his clumsy but confident embraces, and screeching at him fiercely to shut him up, she pauses to furrow her forehead and muse, "Somehow deep inside of me I got a funny feeling I'm gonna end up in Montana …" As a counterpoint to the main romance, the proprietor of the cafe and the bus driver at last find time to develop a friendship of their own; a middle-age scholar comes to terms with himself; and a young girl who works in the cafe also gets her first taste of romance.
April 11th-14th (Thursday-Saturday at 7:30pm, Sunday at 2:30pm): "The Complete Works of Shakespeare – Abridged" – Come see all 37 Shakespeare plays performed in 97 minutes! Three madcap men in tights weave their wicked way through all of Shakespeare's comedies, histories, and tragedies in one wild ride that will leave you breathless and helpless with laughter. An irreverent, fast-paced romp through the Bard's plays, "The Complete Works of Shakespeare – Abridged" was London's longest-running comedy.
May 10th-19th (Thursday-Saturday at 7:30pm, Sunday at 2:30pm): "Groucho Marx, A Life in Revue" is a stage play written by Groucho Marx's son Arthur Marx and Robert Fisher with musical direction by Jim Grady. It is a look at the life and career of the famous entertainer Groucho Marx of the Marx Brothers and "You Bet Your Life" fame. It opened off-Broadway at the Lucille Lortel Theatre on October 8, 1986 and played 254 performances closing on May 3, 1987. This inspired bio musical about "The One and Only" begins with Groucho as an old man doing his famous Carnegie Hall show. It then goes back to the beginnings of the Marx Brothers and their struggles to make it in vaudeville, their rise to stardom and their eventual break up. All classic Groucho songs are included. One actor plays Groucho, another plays Chico and Harpo, and one actress plays all the wives, girlfriends and Margaret Dumont. A hit in New York, across the U.S. and in London, this show will delight Marx Brothers fans and the as yet uninitiated. The performance on Sunday, May 12th (Mother's Day) has an optional pre-show brunch. Tickets are $34 for adults, $30 for students. Also, a dinner-theatre opportunity will be available for Thursday May 16th performance.
2018-2019 ETSO Takes Flight this Fall!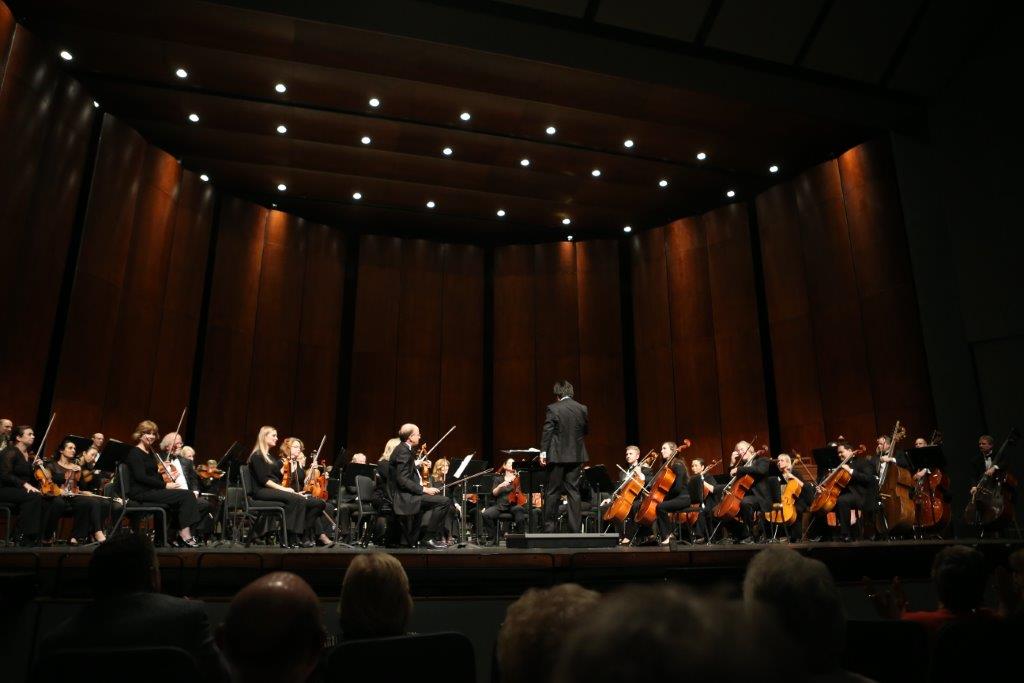 Richard Lee, music director and conductor of the ETSO said, "It is my pleasure to present the ETSO's stellar 2018/2019 season, as well as this equally stellar new logo and visual identity! These are truly exciting times of change and progress for the orchestra. First and foremost, I am so very proud of our musicians, who are playing consistently at a high level, which is the hallmark of a great orchestra."
As for guest artists, the good news is that they always want to come back! This upcoming season, is looking forward to the return of violinist Augustin Hadelich (think flawless technique and thoughtful musicality), The 5 Browns (and their 5 grand pianos!), and Charlie Chaplin (well, not really him, but his film The Gold Rush). The symphony is equally looking forward to introducing the Silver Medalist of the most recent Cliburn Competition, Kenny Broberg. The November concert features the aforementioned musicians of the orchestra, who will perform everything from Vivaldi to Hindemith, both as soloists as well as in smaller ensembles.
As usual, the season includes works representing the American canon of classical music, old (ie. baroque) music and new music. We'll begin new cycles featuring works by Haydn and Schubert, both woefully underperformed here, starting with ETSO premieres of an obscure Haydn overture and Schubert's well-known final symphony, the Great."
All concerts are performed at the University of Texas at Tyler, R. Don Cowan Fine and Performing Arts Center. The concerts begins at 7:30pm. For more info or to purchase tickets, go to etso.org or call (903)566-7424.
September 15th (7:30pm) – Van Cliburn Medalist Kenneth Broberg on piano will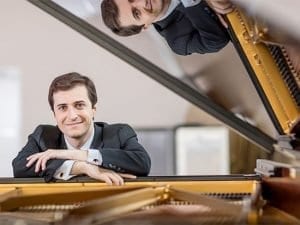 perform under Richard Lee, conductor, Haydn: Overture L'isola disabitata, Mozart: Piano Concerto No. 17, K. 453, Rimsky-Korsakov: Piano Concerto Op. 30, and Beethoven: Symphony No. 2.
At age 23, Kenny Broberg's captivating concerto performance at the 2017 Van Cliburn International Piano Competition won both a prolonged standing ovation and a Silver Medal. Broberg opens the East Texas Symphony Orchestra's 2018/2019 Season with not one, but two works – Mozart's sublime Piano Concerto No. 17 and a rarely heard piano concerto by Rimsky-Korsakov. Mr. Broberg appears by arrangement with The Cliburn. Richard Lee and the ETSO conclude opening night and their Beethoven cycle with the composer's spirited Symphony No. 2.
November 10th (7:30pm) – ETSO Deconstructed – The ETSO is deconstructed for a concert that explores the many configurations of the orchestra. Four of the orchestra's core  violinists, led by concertmaster Mark Miller, are featured in a concerto by Antonio Vivaldi and Principal Oboist Sharon Lacey performs Marcello's Oboe Concerto in C minor. The evening also features Handel's Music for the Royal Fireworks, originally conceived for winds, brass, and percussion, as well as Paul Hindemith's singular Concert Music for Strings and Brass. The evening concludes with the full force of the ETSO performing Tchaikovsky's diabolically challenging Francesca da Rimini.
December 1st (2pm and 7:30pm) – "The Nutcracker" – Celebrating TJC Academy of Dance's 30th anniversary performance of the "Nutcracker," conductor Richard Lee will present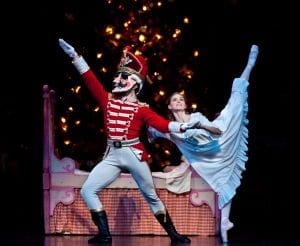 this lovely production. This is a special add-on event and not a part of any subscription package.
It wouldn't be the holidays without Clara, the Sugar Plum Fairy, the Mouse King, the Nutcracker Prince, and many other holiday friends! The East Texas Symphony Orchestra is delighted to partner with the Tyler Junior College Academy of Dance for its 30th anniversary production of Tchaikovsky's The Nutcracker. Relive the experience of this timeless tradition with mesmerizing dance and splendid music, performed with live orchestra, vibrant costumes, and sets.
January 26th (7:30pm) – Charlie Chaplin: "The Gold Rush" – Richard Lee, conductor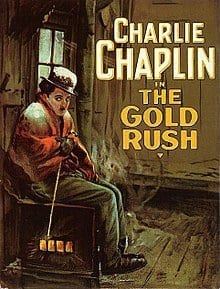 will conduct the ETSO as they underscore the Charlie Chaplin film, "The Gold Rush," as we follow the Tramp as he seeks his fortune in the lawless Klondike.
The "Little Tramp" persona was not at all like the real Sir Charles Chaplin, the polished and accomplished actor, writer, director, composer, star, and producer for most of his movies. During his long career, Chaplin utilized the "slapstick" comedy most readily associated with this character in order to tackle "serious" subject matter. In The Gold Rush, Chaplin's personal favorite, follow the Tramp as he seeks his fortune in the lawless Klondike, with live soundtrack provided by the ETSO.
March 23rd (7:30pm) – The 5 Browns will perform with the ETSO Brahms: Hungarian Dance No. 5 in G minor, Bach: Triple concerto BWV 1064, mvt 1, Debussy: Clair de Lune, Poulenc: Concerto for Two Pianos in D minor, Muhly: The Edge of the World for Five Pianos and orchestra, and Gershwin: Rhapsody in Blue.
The 5 Browns enjoyed their first wave of critical attention in February 2002 when People Magazine dubbed them the "Fab Five" at about the same time they were featured on Oprah and 60 Minutes. The New York Post proclaimed: "One family, five pianos and 50 fingers add up to the biggest classical music sensation in years…" The quintet has garnered extensive coverage from media outlets ranging from The Tonight Show to The New York Times. ETSO welcomes back The 5 Browns to perform solos, duets, trios, and their arrangements for all 5 pianos!
April 27th (7:30pm) – Grammy®-winner Augustin Hadelich will perform on violin with conductor Richard Lee performing Tchaikovsky: Violin Concerto and Schubert: "Great"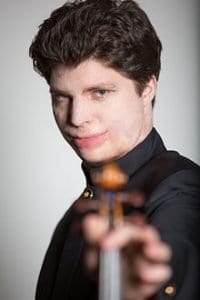 Symphony in C Major.
One of the most acclaimed artists of our time, Augustin Hadelich returns to East Texas to perform perhaps the most famous and demanding violin concerto in the repertory. The Juilliard-trained and Grammy-winning Hadelich describes the Tchaikovsky Violin Concerto as one of the "most exciting concertos…a very emotional piece full of character." Hadelich's goals regarding performance of this work include, "communicating joy and excitement while balancing Mozartian (perhaps Tchaikovsky's favorite composer) elegance with heart-on-your-sleeve Romanticism." The concert and the season conclude with the ETSO premiere of Schubert's final symphony.
More Info
The East Texas Symphony Orchestra encourages lifelong learning through a variety of programs: pre-concert talks, masterclasses, school visits by ETSO musicians and Music Director Richard Lee, and much more.
The 2018/2019 season marks ETSO's seventh year as a partner of the Carnegie Hall Weill Music Institute Link Up program. This highly interactive program starts in the classroom with an extensive, standards-based curriculum designed to engage both students and teachers in exploring music theories through orchestral works. The program culminates in over 3,500 fourth through fifth-grade students attending participatory concerts with the ETSO. Students sing, play instruments and join in coordinated movement activities from their seats, demonstrating the ideas they've been working on throughout the year. Already a staple for Tyler ISD students, the ETSO Link Up program will be expanded this season to include outlying districts, increasing the impact of ETSO's music education offerings and developing a love of classical music in a new generation.
For more information about ETSO and Link Up, please contact the ETSO office at 903.526.3876 or email info@etso.org.