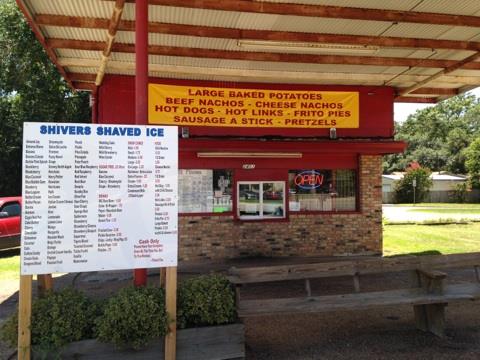 My lord, it is hot! I know, it is August in Texas and all of this heat and humidity is to be expected but really, this year it seems way hotter than it has in the past. I say that every year I think.
There is one sweet way to cool down – Shiver Snack Shack, located at 2401 E. 5th St., Tyler. You know the place – you drive by this small shack and say every time, "look at all those cars lined up to get a snow cone!" This drive-thru shack has long time been a favorite for Tylerites on the east side and especially on hot days because let's face it, a snow cone is light, flavorful, cold and refreshing, and they hit the spot every time.
Shiver's main attraction is snow cones although they offer smoothies and a small variety of food items too. Snow cones are available in about 30 different varieties including standards like Banana Mama, Orange, Strawberry, Coconut, Cotton Candy, Lemonade, and Rootbeer. If you are in the mood for something a little different try the Sour Cherry, Tigers Blood, Papaya, Harry Potter, Cajun Cream Cheese, or the Pickle version.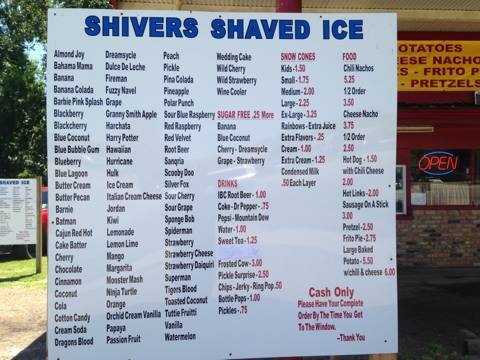 They have just about every flavor imaginable but my personal favorite is a combo: peaches and cream with an extra shot of juice.
Sugar-free options include Banana, Blue Coconut, Cherry, Grape and a few others.
Shivers ice is super soft and smooth and comes in a styrofoam cup to help keep it from melting (or dripping down your arm).
From Kendra on Shiver's Facebook page, "Great prices for plenty of snow cone!! Tons of flavor options too! But you need cash! They do not take anything else. They also offer more food options as well."
The food options are nachos, baked potatoes, hot dogs and links, sausage, and pretzels. They also offer smoothies and a variety of drinks.
Shiver Snack Shack is seasonal, open during the hot months only from 11 a.m. to 8 p.m. Monday through Saturday, and 12 p.m. to 7 p.m. on Sunday. Snow Cones range from $1.50 for a kids size to $3.25 for an extra-large. Rainbows are $ .25 per flavor extra. Cream is $1 extra.
They're cash only so come prepared.
What are you waiting for? Go grab yourself a snow cone and cool off from this summer heat!