By Gini Rainey
So, today is the day of the BIG game!  In fact, I bet you all are hunkered down watching it right about now!  If asked who I would like to see win, I guess I'm just like this fella I heard the other day on the radio who said "I don't care who wins, I just hope it's a great bunch of commercials!"  I would imagine a lot of you are headed out to a Super Bowl Party or maybe just having some friends in to watch the game in your own cave.  We would have friends over, but we are still clinging to the TV that we purchased back in 2001.  We keep saying as soon as it lays down and plays dead, we'll jump into the 21st century.  I'm thinking it might need a good hard shove to make that happen.  Our grandson tried that about 9 years ago, but it's like the Energizer Bunny – it just keeps on going!
That being said, some of the best times we had watching the Super Bowl were when we gathered with friends at Bill and
Martha Marshall's house many, many years ago.  In fact, some of the best times we had when our kids were little were with the Marshalls, and some of the best lessons I learned were via Martha Marshall.  Back in the formative years of PATH (People Attempting to Help), a social service agency here in Tyler, Martha was their volunteer coordinator when she asked me to volunteer "just one morning a week."  Turns out,  I was at PATH for 6 years as volunteer and staff, and it was definitely time well spent.  I met a lot of interesting people during those years – not just the clients, but the other volunteers and staff.
While working with Martha, we decided to put together a cookbook comprised of recipes submitted by the volunteers.  Flipping through this little book today is definitely like a walk down memory lane for me, not only because of the names of folks I remember, but also thinking about how much laughter Martha and I shared while doing it.  Martha passed away last summer and so this is somewhat of a bittersweet memory for me.  The name of the cookbook is the Stone Soup Cookbook which references the old folk tale about a hungry village whose people had no food.  One day a man sat down in the village square and to a boiling pot of water he added a stone.  Soon other people joined him, one bringing a potato, another a few carrots, another, a scrap of meat.  By each contributing a bit of food, the village soon had a hearty pot of Stone Soup.  Started in 1984 to bring life to the vision of Gertrude Windsor, PATH still continues to help empower and provide help to our neighbors in Smith County, and in the spirit of the Super Bowl, February's emphasis is on soup.  If you would like to help this great organization, consider either volunteering your time, donating cans of soup or asking about other ways to help with their mission.
But today, why not whip up this recipe for Sausage Balls that made it into this cookbook via volunteer Lanita Houston who worked in PATH's pantry filling grocery orders for our hungry. This is a super-easy, super-yummy recipe that will go just great with your Super Bowl gathering.  All you need to do is grate 1 pound of sharp cheddar cheese, and add to 2 ¾ cups of Bisquick and 1 pound of Owens (or heck, why not! Jimmy Dean's) hot sausage.  Just squish that stuff together, form into balls about the size of a walnut (or if you're feeling super-creative – little footballs) and bake in a 350° oven for 15 minutes.  You might want to  turn them when half done.  Speaking of half – you can even whip these up during half-time!  Yum, yum, yum! And may the best commercial win!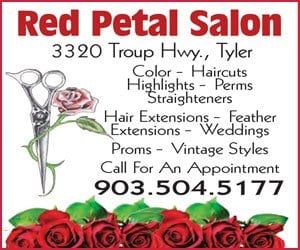 By Gini Rainey
We are now into the ninth day of our Stay-At-Home Order and it doesn't get any easier, folks. One thing I've determined though is that our house isn't haunted, which is different from my business's office, located in a 1945-vintage, one-time fire station for the city of Tyler. The previous owner, my former boss, bought the building in 1985 and renovated it, turning it into a car dealership. Unfortunately, the ghost didn't get the memo. 
That boss, Jim, is an avid collector of all things baseball and fireman/fire station related and the office was pretty much a mini-museum with a ton of collectible of battery-operated trucks and cars. It wasn't unusual for a lot of them to become activated on their own and that's not even talking about the things that would go bump in the night. I can
hear you skeptics out there right now shaking your heads and saying "no way!" But there came that day when we couldn't take it anymore and went through all of the offices and removed all the batteries from all of the toys.  Guess what? Those ghosts didn't need no stinking batteries! The sirens kept on going off! 
All of that changed – or so we thought – when my business partner and I bought the dealership from Jim and Jim and all of the toys moved out. Things were nice and quiet for a while until we noticed that the ceiling fan/light in Jim's old office would turn on and off at will. We would notice it on – fan blowing full bore – turn it off – leave the room and come back later and it would be back on again.  Interesting folks, those dead firemen, so we just learned to live with them. But I was just thinking, ever since my business partner got a dog and started bringing him to work with him, the strange stuff has stopped happening. 
Which brings me to a very interesting and unique book "Beyond Delicious: The Ghost Whisperer's Cookbook" written by Mary Ann Winkowski and David Powers and published by Clerisy Press in 2011. Ms. Winkowski, a paranormal investigator, has received some notoriety through her connection with CBS's Ghost Whisperer and has met and conversed with hundreds of earthbound spirits. Her book is the result of several conversations with spirits in reference to, believe it or not, recipes given to her from those spirits. Whether or not you believe in the paranormal, this book is great reading and is half recipes and half the background behind the recipes. I promise, they will make your paranormal senses tingle! 
One such recipe for Cauliflower Soup was corrected from the afterlife by the spirit who had hand-stitched it on a set of kitchen towels while living. A lady had purchased them at a farmhouse estate sale and had contacted the author about some paranormal activity. While talking with the spirit, Ms. Winkowski learned she had not crossed over because she wanted to correct an error in the recipe for the Cauliflower Soup.  One of the ingredients was 2-3 eggs, but the spirit wanted the new owner to know it was supposed to read 2-3 egg yolks.  
For a spirit-filled meal, here's that recipe: Cook 1 medium cauliflower in salted boiling water until tender and reserve 6-8 flowerets. Then mash the rest, combine with 6 cups hot chicken stock and thicken with 1 tablespoon of flour and 1 tablespoon butter that's been stirred into a paste and diluted until smooth. Let simmer and beat 2-3 egg yolks with 1/2 cup cream and add to the cauliflower mixture a little at a time, stirring constantly. Season to taste with salt and pepper and garnish with the reserved flowerets and croutons and chives. 

A Journey of Our Stay At Home Order
By Gini Rainey
Desperate times call for desperate measures, and I'm so glad I have nearly five hundred cookbooks in my arsenal, although most of them won't do me any good a time like this, which is why I'm so glad that I picked up this little cookbook about a month ago. Yes, Prison Ramen: Recipes and Stories from Behind Bars might just make a difference in my life (or not) when our food supplies begin to run out.  Fortunately, our household has plenty of toilet paper, paper towels, disinfectant, and food (if you think I'm going to tell you my address – think again), but should we run short, it's good to know that, not only do I have about a week's supply of ramen to fall back on, but also a cookbook with some fairly awful recipes and in-mates stories to fall back on. 
Written by Clifton Collins Jr. (Capote, Star Trek, and West World, among others) and Gustavo "Goose" Alvarez (inmate extraordinaire) and printed in 2015 by Workman Publishing, this off-beat cookbook attempts to elevate the lowly ramen noodle to a higher level.  I never knew there were so many ways to "cook" ramen, although a lot of times, the recipes mostly call for just soaking in tepid tap water, depending on the availability of water temperature in the chef's cell. 
Not the least bit tongue-in-cheek, the recipes, along with accompanying stories that have been included, are contributed by various inmates (past and present) of jails/prisons in the California penal system and show a lot of creative imagination on the part of the inmates.  Using whatever commissary items available, they have been able to create everything from a PB&J and a ramen tamale to Hit Man Burritos and Trejo's Machete Ramen.  You remember Danny Trejo, don't you? Before he became known for playing the anti-hero in dozens of movies and TV series, he was a drug counselor. Seems he also served a little bit of time. 
Trejo isn't the only "celebrity" who contributed. Tarryn Manning (Orange is the New Black), Shia Labeouf (Man Down), David Anthony Fausino (Married…with Children), Clancy Brown (The Shawshank Redemption), and Slash (Guns and Roses) also shared their recipes and stories in this book. 
I can hear all of you now, shouting at your screen "But, what about a recipe?" Let me tell you, right now, we should all be thankful that we aren't really incarcerated and hopefully these mandated, life-saving orders aren't life sentences, because I'm pretty sure we really won't need to fall back on any desperate measures for food. However, if you insist, one of the least stomach challenging recipes is for "Butt-Naked Ramen Soup," which is pretty much your basic ramen.  If you should choose to be a bit more adventuresome, you could always up your game and make "Frankie's Soup in the Hole," which adds one chopped Slim Jim to "Butt-Naked Ramen Soup." 
So, let me leave you this thought: we're all in this together and we will survive.  Be thankful for your family, be thankful for the health care professionals and be thankful you live in America. Stay healthy and happy and appreciate the smaller things in life, like sun shining, birds singing and life living. 


By Gini Rainey
Right now, considering all that is going on in our world, the KISS method would seem to be the best way to go with everything.  You know, Keep It Simple Silly!  I bought some new and weird cookbooks recently on ebay and I thought this might be a good time to share one of them with any of you out there that might still check periodically to see if I'm still around. Which, by the way, is probably an excellent thing for all of us to be doing right now. Give a call to some of the folks (or all of the folks) in your life who are important to you today. Our lives have all change dramatically in the past few weeks and it's never too late to let people you love know you care. 
I was chatting with my sister a little bit ago and I reminded her of the time that I had the Asian Flu.  I checked with Google earlier to determine when that pandemic made its way around and discovered it was in 1957 – when I was nine years old. I was sick with it around Halloween time and what's the worst possible thing that can happen to a kid
when they're nine and sick around Halloween?  Right! They can't go Trick or Treating! My sister, who is eight years older than I and was in high school, offered to take a grocery sack around the neighborhood to collect candy for her poor little sister who was stuck at home, bedded down on the couch, with a raging fever. 
My dad, whose creativity knew no bounds, drug a six-foot ladder up out of the basement and dressed it in his overcoat.  He put our jack o lantern on the very top of the ladder, ran a string through the sleeve of the coat, and over to me on the couch.  When the doorbell rang, some poor unsuspecting, candy-hungry kid was greeted by the door slowly being opened by a ghoulish giant of a pumpkin-headed man swinging his arm maniacally at them. 
I'm sure mom made sandwiches that evening, just to keep things simple. (nice segue, huh!?!) It's too bad she didn't have had a copy of Scanwiches in her cookbook arsenal. This book, written by Jon Chonda and published by PowerHouse Books in 2011, is definitely one of a kind. It features amazing cross-section scans of sandwiches, along with the ingredients, place of origin, and bits of trivia. The range of sandwiches go from the super simple and humble grilled cheese sandwich all the way to a seven-layer Dagwood. From the strictly home-grown Elvis favorite of peanut butter and banana to the French Pan Bagnat and the Chinese Rou Jia Mo.  We've all eaten sandwiches, but the beautifully high definition scanned cross section photos of the sandwiches included in this book puts a whole new spin on the humble sandwich. Speaking of dinner, just looking through this book will give you a king-sized hunger for something yummy to eat!