By Gini Rainey
Today is a beautiful day in East Texas!  The sky is blue, the temperature is cool, the leaves are turning – who could ask for anything more?  We are nearly a week out from a Presidential election that apparently has turned a lot of people's world up-side down, but thankfully, every morning the sun still comes up and life really does go on.  That being said, there have been times when I wasn't sure I would be able to survive an event and one that comes to mind was the first time I cooked a meal for my in-laws.  Obviously this was early marriage, and our apartment in Houston wasn't overly filled with kitchen gadgets.  I remember that I cooked some sort of beef roast and had made some sort of potatoes to go with it.  Naturally, one would make a nice gravy to go with said roast and potatoes, right?  So, I made a gravy that wasn't quite so nice – it tasted good, but with all the lumps, it wasn't exactly something to be proud of.  These days, if my gravy turned out like that, I would either use a whisk, my blender, or run it through a sieve, but back then the only thing I could come up with was, are you ready for this? Panty hose.  Yup, ran that stuff through the toe and came up with a really nice and smooth gravy that my MIL complimented me on!  Of course, she didn't see my mad dash to the bedroom to retrieve said panty hose.
So, where is all of this heading? Well, I have this absolutely lovely cookbook of Nigella Lawson's in front of me today.  "Nigella Bites" was published in 2002 by Hyperion and is 244 pages of wonderful recipes and amazing photographs by Francesca Yorke.  And where's the connection between the personal life story and this cookbook, you might ask?  Well, Nigella included a recipe for Pasta E Fagioli that calls for "1 knee-high hosiery" and she says that "it's the first time I've included a knee-high hosiery sock among any list of ingredients!  By all means bundle the rosemary and onion into cheesecloth if it makes you feel more satisfactorily homespun, but I am just not one of those efficiently traditional domestic types that keeps cheesecloths and muslins on hand."  So, when I saw this statement I finally no longer felt alone in my creative applications for the kitchen!
This book steps out of the usual boundaries as far as sections are concerned.  With titles like "All-Day Breakfast," "TV Dinners," "Party Girl," "Trashy," and "Templefood," you can be sure that Nigella is just as creative with her writing about food as she is cooking food.  And while other cookbooks pretty much stick to one course or type of food per section, Nigella
hits a little bit of everything in each section.  As she says, "I'm not interested in pleasing food snobs or purists, or in eating just one type of food….but there is surely a place for a bit of kitsch in the kitchen."
I must admit that I am strangely drawn to the "Trashy" section which contains recipes for "Ham in Coca-Cola," "Watermelon Daiquiris," "Fried Peanut Butter and Banana Sandwiches," and "Deep-Fried Candy Bars with Pineapple," to name a few.  But, back to the Pasta E Fagioli and the way that Nigella writes her recipes, they read like a well-written novel.  For example "Using the flat side of a large knife, press down on the whole garlic cloves so that their papery skins tear and begin to come away."  You could get totally engrossed reading a cookbook like this, while your family sits around with tummies growling.  So, I'm going to share her recipe with you and try to make it brief.  First, soak 3 cups of dried cranberry beans (pinto beans work well, also) in a large bowl of water for at least 6 hours – or overnight.  Then drain, put into a large saucepan and add 5 cloves of smashed garlic.  Take your knee-high hosiery sock (or square of muslin or cheesecloth) and put in 2 leafy sprigs of rosemary and one onion, peeled and quartered, tie off and add to beans.  Cover with cold water, cover and bring to a boil, then turn heat down and simmer for an hour.  When the beans are tender add salt to taste and remove the sock or muslin.  Remove about a cup of beans and process in a blender along with a tablespoon of tomato paste and 1 ¼ cups of the bean-cooking liquid.  Now add 3 tablespoons of olive oil to a small saucepan and add a minced or micro-planed clove of garlic and sauté until soft, but not colored and then add a sprig of finely chopped rosemary, cook for a scant minute and then add the liquidized soup/beans and cook for another minute or so and add back to the large pan of beans.  Bring back to a boil and add 7 ounces of ditalini, tubetti, or any other small pasta tubes and cook according to package instructions.  Serve with crusty French bread and fresh butter, and wow! What a great meal for a Sunday evening.


Day Two of Our Stay At Home Order

By Gini Rainey
Desperate times call for desperate measures, and I'm so glad I have nearly five hundred cookbooks in my arsenal, although most of them won't do me any good a time like this, which is why I'm so glad that I picked up this little cookbook about a month ago. Yes, Prison Ramen: Recipes and Stories from Behind Bars might just make a difference in my life (or not) when our food supplies begin to run out.  Fortunately, our household has plenty of toilet paper, paper towels, disinfectant, and food (if you think I'm going to tell you my address – think again), but should we run short, it's good to know that, not only do I have about a week's supply of ramen to fall back on, but also a cookbook with some fairly awful recipes and in-mates stories to fall back on. 
Written by Clifton Collins Jr. (Capote, Star Trek, and West World, among others) and Gustavo "Goose" Alvarez (inmate extraordinaire) and printed in 2015 by Workman Publishing, this off-beat cookbook attempts to elevate the lowly ramen noodle to a higher level.  I never knew there were so many ways to "cook" ramen, although a lot of times, the recipes mostly call for just soaking in tepid tap water, depending on the availability of water temperature in the chef's cell. 
Not the least bit tongue-in-cheek, the recipes, along with accompanying stories that have been included, are contributed by various inmates (past and present) of jails/prisons in the California penal system and show a lot of creative imagination on the part of the inmates.  Using whatever commissary items available, they have been able to create everything from a PB&J and a ramen tamale to Hit Man Burritos and Trejo's Machete Ramen.  You remember Danny Trejo, don't you? Before he became known for playing the anti-hero in dozens of movies and TV series, he was a drug counselor. Seems he also served a little bit of time. 
Trejo isn't the only "celebrity" who contributed. Tarryn Manning (Orange is the New Black), Shia Labeouf (Man Down), David Anthony Fausino (Married…with Children), Clancy Brown (The Shawshank Redemption), and Slash (Guns and Roses) also shared their recipes and stories in this book. 
I can hear all of you now, shouting at your screen "But, what about a recipe?" Let me tell you, right now, we should all be thankful that we aren't really incarcerated and hopefully these mandated, life-saving orders aren't life sentences, because I'm pretty sure we really won't need to fall back on any desperate measures for food. However, if you insist, one of the least stomach challenging recipes is for "Butt-Naked Ramen Soup," which is pretty much your basic ramen.  If you should choose to be a bit more adventuresome, you could always up your game and make "Frankie's Soup in the Hole," which adds one chopped Slim Jim to "Butt-Naked Ramen Soup." 
So, let me leave you this thought: we're all in this together and we will survive.  Be thankful for your family, be thankful for the health care professionals and be thankful you live in America. Stay healthy and happy and appreciate the smaller things in life, like sun shining, birds singing and life living. 

We Could All Use A Laugh Right Now!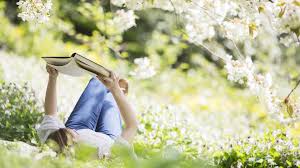 By Gini Rainey
One Hairy Knee – Amy Arndt
The feeling I kept getting while reading Ms. Arndt's book was "this could have been written by a modern-day Erma Bombeck if she had been dropped smooth into East Texas or Austin as a Generation X'er or perhaps as Millenial." I'm not ashamed to say I seriously laughed out loud while reading Amy's first book that is based on her crazy and zany, yet at times poignant and heart-felt, life.  I also am not ashamed to say that as unique as her saga is, there was a whole lot to which I could relate.  What I'm saying here is that I think anyone of us would be able to relate to some of the madcap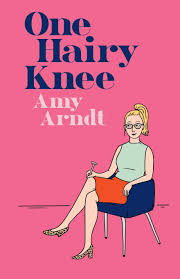 situations in which Amy found herself – while trying to become the best Amy ever.
Ms. Arndt, while at times a bit self-deprecating, strikes a wonderful balance between that and the strengths she developed to face some of life's most challenging moments.  From her parents' divorce when she was young, to truly loving and appreciating her new step-parents, from becoming a step-parent herself to over-coming postpartum depression, from dealing with head lice to knowing what a good marriage she has, Amy doesn't pull any punches.
If raw feelings, sometimes blunt descriptions, and challenges to theological beliefs offend you, this book is not for you. If reading about someone who tackles life head on without a helmet and stands back with her hands on her hips and laughs boldly at life while encouraging you to laugh along, well, let me ask you – what are you waiting for?  This book is pretty much for you and who couldn't use a few well-placed laughs right now!
5 of 5
Copyright 2020 – Pigeon Girl Press
On the Healing Road: Through the Eyes of An Adoptee – The Poet Dena
And now for something completely different. Written as therapeutic poetry, the Poet Dena tells of her struggle to unite the splintered children of her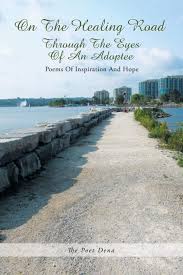 past that live within her. Given up as a baby, she was placed in a foster under the care of her second mother, until she was adopted by her third mother.  With all the anger and pain suppressed pain from feelings of abandonment, Dena managed to struggle through her life until finally, because of years of therapy and self-discovery, she was finally able to merge all of her inner children into an accepting and peaceful adult.
This book, though not terribly long, nor wordy, is not an easy read. In fact, at times it is quite painful.  Dena's hope is by writing and sharing how she was able to accept and move on she might be able to help other adoptees to explore their own adoptions and resolve any inner struggles they be experiencing.
4 of 5
Copyright 2018 – authorHOUSE


By Gini Rainey
Right now, considering all that is going on in our world, the KISS method would seem to be the best way to go with everything.  You know, Keep It Simple Silly!  I bought some new and weird cookbooks recently on ebay and I thought this might be a good time to share one of them with any of you out there that might still check periodically to see if I'm still around. Which, by the way, is probably an excellent thing for all of us to be doing right now. Give a call to some of the folks (or all of the folks) in your life who are important to you today. Our lives have all change dramatically in the past few weeks and it's never too late to let people you love know you care. 
I was chatting with my sister a little bit ago and I reminded her of the time that I had the Asian Flu.  I checked with Google earlier to determine when that pandemic made its way around and discovered it was in 1957 – when I was nine years old. I was sick with it around Halloween time and what's the worst possible thing that can happen to a kid
when they're nine and sick around Halloween?  Right! They can't go Trick or Treating! My sister, who is eight years older than I and was in high school, offered to take a grocery sack around the neighborhood to collect candy for her poor little sister who was stuck at home, bedded down on the couch, with a raging fever. 
My dad, whose creativity knew no bounds, drug a six-foot ladder up out of the basement and dressed it in his overcoat.  He put our jack o lantern on the very top of the ladder, ran a string through the sleeve of the coat, and over to me on the couch.  When the doorbell rang, some poor unsuspecting, candy-hungry kid was greeted by the door slowly being opened by a ghoulish giant of a pumpkin-headed man swinging his arm maniacally at them. 
I'm sure mom made sandwiches that evening, just to keep things simple. (nice segue, huh!?!) It's too bad she didn't have had a copy of Scanwiches in her cookbook arsenal. This book, written by Jon Chonda and published by PowerHouse Books in 2011, is definitely one of a kind. It features amazing cross-section scans of sandwiches, along with the ingredients, place of origin, and bits of trivia. The range of sandwiches go from the super simple and humble grilled cheese sandwich all the way to a seven-layer Dagwood. From the strictly home-grown Elvis favorite of peanut butter and banana to the French Pan Bagnat and the Chinese Rou Jia Mo.  We've all eaten sandwiches, but the beautifully high definition scanned cross section photos of the sandwiches included in this book puts a whole new spin on the humble sandwich. Speaking of dinner, just looking through this book will give you a king-sized hunger for something yummy to eat!