Special "Hit the Bricks" Dinner Event coming November 10th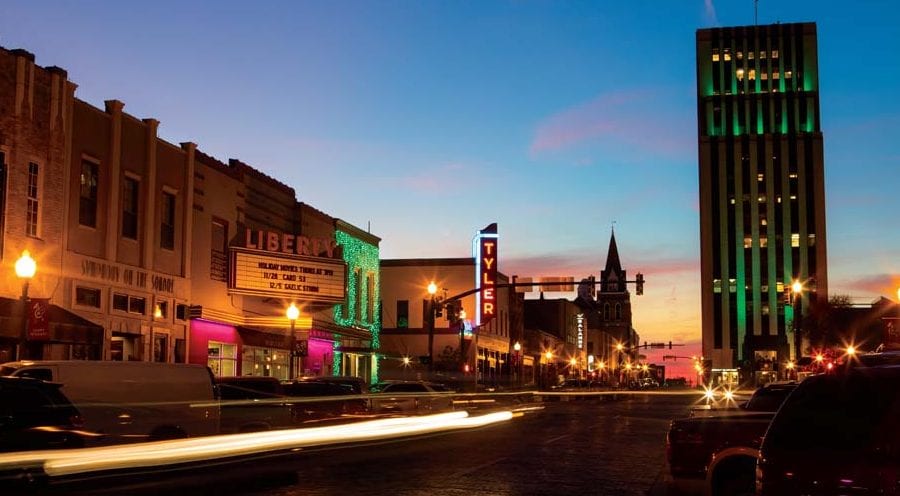 Dinner on the Bricks in Downtown Tyler
Held November 10th, 5-8pm, on the Brick streets in Downtown Tyler, this inaugural event will feature a four course dinner experience with beer and Kiepersol wine pairings! Tickets are available now.
You can dine on the bricks of Broadway at an elegantly dressed long table while enjoying a chef-prepared dinner by Rick's on the Square along with live music performed by the UT Tyler Jazz Band.
All proceeds will go towards a revitalization grant for Downtown property owners.
Tickets are available at eventguruonline.ticketspice.com/downtown-tyler-dinner-on-the-bricks or call (903)593-6905.


Sept. 21st: Trout Fishing in America Peace Concert
The 6th Annual "Art Of Peace – Tyler" is September 14th-23rd. Come out and celebrate Peace and Community spirit.
The 8th Annual Art of Peace festival has grown from an afternoon of programs to a week long series of peace-activities and programs throughout Tyler. This is a community-wide event to celebrate the United Nations International Day of Peace (officially on September 21st) and to encourage community spirit. The aim of the Art of Peace – Tyler is to promote a spirit of cooperation and community through fellowship, dialogue, music, poetry, and art.
By date, here are the events planned for this year's festival events. All events are free unless noted.
Friday, September 14th
Honk for Peace, 12 noon-1pm
Downtown Square in Tyler
Every Friday on the Downtown Square in Tyler, a group of people dedicated to peace hold signs encouraging us to wage peace and not war. The Art of Peace is proud of their weekly vigil and this year, we are going to join them. Make a sign of your own and join the group to promote peace in Tyler.
Saturday, September 15th
Day for Kids, 10am-2pm
Boys & Girls Club of East Texas at Southside Park – off the Rose Rudman Trail, Shiloh and Donnybrook- Tyler, TX
Visit the Art of Peace – Tyler booth at the annual Boys & Girls Club of East Texas Day for Kids. Bring your family for interactive art projects and write peace messages on boards for the next Habitat for Humanity of Smith County home.
Monday, September 17th
Peace Meal, 6:00pm
Tyler ISD Career and Technology Center, 3013 Earl Campbell Pkwy., Tyler, TX
Celebrate Peace by joining community members, peace advocates, and new friends for an open table meal and uplifting program to celebrate peace! Dinner will cost $12 per adult and $8 for college students and younger. Space is limited.  You may register and pay for your seat on tylerpeace.com. If financial assistance is needed for this event, please send a private message through the contact page on the website. Spread the word around and help grow this wonderful event!
Tuesday, September 18th
Meditation: Bridging the Heart-Mind Divide, 5:00-6:45pm
Tyler Public Library – Taylor Auditorium, 201 S. College, Tyler, TX
Take time to explore inner peace at this inspiring Art of Peace presentation, followed by a session of Heartfulness Meditation led by UT Tyler instructor and meditation trainer Gayathri Kambhampati. This event is co-sponsored by the Tyler Public Library.
Tyler Talking Together, 7-9pm
The Foundry Coffee House – 2nd Floor, 202 S. Broadway, Tyler, TX
Promote peace through relationships.  Come have meaningful conversations about race.  Participate in facilitated activities with people from different backgrounds and races.  By getting to know fellow Tyler residents, we help to dispel stereotypes and fears to build strong, supportive communities for all residents.   Come prepared to share your stories and experiences through conversation. This event is co-sponsored by Tyler Together Race Relations Form.
Thursday, September 20th
Songs of Peace, 6:30-9:30pm
Stanley's Famous BBQ, 525 S Beckham Ave., Tyler, TX
Enjoy an evening of great BBQ and live music, while you get to know local peace advocates at one of Tyler's favorite gathering spots. Dinner will be on your own. Music will be provided by: Eric Mosley, Connie Mims Pinkerton, Eric George
Friday, September 21st
Peace Pole Dedication, 12 noon
Rose Rudman Park, 450 Shiloh Rd., Tyler, TX
Commemorate the U.N. International Day of Peace by helping dedicate the 2018 Art of Peace annual Peace Pole being installed at Rose Rudman Park. The program includes interfaith prayers, songs, readings and messages of peace spoken in a variety of languages. The peace pole is co-sponsored by the Unitarian Universalist Fellowship of Tyler and artist Kerian Massey.
2017 – Tyler Peace Pole may be seen at Bergfeld Park.

2016 – Tyler Peace Pole may be seen at the Woldert Park next to the Glass Recreation Center.

2015 – Tyler Peace Pole may be seen at the Duane Andrews Peace Garden at the St. Paul Children's Foundation.

2014 – Tyler Peace Pole may be seen at the Tyler Rose Garden. It is currently being replanted.
All of the current Peace Poles have been lovingly donated by the Unitarian Universalist Fellowship of Tyler. If your church or business or school would like to place a Peace Pole, please let us know and we would love to add it to our list of poles in the Tyler area.
Peace Concert: Trout Fishing in America, 7pm
Liberty Hall, 103 E. Erwin, Tyler, TX
Celebrate Peace Day with uplifting entertainment by the award-winning musical duo, Trout Fishing in America. Their delightful performances speak to young and old alike, with a blend of music and storytelling, sprinkled with trademark humor. This is music for people who take their fun seriously. Four-time Grammy award nominees, Trout Fishing in America has been performing music for 3 decades that get kids and adults alike singing and bouncing along. In addition, they also delight children with their arresting physical appearance: Ezra Idlet stands at a whopping 6'8″ tall, and Keith Grimwood remains roughly 14 inches shorter than his bandmate. With songs like My Hair Had a Party Last Night and When I Was a Dinosaur, Grimwood and Idlet are "the Lennon and McCartney of kids music" – Kathy O'Connell, NPR.
After the concert, we will form and photograph our annual Art of Peace LIVING PEACE SIGN on the DOWNTOWN SQUARE. The concert is co-hosted by Liberty Hall. Tickets are available for purchase online at tylerpeace.com.
Sunday, September 16th-23rd
"Peace" Art Exhibit
Tyler Museum of Art, 1300 South Mahon Avenue – Tyler (on campus of TJC)
"Our 2018 Art of Peace visual art exhibit is presented in cooperation with the Tyler Museum of Art, where selected art will be on display from September 16th–23rd. The exhibit is free and open to the public during museum hours; Monday through Saturday 10am-5pm, Sundays 1-5pm.
Sept. 25th: Developing your Visual Brand Class at Innovation Pipeline
At Innovation Pipeline this Month:
Two Classes Explore SEO Optimization & Branding
Unique to Tyler, The Innovation Pipeline is a place and a network. It's the intersection of innovative ideas and the tools to build on those ideas. It's a launch pad for businesses and a learning center. With a makerspace, business development workshops, recording studio and sound lab, the Innovation Pipeline is one-of-a-kind. Not only can you explore the high tech equipment to create just about anything including a 3D printer, laser cutter, ShopBot CNC Router, Roland Desktop Mill, Brother Entrepreneur Pro X Embroidery machine, a sound lab, and the lastest computers – Innovation Pipeline also offers classes.
September 25th (6pm): Developing your Visual Brand: Pick Something and Stick To It – Convoluted imagery, inconsistent font selection, and poor quality graphics have plagued the market and frustrated business owners for years. Are you asking yourself questions like: How do larger, more established companies appear more valuable than mine? Why does that new business look more "put together" than I do? What the heck is a vector?
It all comes down to just a few basics, and once you gain an understanding of the foundations of an effective brand, the sky's the limit! In this class, Justin West and Loren Roe, Co-Creators of Ridiculously Good Branding & Thread Co., will walk you through the basics of establishing your brand through color theory, font selection, and design principles. You will also learn how to properly save files for a variety of mediums from print materials to social media, as well as creating a style guide to direct your brand as you grow. By the end of this course, you will be equipped with tools for developing your brand's style guide, how and when to use certain file types, and the importance of your brand's consistency. Tickets are $15 for non-members.
More Info
Several membership packages are available for Innovation Pipeline ranging from the "Getting Started" membership which is a hobbyist membership and includes 20 one-hour sessions to the "Serious Side-Hustle" which is for the part-time innovator and includes 55 one-hour sessions. The "In It To Win It" is for the full-time innovator and includes 90 one-hour sessions, four guests and two meetings. Family and group memberships are also available.
Innovation Pipeline is located at 217 E. Oakwood St., Downtown Tyler. To sign up, go to tylerinnovators.com.