"Bring Me Back"
by B. A. Paris
Just when you think an author can't out do their last book, they jump right out there and do it!  Filled with even more deception and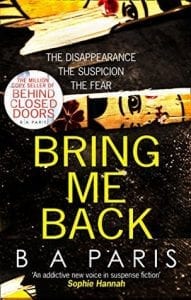 intrigue than her first two books, Behind Closed Doors and The Breakdown, Paris' latest book will keep you spell bound until you turn the last page.  Telling the story about the mysterious disappearance of Layla from the perspectives of Finn, his girlfriend, and his fiancé while moving between the past and the present, it's no wonder that Paris has carved out her niche in the psychological thriller genre.
As Finn digs deeper to determine who might be behind the disappearance and strange emails, his list of suspects grows to encompass even his closest friends.  Because Ms. Paris is a master at building believable characters, the reader finds himself drawn into the intrigue and feeling a certain empathy for everyone involved.
In Bring Me Back, Paris explores how traumatic events can impact, not only the individuals immediately involved, but also everyone they come in contact with.  Not afraid to explore new avenues of intrigue and mystery, she has created yet another spell-binding page turner that will keep you guess till the very last page.
5 of 5 – Copyright 2018 – St. Martins Press
"The Sisters"
by Janet Kay
If you're looking for a book to read this summer that is filled with history, ghosts, romance, and family discord, this is the one for you.  Set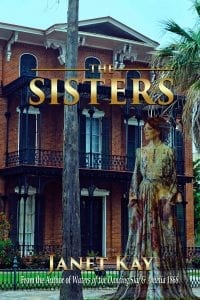 in current day Galveston, this story tells the story of Veronica and Isabella, two sisters who had once be in love with the same man.
Weaving a spell around not only present-day Galveston, Kay's story helps to explain the reason so many of the historical sites in this Island community are haunted.  From the pirate Jean Lafitte to the estimated six to twelve thousand people who lost there lives during the hurricane of 1900. Described as the deadliest natural ever in the United States, this storm took the life the of sisters' grandmother, who continues in her afterlife as Isabella's spirit guide.
If you are familiar with Galveston, and even if not, this book is an intriguing read that pulls you into its web of family deceit and mystery as the sisters strive to learn where they have come from and reconnect on a congenial level of understanding and acceptance.  It will definitely keep you turning the pages to find out where it all ends.
5 of 5 – Copyright 2018 – World Castle Publishing
"Neema's Reason to Smile"
By Patricia Newman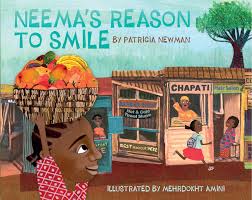 This delightful book, colorfully illustrated by Mehrdokht Amini, tells the story of Neema and her mother who share big dreams for their life in Kenya.  Neema wants to go to school, while her Mama, who sews clothes by hand, dreams of a sewing machine and perhaps her own business. By not only entertaining, but also educating, Newman's story sends the message to all that where there is a will, there is a way.
Motivated by actual students at the Jambo Jipya School in the town of Mtwapa, Kenya, where many kids are unable to go to school, Ms. Newman's story provides inspiration to children of any age to never give up hope for a better life through education.
A lovely feature of this book are the glossary, discussion questions, and activities at the end of the book.  Although geared for younger children, the message won't be lost on older readers.
5 of 5 – Copyright 2018 – Lightswitch Learning