A unique and fun group has been created on Facebook called "Tyler Texas Rocks." This group paints small rocks with inspirational messages and hides these rocks around town.
April Roycroft, a mom of five, started the "Tyler, Texas Rocks" Facebook group. The mission of the group is to "bring happiness and brighten someone's day by finding an unexpected piece of joy."
The stones, with varying designs, are creating buzz. So much so, the Facebook group attracted 3,000 members in its first week. They're now posting photos of their creations along with clues on where to find them.
"We started hiding rocks around that we had painted and just kind of told people what to do," said Roycroft.
It's simple to participate. Just paint, hide, and find rocks in and around Tyler. If you paint and hide a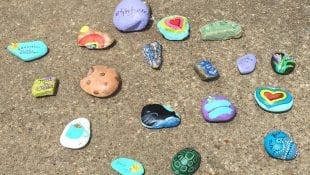 rock, they ask that you use the hashtag #tylertexasrocks.
If you find one, please post a photo to the group of the person who found the rock and the rock you found plus where you found it. It's super fun to watch the group and see when your own rock is found and by who. You can keep or re-hide the rocks. relaxinfo
"One of my favorite things is to see a rock that one of my kids or friends created being found for the 2nd, 3rd, 4th time. Imagine how cool this is," said Roycroft.
Wanna know where to look for these rocks? The group says to "look everywhere for happiness and unexpected joy around Tyler, but you can see a few hints on our page."
Some rocks are small, others large. "Rocks have been found everywhere from Jack Ryan's Downtown to the Magic Snowball stand on Hwy. 69 near Tyler Pipe, and Quality Lumber in Whitehouse.
There is a second Rock group at facebook.com/pg/Tyler-Tx-ROCKS. They offer paint parties and have get togethers that are open to the public to attend. People just need to bring their own rocks. This group tags their rocks with #TylerTxROCKS.