Get your Fresh Produce Now While the Warm Season is Upon us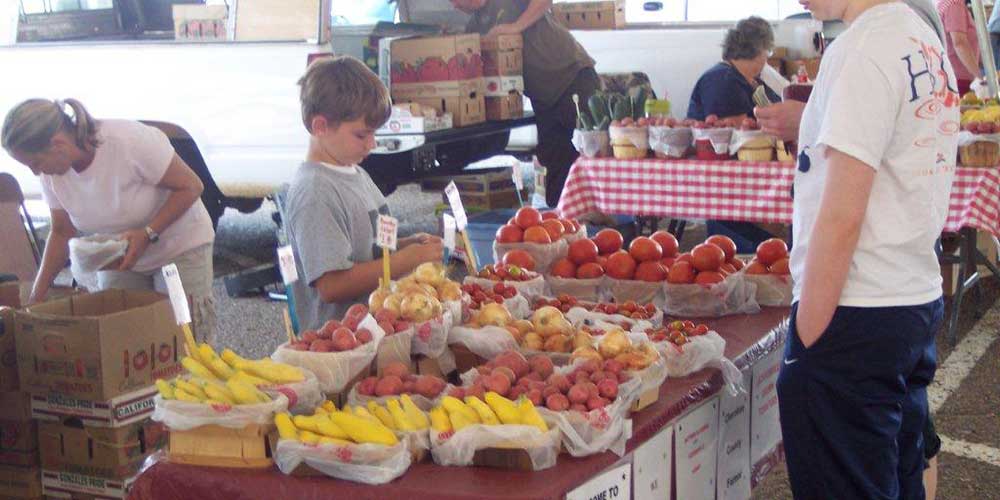 Autumn is Blooming and Bringing Lots of Fresh Produce
Everything is blooming, growing, and flourishing in East Texas, and it's time to head back to your local favorite farmers market. Be sure to check one of these out for all kinds of goodies.
Rose City Farmers Market, Downtown Tyler
Saturday mornings, 8am-12 noon, the Rose City Farmers Market is a neat, unique experience for the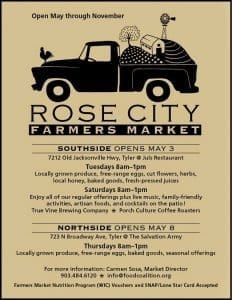 whole family. Located just a block from the Square, in the Unclaimed Furniture parking lot in Tyler (236 S. Broadway), the market brings all that's fresh straight to you: fruits, vegetables, and herbs all grown within 75 miles of Tyler. That includes pasture-raised beef, lamb, pork, chicken, and turkey, free-range/non GMO eggs, and goat cheeses. Treasures from East Texas fields like arugula, carrots, kohlrabi, radishes, beets, turnips, strawberries, new potatoes, mustard greens, kale, lettuce, cilantro, onions, swiss chard and parsley will be on hand as the crops come in.  Also, everything from fresh bread to flowers, coffee, jams and jellies, baked goods, Texas olive oil, handcrafted art, and Texas fruit wines are on hand. Local musicians will be showcased every Saturday, plus the new, exciting addition of rotating food trucks. Visit them on Facebook, and at rosecityfamersmarket.com and foodcoalition.org.
Tyler Farmers Market
Tyler Farmers Market is located in the parking lot of the Broadway Square Mall located at 4601 S.Broadway Ave., Tyler. The Tyler Farmers Market is open Tuesdays, Thursdays, and Saturdays 7am-2pm.They feature seasonal items under a big white tent.
Lindale Farmers Market
Ongoing every Saturday (9am-1pm) – Lindale Farmers Market will be held at Parrott Park at the Old Mill Pond Museum, 2900 S. Main St.., Lindale. Lindale Farmers Market is dedicated to provide locally grown produce and items personally created by hand within a 100-mile radius of Lindale. Fruits, vegetables, artisan wares, and more are featured each week. Everything is home grown, home made, and hand crafted by artisans, ranchers, and growers. For more info go to facebook.com/Lindale-Farmers-Market.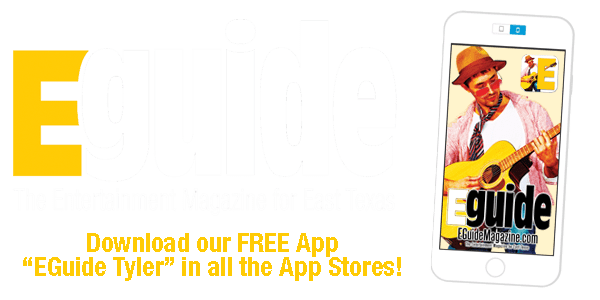 Family Friendly Classic Car Event Coming September 22nd – Mark the Date!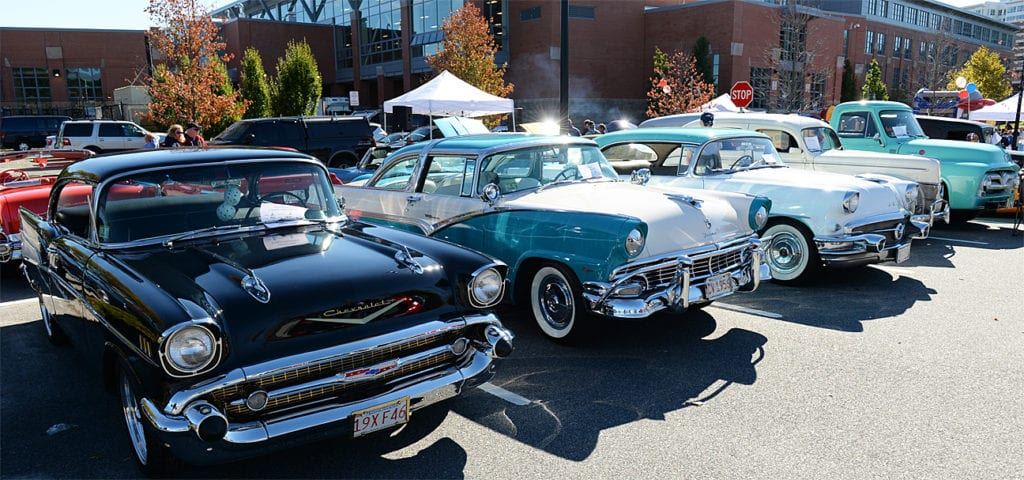 4th Annual "Cruisin' for a Cause" Classic Car and Truck Show
Saturday, September 22nd, 9am-1pm, the 4th Annual "Cruisin' for a Cause" Classic Car and Truck Show will be held at Pleasant Hill Baptist Church, 13590 Hwy 110 S., in Tyler.
This family friendly event will feature not only classic cars and trucks and music but also food trucks and merchandise. It is free to attend.
Registration is open to classic cars, trucks – all makes, model and years are welcome. There is a $15 entry fee per vehicle.
September 21st: BBQ Battle & Ribeye Roundup
Shoot To Salute with BBQ Battle & Ribeye Roundup
Put your shooting or cooking skills to the test or simply just come and enjoy some great food for an even greater cause!
Friday, September 21st, there will be a Steak Cook Off. Saturday, September 22nd, there will be a friendly sporting clay shoot, sanctioned International BBQ Cookers Association "IBCA" cook-off, games, raffles, and live DJ.
This will benefit Lone Star Warriors Outdoors, A Texas Non-Profit Organization
Lone Star Warriors Outdoors was founded by Retired Army and Combat Veteran Chris Gill. In 2011, a program was created focusing on hunting, fishing, and other outdoor adventures. Helping combat injured warriors fight PTSD, and working with suicide prevention. The goal of LSWO is to get those warriors back out doing what they love, or teaching them a new sport and allowing them the time with other combat vets to talk and feel apart of a team again.
This will be held at 6S Ranch, 8159 CR 313W in Lindale. For more info go to: lonestarwarriorsoutdoors.com.
Tyler Firefighters Association, Tee Off For Toys: Sept. 24th
8th Annual Tee Off For Toys
You are invited to sponsor or play in the 8th Annual "Tee Off for Toys" Golf Tournament Monday, September 24th, 9am-6pm at the beautiful and scenic Hideaway Lake Golf Course in Lindale.
Hosted by the Tyler Professional Firefighters Association, this four-player scramble benefits The Salvation Army's annual Angel Tree program.
Each player is also asked to bring an unwrapped toy ($10 and up value) with them on tournament day.
Prizes will be given for 1st place, 2nd place, 3rd place, closest to the pin, and longest drive.
For information or to register go to salvationarmytexas.org/tyler/tee-off-for-toys/ or email cindy.bell@uss.salvationarmy.org.