By Gini Rainey
"Send Down the Rain" by Charles Martin
In his thirteenth novel, this New York Times Award-winning author successfully weaves the lives of several different people into a wonderful tale of love and sacrifice that will leave you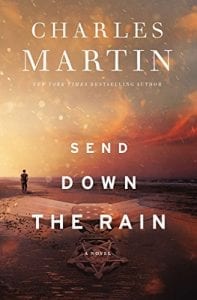 thinking. Taking Joseph, a Vietnam veteran with many scars to heal and Allie, who has recently lost her families business in Florida, Martini created a novel that is full of lots of raw emotion that will keep you turning pages until you come to the surprising conclusion.
Joseph, a victim of PTSD, has chosen to live in his cabin in the Carolina mountains with his dog, Roscoe. That is, until Catalina and her two children stumble into his life. Making sure to get them away from her abusive, drug running captor, he loaded them up and drove them to Florida to meet up with her brother and close to where he and his brother had lived before they grew up and grew apart.
Charles Martin has skillfully created such believable characters that you will find yourself totally immersed in the plot and all that takes place. Without leaving your chair you will find yourself involved in the panic of flight, the angst of unrequited love, the unselfish sacrifice of a brother and the joy of rediscovering a lost love.
This is a definite "must-read" for this summer and is guaranteed to keep you wondering until you turn
Rating: 5 of 5, Copyright 2018 – Thomas Nelson
"Lang's Labyringth: Forest of the Fae Book Three" by K. Kibbee
This book came to me as an advanced reading copy from the publisher and because I love to read, I was excited when it arrived in the mail. Then I realized it was "one of those books." You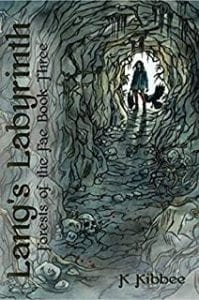 know, the kind I would never pick up on my own – one about goth, faeries, fantasy, changelings, etc. I was also concerned that, because it was the third book in a series, I might not have a clue about what was going on.
I couldn't have been more wrong. Yes, this is a book about all of the above, however, it is also, on a much deeper level, about trying to figure out a mystery that was based on a secret code. The main character, Anne along with her best friend Grace, who has been changed into a raven, is on a quest to solve the code so she can change Grace back to human form and rid the forest of all the faeries. Along the way she meets some very interesting characters, and believe it or not, I found myself trying my best to solve the code too. Valmont – Prime Renewing Pack. Valmont Prime Renewing Pack , luxury skincare, hair care, makeup and beauty products at Valmont Prime Renewing Pack Official This makeover treatment immediately reveals the glow of healthy skin and improves the complexion day after day.
I won't even begin to let on how this book turns out for that would ruin all of the mystery and intrigue that Kibbee has created, but let me say it will take you on quite the adventure and make your summer reading most enjoyable. Remember this, too, don't be afraid to try something new – you might discover you really like it – I know I did.
Rating: 5 of 5, Copyright 2017 – Incorgnito