By Gini Rainey
"Healing Tears" by Theresa James
In heart-wrenching detail, Ms. James, a U. S. Air Force veteran, recounts the details of her marriage to the father of her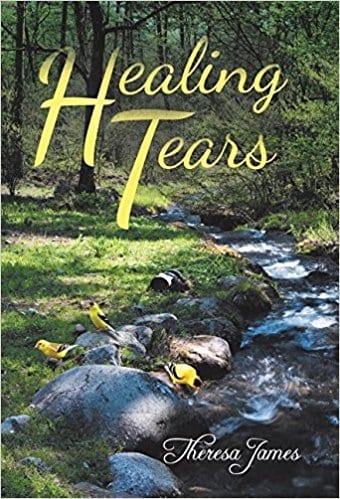 children through their eventual divorce and the eventual murder of the children and suicide of her husband.  Written primarily to help her work through her grief following the murders, James came away with a book that should serve as a cautionary to anyone who is in a relationship with someone who presents any kind of unstable or menacing behavior.
While most authors develop characters that leave their readers with a good visual image, I came away from this book with more of a feeling of the spiritual images of her children, which makes excellent sense considering the circumstances surrounding their deaths and the memories that Theresa still has for them.
Retold with an amazing objectivity, Theresa James unfolds a story of love, insanity, strength, and peace, while sharing the life she lived with her children and their father leading up to and through the tragic events that ultimately destroyed her family – but not her, nor her spirit.
5 of 5 – Copyright 2017 – Balboa Press
"And The Day Came: A Family Saga" by Phyllis H. Moore
In another one of her convoluted tales, Moore presents an historical fiction novel based on real-life characters who inhabited Lamar Peninsula and Refugio, Texas, starting with a history lesson of how the Spaniards and Danes came to Texas as settlers and immigrants.  Doris Marie Linney Moore, the central character of the book, was orphaned as a child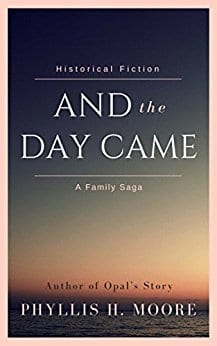 and grew up with a subtle knowledge that something mysterious about her origin was being kept from her.
With a sense of salt air and hot summer days surrounding the various antics of Linney, her siblings, and various cousins, aunts and uncles who float through her life, you get a true feeling of their carefree days  spent playing around the family's bay house and in the warm waters of the Gulf of Mexico.  The boys got into usual boy trouble, while the girls spent their time speculating on the deep, dark secrets of the family.
While this book was almost as convoluted as Moore's book "Tangled" with lots of characters and and intriguing family issues, I found I couldn't put it down until I finished it because I, too, wanted to know what the family secret was.  My only regret was that the revelation and resolution was almost anticlimactic compared to the anticipation I had been experiencing.
5 of 5 – Copyright 2017 – Del Corazon LLC
"RightSize Weight Loss" by Dr. F. B. Willis
Pointing out that "today we are seeing the greatest epidemic of obesity in history," Dr. Willis has designed the RightSize Weight Loss program and has written this book to encourage people to discover his secret to weight loss/fitness.
While no huge secret, if you stop and think about it, Willis offers a valuable tool to keep in mind when you are thinking of eating.  His flexible program offers three options to help folks obtain their RightSize physique quickly.  With the acronym PEN in your arsenal as you approach mealtime, you can experience a change in your eating habits that can last a lifetime.  PEN stands for Portion size by eating no more than 1-1/2 cup of food 5 to 6 times a day, Energy Surge which increases your heart rate/metabolism just before you eat by  elevating your heart rate for 2-3 minutes, and Natural Nutrition which involves eating only non-processed food, thus eliminating all of the additives and chemicals and speeding up digestion.
Dr. Willis uses several successful weight loss stories, including his own, to encourage the reader to adopt this healthy life style.  Willis, a survivor of an "unsurvivable plane crash," went through a series of 16 sequential operations to rebuild his legs.  As a result, he has dedicated his life to helping others overcome their physical challenges, which includes obesity.
With a readable and encouraging writing style, Dr. Willis has laid out a very doable plan for his readers to set goals and achieve them.  Not to be considered a "diet" book, this book suggests an entire new way to approach a healthy life style.
The only problem with this book is that, like so many other self-help books, the reader needs to actually follow the guidelines, not just read them.  Recognizing that, Dr. Willis encourages involvement of friends and family and also provides consultants through his website for additional support and accountability.
5 of 5 – Copyright 2017 – Evergreen Press