By Gini Rainey
Christmas is doing a slow "creep-in" at our house this year.  Over the last couple of days the lights have been getting put up around our yard, and today the Christmas tree showed up in the den.  I like the "pacing of ourselves" that we seem to be doing, rather than having it all hit at once like we usually do.  This way, we can take the time to look at each ornament and remember the history behind it.  After all, that's what this season is all about – history and memories- some good and some not so good.  But remember, we all still have the opportunity to make some excellent memories, if not for ourselves, then for those around us.
I think one of my most favorite Christmas memories are the parties that my grandmother and aunt would have every year for "the little relatives," as me and my cousins were referred to.  I'm not exactly sure what we did at those parties, but the one thing that stands out in my mind the most were the mittens that Auntie Evie had knit for all of us that were hanging from the doorway to the dining room.  Not only did we get those warm, woolen mittens, but there were always several pennies down inside those mittens – oh and jingle bells – there were always jingle bells in the mittens.  Can you imagine children these days getting excited over a gift like that?
So, it's not surprising that as I was flipping through today's cookbook "No Jacket Required" it seemed as though the words Christmas and holiday seemed to jump right off the pages at me.  This book, a collection from InCircle, some of Neiman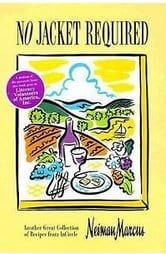 Marcus' best customers, was published in 1995 by the Neiman Marcus Group and was the third compilation put together to help raise funds for worthy causes. A portion of the proceeds from this book was donated to Literacy Volunteers of America, Inc.  "No Jacket Required" reflects the casual elegance that seems to define the style of cooking and entertaining that we all enjoy today.
One of those recipes that popped out at me was for Applesauce Cake and was contributed by Joyce Pate Capper from Fort Worth.  She commented "If you're tired of giving (or getting) recycled fruit cakes, this is the answer….the aroma makes everyone feel as if the holidays are already here."  Which leads me to ask the eternal question: "Do people really recycle fruit cakes – or as we say these days, re-gift fruit cakes?"
Her recipe is as follows: Preheat oven to 350° and generously grease a bundt pan.  Dissolve 1 ½ teaspoons baking soda in ½ cup brandy, wine, or hot water and set aside.  In a large mixing bowl cream ½ cup butter and 2 cups of sugar with an electric mixer.  Dust 1 cup of raisins and 1 cup chopped walnuts or pecans with flour and add to the butter mixture.  To this mixture add 2 ½ cups flour. 1 teaspoon ground allspice, 1 teaspoon ground cinnamon, 1 teaspoon ground cloves, 1 teaspoon ground nutmeg, 2 cups of applesauce, 1/4 teaspoon of salt and 2 tablespoons cocoa, along with the brandy/soda and mix well.  Pour into the bundt pan and bake for 1 hour and 15 minutes.  You're going to love this and you can make it ahead and freeze for those crazy days of Christmas.