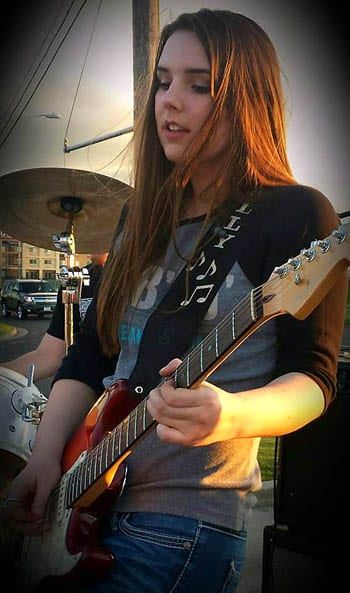 By Johnny Griffith
It is often said that youth is wasted on the young, but don't tell that to local up-and-coming blues guitarist Ally Venable. Barely 17 years old, Ally has been burning up the stages for several years now, playing gigs from Jefferson to Dallas, and everywhere in between. With powerful vocals and blistering guitar licks, Ally is a serious musician with serious chops and the stage presence of a seasoned entertainer beyond her years. These traits combine to take the audience on a bluesy journey through her set, which is a good mix of covers with several of Venable's originals mixed in. With a solid group of musicians backing her up, The Ally Venable Band can hold their own with anybody and will keep you dancing in your seats, if you can manage to stay in them.
Even though Ally has been performing in the area for several years now, there are certainly some out there who are just now coming across her, so we decided to catch up with her, and she was gracious enough to answer some questions for us:
Johnny: When did you first start showing an interest in music?
Ally: Early on in my life I always loved to sing, when I was younger I sang in the children's choir at my church, and I think that is what started my love of music. When I was about 11 or 12, I started listening to blues music, and it just took off from there.
Johnny: Was guitar your instrument of choice in the beginning?
Ally: No, I actually experimented with the piano, and I also participated in my school's orchestra for about 4 years playing the cello.
Johnny: Who were your early influences musically?
Ally: Stevie Ray Vaughn, Jimi Hendrix, Joe Bonamassa, Beth Hart, Buddy Guy, Lance Lopez, Bonnie Raitt, and Walter Trout.
Johnny: When and what was your first performance?
Ally: MoJoe's Coffee Shop in Henderson, Texas. It was an acoustic gig.
Johnny: At what point did you realize you wanted to play the Blues?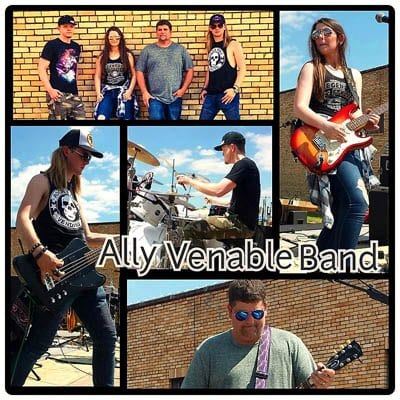 Ally: One day I just started listening to blues and really took an interest. My favorite channel on XM radio is BB King's Bluesville. I listen to Tony Colter every day on my way to and from school.
Johnny: When did you begin writing original music?
Ally: When I was about 12-13 years old. When I write music I try to write about what goes on in my life, because everyone goes through the same struggles. I want people to know it's okay to feel a certain way, and I also try to incorporate my influences into my own sound when writing, like Stevie Ray and Buddy Guy.
Johnny: Who do you think has had the most impact on you musically?
Ally: Other musicians, of course, and my dad. He really pushes me to do my best and is always there at every show. My band also inspires me, we are always coming up with new ideas and different things to try in shows.
Johnny: What is your current band lineup?
Ally: Elijah Owings (drums), Zach Terry(Bass), and Bobby Wallace ( Guitar & Keys)
Johnny: How hard has it been juggling school and music as you've become more successful?
Ally: My teachers have been pretty cool about me leaving for shows. I just recently have been inducted into the National Honor Society at my school, which is a great achievement for me. I'm also in the top 10% of my class.
Johnny: You've played the T-Bone Walker Blues Festival over in Longview for the last couple of years, and are on the schedule again this year. How has that experience been in terms of exposure, and networking with other musicians in the genre, several of which are legendary performers?
Ally: I love playing festivals, they are always a good experience, and the T-Bone Walker Festival was really fun. I played a jam with Rick Derringer, Jonathon "Boogie" Long, Christone "Kingfish" Ingram, Trudy Lynn, and Steve Krase. That was a good time.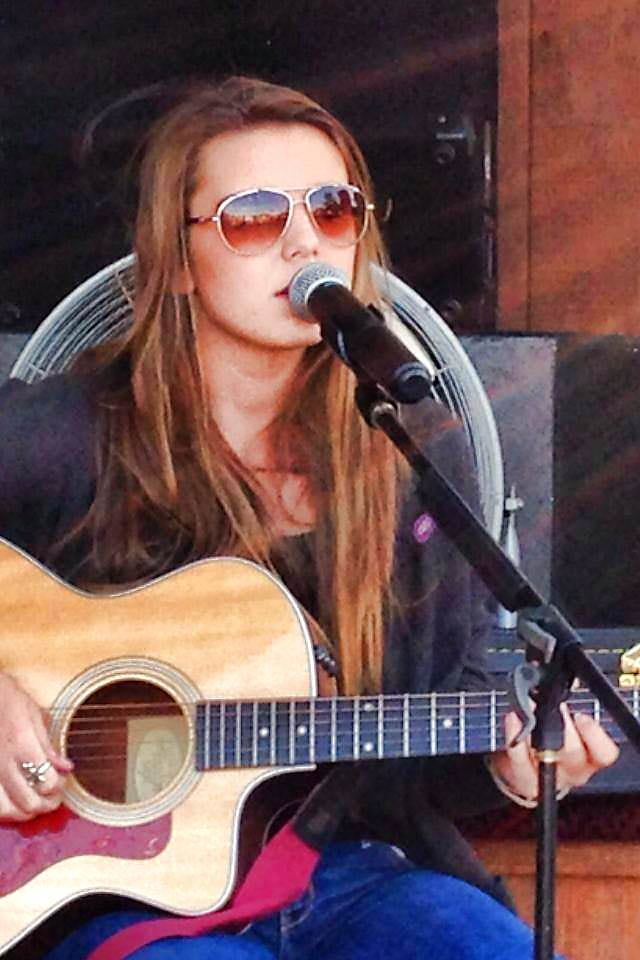 Johnny: What are some of the lasting relationships that have come out of that festival?
Ally: At that festival I made great relationships with different artists like Kingfish, Steve Krase, Trudy Lynn, etc. It's crazy that I am able to travel and meet all these great people because I play guitar. I thank God every day for my gift because it is truly a blessing. I don't know what I would do without it.
Johnny: You've earned numerous accolades in your young career, can you give us some of the highlights of those and do any stand out as more meaningful to you personally?
Ally: 2nd Place at the 2015 – 10 under 20 Dallas Guitar Show, ETX 2015 Blues Band of the year, ETX 2015 Female Guitarist of the year
Johnny: You recently had a birthday bash at The Back Porch in Kilgore that had a pretty great lineup with your band, Salvation From Sundown, and the Lance Lopez Band. What's it like to have that kind of talent willing to come out and support you?
Ally: It's awesome to have other musicians and bands support you through your musical journey. It means a great deal to have that kind of support system behind you.
Johnny: What has been your favorite memory thus far in your career?
Ally: My favorite memory in regards to my music career is when I had the honor of meeting Gary Hoey at the Dallas Guitar Show. He was reviewing his Fishman pickups at one of the booths there, and had seen me and let me play his guitar. Aside from how great of a guitar player he is, he is also a true and genuine person, and to me that is what made that experience all the worthwhile.
Johnny: You guys have several great venues and festivals booked over the next few months. What else is on the horizon for you?
Ally: We will be coming out with a new album in June – Title Track "Too Much Too Soon." Rock Romano and Steve Krase are Co-Producing it. I'm very excited for it to come out.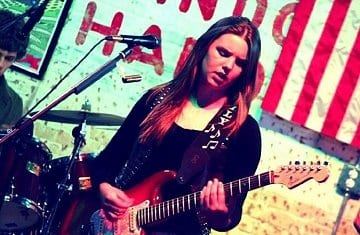 Johnny: For the guitarists out there, what's your current rig consist of?
Ally: My amp right now is a Mesa Boogie F50 1×12 combo and my guitar is a Fender American Standard Stratocaster, rosewood- sienna sunburst solid body electric with an ash body, maple neck , and three custom shop single-coil pickups.
For my pedal board I've got a Dunlop Crybaby 535Q Multi- Wah, Ibanez Jemini, Ibanez Tube Screamer, Jimi Hendrix Fuzz Face, Mooer Ana Echo Analog Delay, Strymon Lex Rotary, MXR Phase 90, and a Boss Chromatic Tuner.
Johnny: When someone comes to see The Ally Venable Band for the first time, what do you want them to walk away thinking?
Ally: When people come hear me the first time, I want them to be blown away. I want them to walk away thinking, "Now that's a guitar player." I want them to know it's okay to feel a certain way, for them to forget their worries and to just have a good time.
Be sure to check out The Ally Venable Band at a local venue near you for a good look at the future of Blues and Rock for many years to come.
On The Web: