The Old Firehouse Acoustic Listening Room Kicks Off Its 11th Season Oct. 19th

Ten years and still going strong, The Old Firehouse in Edom will be kicking off it's 11th season on Saturday, October 19th with an acoustic concert by John Batdorf; one-half of Las Vegas Rock and Roll Hall of Famers folk-rock duo, "Batdorf and Rodney." John was the pair's primary songwriter and singer and his music fit right in alongside the 1970s Laurel Canyon scene with artists like Crosby, Stills, Nash & Young, Jackson Brown, the Eagles, and Joni Mitchel.
The Old Firehouse in Edom is the only "listening room" in the area where audiences can enjoy a "coffee house" atmosphere of the 70s, with national and international singer/songwriters performing their own music up close and personal. In fact, over the past ten years, listeners have anxiously looked forward to the new seasons of music because they know that there is never a bad show…even if they are unfamiliar with the musician they trust the selections made by their host, owner, and founder Jeff Gottesman.
Since 2009, musicians and audiences alike have been flocking to this little gem, and Jeff hopes that the secret of this wonderful experience will get out even further and the 70 seats will be filled even more often than they have in the past.
The season will consist of nine acoustic concerts between October and April with folk genres typically described as Americana, Orchestral Folk, Traditional and Mountain. Every performance consists of strictly original songs that are both composed and performed by the musician who has created them.  Don't expect note-for-note performances matching their recordings….that's not what live music is about.  But do expect heartfelt introductions, personal stories, and back-and-forth communications between the audience and performer. Future performers this season will be Neal Katz, Time Chauvin, Bill Nash, Pierce Pettis, American Dreamer, The Rough & Tumble, Rupert Wates, Jeff Black, Friction Farm, and Adler & Hearne.
The full season schedule can be found under the "Concert Calendar" tab at www.theoldfirehouse.net along with links to samples of music and advance ticket options. Between now and October 19th season tickets can be purchased which include a few extra perks like free coffee and reserved seating.
Admission prices for concerts are usually $12 in advance and $15 and the door, and events are on Saturday evenings unless otherwise noted, beginning at 7:30 pm with doors opening at 6:30 so the audience can enjoy coffee and desserts that are always available during the "schmooze hour."
The Old Firehouse is an intimate, smoke-free and alcohol-free "Coffeehouse" which has made a name for itself by bringing national folk musicians and their all-original music to Edom's unique listening room and stage. Information about upcoming music, sponsorships, and advertising can be found by contacting The Old Firehouse at www.theoldfirehouse.net, info@theoldfirehouse.net or by phone at 903-852-ART1 (2781). The concert series is a labor-of-love by owners Jeff & Judy Gottesman, as they don't expect to make any kind of profit from this endeavor, however sponsorships of the concerts are always appreciated.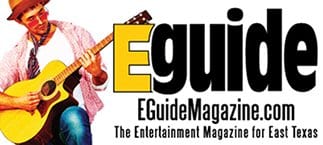 Edom & Ben Wheeler: Fun Events in these Funky Towns
There's a lot going on in these funky cool towns. Check out these events:
For more events, check out EGuideMagazine.com 's entire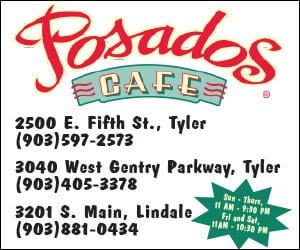 The Experience in Edom, A New, Groovy & Totally Cool Spot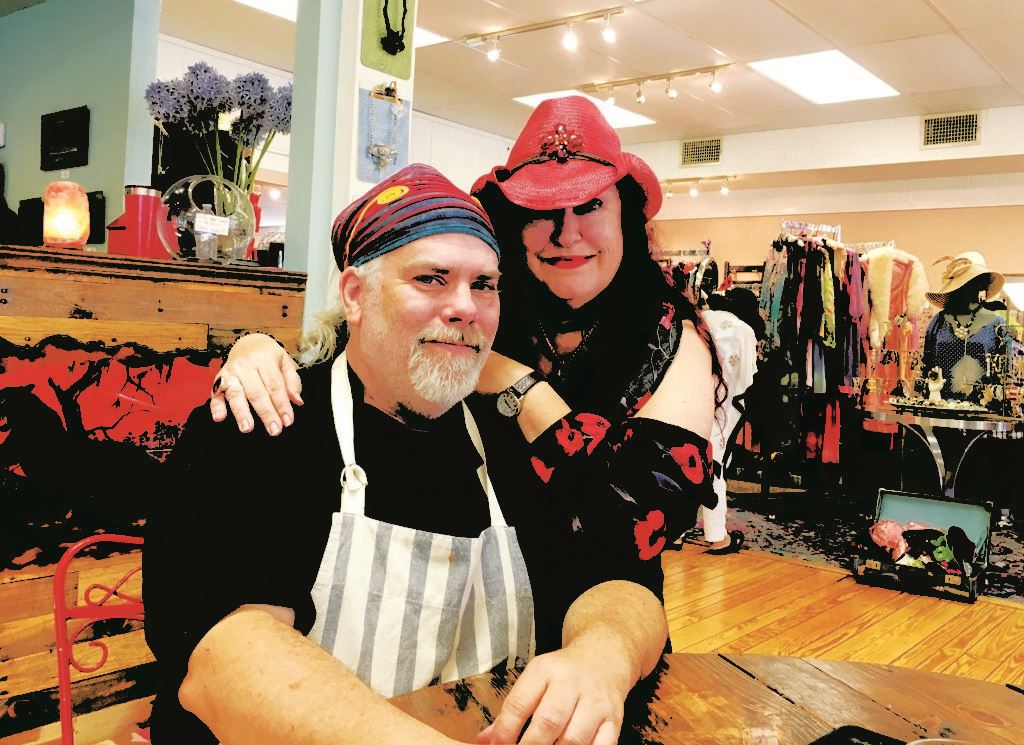 By Barbara Greenbauer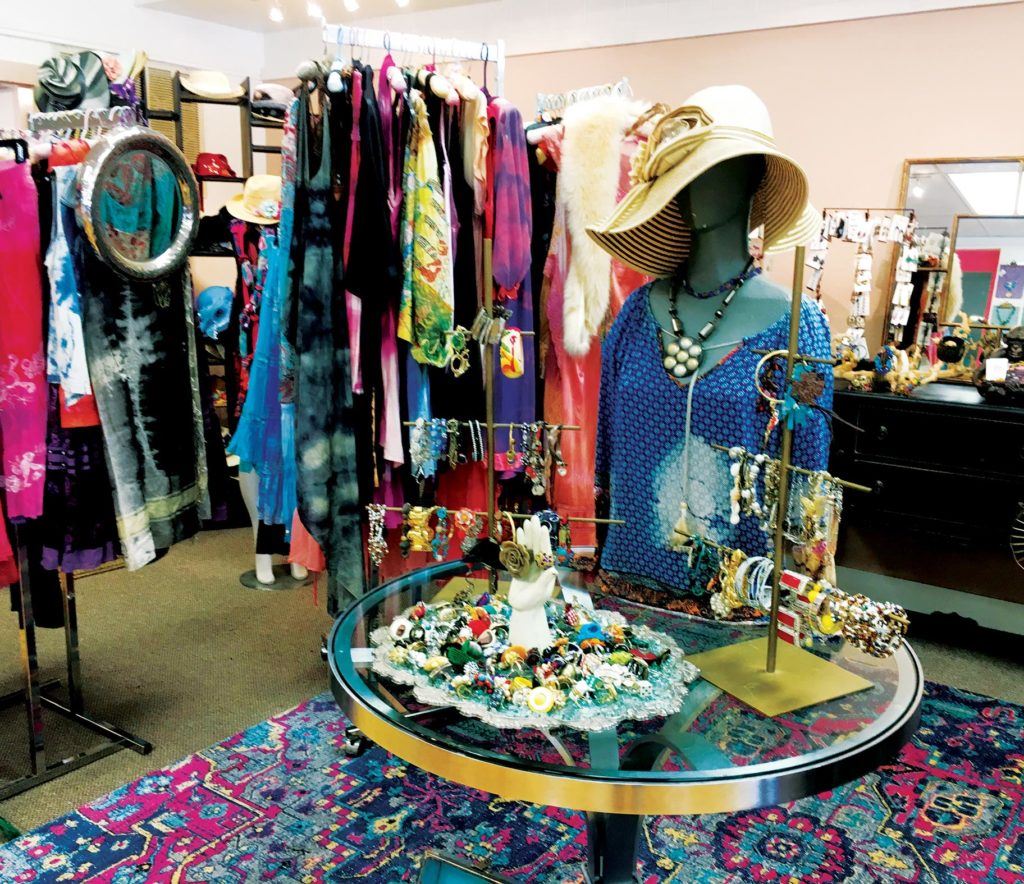 Open the front door to a cacophony of color, fabrics, and the most inviting space imaginable and you've entered "The Experience," nestled in the heart of Edom, just a mere 25 miles from Tyler.
It's an artisan's dream come true, and is the vision of Kelli "Cayenne" Holmes and her husband, Don Hendrickson, longtime community collaborators and supporters of Edom. Moving into a much larger space across the main drag in Edom has given Kelli the room to enlarge, expand, and focus on her own personal style and passion; and grow "The Experience" into a space that embraces art, great food, and community.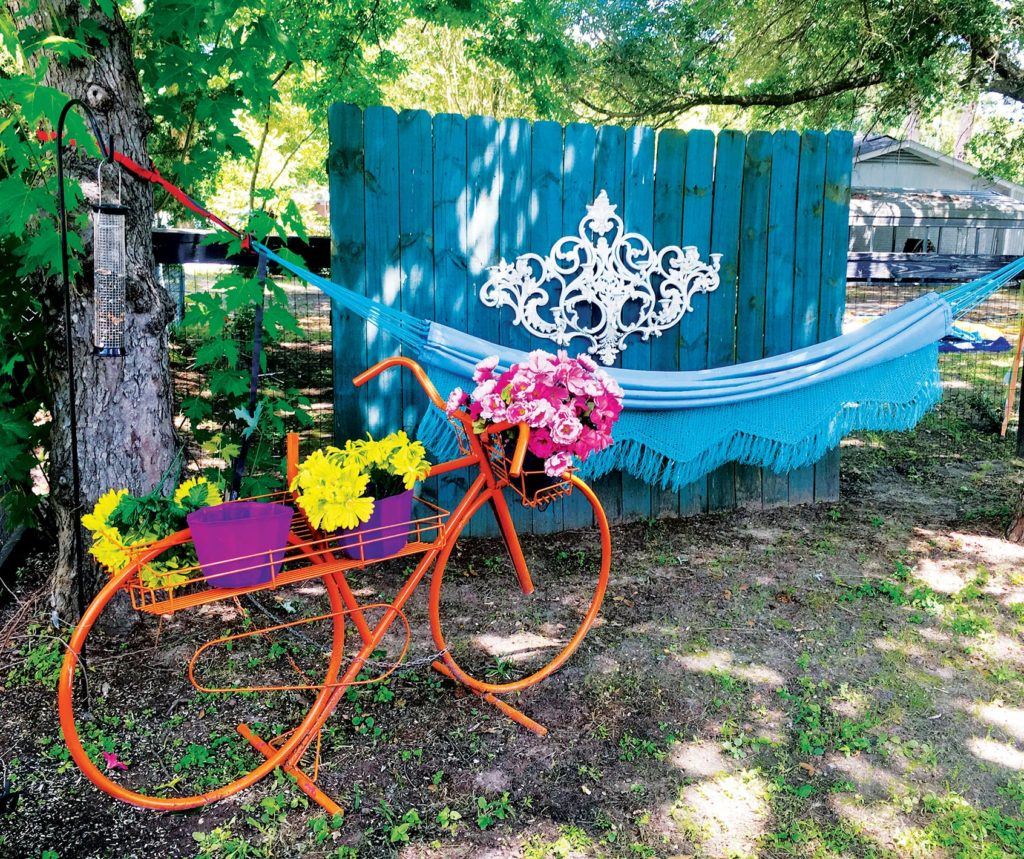 "I like to describe it as "fun-shui" says Kelli, who is a fireball of energy, humor, and huge personality combined. The space is definitely an outlet for Kelli's creativity, love for life, and appreciation of everything with flair and funk. "It's kind of a mix of 70's Jimi Hendrix motif, and the signature vignette seating arrangements reflect a kind of bohemian, eclectic style," explained Kelli.
The Experience begins on the outside patio space where you can grab a cup of coffee or tea and hang out to watch the goings-on in Edom. Beautiful metal sculptures by local artists Jan & Craig Blackmon are featured in the front area with loads of room to spread out and read or play games.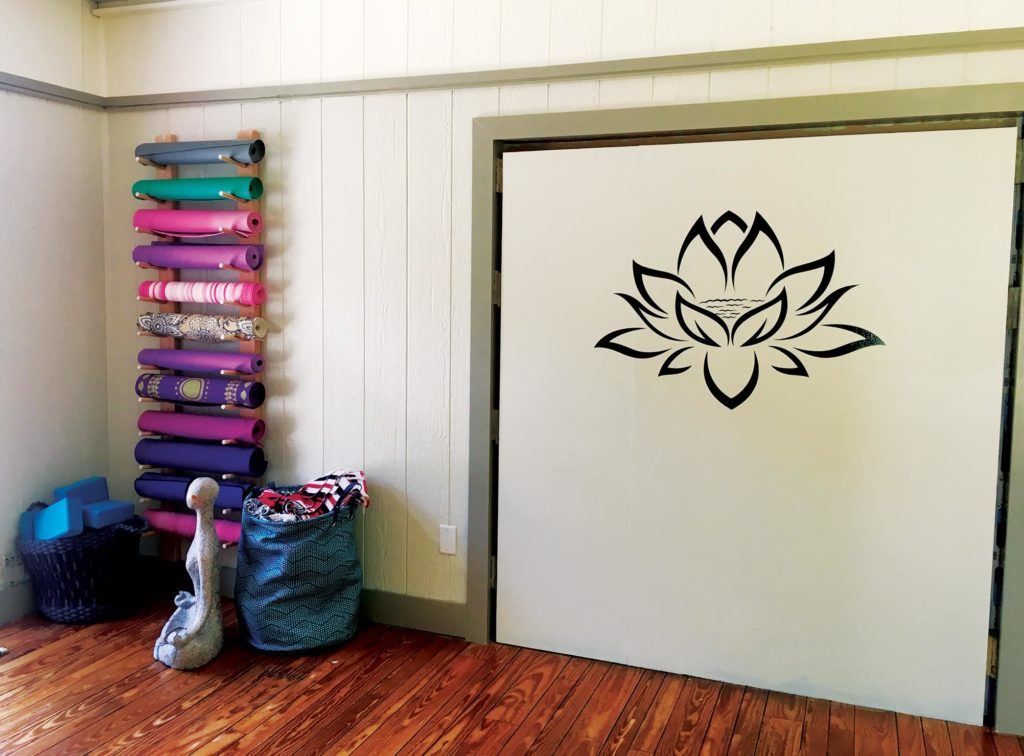 Inside is a tasty treat for the senses, with riotous artwork lining the walls; and the most inviting seating areas, including couches, settees, and an armoire filled to the brim with games and puzzles.
It's definitely a space that is fluid and organic; every corner you turn has a different feature and feel. Kelli's own "Buffalo Clover" assortment of frilly, whimsical garments feature repurposed vintage slips, gowns, and bedjackets re-envisioned into edgy, romantic outerwear that are truly masterpieces in themselves. Hand-dyed and lovingly fashioned, they are designed to bring out the feminine, funky version of yourself. You can choose a hat and match it with jewelry and a headband, or pick up a hand-dyed tie if the mood hits you. "No two pieces are the same," Kelli said, "and I travel all over to find unique embellishments for each one."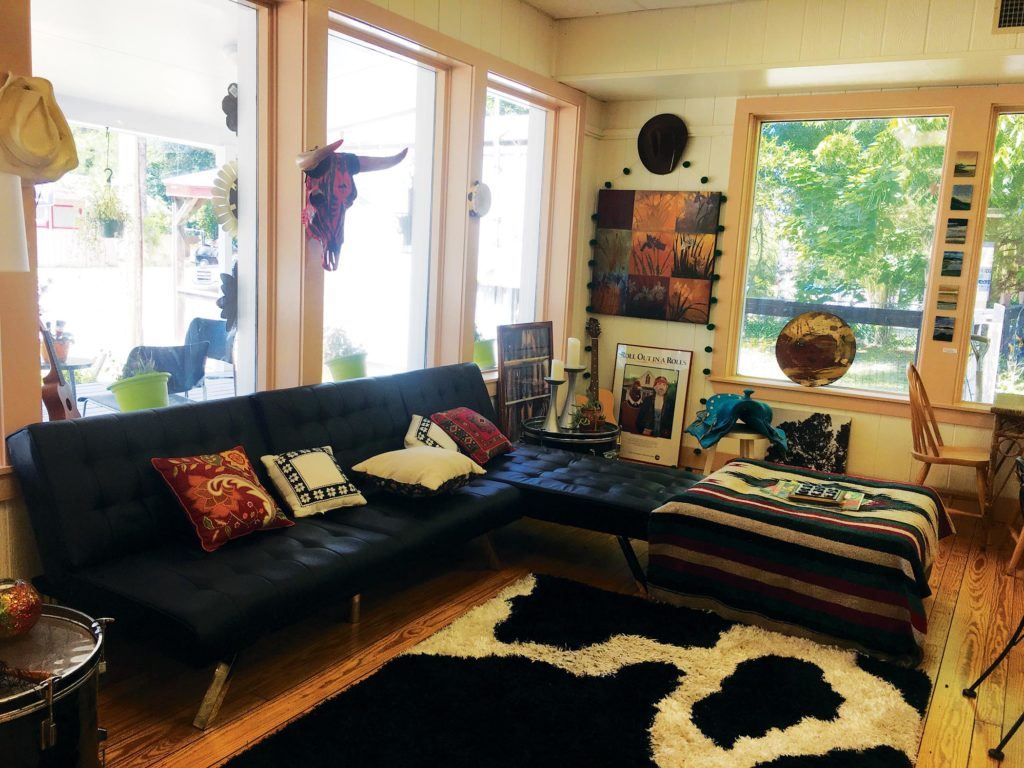 Friends and neighbors Sharon Thompson and Mark Mynatt from the Dallas area were "enjoying this new beautiful space. We have always appreciated Kelli's taste, style, and uniqueness and are just loving the creativity and openness of this new place," said Sharon. Sharon and Mark found a treasure trove of items they loved and left happily with original pieces of jewelry and a tie.
No space could be more perfectly named, from the ambiance to the offerings. You can soak up the atmosphere while feasting on some incredible edibles as well. Kelli and Don have brought in chef Michael Smith, affectionately known as "Chef Hobbles," to work his magic with fresh, creative concepts and food fusions.
"The BrouHaHa Bistro food experience is a mix of Southern California meets East Texas," explains Chef Hobbles. "It's a wild and wonderful food adventure, almost a play with food, with lots of different taste options," he said. Starting the day off with one of Chef Hobbles' hand-made "Doe-nuts," available at 6am, including taste sensations like mocha cappuccino, maple, and brown sugar cinnamon, will forever spoil you with their richness and flavor.
"We hope to have the first-ever drive-through in Edom in the near future, where travelers through town can pick up a doe-nut and coffee and start their day," explained Kelli.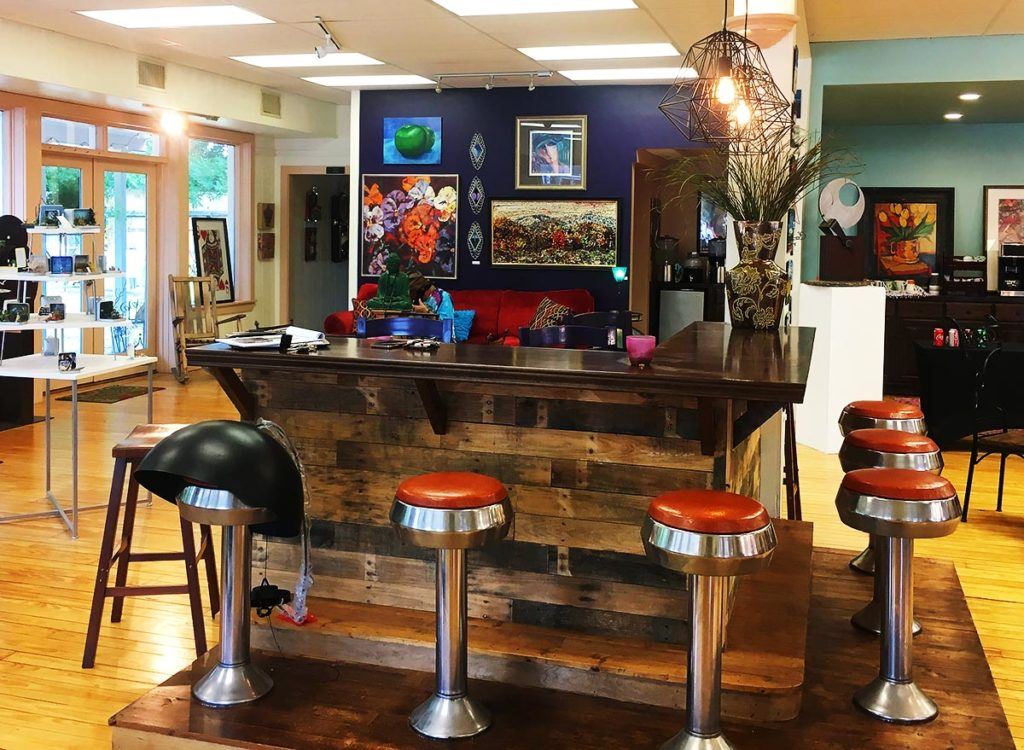 The doe-nuts are incredible, but wrap your brain around some other delights, like breakfast "trucker" tacos named The Three Little Pigs, The Tractor Pull, The Long Haul, and the Early Riser. Tempting Toasts may entrance you with options like Avocado, Green Tomato, and Sausage Egg and Cheese Biscuit. Chef Hobbles cooks all day and night and the neat thing about the menu is that he will cook you almost anything at any time. Fancying breakfast for dinner, talk to the Chef and he will make it happen!
Fresh and delicious sandwiches are what's on tap for lunch, with fresh meats and cheeses and a soup of the day. Dinner is divine and on the menu are appetizers like sea pig crostini, brushetta, smoked okra, and loaded hummus. Main entrees are magnificent, including spaghetti with marinara or meat sauce, sage and garlic pork chop, chicken picatta or steak rolls.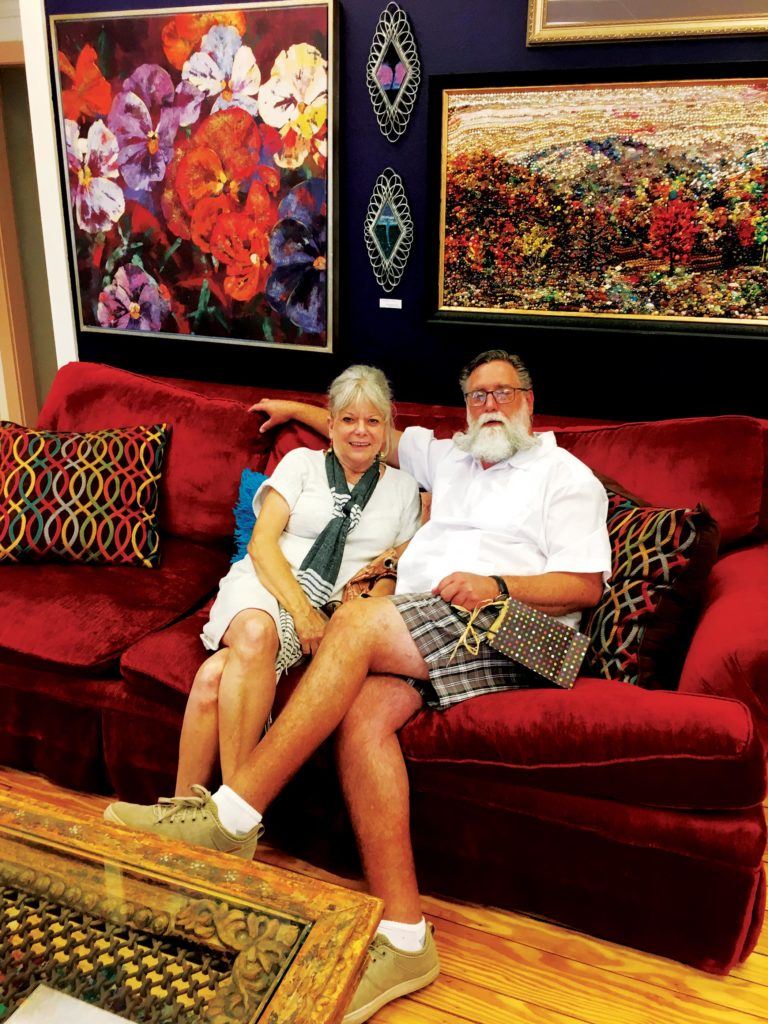 Chef Hobbles and Kelli are constantly cooking up new events to showcase their "foodie" ways, including a recent Father's Day brunch featuring succulent Prime Rib and a "Whole Lot of Italian/Little Bit of Greek Feast with selections like Linguine with Greek Tomato Sauce and Bacon Carbonara. Currently, it's a BYOB scenario with reservations appreciated for the special event dinners.
So, we've covered the art, food and wine…now on to the inner core and the serenity aspects of The Experience. Walk to the back of the space and you'll be enraptured by the peace, calm, and beauty of the yoga studio.
Shanti Gypsy Yoga is offered in the quiet, calm space. Certified instructors Regie Williams and Linda Crocker offer classes in stretch, chair and gentle yoga that benefit everyone, from the beginner to the more advanced. The first class is free, and subsequent classes are only $10 a session. They can be reached at (281)433-8573 or (903)513-3490 for more information about classes.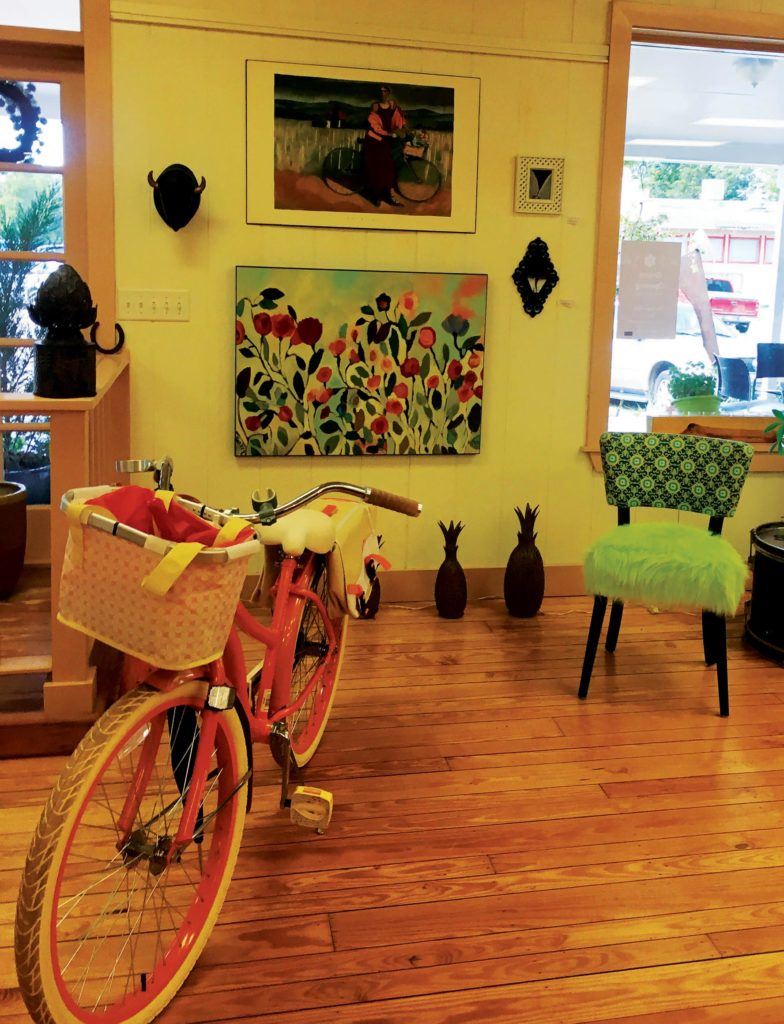 There's another great space at "The Experience" to explore. An outside relaxing side yard makes for a great spot for live music and is full of plants, bird feeders, a star-shaped fire pit, and seating galore. Kelli has ambitious plans to create an old-time ice cream parlor (the original parlor chairs are already in place), and The Experience will be home to all kinds of hands-on art classes and cooking events in the future. 
Kelli and Don's philosophy is always centered around giving back to the community, so you will see a variety of featured local artisans and exhibits within "The Experience" setting. "We want The Experience to be a gathering spot for everyone," said Kelli. 
Take a break, get out of the rush and visit "The Experience" in Edom, Texas.
Take a look at upcoming calendar events on Facebook or call (817)721-7778.
The Experience hours are Wednesday-Thursday 6am-2pm, Friday 6am-9pm, Saturday 6am-9pm, and Sunday 10am-5pm, with brunch served till 3pm. They are closed on Monday and Tuesday.

Inside the Artist's Studio: Kerian Massey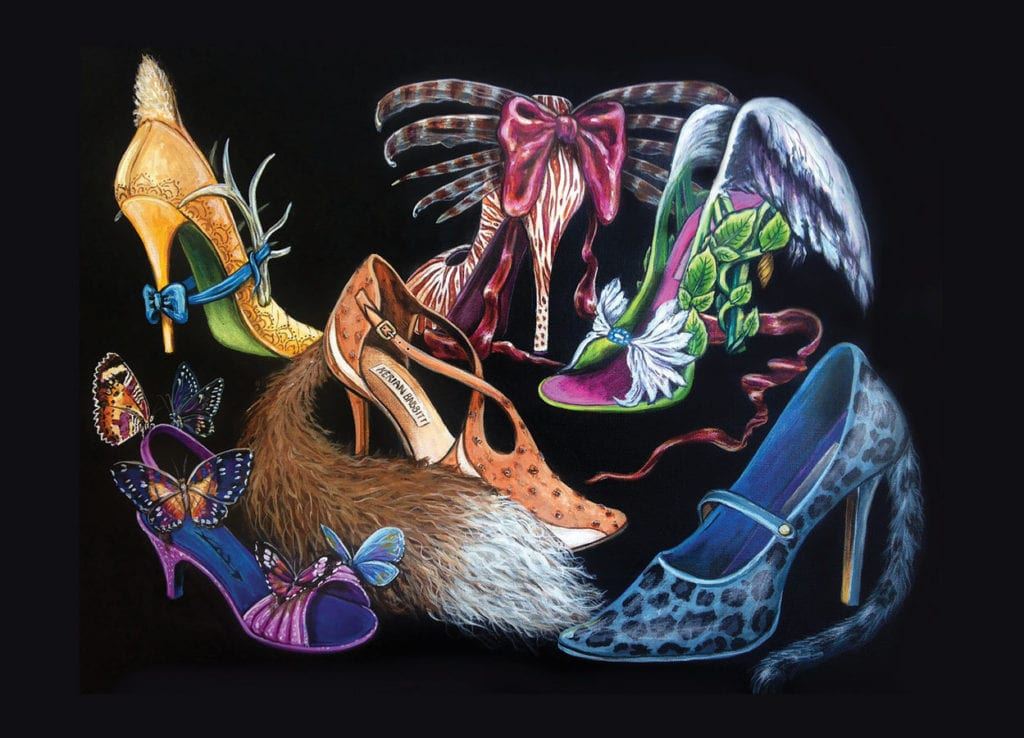 Inside the Artist's Studio: Let's Put in Some Happy Little Trees
The Love of Art and Community with Kerian Massey
By Derrick White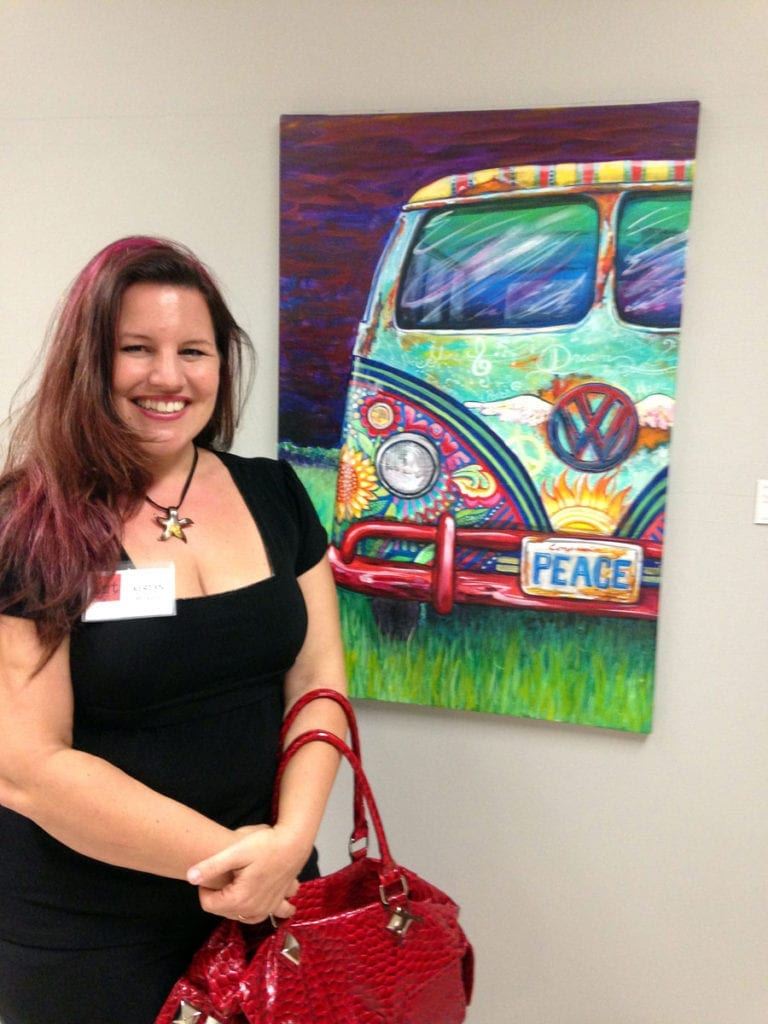 "The hardest part of being an artist, for me, is trying to really express myself genuinely without it becoming some monstrous fluff because all I really want to do is create and not have some deep meaning to it. Other times my art is deep, but not always," states artist Kerian Massey.
Massey graduated from The Art Center in Tucson, AZ with an Associate's degree in advertising art. She was taught technical drawing and illustration. "I am also a self-taught painter. I picked up a paintbrush at age 24. I wouldn't say I was very good for another 6 years or so. It took some time to learn. I'm still learning," she adds.
Massey creates in a daring, colorful surrealist style appealing in good design and cheeky tastes. The artist states, "I paint ideas more than anything. I will have a big idea floating in my head and it won't go away until I create it or at least get the idea sketched out onto a canvas. I will paint in whatever style suits my mood. I like realism but most of what I paint lends itself to a more illustrative style with weird juxtapositions." Kerian primarily uses acrylic on canvas. She also loves Prismacolor markers, colored pencils and heavy paper for illustrations, scratchboard, pen and ink and a myriad of sculpting materials.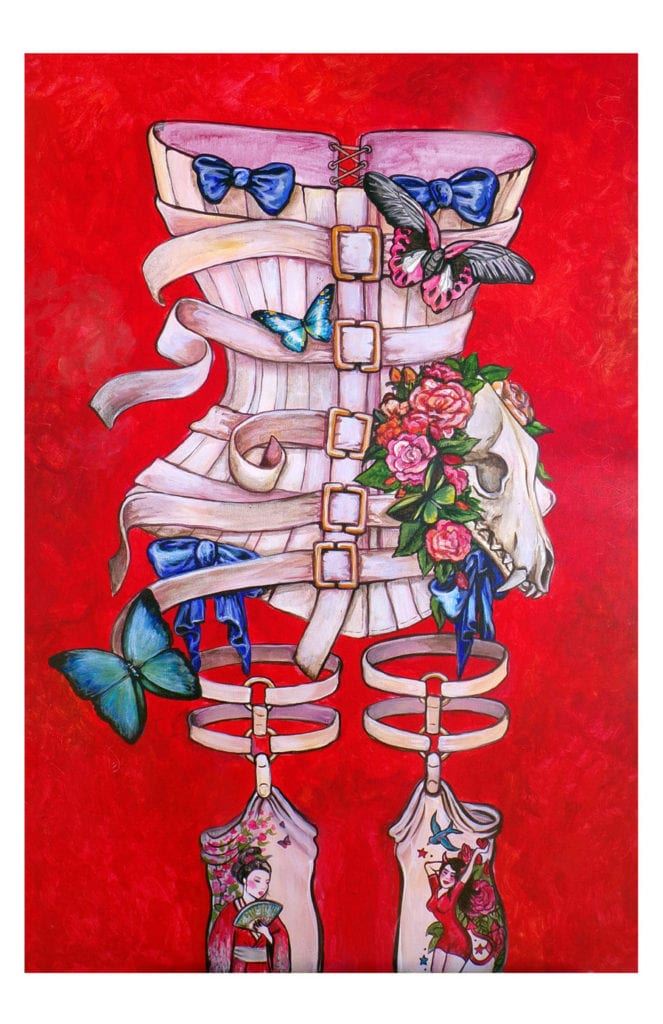 Back in high school, Kerian Massey won an art contest and redesigned the academic logo for the school. The artist recounts another early inspiration: "I went to Puerto Rico on a vacation with a friend and was at a beautiful beach lamenting I only had 2 dollars left, yet we still had two more days left of our trip. A guy saw me drawing and asked me to create a sign for his business. I made $40 and it really hit home I could make a living making art. When I moved to Texas I created art for schools. I designed murals and mascots for a company called Graffixx. It was incredible to see my work so large, being painted by these talented teams of artists. I got to create the zodiac art mural in the TJC planetarium rotunda and I have created art for local schools including Lindale, Mabank, Tyler, Rains, and Van. As I was doing mural art, I had the opportunity to get my art onto Extreme Home Makeover five times."
Kerian's favorite artist is Bob Ross (American painter, art instructor, and television host). "I watched him as a kid with my dad. He taught me the basics of painting long before I ever picked up a brush. He made no real money from it. His heart made me love his work. I still am not a giant fan of his actual art but he is an artist I will forever admire because it was so much more about the love for art than anything else," she states. Massey also finds inspiration in the art of Shepard Fairey (contemporary street artist, graphic designer, illustrator and founder of OBEY), Betsy Youngquist (surreal, mixed media artist), and Ron English (the artist who explores brand imagery and advertising), just to name a few.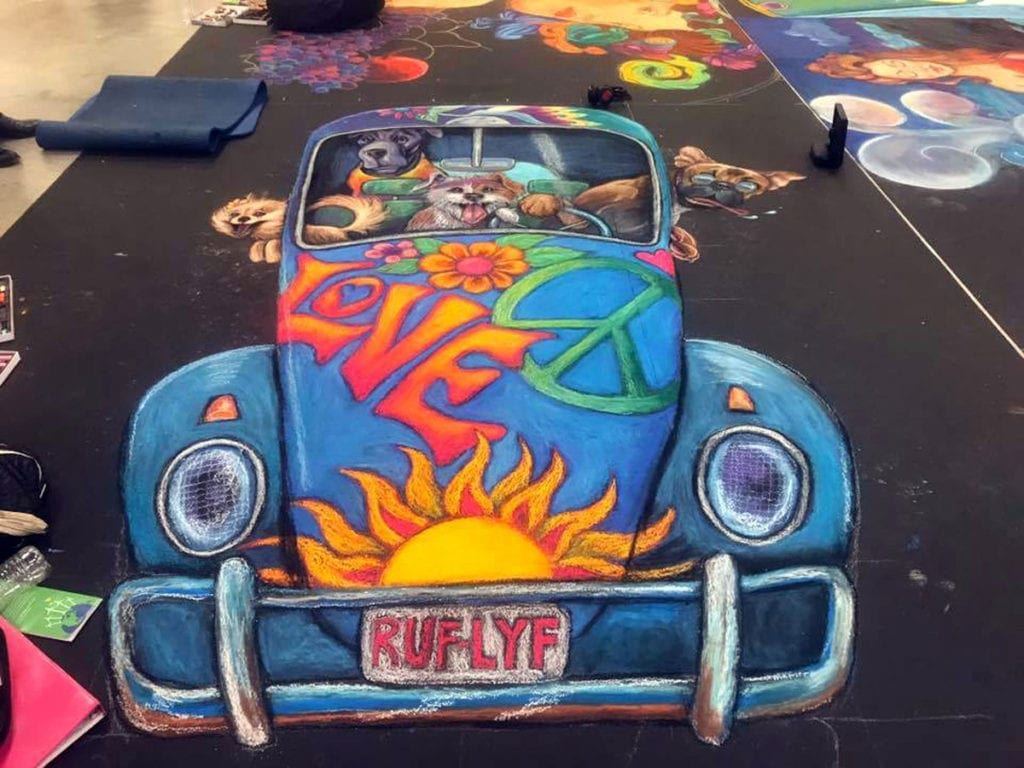 "Art has given me a community of wonderful people who are determined to make our world a better and more colorful place. If it wasn't for art, I wouldn't have met so many brilliant, beautiful hearts who inspire me and so many others to keep creating and moving forward. Art is a common ground in a world filled with fear. We cannot escape our need to connect and communicate. Art connects in both a cathartic and subversive way so it is easy to let go. I feel like I have found a place now in my life where I can truly be myself and also give refuge to others who are seeking the same. I feel like the community is key to a solid life filled with good things and once you have it, the paradigm shifts," states the artist.
Massey adds, "As I grew as an artist I felt one thing I was really lacking was community so I joined the Tyler Art of Peace Committee and got the privilege to create a peace-themed mural at Discovery Science Place and a Peace Pillar for the Under the Bridge Ministry. I also go to create several peace poles found throughout Tyler. I am now a part of the Van Zandt Art and Cultural Committee and we just hosted our first art show, the Van Go Art Fair in Van, Texas. It was a spectacular event. We will be hosting the annual Junebug Summer Fair in Ben Wheeler, June 22 and 23 at The Forge."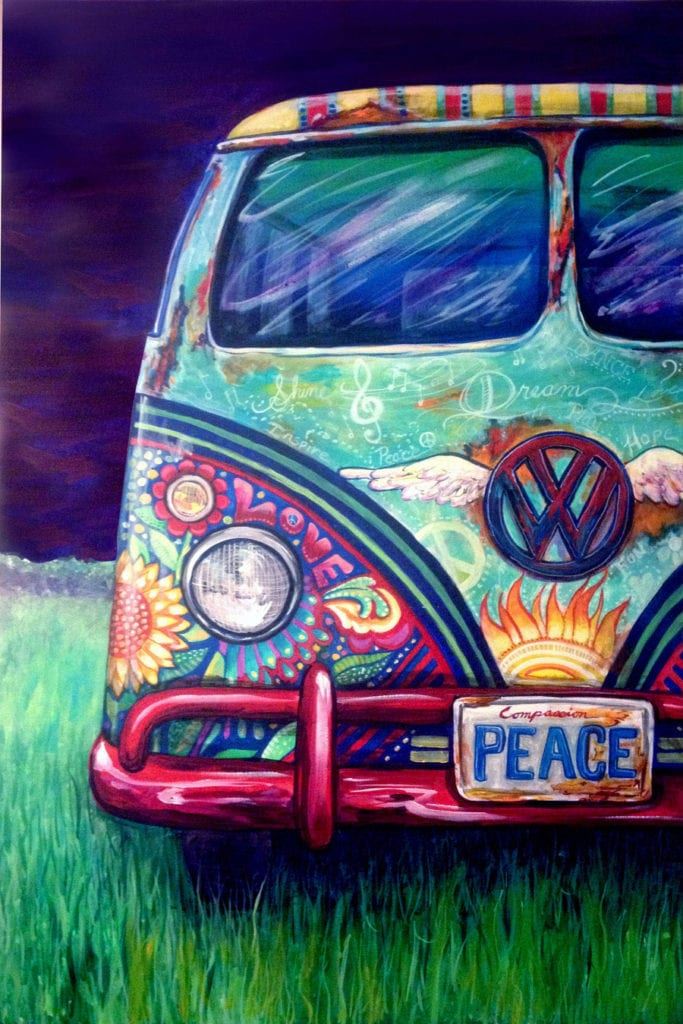 Back in November of 2018, Massey encountered the opportunity of a lifetime. She and three other kindred spirits and fellow artists, Trystan Rhys, Randy Martin, and Jessica Lisby, opened an art gallery in Edom called the Edom Art Emporium. It is a hub of creativity and acceptance. The EAE, as it's affectionately called, hosts a litany of events each month from classes, Thursday night open mics, and themed art shows. So come out and get a sense of the happy little community underneath the piney wooded canopy of Edom, Texas. Where you can shop, eat, unwind, and enjoy not only the art but the people as well.
Kerian Massey concludes, "I want to leave people with the thought art is obtainable. It is not just for museums and high society. It is in everything we do. It's on our cereal boxes and as we drive down the street it is displayed on both sides of the road in various forms. Art is endless. It surrounds us. We couldn't express ourselves without it. We are nothing without artistic human expression. Take a moment to appreciate what art means to you. It is obtainable because it is in everything you do already."
More information:
Edom Art Emporium dates and art events: edomartemporium.com
Artist's website: keriansart.com.