Honky Tonkin' Around Town
By Johnny Griffith
There is a soundtrack to Americana that plays in our brains as we consider certain times and places. Always, without fail, in my head when I think about rural America in the 30's and 40's, nothing epitomizes that time period and the life of the common man more than Hank Williams Sr. His direct, everyman lyrics along with driving, simple tunes dialed into the soul of the working class at that time and has been influential to many artists since. One of the local artists heavily influenced by this accessible style of music has blended it with other genres to deliver a raw, straightforward, rock-a-billy set of music that has locals tapping their feet, dancing along, and enjoying the stripped down sounds of Allen Wayne Nichols and The Outbound Train.
Born and raised in East Longview, Nichols attended Hallsville schools and was raised on country music. As he aged, Allen found a love for skateboarding and got turned on to punk and metal at local backyard half-pipes. After his dad purchased a bass guitar for Nichols, he took a few lessons and started jamming with friends from skateboarding. This early repertoire included tunes from the Sex-Pistols, The Doors, as well as some original music.
Fast forward to the present and Nichols is not only a working musician, he's an accomplished tattoo artist and was one of the co-proprietors of 3rd Street Art in Longview before taking the time to be more flexible with music. After calling on a childhood acquaintance and a connection from another music project, The Outbound Train was formed and has been playing shows all over East Texas. In addition to a recent gig at ETX Brewing Co. in Tyler, The Outbound Train has been playing in Austin and Dallas as they broaden their base of fans.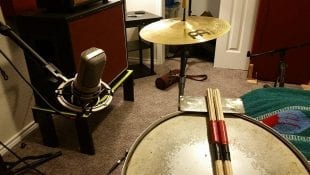 Make no mistake, The Outbound Train won't be mistaken for an easily digestible pop country or radio rock. This is in-your-face, no-frills, working class music that is long on substance and short on fluff. With a driving beat, the smooth low end of an upright bass, and the compact melodies of Nichols on the guitar and vocals, The Outbound Train is a throwback that you can honky tonk with all night long.
Recently I caught Allen in between trips to Austin and asked him a few questions about this latest project:
Johnny: Let's start with who's in the band besides yourself. Who's aboard The Outbound Train?
Allen: The rest of the band members are Doghouse Dave Stopani on upright bass and Kevin Blalock on percussion.
Johnny: How did the band meet?
Allen: I've known Kevin since we were kids. I was in a punk band, and he was in a metal band. We would play shows supporting each other, but it's kinda crazy that this is the first project we've worked on together. My friend David Smith recommended Doghouse when we were looking for an upright player for Lulu and the Black Sheep. Dave fit right in, and when Lulu decided to take a hiatus from music, Dog and I continued to play shows together. When we added Kevin, the Outbound train was born. I am grateful for what these dudes bring to the table every show. Playing and traveling with them is fun, and everyone's down to make stuff happen. We're like a tight military unit on a mission for fun.

Johnny: What's the significance of the name?
Allen: We have always had that train sound to our songs, and the band is a vehicle for us to travel and escape the mundane, everyday routine boredom. In that respect, it's like every show is a train to endless possibilities.
Johnny: In your own words, how would you describe your sound?
Allen: I've heard it described many ways, but I call it hillbilly. It's part Country, part punk, and part bluegrass with a generous helping of honky tonk mixed in to hold it together.
Johnny: Why that style of music? It's certainly not a style that gets the most real estate on stages around the area. What led you to your sound?
Allen: It's what comes naturally. Being raised on Country and coming of age with punk, I played in punk bands for years, and most of the music I wrote was just fast loud Country. I still play some of those songs in my set today.
Johnny: Who are some of your significant influences musically?
Allen: Wayne 'the train' Hancock, Hank Williams Sr., Hank 3, Bob Wills, Leadbelly, Scott H. Biram. Really all the country, folk-punk, thrash-grass, rockabilly, and blues bands out there.
Johnny: What have been some of the challenges of getting The Outbound Train onto stages around East Texas and beyond?
Allen: Our biggest obstacle with booking is not having proper promotional material to send to booking agents that don't know us. Also, some venues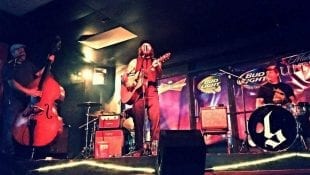 want three or four hours. Although we sometimes play those longer gigs, we prefer to bring another band with us to cover longer sets.
Johnny: Who in music (besides The Outbound Train) currently excites you with what they're doing?
Allen: That's a hard question to answer simply because we have a great music scene in East Texas, and we all support each other across genres. We love playing on stage, but we get just as excited to sit down and listen to the other local bands in the area that are working hard to put themselves out there.
Johnny: What's on the horizon for you guys the rest of this year?
Allen: This year we hope to do as much traveling as possible. We also recently recorded five songs, so we're gonna go back in and produce a full-length cd, hopefully by the end of the year. We are about to start working on a music video. The dude we are working with has a really cool vision, and we are stoked to be working with Dark Letter Entertainment.
Johnny: What experience are you guys trying to convey to your audience at a show?
Allen: I'm stoked when people relate to our music. We want people to have fun at our shows and feel like they can let go. We have nothing to prove and nothing to hide. We are real people just like you, and we are all in this together.
Allen Wayne Nichols and The Outbound Train can be found at: