By Gini Rainey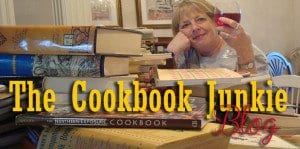 Just when we thought we were just going to dry up and blow away, here in Texas, along comes cooler weather and greatly needed rain.  The only problem is it never just gently rains around these parts.  Nope, we get deluges, frog-floaters, gulley-washers – you get my drift. And now, following a good soaking, we have some cooler weather and gray skies.  This puts me in the mood for something slow cooking in the kitchen to fill the house with great aromas!
I'm looking at a small, but powerful, cookbook, Gourmet and Gourmand, full of the good food recipes and humor of Justin Wilson.  Published in 1984 by Pelican Publishing Company, Inc., this book is a virtual compendium of Cajun cooking. Only 128 pages long, it is filled with some great recipes and color photographs. For those of you not familiar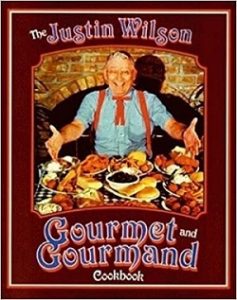 with Justin (pronounced by himself as Jus-tawn) Wilson, what a shame! Born in southeastern Louisiana in 1914 and a safety engineer by trade, he recorded several comedy albums filled with Cajun humor and hosted several cooking shows on PBS. This is where I became familiar with him and learned to love his humor and cooking style.
If you're not familiar with Cajun food, just know that it tends to be fairly spicy and filled with rich and earthy flavors. If you are a lover of sea food, you need to try a few of his recipes on for size. His recipes for Seafood Gumbo, Crawfish Chili, and Smoked Turkey Gumbo are easy to follow and will make you a star! He includes recipes for Cracklin' Corn Bread, Cheese Toast, and Whole Wheat Biscuits au Justin that make mighty fine accompaniments for your main dish, and just when you were wondering about dessert, he gives you Raisin Supreme Au Justin, Fruit Cup À Jeannine (named for his wife), and Rita's Texas Chocolate Pie!
Tonight, I'm cooking up Justin's recipe for Cajunized Oriental Pork Chops. This recipe elevates the lowly pork chop to a whole new level.  First, salt and cayenne pepper 6 thick pork chops and brown slowly in a skillet with a small amount of olive oil.  Add 1-1 ½ cups of white wine (remember to never cook with a wine you wouldn't drink! I used a sauvignon blanc.), a cup of chopped bell pepper, 1 cup chopped onions, and 1 clove of chopped garlic. Cover and simmer for 25 to 30 minutes. Remove the pork chops and keep warm in the oven. Now, add 3 tablespoons of soy sauce, and the syrup from a 15 ounce can of chunk pineapple. Stir and simmer until the mixture is reduced down to a thick syrup. Add the pineapple chunks* and bring to a boil and serve over the porkchops and hot cooked rice. This will serve six of your best friends! In the words of Justin "I gar-on-tee!" Take a listen to Justin in his prime at https://youtu.be/eK4umRMJlrs.  Comments? Questions? Would love to hear from you at: thecookbookjunkie@aol.com
*If you use no sugar added pineapple chunks like me, add 6 tablespoons of brown sugar.  You'll be glad you did, unless you like a perfect pucker!