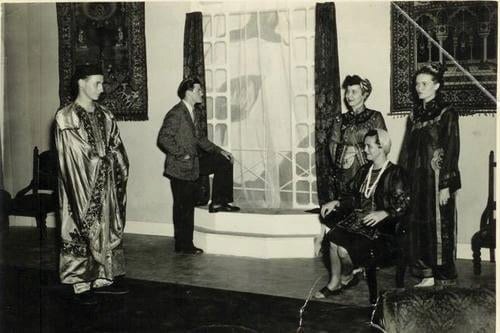 By Barbara King
"The word theater comes from the Greeks. It means the seeing place. It is the place people come to see the truth about life and the social situation." – Stella Adler
Sit down awhile with Dr. David Crawford, and you become enthralled with the idea of the theater. Tyler Junior College offers students an action-packed, feet on the ground 2 year-experience, where they can perform material of the highest caliber and hone their craft, both on the stage and behind it.
David Crawford has lived and breathed the TJC theater program for 40 years and believes the college is an "exceptional place for education," growing up in Tyler just a scant 5 miles from the college himself. Dr. Crawford, is a published playwright and is an integral piece of the program that has grown by leaps and bounds, now boasting four full time theater faculty and a full body of classes ranging from technical to performance. Students in the program are completely immersed in their art, studying techniques and skills through classes in stage movement, stagecraft, voice for theater, history of the theater, and introduction to costume.
"It is a full scale curriculum," explains Dr. Crawford. "Our students have multiple performance opportunities, becoming like family at the same time, developing their onstage confidence, individually and as part of a large scale production."
Dr. Crawford has spent his life nurturing, directing, mentoring, and inspiring actors to follow their dreams and can be seen on the stage right alongside the students he teaches. "I love working with students at this really important transition time in their lives when they are making some of the most difficult life decisions as well."
"We are providing them a core theater program that is on the same par as four-year colleges, and when they leave TJC they are well-trained in all aspects of the theater, ready to take roles on stage, sound production, design, or costuming," Crawford said. "Our students are involved in every aspect of a production. We produce large scale well-known classics as well as new original works that lend themselves to great artistic impression."
With smaller classes, students get more chances to shine. Studio 103 is the program's unique play reading series, held Fridays and Saturdays in the Fine Arts Building on the college campus, with no traditional costumes, props, or sets.
"The series gives the actors the freedom to explore the material, such as classic one act plays from Tennessee Williams, Chekhov, or O'Neill that they may never have heard of, without a great deal of preparation," said Crawford. "We traveled to New York numerous times and were captivated by the idea of the smaller venue and recital feel of readings."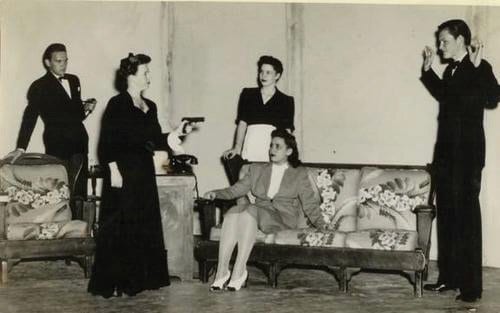 Musical theater majors take acting but can add courses in piano, musical theater, two years of voice study, and extensive dance training in jazz and ballet. Musical majors are more than well prepared for the challenges of the Broadway theater scene, and TJC grads have made their way to great success all the way from New York to California, directing, working in sound production, movies, and television. TJC has a superb reputation for producing outstanding musicals, such as recent shows, "Singing in the Rain," "Beauty and the Beast," "Chicago," and "Little Shop of Horrors."
TJC has always been held in high regard in the community and continues to partner with TISD with a unique program called "Fairy Tale Theater." The program, more than 20 years old, has created a life of its own, pairing with area elementary schools to bring brand new fairy tales to life. Honor students spend a semester preparing "classic" fairy tales, writing and rehearsing stories that fascinate and enthrall their young audiences. The fanciful, creative presentations are produced for kindergarten to third grades of Tyler elementary schools.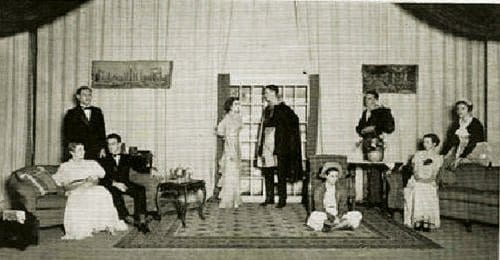 "We reach more than 1,000 TISD students in 10 performances," Crawford said. "It is a transformative experience for everyone involved, from the actors to the audiences."
"TJC's theater program is one of a kind as far as I'm concerned," smiled Crawford. "We are a close-knit group of professionals who are learning, experimenting, growing and doing it in an environment that is supportive, professional, and effective."
Crawford stops in conversation to speak to a student about the details of the box office setup for the latest musical production of "Mary Poppins." Then it's time to juggle another hat as he leaves to spread his love of theater and TJC in the classroom.
Celebrating 90 years in our community, Tyler Jr. College is located at 1400 East Fifth St., in Tyler. For more info about Tyler Junior College and the theater program go to tjc.edu or call (903)510-2200.
Photos courtesy of Tyler Junior College Archive-Las Mascaras Collection