Review: "I Never Saw Another Butterfly" at Tyler Civic Theatre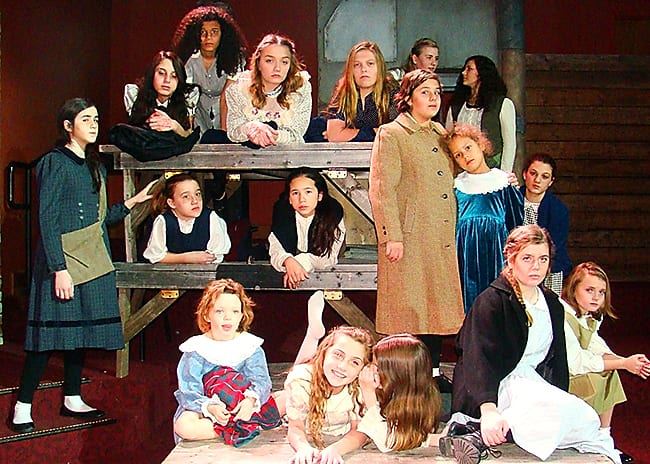 By John Baggett
"I Never Saw Another Butterfly" opens on Thursday, January 11th and runs through Sunday, January 14th, Thursday-Saturday at 7:30pm and Sunday at 2pm.
It's a new year, and Tyler Civic Theatre is continuing its current season with a special production of the one act drama, "I Never Saw Another Butterfly."It's a new year, and Tyler Civic Theatre is continuing its current season with a special production of the one act drama, "I Never Saw Another Butterfly." Set in Terezin, a fortress turned concentration camp in the Czech Republic, we follow Raja (Maddie Keeling), a teenage girl who was taken from her home and separated from her family after the Nazi occupation of Prague. She befriends Irena (Tana Switsky), who runs the school at the camp and looks after the children living there. We see Raja in flashbacks of her life at home with her family before they endure a series of moves in the ghetto and end up in the camp. We also see Raja as an adult, played by Saskia Lynge, recalling the horrors she witnessed.
Raja's time in the camp is naturally filled with fear, but she grows close with the girls who live in her barrack and even befriends a young man, Honza (Joseph Brumfield), who lives in the boys' barracks. Their friendship blossoms, and they begin leaving "gifts" and poems for each other. Over time, Raja does find the will to face each day and the courage to survive.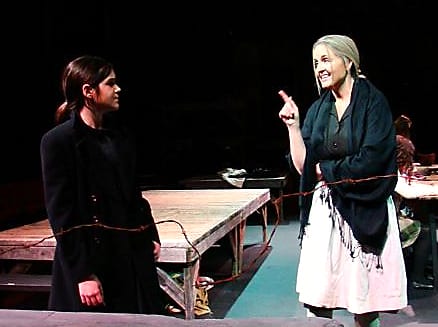 "I Never Saw Another Butterfly" is based on the book of the same name, which was a collection of art and poems created by the real life children who lived in Terezin. It has been adapted for the stage twice, a one act drama and also a musical. This one act version was written by Celeste Raspanti, whose works include other Holocaust related productions, including "No Fading Star" and "The Terezin Promise." The TCT production was directed by DeAnna Hargrove, who has assembled an incredible cast and brought to life a show filled with horror, tragedy, and, above all, hope.
The play is not an easy one to watch, and this is by no means a criticism. It's not supposed to be a lighthearted affair. It is, however, an incredibly engaging show; one that mixes the horrors of the past with a reminder that we are all human, capable of good and evil, and that we can rise above the worst of humanity.
This is also a really hard play to review, not in terms of quality, but because I want to give praise to every single cast member and there are 34 of them, so I will do my best. First, I have to praise Keeling. As she is in pretty much every scene of this show, she had so much dialogue to deliver with so many different emotions, and she did a fantastic job. As her grown up counterpart, Lynge is equally wonderful, matching her co-star, delivering some truly heartbreaking dialogue, and it was flawless.
As for Raja's family, I want to give praise to Sidney Smith (Father), Stephanie Walter, Asa Johnson (Pavel), and Brianna Beard (Vera), who share in the more heartbreaking moments of the show and are all wonderful. Switsky is great as Irena, providing the balance for Raja and delivering the hope her character so often needed. The same goes for Brumfield, who also is a ray of hope, giving a performance that mixes childhood innocence with a maturity beyond his years.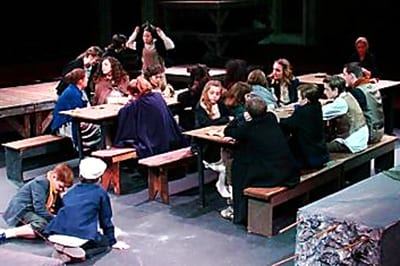 For those who played Raja's barracks mates and other children in the camp, I want to deliver high praise to Ava Saxon (Erika), Kerbie Langley (Renka), Novalee Welch (Irca), Remi Zachry (Suzanna), Blair Gonzales (Linda), Ewan Switsky (Alfred), Jessica Earls (Eva), along with ensemble cast members Victoria Barrett, Suna Malik, Farrah Ford, Aria Castaneda, Tres Taylor, Zach Combs, Mary Tijerina, Dalton Baldauf, Abigail Ourso, Kaylin Sewell, Delaney Mullee, Lila Katz, Rebecca Katz, and Xitlaly Morales. You were all wonderful, and I wish I could give each of you individual praise.
I also want to give kudos to Ryan Castner and Nathan Herman who play the German officers and handle their roles with a degree of grace in a play with such delicate subject matter. Finally, as the Rabbi, Richard York is amazing and heartbreaking. Every single person in this cast gave it their all and delivered this material with the class and talent it deserved. I also have to give a special shout out to Samantha Greene, who put together the costumes for the show along with her mother, Jan Copas.
I can't recommend "I Never Saw Another Butterfly" enough. It's a truly wonderful and emotional production that takes us back to a time of tragedy and gives us a reminder that even when it doesn't seem like it's possible, we can always hold on to hope.
"I Never Saw Another Butterfly" opens on Thursday, January 11th and runs through Sunday, January 14th at Tyler Civic Theatre located at 400 Rose Park Drive in Tyler.  For more information and to purchase tickets go to tylercivictheatre.com.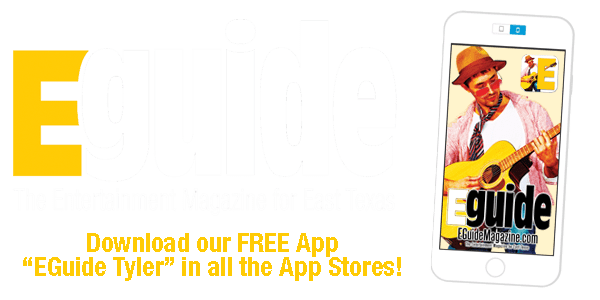 Memberships Available for CCT's 2018-19 Season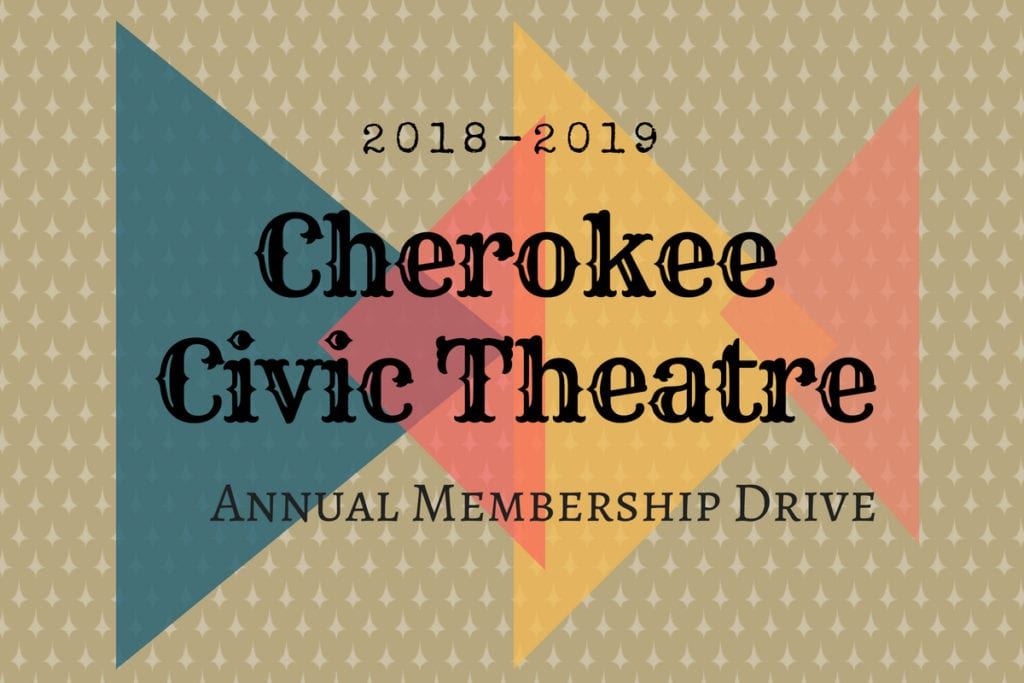 If you love the theatre, does the Cherokee Civic Theatre have a deal for you! The Cherokee Civic Theatre's (CCT) annual membership drive is open, and theater patrons are invited to cash in on the deals, steals, perks, and privileges that come with being a CCT member.
"With the price of movie tickets and concessions on the rise, becoming a member of the Theatre really is the best bang for your entertainment buck," CCT Vice President of Membership, Carol Dilliard said.
CCT audiences are treated to a traditional season of four full-length live-theater productions including at least one musical and a Christmas show which runs from October through April.
"The show would not go on without our patrons, members, and volunteers," longtime theater volunteer and board member Jerry Parker said. "We appreciate so much the support of all our members and patrons – you're why we do this in the first place."
The First Night membership package starts at $50 and includes one ticket to every show, reserved seating, mailed reminders of upcoming productions, recognition in every show's program, discounts on additional tickets, and voting privileges at the theater's annual meeting. Student memberships and junior memberships are also available for $25 and $10, respectively. Contact the CCT Box Office at (903)683-2131 or visit cherokeetheatre.net to become a CCT Patron member.
This season's line up of plays begins this fall with the musical, "You're a Good Man, Charlie Brown," set for October 6th-7th and 12th-14th.
The annual Christmas play, "Scrooge of the West," hits the stage December 7th-9th and features a holiday classic with an old West twist, written by longtime CCT alum and Rusk resident Sheilah O'Heaney.
The spring production, set for February 23rd-24th and March 1st-2nd, showcases the world premiere of "A.M WWJG," penned by another local writer, Minette Bryant, of Jacksonville.
The final show of the 2018-19 season is "Leading Ladies" by Ken Ludwig, set for May 4th-5th and 10th-11th.
Proceeds from shows, season ticket memberships, and donations help keep the theater moving forward.
The all-volunteer, non-profit organization has dedicated more than 45 years to bringing the dramatic arts to the greater East Texas area.
According to the CCT's website, the group's mission is "to afford opportunities for cultural and artistic enrichment in East Texas by providing a venue for local talent to produce live theater for the entertainment of diverse audiences. Our goal is to educate both youth and adults in all aspects of the theater and to encourage volunteers to learn and showcase their skills both on and off the stage."
Get Involved
Adults can get in on the fun during Cherokee Civic Theatre's regular season, both in front of and behind the curtain.
"You can get involved by being cast in a show or by volunteering for backstage positions like stage manager, set or sound design, lighting and costume design," CCT board member Lisa Pierce said. "There is no experience required, just show up on the audition day. There is no shortage of ways to get involved here."
The Cherokee Civic Theatre is located at 157 W. Fifth St., just off the square in Downtown Rusk. Tickets are available for the entire season or for individually for  at cherokeetheatre.net.
Review: Singin' in the Rain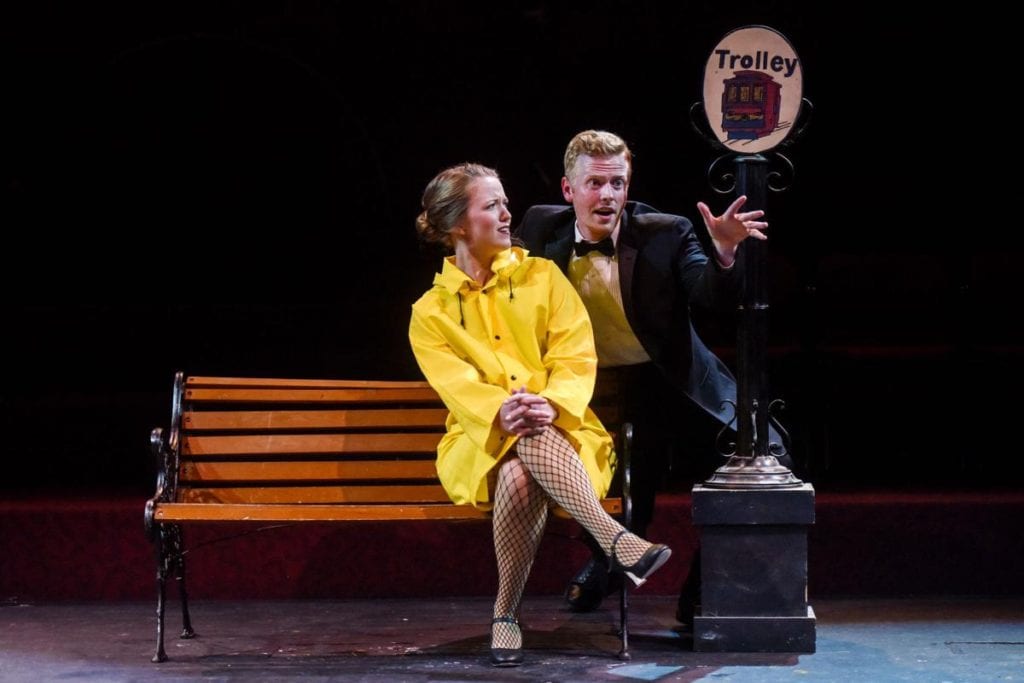 By John Baggett
Tyler Civic Theatre is wrapping up their summer musical season in style. Before the brand new season starts, which looks like I'm in for another year of treats, we must laugh, dance, and sing as they bring to the stage the classic, "Singin' in the Rain."  Based on the classic film, our story takes place in 1927, a time when silent film stars Don Lockwood (Ryan Ormandy) and his on-screen (but not off screen) love interest, Lina Lamont (Bailey Crawford), rule the big screen. However, their days could be numbered as a new sensation is about to hit the cinemas – talking pictures. What was once considered to be a folly turns into a smash, which leads R.F. Simpson (Roger Pharr), head of Monumental Pictures, to shut down on the production of the next Lockwood & Lamont movie and turn it into a talkie. Which is fine except for one tiny problem – Lina has a voice made for silent pictures…and only silent pictures.
While his star power might be in danger, Lockwood has other things on his mind. Namely, a girl named Kathy Seldon (Ashten Lane), a young woman with the desire to be a real actress, a stage actress, not a movie star. Despite her insults, Lockwood falls for this future star, and after an accident involving cake and Lina's face, Don searches the city for Kathy after she loses her job.
Lockwood runs into Kathy on the set of a different film, where she is made to audition for R.F., and mend fences with her. R.F. signs her to a role, and demands no one tells Lina that Kathy is on set. Lockwood and best friend/musical accompaniment Cosmo Brown (Jordan Boyd) try to turn the new film into a success, but audiences turn on it in test screenings, mostly thanks to Lina's performance and sound issues. Cosmo gets the bright idea that Kathy could perform Lina's parts off screen and Lockwood agrees. With the help of R.F. and manic director Roscoe Dexter (Stephen Rainwater), our trio of heroes set out to make "The Dancing Cavalier" a smashing success, but they face one tiny hurdle – Lina Lamont.
"Singin' in the Rain" is one of the biggest productions to grace the Civic Theatre stage. This production was directed by Michael Ward, who previously directed "Les Miserables" for TCT, with exceptional choreography by Shelby Moy, a TCT veteran whose previous credits include "Hairspray" and "Legally Blonde." With as much work that obviously went into this production, this pair brought to life a stage production that honestly rivals its film predecessor in terms of pure entertainment. The music comes to life thanks to music director, Tyler McCuan, who also previously worked on "Les Mis."
It takes a lot of guts to fill the shoes of Gene Kelly and Debbie Reynolds, but Ormandy and Lane knock it out of the park. Ormandy, who recently came back to the stage at TCT, has never been better. I've enjoyed him in the productions I'd previously seen him in, but this is legitimately the best performance he has delivered. Lane, in her Civic Theatre debut, has a flawless voice and the acting chops to back it up. She absolutely must come back for more shows because this level of talent needs to continue to perform.
Boyd, who rocked the house in last year's "Rock of Ages," comes incredibly close to stealing the show at times. In the two shows I have seen him in, which also includes "The Little Mermaid," I already knew what he was capable of and he exceeded those expectations. Crawford, who I have only seen in "Hairspray," is phenomenal as she does the one thing that is hard for great actors – act badly. She is conniving and scheming, and absolutely hilarious.
As our producer and director, Pharr and Rainwater have built an incredible reputation from their previous performances, and it's no surprise they're great in this show too. Pharr is a man, who when I see his name in the program, I don't have to worry about him, because he is going to give an exceptional performance. (Something that runs in the family.) Rainwater, who gave a career best performance in "Little Shop of Horrors," gives the most manic, over the top performance I've ever seen him deliver and he will leave you in stitches.
The rest of the ensemble (there are so many of them) is equally wonderful. As young Lockwood and Cosmo, Cameron Ames and Zachary Combs are adorable and amazing dancers. The rest of the cast, all playing multiple roles both on stage and in the audience, have moments to shine amongst the glitz and glamour, not to mention they are all dancing so much I was exhausted just watching them.
All kidding aside, they are all great, and while I wish I could give individual compliments to every single one of them, I will at least mention you all by name as a thank you for being a part of easily one of my favorite shows at Tyler Civic Theatre. These wonderful people are Chauncie Thompson, Elfin Morgan, Jennifer Rader, Ryan Jackson, Kelci O'Brien, Sierra Wiliams, Gordon Holmes, Annette Rios, Cameron Davis, Haven Elliot, Madelynn Crow, Darby Owens, and Bryan Knous. Kudos to all of you.
Yes, I said it. "Singin' in the Rain" is one of my favorite shows at Tyler Civic Theatre. Whether you're a fan of the movie or if you've never seen it, I urge you to go see this fantastic musical. You will laugh, you will sing, and you will probably end up with "Moses supposes his toesis are roses" on an infinite loop in your head as you're trying to focus on work. (Okay, that last one may be just specific to me.) Still, go see this show. It'll will leave you with a smile on your face.
'"Singin' in the Rain" opened on Thursday, July 26th and runs through Sunday, August 12th. For more information and to purchase tickets call (903) 592-0561 or go to  http://tylercivictheatre.com Tyler Civic Theatre is located at 400 Rose Park Drive.
The 70th Season Begins at Tyler Civic Theatre Kicks-Off July 26th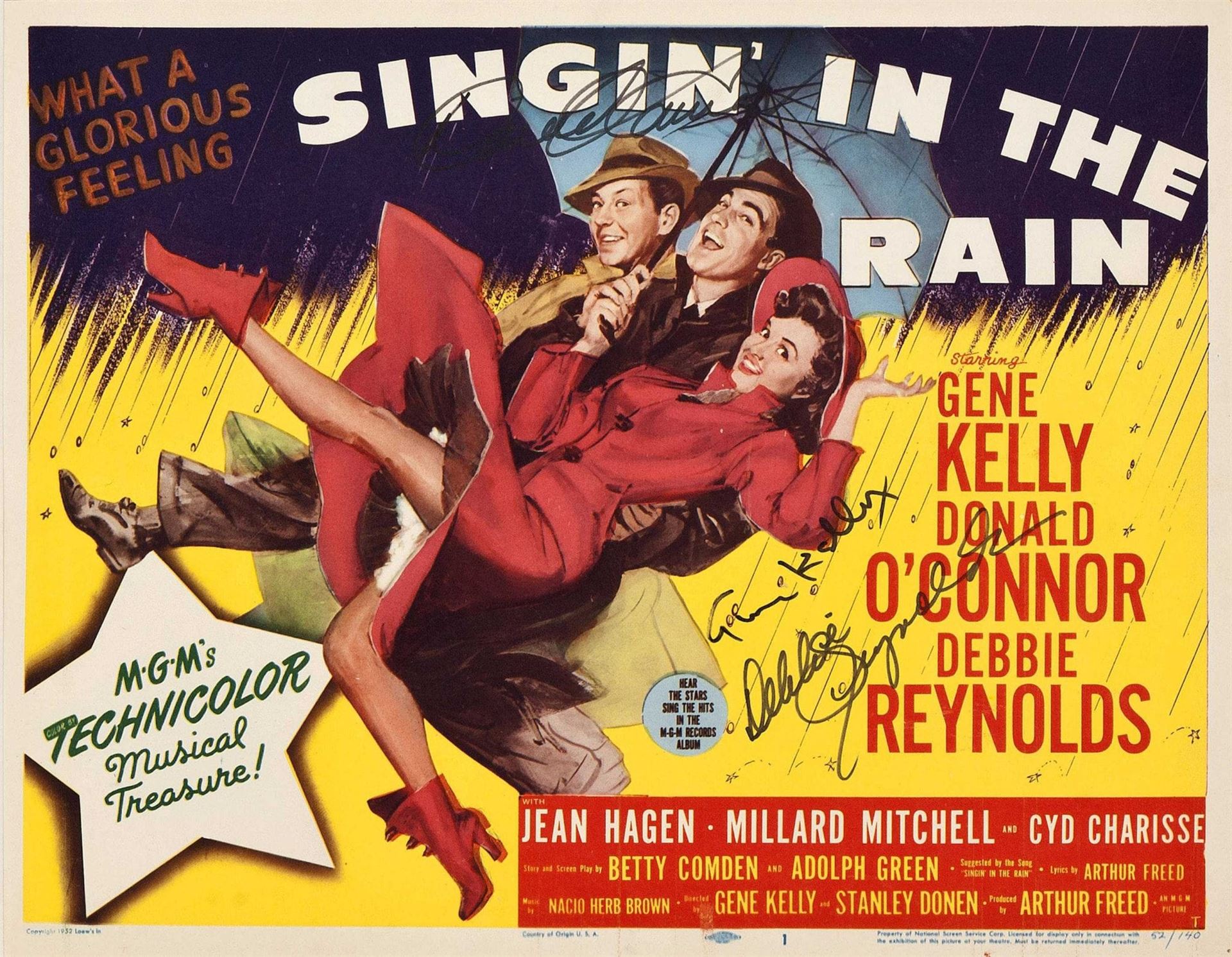 The 2018-2019 season begins with a lot of fun!
Single show tickets are available for $18 for adults and $15 for students. FLEX Pass are available for multiple performances. Tyler Civic Theatre is located at 400 Rose Park Dr., Tyler, next to the Tyler Rose Garden Center. For more info or tickets call (903)592-0561 or go to tylercivictheatre.com. The 2018-2019 productions are:
July 26th-August 12th (Thursday-Saturday at 7:30pm, Sunday at 2:30pm): "Singin' in the Rain" – The "Greatest Movie Musical of All Time" is faithfully and lovingly adapted by Broadway legends, Betty Comden and Adolph Green, from their original award-winning screenplay in "Singin' in the Rain." Each unforgettable scene, song, and dance is accounted for, including the show-stopping title number, complete with an onstage rainstorm! Hilarious situations, snappy dialogue and a hit-parade score of Hollywood standards make "Singin' in the Rain" the perfect entertainment for any fan of the golden age of movie musicals.
September 6th-9th (Thursday-Saturday at 7:30pm, Sunday at 2:30pm): "The Touch" by Mike Hargrove – "The Touch" tells the story of a grandmother with a healing touch – a secret "gift" her own grandmother helped her to discover and understand. An accident on the family farm brings opportunity for restoration of body and soul that spans four generations. Hope is found in a family secret buried beneath decades of doubt and skepticism. Playwright, Mike Hargrove made his final edits to the script only five days before his untimely death in January 2017. DeAnna Hargrove is honored to present her husband's story for the first time in the theatre he fervently supported alongside her.
October 5th-14th (Thursday-Saturday at 7:30pm, Sunday at 2:30pm): "Dial M for Murder" – Tony Wendice has married his wife, Margot, for her money and now plans to murder her for the same reason. He arranges the perfect murder. He blackmails a scoundrel he used to know into strangling her for a fee of one thousand pounds, and arranges a brilliant alibi for himself. Unfortunately…the murderer gets murdered and the victim survives. But this doesn't baffle the husband: He sees his hireling's death as an opportunity to have his wife convicted for the murder of the man who tried to murder her, and that is what almost happens. Luckily, the police inspector from Scotland Yard and a young man who is in love with the wife discover the truth, and in a scene of almost unbearable suspense they trap the husband into revealing his guilt, thus freeing Margot.
November 6th-7th (school shows) and November 8th-11th (Thursday-Saturday at 7:30pm, Sunday at 2:30pm): "Snow White & the Seven Dwarfs" – The classic children's tale of Snow White, seven dwarfs, a magic mirror and an evil queen comes to Tyler Civic! Supposedly disposed of by the wicked queen, Snow White finds her way to a happy glen and the home of seven friendly dwarfs. A deadly apple casts her into a deep sleep, from which she is revived in time by her devoted prince.
January 13th-14th (school shows) and January 15th-20th (Thursday-Saturday at 7:30pm, Sunday at 2:30pm): "The Taming of the Shrew (Condensed)" – This season TCT performs a hilarious, but seriously abridged version of Shakespeare's classic "The Taming of the Shrew." The 45-minute play preserved the original language along with all the major plot turns, but condensed it down to a one-act play and is a perfect introduction to the Bard for participant and audience member alike.
February 8th-17th (Thursday-Saturday at 7:30pm, Sunday at 2:30pm): "On Golden Pond" – This is the love story of Ethel and Norman Thayer, who are returning to their summer home on Golden Pond for the 48th year. He is a retired professor, nearing 80, with heart palpitations and a failing memory but still as tart-tongued, observant, and eager for life as ever. Ethel, ten years younger, and the perfect foil for Norman, delights in all the small things that have enriched and continue to enrich their long life together. They are visited by their divorced, middle-aged daughter and her dentist fiancé, who then go off to Europe, leaving his teenage son behind for the summer. The boy quickly becomes the "grandchild" the elderly couple have longed for, and as Norman revels in taking his ward fishing and thrusting good books at him, he also learns some lessons about modern teenage awareness – and slang – in return. Date Night for Valentine's Day will be February 14th with a Dessert Theatre. Tickets are $24 for adults, $20 for students.
March 8th-17th (Thursday-Saturday at 7:30pm, Sunday at 2:30pm): "Bus Stop" – In the middle of a howling snowstorm, a bus out of Kansas City pulls up at a cheerful roadside diner. All roads are blocked, and four or five weary travelers are going to have to hole up until morning. Cherie, a nightclub chanteuse in a sparkling gown and a seedy fur-trimmed jacket, is the passenger with most to worry about. She's been pursued, made love to and finally kidnapped by a twenty-one-year-old cowboy with a ranch of his own and the romantic methods of an unusually headstrong bull. The belligerent cowhand is right behind her, ready to sling her over his shoulder and carry her, alive and kicking, all the way to Montana. Even as she's ducking out from under his clumsy but confident embraces, and screeching at him fiercely to shut him up, she pauses to furrow her forehead and muse, "Somehow deep inside of me I got a funny feeling I'm gonna end up in Montana …" As a counterpoint to the main romance, the proprietor of the cafe and the bus driver at last find time to develop a friendship of their own; a middle-age scholar comes to terms with himself; and a young girl who works in the cafe also gets her first taste of romance.
April 11th-14th (Thursday-Saturday at 7:30pm, Sunday at 2:30pm): "The Complete Works of Shakespeare – Abridged" – Come see all 37 Shakespeare plays performed in 97 minutes! Three madcap men in tights weave their wicked way through all of Shakespeare's comedies, histories, and tragedies in one wild ride that will leave you breathless and helpless with laughter. An irreverent, fast-paced romp through the Bard's plays, "The Complete Works of Shakespeare – Abridged" was London's longest-running comedy.
May 10th-19th (Thursday-Saturday at 7:30pm, Sunday at 2:30pm): "Groucho Marx, A Life in Revue" is a stage play written by Groucho Marx's son Arthur Marx and Robert Fisher with musical direction by Jim Grady. It is a look at the life and career of the famous entertainer Groucho Marx of the Marx Brothers and "You Bet Your Life" fame. It opened off-Broadway at the Lucille Lortel Theatre on October 8, 1986 and played 254 performances closing on May 3, 1987. This inspired bio musical about "The One and Only" begins with Groucho as an old man doing his famous Carnegie Hall show. It then goes back to the beginnings of the Marx Brothers and their struggles to make it in vaudeville, their rise to stardom and their eventual break up. All classic Groucho songs are included. One actor plays Groucho, another plays Chico and Harpo, and one actress plays all the wives, girlfriends and Margaret Dumont. A hit in New York, across the U.S. and in London, this show will delight Marx Brothers fans and the as yet uninitiated. The performance on Sunday, May 12th (Mother's Day) has an optional pre-show brunch. Tickets are $34 for adults, $30 for students. Also, a dinner-theatre opportunity will be available for Thursday May 16th performance.