Feb. 17th: Gallery Talk by Daphne Hatcher at TMA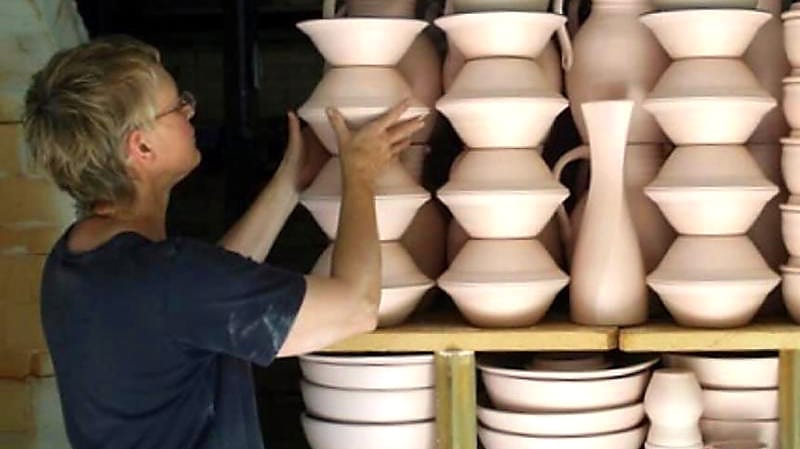 Acclaimed ceramic artist and Pine Mills Pottery co-owner Daphne Roehr Hatcher will offer insights into her work in the first of the Tyler Museum of Art's spring Gallery Talk series on Sunday, Feb. 17. The talk begins at 2:30 p.m. at the TMA, 1300 S. Mahon Ave. on the Tyler Junior College main campus. Admission is free, but seating is limited. To reserve a spot, RSVP to (903) 595-1001,
jperry@tylermuseum.org
 or at the Facebook event page at
https://www.facebook.com/events/242578053310714/
The Tyler Museum of Art (TMA) is located at 1300 S. Mahon Ave. on the Tyler Junior College main campus. Regular TMA hours are 10am-5pm Tuesday-Saturday, and 1-5pm Sunday. The Museum is closed Mondays and most major holidays. For more info call the museum at (903)595-1001,
tylermuseum.org
, or email info@tylermuseum.org.
---
Also on at TMA This Month
"Lagniappe: Works by Letitia Huckaby," is currently open to the public until March 17th in the TMA's North Gallery. Admission is free.
Family, faith, and tradition are front and center in the Tyler Museum of Art's major exhibition of early 2019, Lagniappe: Works by Letitia Huckaby.
Organized by the TMA and curated by Caleb Bell, Lagniappe highlights the recent work of an artist who fuses photography, quilting, silk screening, and a vast expanse of media with a distinctly regional sensibility but worldwide appeal, primarily exploring her own family history and African-American heritage.
Lagniappe is a term prevalent in the Louisiana French Creole culture, loosely defined as "a small gift given to a customer by a merchant at the time of purchase," or "something given or obtained gratuitously or by way of good measure." Bell said he and the artist decided on this regional term as the exhibition's main title because it encapsulates the sense of community and kinship that is a prevalent theme in Huckaby's work.
As a natural extension for someone who began her career as a photojournalist, Huckaby said she remains "a photographer at heart," starting each new work with an image as the foundation and evolving from there into printing on cotton fabric, hand-stitched together into traditional African-American quilting patterns and finished into quilts, dresses, sacks, or framed quilt tops.
Special events in connection with the exhibition include free First Friday tours February 1st and March 1st. The first Friday of each month, 11am-12:30pm, the TMA offers a full day of free admission plus guided tours of its spotlight exhibitions. From contemporary Texas art to Hudson River School to Andy Warhol, each tour is unique.
Family Days will be from 2-4pm Saturday, February 9th, and March 9th. Free admission, interactive art projects, light snacks, and a festive atmosphere for all ages are on the menu for the second Saturday of each month with the Tyler Museum of Art's Family Day.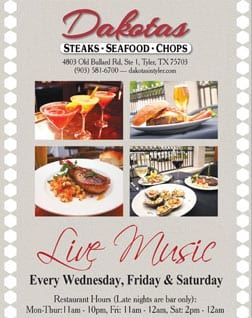 "Lone Star Impressions: Prints By Peregrine Press" Continues on Exhibit
Founded in 1981 by Mike and Jo Ann Hart with Gerry Lemke, Peregrine Press opened in Dallas as one of the earliest fine art presses in Texas. In operation for over ten years, the press created more than 600 editions by 90-plus artists.
Organized by the Tyler Museum of Art, "Lone Star Impressions: Prints by Peregrine Press" offers a glimpse of their creative output. The exhibition features works by John Alexander, David Bates, Ed Blackburn, Linda Blackburn, Derek Boshier, Brian Cobble, Otis Dozier, Joseph Glasco, Sam Gummelt, Billy Hassell, Robert Levers, Jack Mims, Nic Nicosia, Lee N. Smith III, Al Souza, Earl Staley, Michael Tracy, and Bob Wade.
This exhibit will be on display through April 20th.
15th Annual High School Art Exhibition: March 31st-May 5th
The Tyler Museum of Art is now accepting entries for its 15th Annual High School Art Exhibition, scheduled for March 31st-May 5th in the TMA's North Gallery. Application deadline is Tuesday, February 26th. All submitted work must be received at the Museum no later than Wednesday, March 13th.
The 15th Annual High School Art Exhibition is presented by the Mary John and Ralph Spence Exhibition Fund, and supported in part by the National Endowment for the Arts. Additional support is provided by Collectors' Circle Platinum Sponsor The Robert M. Rogers Foundation, and Collectors' Circle Gold Sponsors Martha and Randy Key.
For more information on the exhibition, contact the Education Coordinator (903)595-1001 ext. 206 or lhorlander@tylermuseum.org. Registration forms and rules are available at tylermuseum.org/2019hsart.