By Gini Rainey
Missing You
By Harlan Coben
With all the concerns about internet safety and accountability, this book, although fiction, should strike a homerun with anyone considering online dating sites.  Described as a writer who could "never meet a technological device he couldn't turn into a riveting plot element," Coben has created another thriller that is no exception.  This New York Times bestselling author takes us on one hairy ride with heroine, NYPD cop Kat Donovan, and doesn't let us
get off the crazy bus until all of the psychos are either dead or locked up.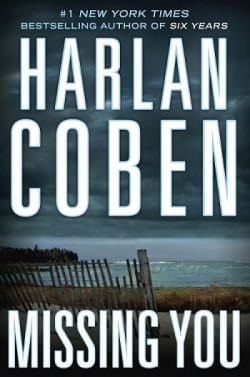 From the streets of NYC to the pastoral countryside of Pennsylvania, Kat not only works to ferret out the bad guys, but also reconnects with her one-time fiancé, and discovers who murdered her father.  She is a very busy cop, indeed!  With a computer whiz kid, whose mother has disappeared, in her hip pocket, Kat is able to crack into the dating website and open up a can of worms filled with multiple missing persons.  Add to this a slightly off-balance yoga instructor, and you have a full-fledged cast of people that Coben develops into some mighty interesting characters.
With at least three sub-plots in the works and Kat the connecting factor, this book was another one I had a difficult time putting down.  If you like to read books that have simple, easy to understand and easy to figure out plots, this one won't be for you.  Coben delivers yet another one of his complex story lines that will have you guessing right done to the last page turn.  If you like books with happy endings, I'll tell you this much – for some of the characters, yes, for others, not so much.  Should you read this book?  You bet, especially if you like complex mysteries with lots of action.
5 of 5
Copyright 2015 – Signet Books
Tangled – A Southern Gothic Yarn
By Phyllis H. Moore
You think your family has problems?  Well, you haven't met the Kirkland's, have you!  The first thing that intrigued me about this book, when approached by the writer to read and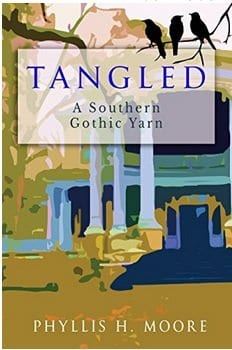 review, was the play on words in the title.  The second thing that intrigued me was how she managed to keep all her characters straight!  This family would be a genealogist's nightmare to try and plot on a family tree!  I had to laugh out loud many times at the lengths Moore went to creating this zany group of folks.
Set somewhere, I think perhaps, in south central east Texas (how's that for a definitive locale?), most of the action takes place in the magnificent Berclaire House that family patriarch Frederick built for his bride, Roberta.  However, as richly decorated and lavishly appointed as this house was, it was never a home.  Roberta, a lovely Creole woman from New Orleans, brought all of her voodoo and superstitions to the house and managed to make life a living hell for anyone who came through the front – or back – door of this house, and not just those in her lifetime.  If you don't already believe in magical powers, spirits, hauntings, and possessions, you might just come a tad bit closer when you read Tangled.
While I did have a bit of difficulty getting started with this book and keeping all of the characters straight, it was because of Moore's brilliance with character development and descriptive phrases that it wasn't long before I was tangled into the Kirkland's mystique and found myself once again caught up in a book I couldn't put down.
This is the type of book I never thought I would read: animals being able to communicate with thoughts to their humans and vice versa, as well as with one another, voodoo potions, family secrets, and haunted houses.  Just imagine it, and I would bet you'll find it in this book.  With all the twists and turns in Tangled, you almost think Moore would never be able to bring it successfully to a close, but she does and in a most brilliant way.
5 of 5
Copyright 2016 – Publishing Platform
Sharp Objects
By Gillian Flynn
The first novel written by the same author who penned Gone Girl, Sharp Objects also
explores the psychological factors behind murders in a small town in the Midwest.  Told from the perspective of Camille Preaker,  a newspaper reporter from the fifth largest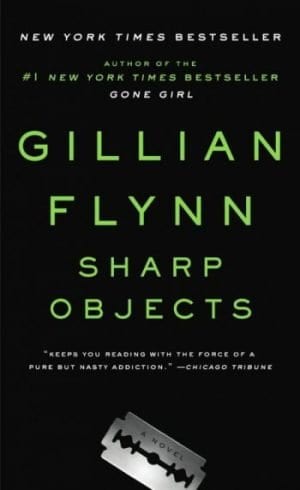 newspaper in Chicago, you'll find yourself being sucked right into the mystery and suspense that surround the murders of two young girls in her home town.
Once again I would like to say, if you think your family is messed up, just wait until you read about Camille's.  Along with the intrigue around the murders, you'll discover why it's no surprise that she has just recently been released from a mental hospital and is very reluctant to return home for the sake of the press.
With nearly fully developed characters and dialogue that is amazingly spot on, Flynn proves
that she is more than an average writer.  I think that you will find the imagery in this novel extremely unsettling, and the dream sequences will leave you squirming.  With the painful revelations presented by Camille, it's nearly impossible to not feel a great deal of empathy for her and hope that the end of the book will bring about some brightness and positivity.
A friend recommended that I read this book, and am I glad I did.  If you like to read a suspense novel that will keep you guessing right up to the very last page turn, then this book is for you.  The twists and turns that Flynn throws into the narrative could give the average reader whiplash, but she skillfully weaves a tale that will keep you riveted, and as short as it is, you'll be able to finish it in no time at all and wish it would go on even longer.
5 of 5
Copyright 2007 – Broadway Books