Rescheduled: Oct. 20th, 2020 Red Dirt BBQ & Music Festival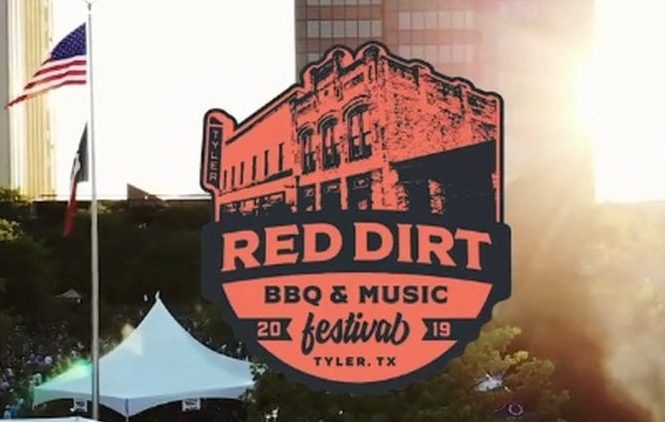 The 2020 Red Dirt BBQ & Music Festival Returns to Downtown Tyler
The new date has been set for Sunday, October 11th. It will be the same setup as normal, just on a Sunday:  https://facebook.com/events/s/2020-red-dirt-bbq-music-festiv/1332463773558598/?ti=icl
May 2nd October 11th, the 7th annual Red Dirt BBQ & Music Festival presented by Hyundai of Longview will be held in Downtown Tyler, and with it comes the best of barbecue in Texas and top of the line music all day. 
The Red Dirt BBQ & Music Festival has proven to be one of the most premier and unique music and food experiences in Texas. The festival takes place on the brick streets of the Downtown Square in Tyler every May, with the 2020 edition featuring at least 30 of the most celebrated barbecue restaurants in Texas. Music happens for nearly 12 hours on two stages, with the main stage highlighting the biggest names in Texas and Red Dirt Music. 
This year's festival will also feature the state's most celebrated barbecue restaurants providing samples of their smoked meats to attendees. Barbecue joints from as close as Tyler and as far as Amarillo converge on the Rose City to showcase their smoked meats to thousands of barbecue enthusiasts, while thousands more pour onto the brick streets for the concert. 
Performances this year feature Parker McCollum (10pm), Josh Abbott Band (8:15pm), Jason Boland & The Stragglers (6:45pm), Charley Crockett (5:15pm), and Chris Colston (3:45pm).
"Top to bottom, I don't think there's ever been a Red Dirt lineup we've been more excited about. Having these names join our incredible barbecue joints was a huge honor for our sixth festival," Red Dirt promoter Chase Colston said. "We're expecting an even faster sellout this year and can't wait to get back on the brick streets for another great Red Dirt BBQ & Music Festival." 
The festival is sold out. Watch reddirtbbqfest.com in case any more tickets are released.
The Red Dirt BBQ & Music Festival is presented by 101.5 KNUE, East Texas' No. 1 country music station, "Radio Texas, LIVE! With Buddy Logan," and Hyundai of Longview.

Dagnabbit: Get Your Good Times On!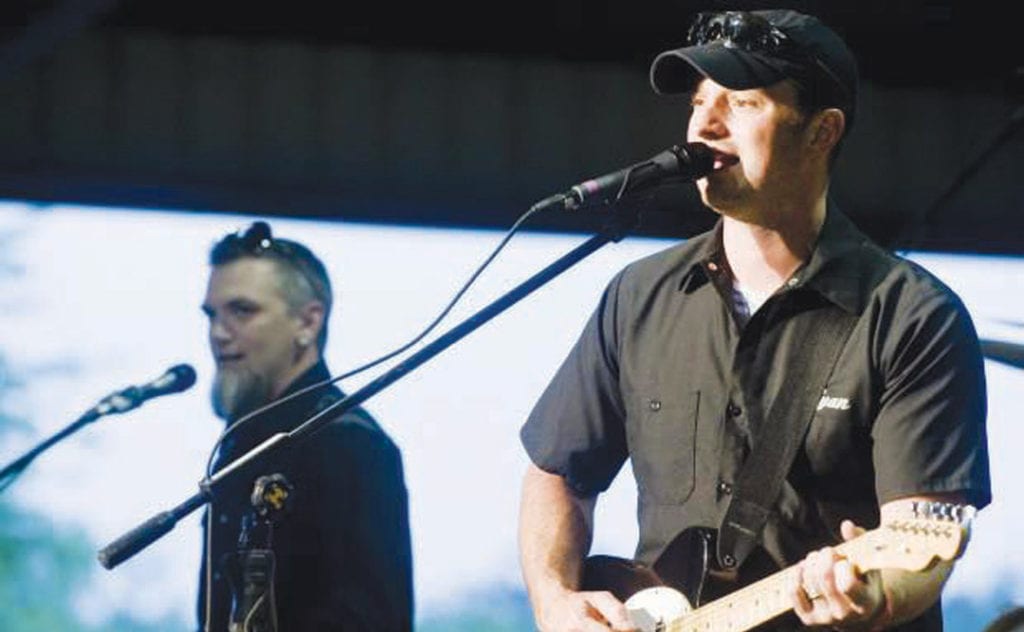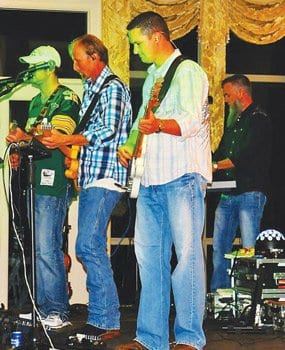 By Reid Kerr
"He played, Fire on the mountain, run boys run"
The fiddle jumps in the musician's hands as he wades into the crowd while playing the familiar strains of arguably Charlie Daniels' best known hit.
"The Devil's in the house of the rising sun!"
To the delight of onlookers, the fiddle player climbs up on the nearest table as he keeps playing while the rest of the band sings.
"Chicken in a bread pan pickin' out dough!"
The crowd cheers him on as he balances precariously on the less-than-sturdy-table.
"Granny will your dog bite? No, child, no!"
As the band finishes the song, fiddle player still perched atop the wobbly table, the crowd erupts in applause, simultaneously appreciative of the performance and the fact that the fiddle player didn't crash into their dinner. That fiddle player is Ryan Pierce, the band is Dagnabbit, and the crowd this time is the Pilots & Sponsors Party at the Great Texas Balloon Race.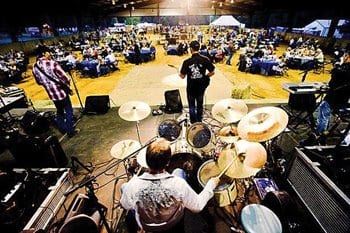 Dagnabbit has been helping people satisfy their fix for live music since 2006. Originally started by Pierce, Ricochet bassist Greg Cook, and local drumming mainstay Terry Salyer, the musically-diverse collective has had various members since it's inception, but the core line-up for the past few years has been Ryan Pierce on vocals/fiddle/guitar, Chuck Dowden on guitar/vocals, Tim Smith on bass guitars, Johnny Griffith on keyboards/vocals, and Joe Rodriguez on sound. The drummer on this particular night was Marcus Jones, a newcomer to the group with only a couple of shows with the band under his belt.
To describe the Dagnabbit band musically would be a challenge, as they will tackle just about anything, across any genre, in order to entertain at the particular event they're playing. They play weddings, fundraisers, private parties, as well as local venues like Leon's Steakhouse and Saloon in Longview or the Back Porch in Kilgore. If you had to pin them down to a summary description, they'd be a party band that specializes in good times wherever they go. Just as comfortable tackling Charlie Daniels as they are taking on Jason Aldean. Equally as proficient with such funk classics "Play That Funky Music" as they are with R&B hits "Purple Rain" and "Easy Like Sunday Morning." As likely to play Garth Brooks as they are the Rolling Stones or Elton John, Dagnabbit setlists are designed to move with the mood of the crowd and play toward how they respond. Sound engineer Joe Rodriguez says, "The vibe that the guys have on stage is a feeling that anything is possible at any time, so you don't know what might happen next. It certainly keeps me on my toes at the sound board."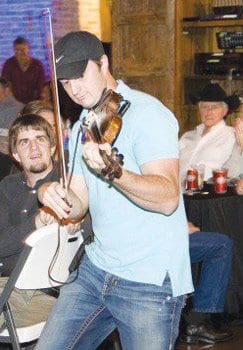 The ability to be such chameleons on stage is a byproduct of a talented lineup of musicians, each one accomplished and seasoned on their respective instruments from years of playing in local, regional, or national acts. Pierce, 40, who pulls the majority of the typical "front man" duties has played with such National Acts as Neal McCoy and The Oak Ridge Boys. In addition, he was the house band leader for the Reo Palm Isle, at one point performing with Miranda Lambert early in her career. Ryan started playing music seriously around the age of 18 and studied music in college before starting to play in bands. Bassist Tim Smith started playing at age 11 in church and has played with regional acts such as Mark Cooke, Waylon Pierce, and various other bands. Joe Rodriguez, 47, started playing guitar around 14, mixing audio around the age of 25, and has gigged with several bands and churches in the area. Johnny Griffith, 42, began studying classical piano at the age of 5 and continued into college, performing in churches and by 13 was playing in local restaurants and open jam nights. Chuck Dowden, 54, began guitar at 8 and started playing in bands in his 20's and has recently taken up steel guitar. Marcus Jones started drumming around the age of 10, having played in churches and bands in the Austin area before moving to East Texas in 2012.
Despite their cumulative experience, or perhaps in large part due to their time in other bands, Dagnabbit has a decidedly casual feel on stage. It's obvious as one watches the band interact with each other and the crowd, they're having as much fun, if not more, than the people watching them. While they are one of the more polished bands you'll find in the area, they embrace the inevitable curve ball and mistake, laughing them off and many times working it into the bit in a way that makes you wonder if it was even planned that way. "It's pretty obvious if a band isn't having fun with what they're doing when on stage, and the crowd responds accordingly," Pierce says. "If a band has tension, or just views it as another gig, then it's hard to draw the crowd into what you're doing. We look at it as getting to hang out with five of your good friends and make music while joking around and making a hundred or so new friends over the course of the night."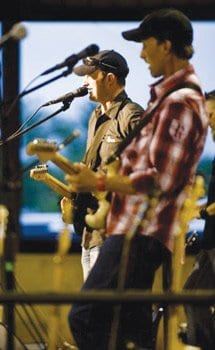 An evening with Dagnabbit also comes with a few audience perks along the way, other than just getting to hear a quality band with a diverse catalog. It's common for Pierce to prompt the audience for requests, and equally as likely a person gets invited on stage to help sing or play an instrument. Speaking of instruments, one of the regular bits the band does include is getting a volunteer from the audience to become "the newest member of the Dagnabbit band" while playing a cowbell during the funk portion of the set. There routinely are wigs, dance competitions, crowd sing-a-longs, and a long list of guest artists pulled on stage to showcase their own talents with Dagnabbit acting as a backup band.
Despite the band playing between 30 to 40 shows a year, they insist this is just a side hobby as they each have careers outside of music. "We're not that type of band, trying to be something bigger than what we are right now," band patriarch Chuck Dowden explains. "We don't need to play somewhere every weekend to make a living, and I think that reduces the stress level quite a bit that comes along with trying to gain exposure for a larger platform. It allows us to relax and just play the gig in front of us at the moment." Dowden, originally from Henderson, moved to Longview in 1981 and started Dowden Supply Company in 1983, opening a Tyler location in the mid-1990's. Pierce started Alpha Construction in Longview in 2001 and Blackwater Oilfield Services in 2014, while Tim Smith owns TS Construction out of Liberty City. Rodriguez has worked for Mundt Music for several years and has done sound engineering for several churches and private events, while Johnny Griffith is Operations/Sales Manager for Tejas Hydraulics in Longview, and newcomer Marcus Jones works for Aramark Services, also out of Longview.
Dagnabbit has been steadily gaining fans and gigs for the past several years as new opportunities present themselves, but according to keyboardist, Johnny Griffith, their biggest fans, as well as toughest critics, continue to be their families. "Everyone in the band has a family, and we wouldn't be on stage without their support. Family is the most important thing to each of us, but we have been blessed with spouses who understand how important the music is to us also. Somehow they still continue to come out to our shows, even after hearing the same material hundreds of times." Each member of Dagnabbit is a father and will routinely bring the kids out to family-friendly events, adding to the intimate atmosphere the band has fostered to this point. Griffith says they are perfectly content to play gigs within an hour or so of Longview so that "everyone can sleep in their own bed at night."
Indeed, a night with the Dagnabbit band is more like a night out with a bunch of your buddies, watching them joke, antagonize, and marvel at each other on stage over the course of the evening. As the night progressed at the Great Texas Balloon Race, at one point Pierce steps up and sings the phrase, "Come on, come on, get your good times on!" while motioning the typically subdued Smith toward a mic. Smith simply grins and declines the invitation, yet once the mic is safely away from him smiles, yelling out, "All I'm saying is a 20 is a 20, player!" – the band laughing as if some inside joke has just been shared between them, and they know the best time to be had that night, was happening on stage.
(In case you are wondering, "20 is a 20" vaguely references a saying that implies "there isn't much I won't do for a 20 bill" referring to you'd have to pay for Tim to talk on the mic.)
Dagnabbit can be found at www.facebook.com/dagnabbit.yall. Upcoming Shows:
September 9th @ Leon's Steakhouse, Longview, 8:30pm
September 10th @ Leon's Steakhouse, Longview, 8:30pm
September 17th @ The Back Porch, Kilgore, 8pm
October 8th @ Get Rowdy Get Loud, Hallsville ISD Education Foundation Fundraiser, Hallsville
October 15th @ Dawg Fest Motorcycle Rally, C.A.S.A. benefit, Mt. Pleasant
October 21st @ Leon's Steakhouse, Longview, 8:30pm

TEAZUR: You Can Still Rock in East Texas!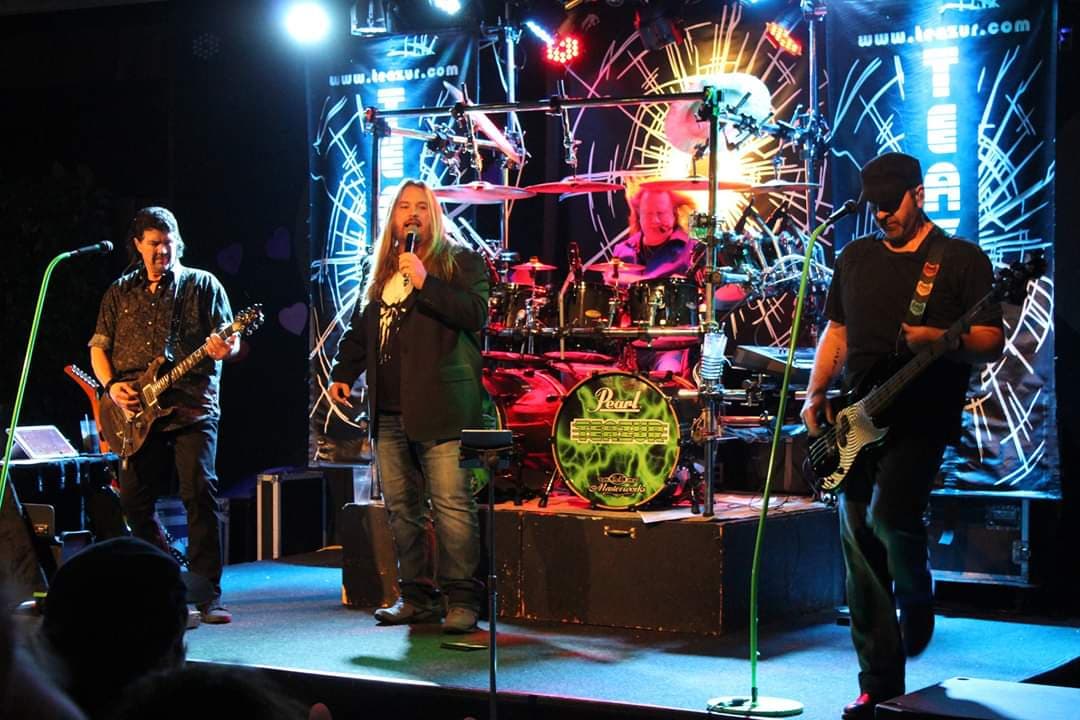 It's the weekend.
You want to go out and unwind from the work week.  
You want to hear some live music but want to make sure you have a good time and get your money's worth in the process.  
And you want a show!
Ladies and gentlemen, I give you TEAZUR.
The brainchild of founding member Mike Reiner, TEAZUR has been a mainstay on East Texas stages for 13 years and are still going strong.  Through several lineup changes and plenty of challenges along the way, TEAZUR has continually supplied people with their fix of good old fashioned Rock and Roll with all the trimmings to go along with it and find audiences still wanting more.  I sat down with current vocalist/keyboardist Tobie Turner this month to get some insight on how they've maintained the magic consistently for this long.
Johnny: When did TEAZUR first form and what was the original lineup? Who is in the current lineup?
Tobie: TEAZUR was formed in 2006 by drummer Mike Reiner, who is the only remaining original member. The original lineup consisted of Mike Reiner on drums, Jon Morrow on bass, John Bedinghaus on guitar, and Jeff Cross on Lead Vocals.  The 2019 version of TEAZUR is; Founding Member Mike Reiner on drums, Clint McMullen on bass and keyboards, Scott Cothran on guitar, and myself on Lead Vocals and keys
Johnny: Where was the first gig as TEAZUR?
Tobie: TEAZUR's first show was at Cat's Place on Hwy 64, east of the loop. I actually had to ask Mikey, because he is the oldest, and only, remaining member that was actually there!
Johnny: How did the name originate?
Tobie: Mike came up with the name and Jon Morrow changed the spelling to what it is today.
Johnny: Did you guys initially decide to focus primarily on 70's, 80's, and 90's rock intentionally or did it just gravitate that way out of what you all preferred to play?
Tobie: We have always wanted to be the band that played music you didn't hear from every other house band or jukebox when you walked into your favorite watering hole. As much as we love Clapton, Skynyrd, SRV, and Bob Seger, that is pretty much what makes up "The Standards," that local bands always seem to load their setlists with. People still ask us to play tunes from those artists, but I generally tell them we try to stay away from content that you hear everywhere else. If you're looking for Freebird or Turn The Page, you're not gonna find it at a TEAZUR show.
Johnny: What have been some of the consistent challenges you've had to deal with as a band over the life of TEAZUR?
Tobie: This is another question that would be better suited for Mike to answer, but I know he'd say that the numerous line-up changes the band has gone through in its 13 year existence, and the constant effort to stay fresh with our setlist are the two biggest ones. There are people that come to see us that rarely miss a show. To keep them coming back, we are constantly updating what we play to be able to bring a mix of the favorite classics, as well some of the more popular dance music.
Johnny: How would you say the band has evolved from a performance standpoint over the years? How about musically?
Tobie: From the beginning, TEAZUR has always wanted to stand out and give the people more than just "something for their ears." Mike added a full light show, fog and backdrops to the stage set that has been a staple for us over the years. When people walk into a venue where we are set up to play that night, they can't help but notice the stage. To go along with that, we are all very engaging and try to interact with the crowd throughout the show. A couple of things that we do that are different from any other local band you see is;
We usually only take one break a night. It's pretty standard practice for a band to play an hour and take a break. I noticed early on in my tenure with the band, that people generally take the second break of the night as their cue to head for the exits. To keep people in the venue, we typically play two extended sets with one break that is a bit longer than you'd normally see a band take. During that break we make ourselves as accessible as possible and visit with as many people as we can. People like the band more when it's a band of nice guys that are very approachable.
We open every show the way any sporting event or show in the good ole USA should start. (In our humble opinion…) We ask the room to join us in honoring this great nation of ours with the singing of our National Anthem. We feel honored and very blessed to be able to do what we do night after night, and we pay our respects to those that have, and continue to, put themselves in harm's way so that we have the freedom and liberty to do so. This is probably the one thing that I am proudest of that we do.
The tradition started at a Halloween show we were playing in 2014 at Barefoot Bay Marina just outside of Pittsburg, Tx. We were all dressed in costume, and backstage before the show. The lights were down, and we were about to open the show with the Night Ranger tune, You Can Still Rock In America. We are all wireless, and were geared up and about to take the stage when I told Mike, "We should stay off stage and sing the National Anthem acapella and go right into Rock In America with a bang!" The guys thought it was a great idea, so I start singing the Anthem. I've always used wireless in-ear monitors, which really shuts out the ambient noise. I was about halfway through the song when I realized the entire room was singing with me so loudly, I could hear them coming through the open mics on stage. We exploded onto the stage with Rock In America, and the place went nuts. I told Mike during the break that night, that we should start every show with The Anthem from then on. We have, and people remember and comment on that one aspect of the show more than anything else we do.
Johnny: About how many shows a month are you guys doing these day?
Tobie: TEAZUR is booked almost every Saturday night, with just a handful of exceptions, for 2019. We always try to schedule a week off after we make a circuit of the normal venues we frequent, but it doesn't always work out. Folks usually see the breaks in our schedule and want us to play their private party, or a festival.
Clint and I also have an acoustic side project called BlakboX where he plays guitar, and I play bass. It's a very laid back gig with he and I on barstools playing a mix of rock, country, Motown, and whatever else strikes our fancy. Every now and then, a venue wants us to play a full "Plugged-In" show, and we'll add Mike to the mix and play as BlakboX Plugged-In.
It's NOT a TEAZUR show. LoL We rarely cross over any of the material we do between the two projects.
Johnny: Anything on the radar for 2019 that excites you as a band?
Tobie: We just went through another lineup change at the end of 2018, and brought on my old friend Scott Cothran on guitar. Our previous guitarist was looking for a change, and was very busy in his professional life outside of TEAZUR and decided to move on. I had played with Scott in a start-up band just prior to my joining TEAZUR in 2012. It was a seamless transition, and we are still currently adding to our ever-growing and expanding playlist. We have hinted at possibly doing some writing later this year. Other than that, we look forward to continuing to bring our brand of Rock & Roll party to the masses in East Texas, and the surrounding region.
Johnny: How much original stuff creeps into the set list?
Tobie: We're not ashamed to say that we are primarily a cover band. People typically go see live bands to hear them play their favorite tunes. We know where our bread is buttered. The previous 2 lineups of the band had a string of originals. Just before I joined the band in 2012, TEAZUR recorded a full album, and after I had been in the band for a little over a year, and we went through another lineup change, we had started another album, and had a couple of the tunes played on the radio promoting upcoming events, but everyone got busy in their everyday lives, and we never finished it. Anytime someone specifically requested that we play one of our originals, we'd oblige. It's been a while since we've put any of them in the nightly setlist, but if we're able to find the time, we'd love to write and record some new music. It's very difficult with everyone's schedule to find the time to get together and create new music, but that, of course, is at the top of our wish list.
Johnny: What would you say the secret is to staying together like TEAZUR has, and not just playing, but consistently being rated as one of the top bands in the area?
Tobie: I am constantly reminded of how fortunate I am to be surrounded by such quality musicians that constantly work at honing their craft. We know what each other is capable of, and we know what we expect of ourselves, and of each other, every time we take the stage. You never know when someone is seeing you for the first time, so we go out every night and perform like no one in the room has ever experienced a TEAZUR show, and we set out to make the best of first impressions. We take pride in giving every show the same effort, whether there are 10 people in the audience, or 10,000. We owe it to the people that chose to come spend their evening letting us entertain them, as well as ourselves. This is a fun job! We want the crowd to have as much fun as we're having!
Johnny: How would you describe a Teazur show to someone who has never seen you, but is thinking about coming out for the first time?
Tobie: I'd say that you're not going to see a local band perform at a local venue. You're going to a concert. A concert that you'd hope and expect to see at your choice of concert hall or arena from Liberty Hall in Tyler, to Madison Square Garden in New York City. We want and expect the folks that come to see us play to say that very thing to any of their friends or family when they describe what they experienced after it was over and they've made their way home after the show. "Those TEAZUR guys put on a Show!" We end every show with me telling everyone, "Thank you for choosing to spend your evening with TEAZUR. We know there plenty of great bands out there for you to choose from. Please always be kind to one another,and if you have been drinking, Do NOT Drive! We want to see you all again next time we come back here!"
Follow TEAZUR on the World Wide Web: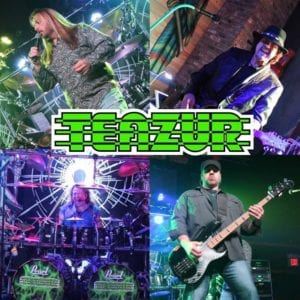 Living Their Best Life:  2nd Childhood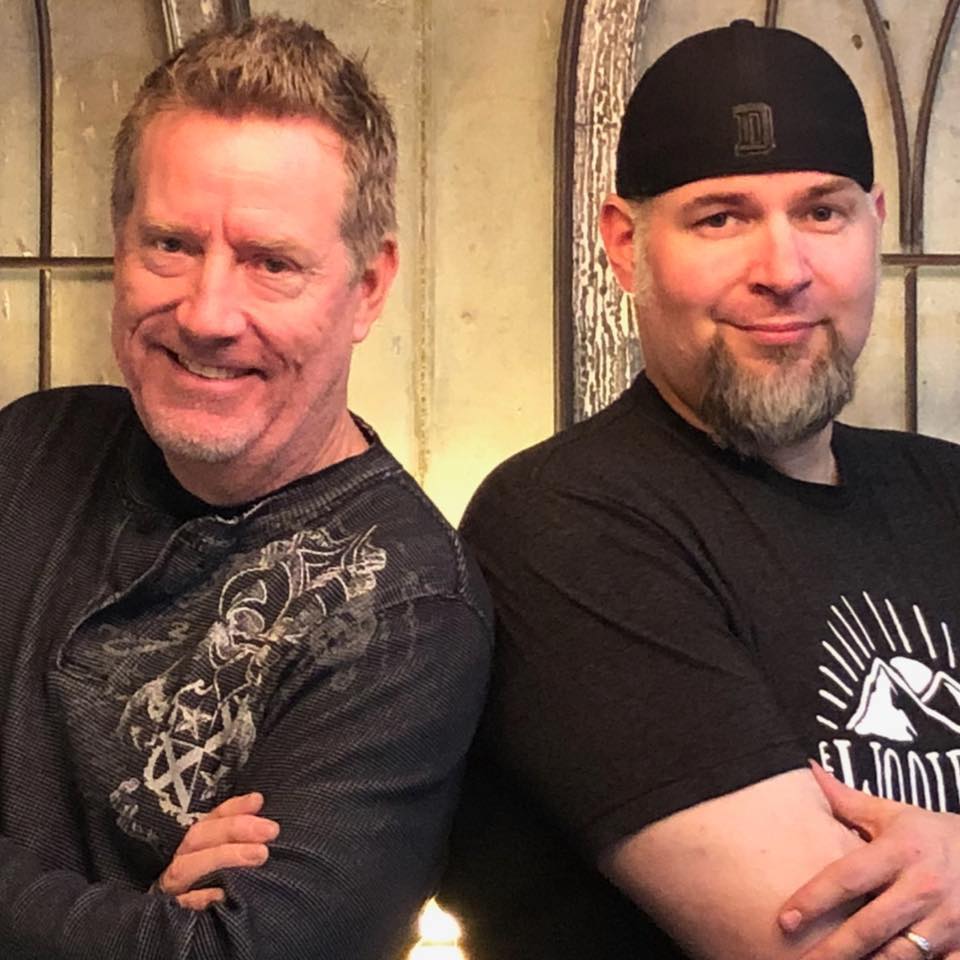 By Johnny Griffith
Childhood is typically a time associated with fun and laughter, and usually great memories when we think back on it. As we grow older, we don't necessarily have bad times, in fact we still make great memories, but we typically look back on those times in childhood as some of our best memories and wish we could relive those days. Well, there is a duo from East Texas who are doing their best to make this time of their life just as fun as those childhood days. So much so that they're even calling the band 2nd Childhood.
A pairing up of Tim Letsch on drums and Scott Garrison (Scotty G) on keys, 2nd Childhood serves as a creative conduit for these two friends who were both originally from the Metroplex, but got to East Texas as fast as they could and are finding themselves on more and more stages in the area. 
I was able to catch up to them this month to get a little more info on 2nd Childhood.
Johnny: So what do you guys do when you're not on stage?
Scotty G: Tim is the lead pastor of his own church, Crossroads Community Church of Lindale.
I was a worship leader for over 23 years and just recently retired from that profession.
Johnny: How did you two first meet?
Scotty G: Tim preached (as a guest speaker) one night for the youth group that I was leading worship for at Christ Central Church in Lindale, Texas. I later found out he was an incredible drummer and had him sit in with me a few times when he was available. It was as if we could read each other's minds musically! 
Johnny: How did you each get started in music, and give us a quick summary of your musical experience before 2nd Childhood.
Scotty G: The day I was being born, February 29, 1960, my dad bought a little Les Paul Jr. guitar that looked exactly like a mini version of his Fender Melody Maker guitar. When I was four years old, he sat down and taught me the 4-5 chords that he knew. I fell in love with it! By the time I was 6 years old, I was showing my dad complex riffs that I had been teaching myself. Guitar became a huge part of me. While other kids in my neighborhood were sniffing glue and smoking pot, I was writing puppy-love songs to the girls at my elementary and Jr. high schools. I began playing organ at the age of 9, drums by 12, and was producing my own multitracks by using two cassette tape recorders side by side. I would record the drum track on one machine, then play along with that recording while adding guitar onto the other cassette recorder and repeated this process till all the instruments and vocals were laid down. The quality of the finished product was just awful, but the songs were well received. I started playing piano and singing at Tony Romas House of Ribs in Dallas, Texas in 1979. Every check I got I would spend on a new piece of musical gear. I started out using their piano and after a couple of years I had acquired two more keyboards (playing bass on one of them with my left hand), a four track tape recorder, (for when I wanted to play guitar), and a huge sound system that would easily put me in the hospital today if I tried to move it. However, by 1985, I would be moving that stuff around to NINE gigs every week! I played gigs at six different locations and played seven nights a week and two afternoons.
Tim: Well, I started singing when I was five, and in spite of several attempts by many people to get me to shut up, I am still singing (totally kidding!). I, in all seriousness, started in church at age five singing. I tried instruments when I was younger, but was always too hyper to focus. I concentrated on singing through my high school years. I even quit the football team to join choir. The coach wasn't too happy with me. I went to a school called Southwestern Assemblies of God University (AKA SAGU) and majored in Vocal Performance. I travelled the country with a college group called the Harvesters. While I was at SAGU, I got inspired to learn the piano. It was a total God thing. I had wasted so many opportunities to learn, and I asked God if He would allow me to have one more shot. To this day, I know He birthed the desire in my heart and gave me focus to learn. So at age 17, I locked myself in a practice room and didn't come out until I knew I could play a couple of tunes. That led to me leading worship in the dorms for a while. I took a youth pastor job in the summer of my 17th year, and eventually took a Music Director spot at a church when I turned 20. There was one Sunday when a drummer didn't show up to play (I was about 21 years old), and the team needed a drummer, so I practiced for a while and filled in the best that I could. I got a taste for drumming and never put it down. I picked up a little guitar and bass, and started a contemporary Christian band called Fadestrange. We put out two projects, and then broke up, mainly due to people moving away. You can still find our project "Back There Again" on Spotify and iTunes. My first "professional" gig was with an oldies band called Bongo & The Point. Right around the time I left that band, I met Scotty helping him out with worship, and it was an incredible time filled with musical chemistry. Like he said, "It was like we could read each other's minds." We've been playing music with one another in some capacity ever since. We both took a dueling piano job, and wound up gigless. I play drums and sing now for a living. If you would have told me that even 10 years ago, I would have laughed in your face in disbelief. 
Johnny: When did the idea of you two starting a two-man wonderband first come up?
Tim: I think Scotty had an offer in Lindale to play a solo gig. He asked me to join him and it went so well, we decided to pursue it further. 
Johnny: What was behind the decision to just go with a two musician lineup?
Tim: I don't think we ever set out to keep it a two man lineup, it just sort of happened that way. We haven't really needed a third due to Scotty's mad bass skills on his left hand. When the situation calls for it, we have brought in a bass player, but we just haven't needed the third that often. It has been to our advantage, though. You can play for a lot less money, and fit into a lot tighter spaces than a four or five piece band can. 
Johnny: And the name? Whose idea was that?
Scotty G: That was my idea. We're both born again Christians with a second chance at life, but we're also reliving our childhood by playing great old songs that we grew up with. Most of those songs bring back fond memories for people our age and a little older. I had actually formed a three piece band years earlier with the name 2nd Childhood, but when I was offered a good paying, full time position as a pianist at a dueling piano bar, I couldn't say no. The band went one way and I went the other. Soon after that, I would realize that I had made a very poor decision and wound up with no job after a few months. But the other guys graciously brought me back into the band, now named The Tuxedo Cats which Tim and I are both proudly a part of to this day.
Johnny: You guys have a pretty eclectic mix of sounds in your extensive catalog, but if you had to categorize yourselves, where would you say your wheelhouse is, sound-wise?
Scotty G: I would call us a Baby Boomer Dance Band. We don't really appeal to college age kids much. They don't seem to relate to awesome lyrics, great chord changes, and stuff you can easily sing along to. But I guess every generation of musicians before me probably said the same thing…"These kids today!"
Tim: We have just grown up with these tunes that we are playing. They are a part of us. It's hard to pour yourself into a song when you don't identify with it. I think that goes both ways…for the artists playing and the audience listening. If it doesn't speak your musical language, you aren't going to be able to understand it. That being said, there are songs that we do play that college age kids love. Artists like Mumford & Sons, Ed Sheeran, Charlie Puth, Niall Horan, George Ezra…but they are songs that we as performers can identify with and put ourselves into. We have nothing against the other artists, we just have preferences like everyone else does. 
Johnny: Are you ever trying to mix in any originals? 
Scotty G: I do some of my old country original stuff from time to time, but most of my original songs are contemporary Christian. I was a worship leader for so many years, I can really only write about my first love, Christ.
Tim: I empathize with Scotty. The only thing that ever comes out of me when I write original tunes is Christian music. I have even tried to write love songs for my wife and I can't. The songs just end up being a love song to Jesus.
Johnny: About how many shows does the band try to play a month? 
Scotty G: We are the house duo every Wednesday night at Texas Music City Grill (formally Coyote Sam's) in Tyler and every Thursday night at Texas Music City Grill in Lindale. We also work with the Tuxedo Cats every Friday and Saturday night. On top of that, I play several solo gigs at retirement homes all over Tyler. So for 2nd Childhood, it's a steady eight gigs per month, but I'm doing about 25-30 gigs every month.
Johnny: Any challenges specific to having just two members on stage?
Scotty G: We haven't come across one yet!
Tim: I mean obviously it's difficult when someone asks for Bohemian Rhapsody with just two guys. We just can't, and won't, even try. We love the tune, but it just isn't meant for a two piece band. Other than that, we haven't found many musical mountains that we aren't willing to climb as a two member band. 
Johnny: Are most of the gigs in the East Texas area or do you travel out of the area at all? 
Scotty G: Most of our gigs are right here in Tyler and Lindale, but if the money's right…have keyboard and drums…will travel!
Johnny: What are you most proud of, as a band, at this point into it? 
Scotty G: Our friendship is first and foremost. 
Tim: I wholeheartedly agree!
Scotty G: I know if I lost both my arms and couldn't play music anymore, Tim would duct tape a kazoo to my face and figure out a way we could still work together. Tim is a great musician, and an even better friend. 
Tim: We both want our friendship to show the faithfulness of the wonderful God we serve; I am most proud of that. Yes, I got my big break from my buddies in Bongo and the Point, but it was Scotty that introduced me to the boys in the Tuxedo Cats. If it wasn't for Scotty, I don't think I would be playing professionally. Scotty is my best friend on and off the stage. We believe in and trust one another. That is something that I am also extremely proud of. 
Johnny: What has been your favorite moment, on stage or off, as a duo so far?
Scotty G: 7pm every Wednesday and Thursday night! That's the time we take the stage and look out at the same die hard fans who never disappoint, plus a few new faces every week. 
Johnny: What is in the works for 2020? 
Scotty G: Tim tells me he wants to start writing again, so we may have a little something put together this year. Finding the time between gigs is my biggest challenge but you'll never hear me complain about that.
Tim: Yeah, I am getting the itch to write and record again. We definitely plan on developing the awesome relationship that we have with Tyler and surrounding areas. We love this area! We love the people! We are so excited for what the future holds, and you never know, an original project may be on the way, but until then we would love to entertain you every Wednesday at Texas Music City Grill in Tyler' and Thursday at Texas Music City in Lindale, formerly known as Love & War at 7pm.
Johnny: What experience do you hope first timers will have at one of your shows?
Tim: We want everyone who comes to have a blast. We love to see smiles and laughter. We want first timers to experience good music and a friendly couple of guys that they can relate to. There are so many incredibly talented bands out there, we are just one of the many. We know people have a choice when it comes to entertainment. We want first timers to experience the appreciation we have for every person that comes to hear us, and to leave a little, or a lot happier than when they came. 
Check out 2nd Childhood at facebook.com/2ndChildhoodtheband/.